In the afternoon of Tuesday, September 15, 2020, Apple held its virtual Time Flies event, announcing the latest and greatest across its breadth of products. What was launched? Here are the highlights.
Apple Watch Series 6
New to this version of the Apple Watch is a Blood Oxygen feature that provides more health and wellness details along with hardware improvements, a faster system, next-generation always-on altimeter, and more case finishes and band colours. But most notably is the addition of sleep tracking along with Family Setup, automatic handwashing detection, new workout types, and the ability to curate and share watch faces.
The Blood Oxygen sensor and app measures the oxygen saturation (Sp02) of your blood, which represents the percentage of oxygen being carried by red blood cells from the lungs to the rest of the body, and indicates how well this oxygenated blood is being delivered throughout the body.
To compensate for natural variations in the skin and improve accuracy, the Blood Oxygen sensor employs four clusters of green, red, and infrared LEDs, along with the four photodiodes on the back crystal of Apple Watch, to measure light reflected back from blood. Apple Watch then uses an advanced custom algorithm built into the Blood Oxygen app, which is designed to measure blood oxygen between 70 and 100%. On-demand measurements can be taken while you are still, and periodic background measurements occur when you are inactive, including during sleep. All data will be visible in the Health app, and you can track trends over time to see how your blood oxygen level changes.
Apple is joining forces with researchers to conduct three health studies that include using Apple Watch to explore how blood oxygen levels can be used in future health applications. This year, Apple will collaborate with the University of California, Irvine, and Anthem to examine how longitudinal measurements of blood oxygen and other physiological signals can help manage and control asthma.
Separately, Apple will work closely with investigators at the Ted Rogers Centre for Heart Research and the Peter Munk Cardiac Centre at the University Health Network, one of the largest health research organizations in North America, to better understand how blood oxygen measurements and other Apple Watch metrics can help with management of heart failure.
Finally, investigators with the Seattle Flu Study at the Brotman Baty Institute for Precision Medicine and faculty from the University of Washington School of Medicine will seek to learn how signals from apps on Apple Watch, such as Heart Rate and Blood Oxygen, could serve as early signs of respiratory conditions like influenza and COVID-19.
Using a new dual-core processor based on A13 Bionic in iPhone 11, the upgraded S6 SiP runs up to 20% faster, allowing apps to also launch 20% faster, while maintaining the same 18-hour battery life. Additionally, Apple Watch Series 6 features theU1 chip and Ultra Wideband antennas, which will enable short-range wireless location to support new experiences, such as next-generation digital car keys. Apple Watch Series 6 offers faster charging, completing a full charge in under 1.5 hours, and improved battery life for tracking certain workouts, such as indoor and outdoor runs.
An enhanced Always-On Retina display on Apple Watch Series 6 is up to 2.5 times brighter than Apple Watch Series 5 outdoors when the user's wrist is down, making it much easier to see a watch face in bright sunlight. When their wrist is down, you can also now access Notification Center and Control Center, tap on complications, and swipe to change faces without having to wake the watch screen.
The always-on altimeter provides real-time elevation by using a new, more power-efficient barometric altimeter, along with GPS and nearby Wi-Fi networks. This feature allows for the detection of small elevation changes above ground level, up and down to the measurement of a foot, and can be shown as a new watch face complication or workout metric.
For the first time, a new blue colour joins the silver, space grey, and gold aluminum case options, along with a (PRODUCT)RED Apple Watch with exclusive matching bright red bands. Stainless steel models are now available in graphite, a rich grey-black hue with a high-shine finish, and an updated classic yellow gold colour. Apple Watch Edition is available in natural and space black titanium.
Three new band styles include the ultralight Solo Loop that has a continuous and stretchable band design that comes in two materials: soft silicone and braided yarn. A special UV treatment process used on the soft silicone of the Solo Loop creates a smooth, silky finish, while a precision-braiding machine interweaves the 16,000 polyester yarn filaments, made of 100% recycled material, with ultrathin silicone threads, giving unique stretchability and a distinct look to the Braided Solo Loop. To ensure the best fit, a new sizing system offers nine available lengths for the Solo Loop styles. The Leather Link wraps around the wrist, attaching on the other side with flexible molded magnets.
Apple Watch Nike now comes with new colours for the Nike Sport Band and Nike Sport Loop, and a new Nike Compact watch face allows for multiple Nike Run Club complications. Apple Watch Hermès offers stainless steel cases in silver or space black paired with Single or Double Tour styles in an assortment of new colours. The fall collection also unveils the Hermès Attelage Single Tour and slimmer Attelage Double Tour bands, which feature a refined connection to the case that reflects the brand's equestrian heritage, and a new Hermès Circulaire watch face that offers increased options for complications.
Apple Watch Series 6 (GPS) starts at $529 and Apple Watch Series 6 (GPS + Cellular) starts at $659. It is available to order now with official availability starting Friday, September 18.
The Solo Loop and Braided Solo Loop in (PRODUCT)RED will be available in late October. Solo Loop and Braided Solo Loop are compatible with Apple Watch Series 4 and later.
watchOS 7
With watchOS 7, there are seven new watch face options, including Stripes, Chronograph Pro, GMT, and Artist. New health and fitness features, including low-range VO2 Max, sleep tracking, automatic handwashing detection. There are also new workout types, and Maps accessible on the wrist, including cycling directions and Siri for language translation.
Family Setup in watchOS 7 allows kids and older family members of the household who do not have an iPhone to benefit from the connectivity, safety, and fitness features of Apple Watch. Kids can take advantage of communication and personalization capabilities, access Emergency SOS at any time, enjoy an Activity rings experience that has been optimized just for them, and use a new mode called Schooltime, which can help them stay focused and attentive while learning at home or in the classroom.

watchOS 7 also offers optimized features for older adults, starting with a simplified onboarding and configuration process, along with a refreshed X-Large face that shows the time and a rich complication at a glance. Older adults can also benefit from a new Health Checklist in the Health app on iPhone which offers the ability to track whether health features like fall detection have been enabled in one centralized view.
watchOS 7 will be available for watches dating back to Apple Watch Series 3 and requires iPhone 6s or later running iOS 14. Not all features, however, will be available on all devices.
Apple Watch SE
Apple is also offering the new Watch SE, which features the largest Apple Watch display, fall detection, advanced fitness features, and Family Setup with watchOS 7.
The more affordable version of the popular smartwatch (starts at $369 and the GPS + Cellular version starts at $429, features the same accelerometer, gyroscope, and always-on altimeter as Apple Watch Series 6, and with the latest motion sensors and microphone. Health and safety capabilities including fall detection, Emergency SOS, international emergency calling, and the Noise app.
With thin borders and curved corners, it is 30% larger than the Series 3, allowing for easy-to-read app icons and fonts. A variety of new watch faces are optimized for the display, so customers can easily view notifications, text messages, workout metrics, and more.
Additional features include the S5 System in Package (SiP) and dual-core processor for performance that is up to two times faster than Apple Watch Series 3; a Digital Crown with haptic feedback; the latest speaker and microphone; Bluetooth, 5.0; always-on altimeter with real-time elevation; built-in compass; sound level notifications via the Noise app; and all of the benefits of watchOS 7. It, too, will be available starting Friday, September 18.
Family Set-up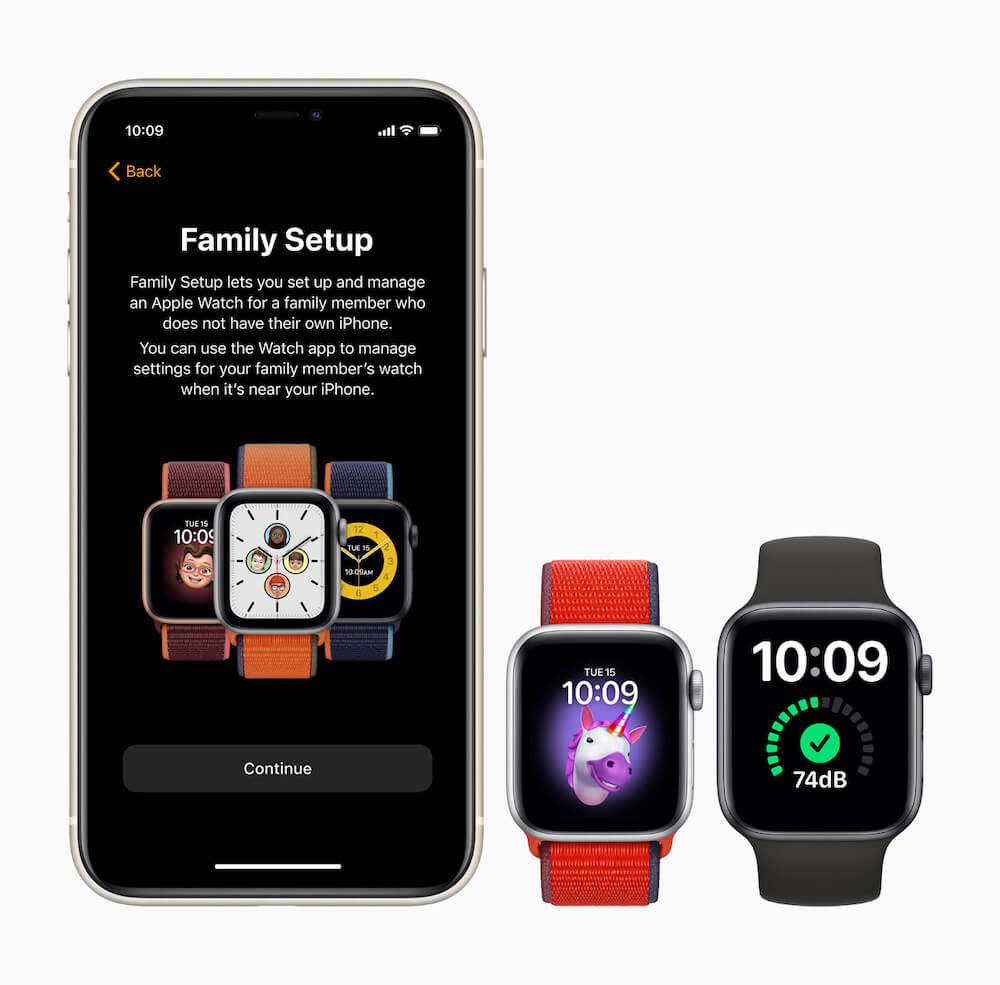 There are some particularly interesting features as part of Family Set-up that are worth noting. Kids and older family members of the household using Family Setup will have their own phone number through a separate cellular plan, and by using their own Apple ID, they can follow their schedule and family events using Calendar, learn to manage tasks with Reminders, view photo albums synced from a guardian's iPhone, and more. With the new Apple Cash Family, U.S. customers can securely send their kids money to spend on their watch using Apple Pay. Parents can choose to receive notifications when their kids pay and view their child's purchases right in Wallet on their own iPhone.
Family members using Family Setup on Apple Watch can play their favourite songs on Apple Music through Bluetooth headphones and speakers and ask Siri for answers to questions or language translations. With Maps, family members can learn to navigate safely and independently, whether heading to another family member's house or to a park with friends.
A family member's location can be shared with their guardian through the Find People app on Apple Watch, and location notifications are more customizable, allowing the guardian to receive an update on their family member's location for one occasion, or on a recurring or time-based schedule.
The Activity rings experience has been optimized for kids to track Move minutes instead of calories burned and provide customizable goals for the Exercise and Stand rings. Outdoor Walk, Outdoor Run, and Outdoor Cycle workouts have been specifically tuned for kids, giving appropriate credit for Move minutes, exercise, distance, and other metrics, while coaching notifications are tailored to relevant reading levels and made more fun with emoji. Kids can also send and receive Activity Sharing invitations directly on Apple Watch, challenge friends with Activity Competitions, and see a new Awards page so milestones can be celebrated right on their wrist.
With Emergency SOS, family members using Family Setup can easily access emergency services using the side button, and guardians will be automatically notified if they are listed as an emergency contact. Kids can also reference their Medical ID, which documents critical information such as medical conditions, allergies, and medications. With permission, guardians can see a full view of their family member's health and activity through the Health app on iPhone, and kids and older adults can view their shared information through Settings on their Apple Watch.
Using the App Store on Apple Watch, kids can download third-party apps directly on device. Apps such as ClassDojo, Coloring Watch, and LookUp: English Dictionary can educate and encourage good habits, while Calm features kid-specific mindfulness experiences. With Family Setup, parents can manage what is available for download through Content Restrictions and Ask to Buy support.
Family Setup brings a new mode called Schooltime, which will help ensure kids stay focused and attentive while learning at home or in the classroom. During Schooltime, a distinctive yellow circle is displayed on the watch face for teachers and parents to easily recognize, signifying that access to apps is restricted and Do Not Disturb is turned on. For convenience, parents can also set the schedule on their iPhone so Apple Watch automatically goes into Schooltime during certain hours, or turn it on from Control Center on the child's watch. To support responsible usage of the device, the Downtime feature of Screen Time extends to Apple Watch, with the child receiving a reminder five minutes before it begins.
Family Setup is available starting Wednesday, September 16, as a free software update and requires cellular models of Apple Watch Series 4 or later or Apple Watch SE running watchOS 7, paired with iPhone 6s or later running iOS 14. Not all features will be available if Apple Watch is set up through Family Setup. A wireless service plan is required for cellular service.
Apple One Subscriptions
Apple One is a new service that will provide all relevant Apple subscription services in a single plan, including Apple Music, Apple TV+, Apple Arcade, Apple News+, Apple Fitness+, and iCloud.
Starting this fall, customers with Apple subscriptions will be recommended the right Apple One plan for them so they can sign up with a tap from any Apple device. An individual plan that includes Apple Music, Apple TV+, Apple Arcade, and 50GB of iCloud storage is $15.95/mo., while a Family plan with the same options but upping the iCloud storage to 200GB is $20.95/mo. For $33.95/mo., you can get the premiere subscription, which includes all of the above alone with Apple News+, Apple Fitness+, and 2TV of iCloud storage. The latter two plans can be shared with up to six family members, with everyone maintaining their own personal accounts and preferences. Apple says the savings range from $7/mo. for the Individual plan to over $10/mo. for the Family plan and over $32/mo. for the Premier, based on standard monthly pricing.
You can opt for a 3-day free trial for any services you don't already have. Once signed on, you get a single invoice each month and can upgrade or downgrade the plan at any time.
Apple Fitness+
Also for Apple Watch, this new fitness experience, scheduled to launch later this year, will incorporate metrics from the smartwatch onto your iPhone, iPad, or Apple TV to offer personalized workout experiences. The studio-style workouts are delivered by trainers and feature motivating music from renowned artists.
Apple Fitness+ delivers personalized recommendations and uses Apple Watch to provide an engaging, immersive experience to help you stay motivated throughout the exercise plan.
Using a custom recommendation engine, Fitness+ considers previously completed workouts and intelligently suggests new options that match the workouts you select most often, or something fresh to balance your current routine. You can also use an intuitive filtering tool to choose what is most important to you when looking for a workout, whether it's the workout type, the trainer, the duration, or the music. For Apple Music subscribers, favourite music from Fitness+ workouts can also be easily saved and listened to later, whether in a workout or otherwise.
When a workout is selected and started on iPhone, iPad, or Apple TV, the correct workout type will automatically start on Apple Watch. During the session, the metrics from Apple Watch are shown on the screen and come to life for moments of inspiration. For example, when the trainer says to check heart rate or begins a countdown timer, those numbers will animate on the screen. An optional Burn Bar shows how your current effort stacks up against anyone who has done the same workout previously.
The familiar Activity rings from Apple Watch also appear onscreen, highlighting your progress and launching an animated celebration once done. With Activity Sharing, you can enable friends and family to see Fitness+ workouts completed, and workouts can also be shared to your favourite social media channels.
At launch, you can find Fitness+ in the tab located in the new Fitness app on iPhone, which will also arrive on iPad and Apple TV.
Apple Fitness+ will launch with the most popular workout types including Cycling, Treadmill, Rowing, HIIT, Strength, Yoga, Dance, Core, and Mindful Cooldown, and each is accompanied by music thoughtfully curated by the trainers. Each week, the team of Fitness+ trainers will deliver fresh workouts from the studio across a range of lengths, disciplines, and music genres so there are always new workouts to explore.
An Absolute Beginner program built into Fitness+ will help coach the basics of movement and exercise and give you an option to prepare for Studio Workouts.
You can use any brand of equipment with Fitness+, and many workouts can be done with no equipment at all or just a set of dumbbells. For those who start a Treadmill session with Fitness+ on Apple GymKit-enabled machines, the workout will prompt customers to tap to connect their Apple Watch so metrics are in sync.
Apple Fitness+ is available as a subscription service before the end of 2020 for $13/mo. or $100/yr., and there's a one-month free trial period. You can share a subscription with up to five other people in the family with Family Sharing on an Apple Watch Series 3 or later. Three months of Apple Fitness+ are included for customers who purchase Apple Watch Series 3 or later, starting September 15, 2020. This extended trial is available for a limited time.
Eighth-Gen iPad
The new eighth-generation iPad features a "huge jump in performance," says Apple, featuring an A12 Bionic chip with Neural Engine, 10.2″ Retina display, advanced cameras, and all-day battery life.
Scheduled to be available Friday, September 18 and starting at $429, the iPad offers 40% faster CPU performance and twice the graphics capabilities of the previous-generation tablet. It works with the Apple Pencil for drawing, taking notes, marking up documents, and more. Thin and lightweight, it supports gigabit-class LTE connectivity and offers Touch ID.
It comes loaded with iPadOS 14, which is available for other supported iPad models as well (all iPad Pro models, iPad Air 2 and later, iPad 5th generation and later, and iPad mini 4 and later) and adds new features, including better Pencil integration and features like Shape recognition. Data detectors work seamlessly with handwritten text, recognizing phone numbers, dates, addresses, and links, making it easy for you to perform actions like tapping a handwritten number to make a call.
iPadOS 14 also brings Scribble to iPad, allowing Apple Pencil users to handwrite directly in any text field, making actions like replying to a quick iMessage or searching in Safari fast and easy, all without ever needing to put Apple Pencil away. Scribble uses on-device machine learning to convert handwriting into typed text in real time, so writing is always kept private and secure.
Other features of iPadOS 14 include Universal Search; sidebars for apps like Photos and Files with streamlined controls that consolidate controls in a single place; redesigned widgets; a 100% recycled aluminum enclosure and 100% recycled tine for the solder on its main logic board.
The new iPad (8th generation) is available for $429 for the Wi-Fi model and $599 for the Wi-Fi + Cellular model. It comes in silver, space grey, gold finishes in 32GB and 128Gb configurations. Education pricing for institutions purchasing directly from Apple, including schools and universities, is available starting at $399, which includes individuals, including current and newly accepted college students and their parents, as well as faculty, staff, and homeschool teachers of all grade levels.
The first-generation Apple Pencil remains $129. You can also grab the Smart Keyboard for iPad for $219 and Smart Covers for $65 ea. in black, white, and three new seasonal colours: deep navy, cyprus green, and pink citrus.
Apple iPad Air With A14 Bionic Chip
A new version of the iPad Air is also launching with the A14 Bionic chip. It comes in five finishes (silver, space grey, rose gold, green, and sky blue) and with a larger 10.9″ Liquid Retina display, camera and audio upgrades, a new integrated Touch ID sensor in the top button, and a new thin and light design.
To allow the display to extend on all sides, a next-generation Touch ID sensor is integrated into the top button, making it easy and secure to unlock the tabletr, log in to apps, or use Apple Pay. iPad Air is compatible with Magic Keyboard and its floating design, and built-in trackpad, Smart Keyboard Folio, and new Smart Folio covers, as well as Apple Pencil, which attaches magnetically to the side for easy pairing, charging, and storing.
Apple's A14 Bionic chip allows it the tablet to handle demanding apps, including editing 4K videos, create artwork, playing games, and more.
The redesigned Air has a 7MP front-facing FaceTime HD camera and now features the same 12MP rear camera used in iPad Pro for higher resolution photos and 4K video capture. The new design of iPad Air features stereo speakers in landscape mode.
It comes equipped with a USB-C port for up to 5Gbps data transfer, which is 10 times faster for connecting to cameras, hard drives, and external monitors up to 4K, says Apple. It also has Wi-Fi 6 performance and 60% faster LTE connectivity. Like the new eighth-gen iPad, it comes loaded with iPadOS 14.
The new iPad Air starts at $779 for the Wi-Fi model and $949 for the Wi-Fi + Cellular and comes in 64GB and 256GB configurations. Education pricing starts at $719.