It's that time of year again! We're back with the WiFi HiFi Holiday Gift Guides! Not sure what to get that special someone on your list? It has been a particularly tough year, and we all deserve some joy. There are lots of tech gift to suit an enduring passion, new hobby, personality, or style. Here, we'll look at great gift ideas for the entire family.
Samsung The Frame TV
A perfect new TV for the living room that the entire family can enjoy is the stunning Samsung The Frame TV, which provides a gorgeous 4K picture when you're watching from a compatible source (or upscaled from a lower-resolution one), then functions like a piece of art on the wall when you aren't watching. WiFi HiFi's John Thomson fell in love with the TV after having one in his home for review. While the TV is off, it looks like an oversized picture frame, displaying your own selection of art or content from Samsung's Art Store (subscription required). It's ultra-slim with customizable bezel colours, and while it comes in sizes from 43 inches up to 85 inches, we say go big if it's going to be the main family TV. Pricing starts at $1,000 but varies by retailer.
iRobot Roomba j7+ Robot Vacuum
I have been using an iRobot robot vacuum for years and have tested several models. And while the Automatic Dirt Disposal dock was a dream come true when it launched (and remains as such), the additional of the PrecisionVision Navigation sensor in the latest model that can detect cords on the floor is icing on the cake. The one annoyance I have always had with the vacuum is that it snags on cords, including ones that hang down behind the couch, like for our Savant system remote or a digital photo frame. When my son left his wired headphones on the living room floor, we returned to a tangled mess of the cord. For pet owners, it also has an intelligent sensor that can detect, er, excrement and avoid it so you don't arrive home to an unsightly mess when the vacuum ran after your precious pup had an accident. With all of the features fans have come to know and love with Roomba's, from intelligent home mapping so you can only clean certain rooms when desired, voice control, and the intuitive iRobot Home app, it's a great upgrade model if you're still holding on to your decades-old robot vacuum or big and clunky full-sized upright one. It starts at $1,050 with the Automatic Dirt Disposal dock or get it without the Clean Base for $800. Additional Dirt Disposal Bags are $20 for a pack of three.
Ikea Symfonisk Table Lamp Speaker
For a family that loves Ikea and has a Sonos system at home, they will be delighted to know that they can extend it with this table lamp that also doubles as a smart speaker. Now with new shade options and styles to match different décor, including black or white and a shade in either textile or glass, it connects via Wi-Fi and will work seamlessly with other Sonos products as part of a whole-home audio system. The base is $159 and the glass shade is $40 or grab the textile for $20.
Amazon Echo Show 15
Most families own at least one smart speaker these days, but a smart display can add a new element to the equation and provide both voice control and live video in another room. And the Echo Show 15 is more a small TV than it is a portable smart display with a sizable 15.6-inch, 1,080p screen and option to wall mount or place it on a counter or shelf. Ideal as a screen in the kitchen for displaying recipe videos, live TV, or other content, or even in a foyer as a central home hub and digital photo frame, it can be positioned in either landscape or portrait mode and includes a visual ID feature so it knows who is standing in front of it and can display your personal relevant information, like daily calendar and other widgets, including new digital sticky notes messages. (This feature can be turned off if desired). It functions like any other Alexa device as well, so it can control smart home devices, answer questions, play music, and more, all through voice commands. As with other Amazon smart displays, there's also privacy features, including a built-in shutter for the camera. $330
Samsung Bespoke Refrigerator
Looking to invest in a new refrigerator for the family? Consider going really funky with the design with one of Samsung's new Bespoke models, which are available in a variety of styles and configurations, including 4-Door Flex and 1-Door Column models. Even the convertible compartments on the inside are customizable. The 4-Door Flex model comes in eight different colours, including Rose Pink and Navy, with three finishes: glass, matte glass, and steel, offering a combination of design options. The 1-Door Column model, meanwhile, is available in six colours, including an exclusive beige option, with glass, matte glass or steel finishes. With the ability to swap the refrigerator's panels, it's easy to change the kitchen design at any time, whether it's part of a remodeling project or a refresh of the room. Additionally, the 1-Door Column model provides the ability to combine or remove units in their entirety, ideal if you ever upsize or downsize your home and take it with you. Design a Bespoke refrigerator via the BESPOKE Design Studio on Samsung.com/ca.
Nixplay 10-inch Smart Photo Frame Touchscreen
I gifted a Nixplay smart photo frame to my parents years ago and they love sitting in the living room and looking at the photos as they scroll through. What they particularly love about it is that, every so often, my sister and I will upload new photos and they receive a surprise with a whole new selection of images. It's super-easy to do using the app. Nixplay's latest model boasts a 10-inch 1,280 x 800 touchscreen so you can easily flip through photos, displayed in both landscape and portrait mode, with a simple swipe. Finished in matte black with gold trim, there's a proprietary wall-mounting detachable stand designed to hang on walls or stand anywhere. It features photo-sharing apps and platform integration features, such as Google Photos, Dropbox, Facebook, Instagram, and Amazon Alexa integration, and end-to-end encryption for photo and video privacy sharing. With 8GB storage, there's plenty of room for lots of images. US$210
Samsung Galaxy Tab A7 Lite
It's always a good idea to have a tablet for the family, but if it's only going to be used occasionally, you don't want to spend hundreds of dollars. The Samsung Galaxy Tab A7 Lite is a great and affordable option that you can confidently hand over to a toddler, then to your teenager to stream movies or surf the web. Ideal for on-the-go use thanks to the compact size, fast charging, and long-lasting battery, it has dual speakers with Dolby Atmos, and pairs seamlessly with a variety of Galaxy devices, from smartphones to earbuds. Equipped with an 8.7-inch display, the minimized bezel delivers a good screen-to-body ratio without resulting in a larger tablet. It measures just 8mm thin and weighs just 366 grams, making it ultra-compact as well. Using the tablet, you can do things like navigate with one hand via the gesture-based menus, snap photos using the 8MP back camera and 2MP back, and store plenty of content in the 32GB of built-in storage, which is expandable with an up to 1TB microSD card. It comes with a free two-month subscription to YouTube Premium so you can watch YouTube content and enjoy ad-free music and videos. The Galaxy Tab A7 Lite comes in Mystic Silver (Samsung Exclusive) or Dark Grey and is available in Canada for $210.
LG ProBake Convection InstaView Electric Slide-in Range with Air Sous Vide
If you haven't yet invested in an air fryer, what are you waiting for? If your family is in dire need of a range upgrade, consider this model that includes your typical stovetop and oven capabilities along with convection, air fry mode, and sous video cooking. With controlled low oven temperatures and airflow, the range perfectly and evenly cooks proteins, vegetables, and more in vacuum-sealed bags that lock in flavour and aroma when using the sous vide mode. LG Air Sous Vide can consistently maintain any temperature between 38 and 96 degrees Celsius for up to 48 hours without water, which results in more consistent dishes that do not require additional space to prepare, notes LG. Inspired by pro-style ranges, LG moved the oven's heating element from the bottom of the oven to the back wall for optimal heat distribution.
LG AirFry, meanwhile, is available in the large capacity oven. High temperatures and the convection fan work together to deliver crispy foods without the need for extra oil, and with no preheating required. LG's InstaView technology, originally found in its refrigerators, allows you to check on the cooking process by simply knocking twice on the glass door to turn on the interior light. The range can connect to LG's ThinQ mobile app so you can monitor and adjust cook times remotely with a smartphone or operate the oven range with voice commands using Amazon Alexa and Google Assistant. MSRP is $3,000 but pricing may vary by retailer.
Dyson V15 Detect Total Clean Cordless Stick Vacuum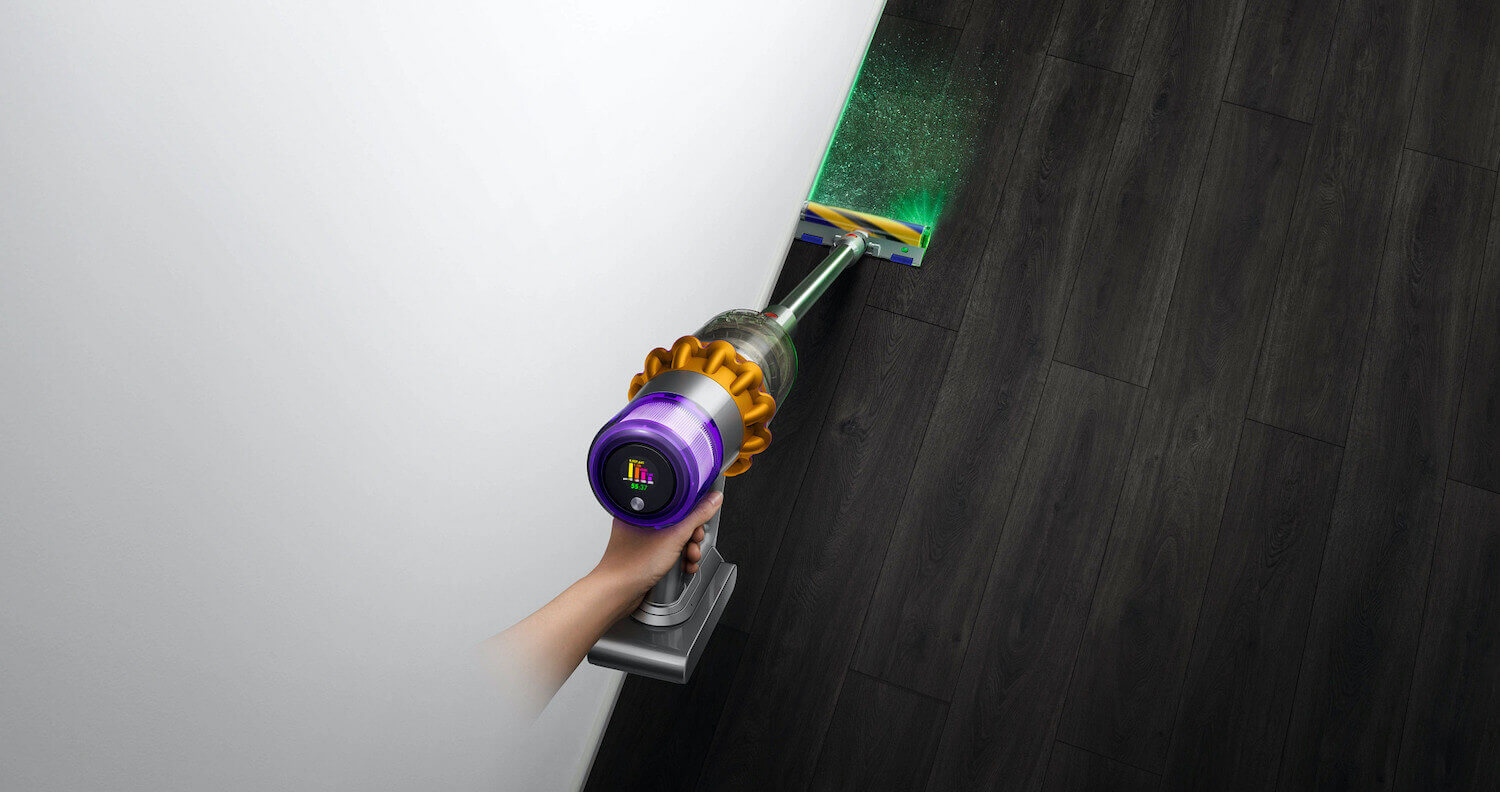 I am a lover of cordless stick vacuums, particularly Dyson, and I recently had the chance to try the V15 Detect Total Clean and was mesmerized by how useful the Slim Fluffy head cleaner is: it's not just a novelty! While seeing the details of the microscopic dust it's picking up on the screen is cool, the stunner is when you turn the lights down and the laser lights up for you to see just how much dust and debris is on your floors. It allows for a thoroughly satisfying clean and might even get the kids excited about helping vacuum their rooms! While it comes in at the high price of $950, your family will thank you for this upgrade.
TP-Link Wi-Fi 6 Mesh System
Need to upgrade the Wi-Fi in your home? This Deco X90 system features Wi-Fi 6 along with AI-driven mesh, tri-band support, and quad-stream radios for all three Wi-Fi bands. It also supports 1024-QAM and 160 MHz, boosting the overall wireless speeds up to 6,600 Mbps. Equipped with both a 2.5 Gbps port and a gigabit port, Deco X90 delivers fast Internet access for wired devices. With WiFi 6's combination of OFDMA and MU-MIMO technology, Deco X90 builds a more efficient network that quadruples the average throughput for connected devices in dense environments, says TP-Link. This, says the company, improves network capacity, cuts down on latency, and ensures a responsive network. Deco X90 is tested to connect up to 200 devices without dragging down performance. Families can now enjoy immersive live streaming, improved gaming speeds, and instantaneous video loading on different devices, all at the same time. Signals are enhanced by BSS Coloring and Beamforming, to make them clearer and stronger. This allows Deco X90 units to work together to deliver broader whole home Wi-Fi coverage that eliminates weak signal areas. AI-driven mesh technology gives Deco X90 self-learning capability. The smart mesh system intelligently learns the network environment, client quality, and user behaviour, and constantly improves itself through experience. Featuring advanced computing power, Deco X90 uses algorithms to account for the various factors that affect Wi-Fi. Deco X90 is equipped with six internal high-gain antennas and two smart array antennas. The high-gain antennas create strong, clear, dependable Wi-Fi throughout your home while the two smart array antennas use intelligent algorithms to auto-detect the location of other Deco units to establish a stronger backhaul between them via signal concentration. This boosts coverage and improves wireless connections. Thanks to advanced WP3 encryption and TP-Link HomeShield powered by Avira, Deco X90 is a secure mesh Wi-Fi system. TP-Link HomeShield, meanwhile, delivers real-time security monitoring and antivirus for IoT devices. It also customizes your home network with enhanced security using a kit of features. The Deco app can be used for configuration.
Phyn Smart Water Sensor
We, like many other homeowners, have experienced water leaks, whether it's from the kitchen sink, a sewer back-up in the basement, or another source. The worst part is not discovering it until hours later. A smart water sensor like this one can ease concerns by reassuring you that you'll know the second there's moisture to act and prevent worse damage. Available in one, two and three-packs, the compact device helps safeguard homes against water damage by detecting leaks, changes in temperatures, and potentially damaging humidity levels. The Smart Water Sensor can be placed throughout a home and immediately alerts homeowners the moment an issue is detected, serving as an extra layer of protection ideal for hard-to-reach, leak-prone areas, like in the kitchen, basement, laundry room, or attic to detect an overflowing washing machine, leaking refrigerator, water heater, or sump pump and flooded basements. When the Smart Water Sensor comes into contact with moisture, it automatically notifies homeowners via SMS, push notification from the Phyn app, as well as with an audible alarm and flashing LED lights on the device. The Smart Water Sensor works on its own and can also be paired with Phyn's flagship product, the Phyn Plus, to activate the shutoff valve feature and turn off the water to the house. It's great both for the home as well as a cottage where Canadians might only be there sparingly.
LG QuadWash Dishwashers with TrueSteam
It's never fun when a major home appliance breaks down, but replacing it can be exciting with the latest and greatest models that boast feature to offer both improved performance and better efficiency. The updated line of Wi-Fi-enabled, smart LG dishwashers help eliminate water spots and drying by hand, and are certified by experts to sanitize dishes, glasses and more. LG TrueSteam delivers two separate blasts of real steam from powerful steam jets for better cleaning and drying that eliminates water spots. QuadWash technology uses Multi-Motion arms that rotate back and forth while spinning to power-clean dishes from multiple angles. LG's Dual Zone Wash lets you vary the spray intensity in the upper and lower racks for optimal cleaning performance. Gently clean delicate dishes on the upper rack, while power-washing heavy-duty pots and pans on the lower rack in the same wash cycle. The newly enhanced EasyRack Plus system provides flexibility for things like oddly shaped dishes and allows you to wash more items and thus do fewer loads. The height adjustable 3rd Rack is ideal for flatware, long-handled utensils, and hard-to-fit items. LG's LoDecibel Operation is as quiet as 44 decibels, while LG's innovative Inverter Direct Drive Motor and three-stage filtration system are designed for quiet performance. Using the ThinQ app, you can receive notifications when a cycle is complete and operate the dishwasher with voice commands using Amazon Alexa and Google Assistant. The 2021 model dishwashers come in smudge-resistant stainless steel, black stainless steel, and matte black stainless steel, with pricing starting at $1,600.
Ring Floodlight Cam Wired Pro
Ring's new Floodlight Cam Wired Pro is the company's most advanced floodlight camera to date, equipped with 3D motion detection and bird's eye view, along with other features that deliver insight into motion events around your property. The re-imagined floodlight builds on the features of the popular Ring Floodlight Cam to monitor outdoor spaces with motion-activated LED lights and HD video. Along with 3D Motion Detection and Bird's Eye View, the Ring Floodlight Cam Wired Pro has a 110db siren and colour night vision. Audio+ helps users hear what's happening more distinctly, with crisp, clear sound thanks to an array microphone for enhanced audio and echo cancellation. Easily hardwire the camera to the outside of the home and connect to your Wi-Fi network for around-the-clock power. Check in on the property anytime from anywhere using a mobile or Alexa-enabled device and see and speak with visitors in real-time. Advanced features include Customizable Motion Zones that trigger recordings, and Privacy Zones that exclude areas in the camera field of view from video recording. With 3D Motion Detection technology, Ring Floodlight Cam Wired Pro allows homeowners to customize which areas of their property to monitor by selecting distance thresholds. The radar sensor determines when an object crosses the distance threshold by measuring its specific distance from the camera, and the camera then only activates once that threshold is crossed, sending homeowners a motion alert. Powered by 3D Motion Detection, Bird's Eye View provides an aerial map view of the motion events in front of the floodlight camera and clearly shows the path visitors take when visiting the property. Also available on the Ring Video Doorbell Pro 2, this new feature creates a visual representation of the path traveled once a visitor crosses the selected threshold but before a motion alert is sent, so the homeowner has greater understanding of what's happening when viewing individual videos from each device in the Ring app. $325
Dyson Hot+Cool Formaldehyde Air Purifiers
A major concern for families these days is viruses, germs, and bacteria, and every home should have an air purifier. Dyson's latest has formaldehyde sensing technology, designed to capture ultrafine dust and allergens and destroy formaldehyde. Formaldehyde is a colourless gas pollutant that can enter indoor air though off-gassing or combustion, which sources ranging from particleboard to fibreboard, hardwood plywood paneling, wallpaper, carboard, paper products, permanent press fabrics like drapery, glues, paints, varnishes and floor finishes. In addition to the existing particle, NO2, volatile organic compounds (VOCs), temperature and humidity sensors, the new air purifier features the intelligent formaldehyde sensor that ensures precise sensing of the pollutant for the lifetime of the machine. It uses Dyson Air Multiplier technology to project purified air to every corner of the room. Auto mode enables the machine to maintain a preferred room temperature and air quality level. Control and monitor air quality from anywhere using the Dyson Link app and control it hands-free in with Google Home (English only), Alexa and Siri.
Amazon Echo Show 10 Smart Display
If a smart speaker isn't enough and the Echo Show 15 is too big to meet your family's needs, consider the latest Amazon smart display that has a screen that moves with you. Why would you want the screen to follow you? If you're video chatting with someone but moving around the room, such as prepping a birthday cake for yet another Zoom virtual birthday party, cooking in the kitchen while someone is helping you, or just chatting with friends while multitasking, the screen will ensure that you are always in the frame, no matter where you move (as long as you are within the display's view, of course). Also, if you're watching a video, like a step-by-step video recipe or your favourite show, the screen will move so that you can always see what's going on, whether you are walking over to the knife block to grab a Chef's Knife or popping over to the oven to check on the pie crust. The 10.1″ HD display also has adaptive brightness and colour along with built-in dual front-firing tweeters, a powerful woofer, and directional sound that adapts to your space. Its 13MP camera has a 110-degree field-of-view and pans, zoom, and auto-frames so that you are always the centre of attention during calls, or while snapping photos. You can conduct video calls with family and friends from the screen, watch TV shows and movies from popular streaming sites like Amazon Prime Video and Netflix, and check out recipes on SideChef. $330
Asus ZenBeam E2 Portable Projector
Great for family outdoor movie nights, camping trips, or fun movie days in the basement, the ZenBeam E2 offers up to four hours of playback time, which is long enough for a movie or two for a marathon night. Offering both wired and wireless projection, an Auto Portrait feature allows you to change its orientation while in use. Coming in a flat compact form and weighing just 410 grams, it features 300 LED lumens, 854 x 480 resolution, HDMI connectivity, and a 5-watt speaker.