Remember Apple's HomePod smart speaker? It didn't exactly transform the market, nor overtake leaders like Amazon's Echo and Google's Home lines of devices. But it has been a great option for households that live within the Apple ecosystem. And Apple has finally launched a new version of it, called the HomePod mini.
The HomePod mini is just 3.3 inches tall and, like its bigger sister, works with Apple Music, podcasts, and radio stations from iHeartRadio and TuneIn. Connect multiple ones together to stream music or other audio in different rooms of the home, all in sync with one another. Pair two together in the same room to create a stereo pair and wider soundstage.
Featuring the Apple S5 chip, the HomePod mini works with advanced software to analyze the characteristics of music and apply complex tuning models to optimize loudness, adjust the dynamic range, and control the movement of the driver and passive radiators in real time, says Apple. The Apple-engineered full-range driver, powered by a neodymium magnet and a pair of force-cancelling passive radiators, enables deep bass and crisp high frequencies as well.
As with the larger HomePod, the HomePod mini comes equipped with an Apple-designed acoustic waveguide to direct the flow of sound down and out toward the bottom of the speaker for an immersive 360-degree audio experience. This means you can place the HomePod mini almost anywhere in a room and hear consistent sound. A three-microphone array listens for "Hey Siri," and a fourth inward-facing microphone helps isolate sound coming from the speaker to improve voice detection when music is playing.
Siri works with the HomePod mini so you can ask it questions and have it recognize your voice and respond with personalized answers, and tailor music and podcasts to your preferences. It can also access your notes, reminders, and calendar appointments, or even answer and make phone calls. Siri also offers users a personal update for a quick snapshot of your day: just say "Hey Siri, what's my update?" to hear the latest news, weather, traffic, reminders, and calendar appointments.
HomePod mini works seamlessly with Apple devices so you can do things like pick up an incoming call, listen to music on the Mac, or connect it to your TV. When listening to music on iPhone, just bring the device close to HomePod mini to hand off the music. Later this year, the HomePod mini will offer visual, audible, and haptic effects when sound transfers from one device to the other.2 Personalized listening suggestions will also automatically appear on iPhone when it is next to HomePod mini, and instant controls are available without having to unlock iPhone.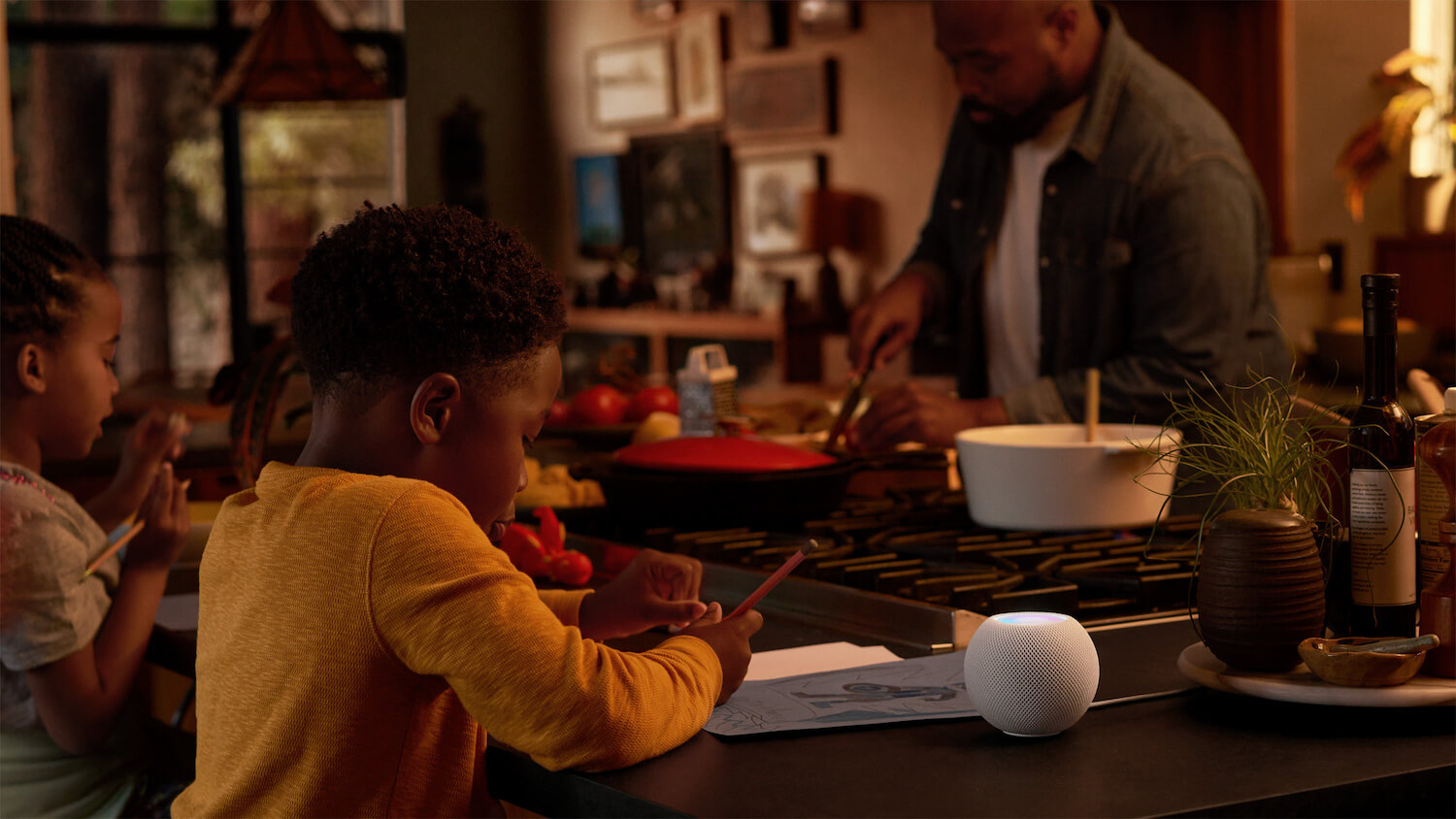 You can also use voice commands to control connected and compatible smart home devices, like lights, a thermostat, door locks, and multiple devices in scenes, effectively using the HomePod as your smart home hub.
A new Intercom feature offers a quick way for family members to connect with each other at home. One person can send an Intercom message from one HomePod to another — whether in a different room, a specific zone, or multiple rooms throughout the home — and their voice will automatically play on the designated HomePod speaker. Intercom works with iPhone, iPad, Apple Watch, AirPods, and CarPlay, so everyone in the household can get Intercom notifications and send Intercom messages from the backyard or on their way home.
With HomePod mini, only after "Hey Siri" is recognized locally on the device, or the user activates Siri by touch, will any information be sent to Apple servers. Requests are not associated with the user's Apple ID, and personal information is not sold to advertisers or other organizations, assures Apple. HomePod mini works with iPhone to complete requests for messages and notes on device without revealing that information to Apple.
Additional features of the HomePod mini include accessible Siri Shortcuts; ambient sounds for the background, like rain or a fireplace along with sleep timers; Find My for located a misplaced Apple device by playing a tone; Web search results sent to your phone for easy viewing; and music alarms for waking up to your favourite tune.
Apple's HomePod mini will come in white and space grey and sell in Canada for $129 once it's available starting November 6, 2020. It is made using 99% recycled rare earth elements and finished with mesh fabric that is made from more than 90% recycled plastic. The packaging is made from wood fibres from responsibly managed forests or recycled sources. Because it operates most of the time in the low-power mode and using optimized power management features and a high-efficiency power supply, Apple says the HomePod mini consumes 75% less energy than what is required to meet Energy Star standards.
The HomePod mini is compatible with iPhone SE, iPhone 6s or later, or iPod touch (7th generation) running iOS 14; or iPad Pro, iPad (5th generation or later), iPad Air 2 or later, or iPad mini 4 or later running iPadOS 14.