For months, I had been seeing ads, deals, and receiving pitches for the Blendjet 2 portable blender. Admittedly, it piqued my curiousity. So, when I had the chance to review one, I jumped at the opportunity. And I was pleasantly surprised.
What is Blendjet 2?
Blendjet 2 is a portable personal blender that can mix up smoothies, shakes, dips, and essentially anything else you'd make in a blender. It includes a base with a six-point stainless steel blade, BPA-free plastic jar with measurement markings up to 16 ounces, and leak-proof lid with carrying strap.
The stand-out feature, however, is that is it battery powered so you can recharge it via the included USB-C cord then pack it up and take it with you to use at the office, camping, hotels, or even on the road. You get up to 15 blends per charge, using the six-point stainless steel blade. which means you can charge it and bring it on a two-week vacation for quick breakfasts or snacks without having to recharge. Upgrades from the original Blendjet with the Blendjet 2 include three different modes (Blend, Pulse, and Lock) and up to 15 blends per -one-hour charge. It is also water-resistant, allowing for easier cleaning.
Ideally, the Blendjet 2 is paired with the company's selection of Jetpacks, powdered formulas that can be added to any type of liquid, like water or milk, to create a delicious drink. Jetpacks include fruit smoothies, protein smoothies, and coffee-based lattes that can be mixed with any type of milk or beverage, including non-refrigerated and easily accessible almond, oat, and soy milk. But you can use Blendjet 2 to blend just about anything, from your own smoothies with protein powder, frozen fruit, nuts, and more to homemade dips, sauces, and other savoury items, and even alcoholic beverages.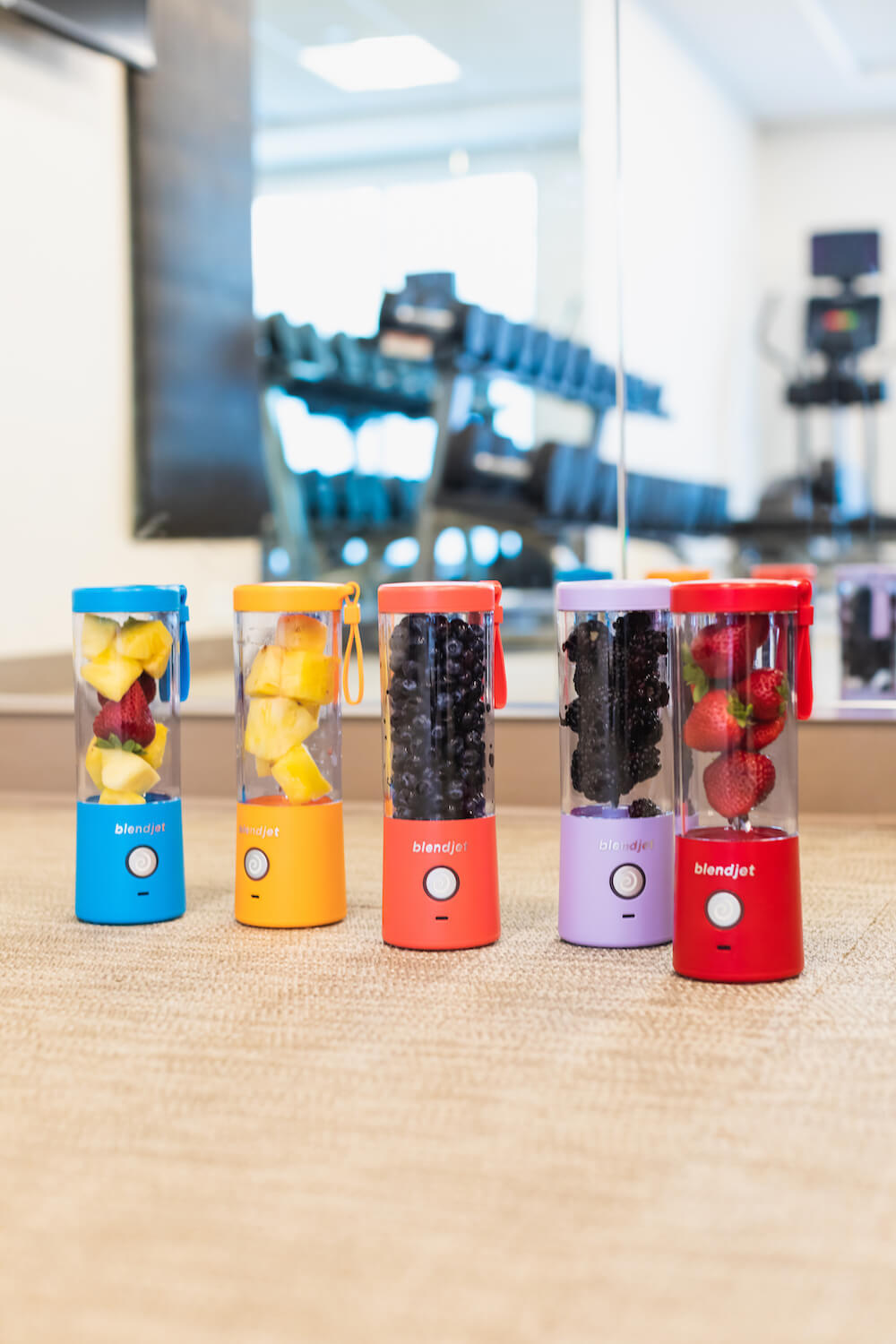 The unit itself, which comes in a variety of fun and playful designs as well as solid colours, is lightweight: it would easily fit in an oversized purse or the large bottle holder of a backpack.
Testing the Blendjet 2
I received a Blendjet 2 with a light green base along with several of the new latte Jetpacks. After charging the unit for about an hour, the main power light turned blue, indicating that it was ready to go. Slide the plastic container onto the base, which contains the charging port and blades, add your ingredients, and twist on the cap. I love that the button illuminates red until you properly fit the container onto the base, which helps prevent a messy situation on the go. The plastic lid has a neat clip so you can clip it to the side of a bag or loop it around your finger.
I added oat milk up to the 8-ounce marker along with one of the latte mixes and some crushed ice. It's important to leave some room at the top so the contents don't push up to the lid and pressure doesn't build up inside while it's blending.
After pushing the button, it went to work for a 20-second cycle. It's not ultra-quiet but it isn't as loud as a full-sized blender: you could easily use this at the office without disturbing others, especially since it only runs for 20 seconds. Here's a quick video demo of how it sounds.
The end result was a delicious, frothy drink that I consumed within minutes. The taste was fabulous. Later, I made my son a smoothie with milk, fresh blueberries and bananas, and crushed ice.
I couldn't wait to really put the Blendjet 2 to the test, however, with the added power it offers over the original Blendjet. How would it fare with frozen fruits? As noted, in addition to a single press to initiate a 20-second blend cycle, you can also press twice to pulse if needed. (The lock mode, meanwhile, is designed to prevent the button from being accidentally pressed should it knock against something in your bag or a young child gets their hands on it, for example.)
The unit did shake a bit more initially when I popped in a frozen smoothie cube along with some oat milk, but not so much that I was worried it would topple over. If you notice ice chunks or large pieces of fruit left in the blended drink, simply run it for another cycle or use the Pulse mode. I found two regular cycles was all I needed. Even so, 40 seconds is less than you'd likely need to blend a smoothie for in a powerful, full-sized blender. Bottom line: this little wonder and its patented TurboJet technology packs a ton more power than it might look like.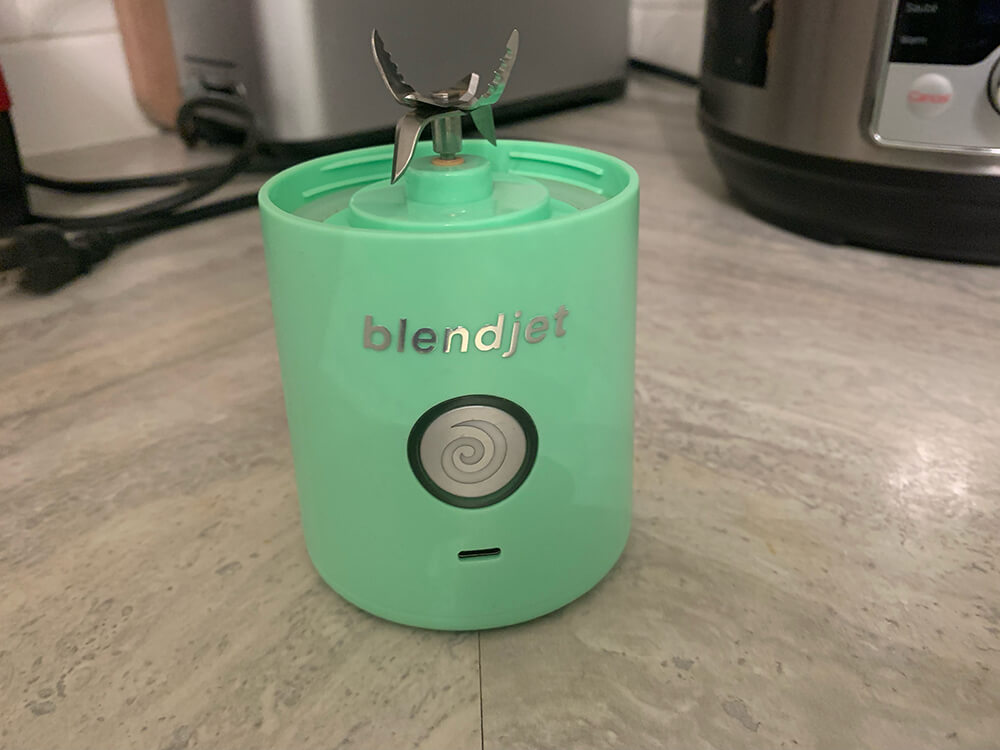 My main concern was with cleaning. Despite the fact that the Blendjet 2's USB-C charging port is water-resistant, I couldn't help but worry about moisture getting inside. With that said, the company assures that the unit is water resistant, though you don't want to submerge it. I tilted the base into the sink and ran hot water over the top until it was fully cleaned.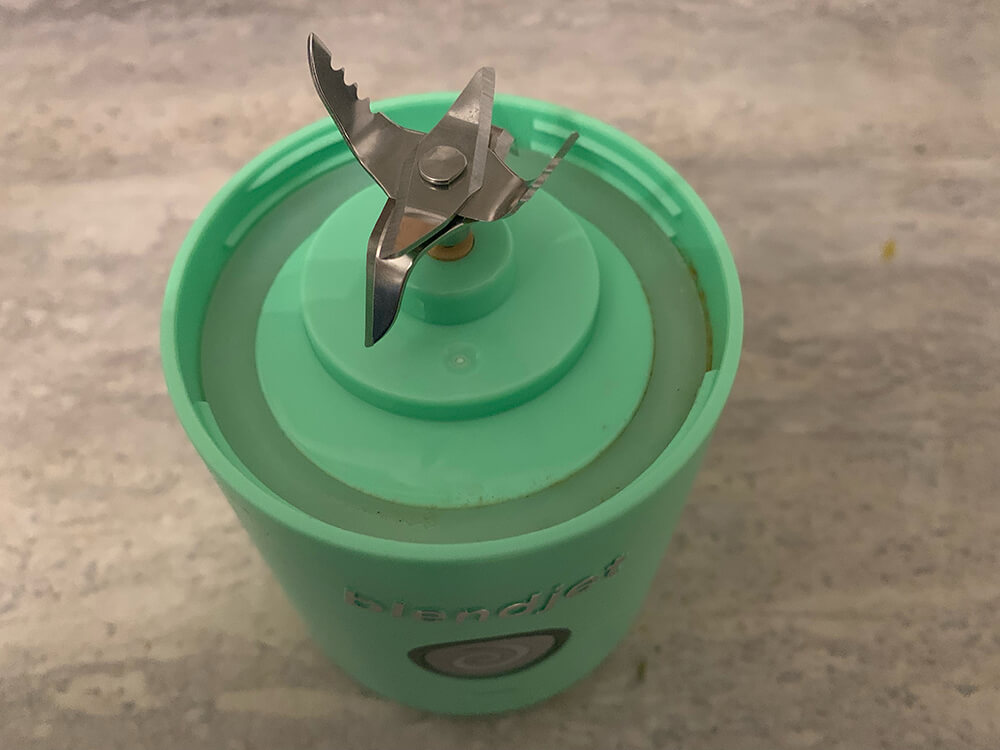 If you can't clean it immediately after use, you can add a bit of soap and gently clean any caked on residue with a sponge. Never use it or plug it in to charge, however, when it's wet. The company recommends not leaving liquid in the blender for lengthy periods of time to prevent damage. Ideally, it would be great for the unit to include a covered USB-C charging port like those found in waterproof digital cameras for added comfort.
What about the Jetpacks?
While I didn't get the chance to try the other Jetpack types, based on the quality and taste of the lattes I tried, they are likely to be just as delicious. With that said, they are expensive. Delivered from California, you'll pay about US$30 for a five- or six-pack, depending on the type, though you can save 25% when subscribing for recurring deliveries.
If you plan to use the blender on the go to make drinks at the office where you don't have all the fresh ingredients at your disposal, while camping, hiking, or in other settings, this might be worth it. Blendjet justifies the high cost by noting that each single-serving JetPack is loaded with "the freshest fruits and veggies picked at peak ripeness and then freeze-dried, locking in all the flavours. They're also vegan, gluten-free, non-GMO, and contain no artificial sugars."
Otherwise, a cheaper alternative would be to buy your favourite protein shake powders and use Tupperware, Zip-lock bags, or another jar to bring some with you to mix in the blender. If you do plan to use it often on the go, the optional case would be a worthwhile purchase as well.
For some, however, you might like the Jetpacks since they don't take up as much space as a week's worth of frozen fruits and veggies. The Jetpacks don't have to be refrigerated but come in 1.2-ounce packages that you can easily store in the pantry and grab as needed. Best by dates are years, so if you're looking for something to keep in a panic or even to stock in a preparedness room, they're a good choice.
Should you get the Blendjet 2 portable blender?
If you love smoothies, shakes, homemade dips, and other blended drinks and food, the Blendjet 2 is a great little unit. I can imagine bringing it with me to a cottage, hotel, or even a friend's house to enjoy homemade drinks. But I also find it makes me more inclined to have smoothies at home since clean-up is so minimal, especially when only making a drink for one. It's quiet and super quick, too, making it perfect for busy professionals.
For the price, which is about $66 on sale (regularly $132), charged in Canadian dollars and with six Jetpacks and the protective sleeve, it's totally worth it. The Jetpacks aren't cheap, but with a few included with purchase, you can make the decision on if you find that it's worth subscribing to recurring deliveries or buying a few every now and then.
But when it comes to the Blendjet 2 portable blender itself, it's simple to use, quick to clean, and perfect for on-the-go.