Fisker, with a tag line of being "driven by a mission to create the world's most emotional and sustainable electric vehicles", today released additional details on the Fisker Alaska pickup truck.
"Alaska breaks with convention," Chairman and CEO Henrik Fisker said. "It doesn't fit into any current segment, as it combines features of a mid-size pickup with the capabilities of a full-size thanks to its innovative expandable bed design."
The Fisker Alaska is the company's "everything" vehicle: sporty handling and driving dynamics combined with luxury SUV comfort and everything buyers in the booming pickup-truck market expect. But Fisker also intends to make the Fisker Alaska the world's most sustainable pickup when deliveries commence in 2025.
The company is also innovating with the vehicle, particularly when it comes to the bed, which is designed to expand from 4.5 to 7.5 feet thanks to a Houdini partition behind the rear seats that can be electronically lowered into space created by the battery layout of the FM31 platform. The Houdini door will be protected by a flip-up panel. With the powered liftgate dropped and rear seats lowered, the bed expands to 9.2 feet. When the rear seats are folded down and the Houdini is lowered, the rear seats are protected by fold up panels including a panel folding up behind the front seats. Beyond that, Fisker aims for the Fisker Alaska to be the world's lightest electric pickup and feature extra storage in an insulated front trunk.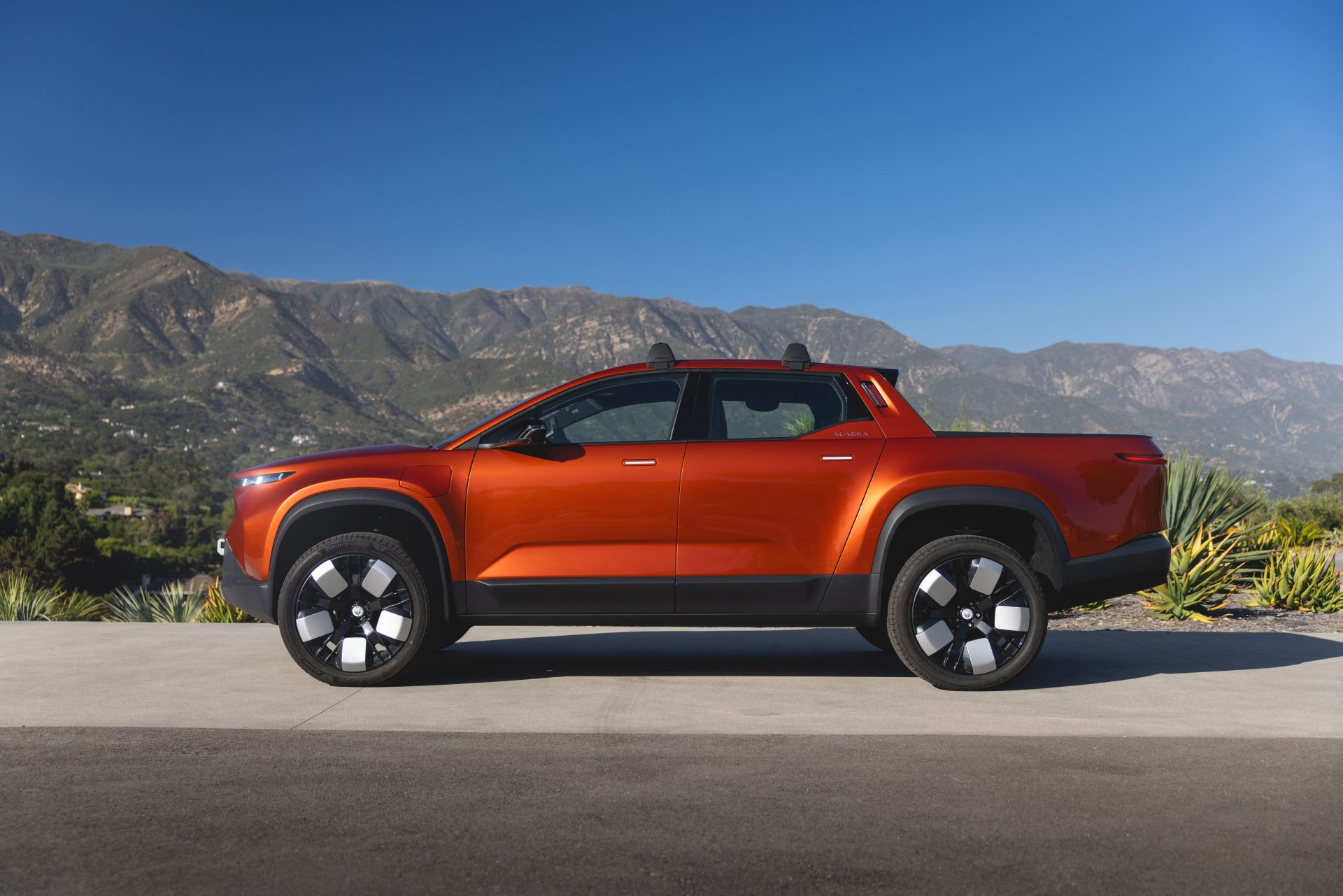 The Fisker Alaska will be offered with two battery packs – 75 kWh and 113 kWh – that will offer range of 230 to 340 miles; the 0-60mph time will range from 3.9 to 7.2 seconds. The vehicle will be 17.4 feet in length and staying on trend in the e-vehicle market by offering quirky options, Fisker hopes to entice owners with a big gulp cupholder, the world's largest, a cowboy hat holder, cockpit storage for work gloves, a large center armrest with storage for flashlights and pens, and a passenger tray with a tablet holder. Wheels will be available in 20- and 22-inch sizes.
Production of the Fisker Alaska is expected to start in Q1 of 2025. The Fisker Alaska's base price is expected to start at $45,400 usd, before eligible incentives are applied. Interested customers can reserve the vehicle at Fiskerinc.com for $250 for their first Alaska and fully refundable $100 for the second.