Just in time for the holidays, Hendrick's Gin has released a stationary version of the penny farthing bicycle, that was all the rage back in 1887 when Hendrick's started distilling gin. Launched by the company's department of Not So Convenient Technology, with the tag line "a genuinely effective and fascinating fitness contraption with a charming lack of convenience", the stationary bicycle has no wi-fi connection nor a digital display, but it does come with a reading table, headlamp and a patch of artificial grass.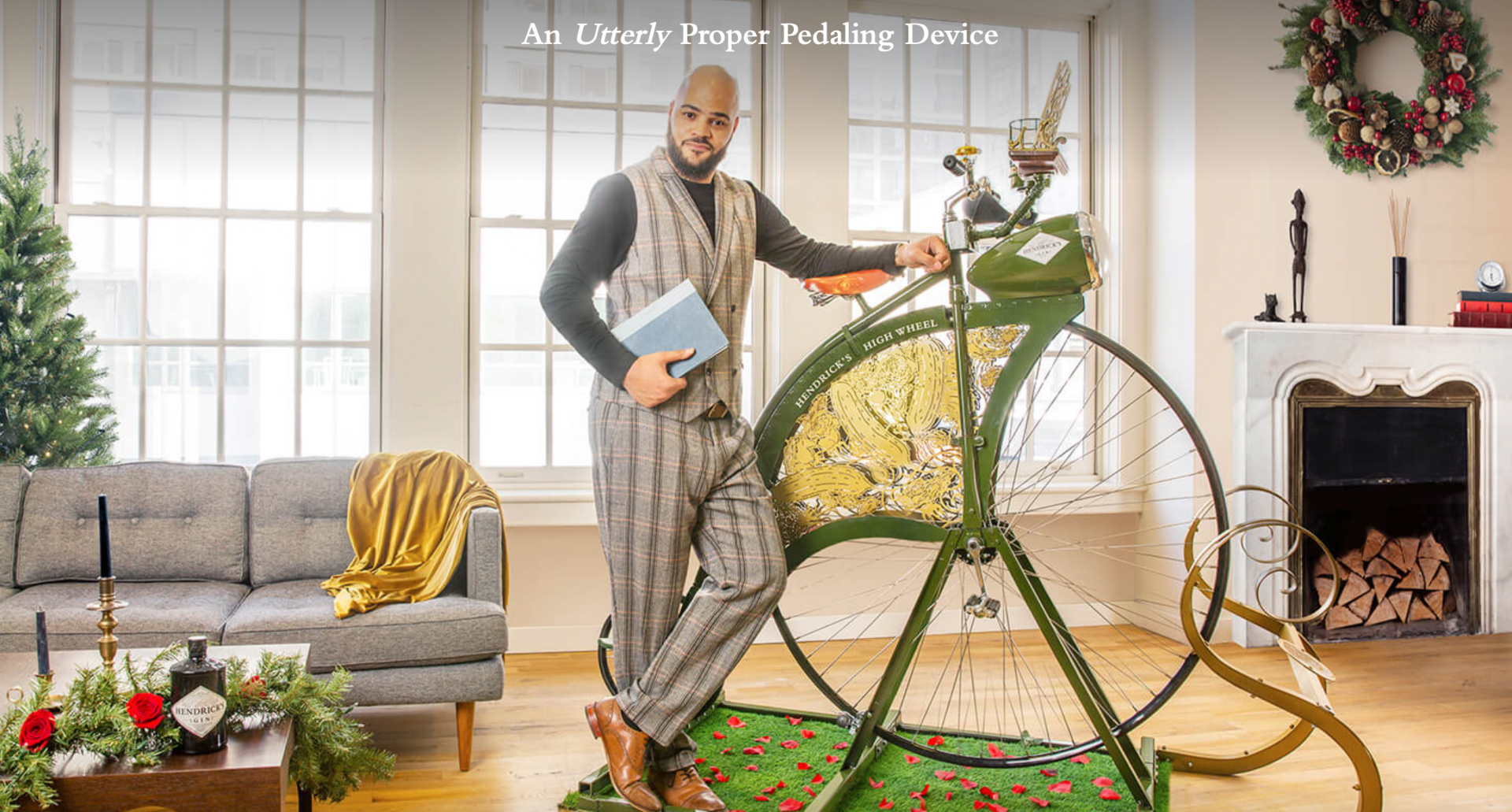 According to Hendrick's sales material "pedaling the High Wheel can improve cardiorespiratory capabilities, tone the thighs and buttock, and strengthen whichever arm you use to reach for your water bottle (or better yet, your martini at happy hour post-workout) and simply mounting our higher-than-normal cycle can improve balance and agility, while adding to your list of conversation topics.
Hendrick's points out that the penny farthing functions as a literary device with a built-in bookstand to hold your High Wheel exercise manual (free with purchase of device and includes a map of South Scotland for those who prefer to journey up and down the lush green hills), as well as a range of novels and non-fiction, including George Elliot's Middlemarch, the Journals of Mary Shelley and Xenogenesis by Octavia Butler.
While Peloton focuses on data from thousands of group riders, Hendrick's provides a Proof-Of-Effort Incandescent Bulb (the very force of you pedaling causes the bulb to light up while riding) to keep your work-outs honest! Other features include:
Seat-Of-Many-Heights (to ensure you are pedaling in the most ergonomic position)
Two-Way Mountability: Plant your foot upon the Cucumber side-peg (no, you cannot take a bite, it's for stepping only) and gracefully swing your leg upon the High Wheel, or you can venture up the Grand Rear Staircase
Tiny Grass Lawn: Your very own (and very green) grass patch which you will ride upon, amongst beautiful fallen rose petals
The Hendrick's penny farthing is available immediately for $2,493.11 plus shipping which is about $450 more than a Peloton but the farthing has no pesky monthly subscription fees.