Kensington has announced a number of new high-performance docking solutions to its line-up, including a multi-gigabit Thunderbolt 4, mobile, and mini docks.
The Kensington SD5780T Thunderbolt™ 4 Dual 4K Docking Station with 96W Power Delivery (K33040NA) is designed for use with the latest MacBooks, Surface devices, and other Thunderbolt 4-enabled laptops. It transforms the computer into a complete, high-performance desktop workstation using a single Thunderbolt 4 port.
The plug-and-play, multi-Gigabit SD5780T supports one 8K monitor or up to two 4K monitors and allows you to connect a mouse, keyboard, and other USB devices at ultra-fast data transfer speeds up to 40Gbps. With a fixed 96W of power to charge the laptop and attached USB-C or USB4 accessories, and the 2.5Gbps Ethernet port helps eliminate bottlenecks between the laptop and the local network.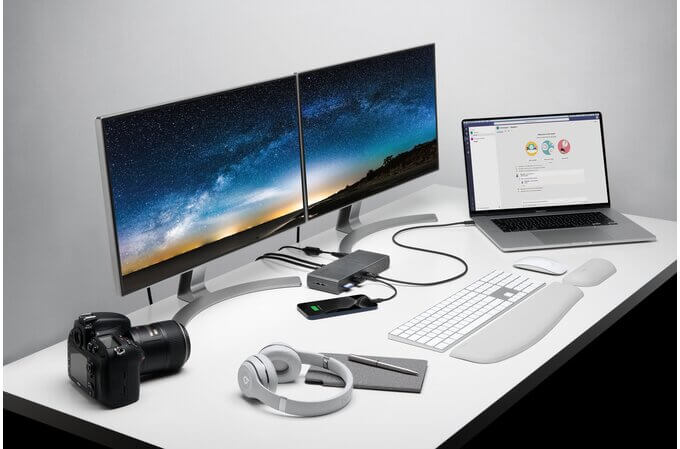 The SD5780T is universally compatible with Thunderbolt 4, Thunderbolt 3, USB4, and USB-C devices running Windows (10 or later) or macOS (11 or later). It includes a one-metre Thunderbolt 4 passive cable for ease of mounting and placement.
Three Thunderbolt 4 ports support data, a dedicated HDMI 2.1 video port, high-resolution audio, four USB-A 3.2 Gen2 (10Gbps) ports, one 2.5Gbps Ethernet port, one audio combo jack, and one UHS-II SD 4.0 card reader.
An optional Docking Station Mounting Bracket (K34050WW) enables the SD5780T to be mounted out of the way to maximize desktop space and reduce clutter. Standard and Nano lock slots enable you to protect your investment with a Kensington lock such as the MicroSaver 2.0 Keyed Laptop Lock (K65020WW) or NanoSaver Keyed Laptop Lock(K64444WW), sold separately.
Ideal for education environments, and certified within Google's Works With Chromebook program, the Kensington G1000P USB-C Mini Dock is a plug-and-play solution for Chromebooks, while also being compatible with Windows and macOS devices. The compact G1000P supports one 4K @ 60Hz video output, two USB-A 3.2 Gen1 5Gbps ports, one USB-C 3.2 port designed for 85W power pass-through only, and a Gigabit Ethernet port. The sleek, portable docking station eliminates the need for adapters and dongles and is easily carried in a backpack or carrying case.
The new Kensington UH1440P USB-C 5Gbps Dual Video Driverless Mobile Dock is ideal for professionals who need to connect to multiple monitors in varying locations, with different video connectivity ports. The compact, mobile dock, which allows you to connect up to two DP/HDMI and/or DP/VGA monitors at 1080p @ 60Hz, features a 10-in-1 design that includes three USB-A ports, a 3.5mm audio jack, micro and SD card slots, and one Gigabit Ethernet port. The UH1440P supports up to 85W power pass-through, enabling the laptop's USB-C power supply to charge the laptop while powering the dock.
The Kensington SD5780T Thunderbolt 4 Dual 4K Docking Station with 96W PD and G1000P USB-C Mini Dock are covered by three-year warranties, and the UH1440P USB-C 5Gbps Dual Video Driverless Mobile Dock is covered by a two-year warranty.