Amazon has confirmed that, starting today, the Matter smart home ecosystem is now available over Wi-Fi on 17 Echo devices, as well as support for light bulbs, plugs and switches, and Android setup.
Amazon, which is a founding member of Matter, will be bringing Matter support to more than 100 million devices, including 30 Echo and eero devices. This announcement marks phase 1 in aiming to make the smart home more interoperable and easier. Broad availability across iOS, Thread, additional device types, and remaining Echo and eero device support will be rolling out early next year during phase 2.
In a blog post, Amazon's Marja Koopmans, discusses the importance of making devices and services from different brands able to take to one another. "From the beginning," she writes, "it's been our goal to make Alexa compatible with as many smart home devices as possible—regardless of the protocols on which they're built."
Matter devices will work seamlessly alongside existing smart home devices, offering a consistent and familiar experience with the Alexa voice assistant.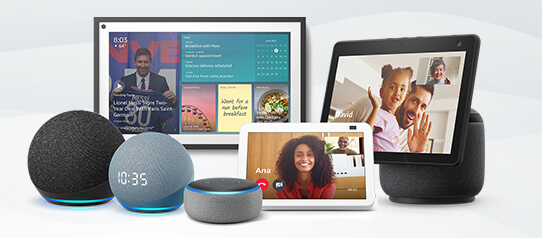 Amazon has built Frustration-Free Setup into the Matter SDK, with the ability to start working with the Commissionable Endpoint API today and next year, and new Alexa Ambient Home Dev Kit features for credentials and Matter multi-admin simple setup. For developers who prefer a managed solution, you can start building Matter devices today with ACK SDK for Matter, easily adding local Matter connectivity to your devices while benefiting from the unique insights and capabilities provided by managed cloud connectivity. 
At CES 2023 next month, Amazon will make announcements on the developer portal and showcase the possibilities of ambient smart homes powered by Alexa, seamlessly connecting smart home devices and the latest Matter devices. The set-up will be located at the Venetian Amazon Experience Area.
The first 17 Echo devices that will work as Matter controllers include the Echo Dot (5th Gen), Echo Dot (5th Gen) with clock, Echo (4th Gen), Echo Dot (3rd Gen, 2018 release), Echo Studio, Echo Show 8 (2nd Gen, 2021 release), Echo Show 10 (3rd Gen), Echo Show 5 (2nd Gen, 2021 release), Echo Show 15, Echo Dot (3rd Gen with clock), Echo Dot (4th Gen with clock), Echo Show 5, Echo (v3), Echo Dot (4th Gen), Echo Input, Echo Flex, and Echo Show 8.