True wireless earbuds are a dime a dozen these days. By this, I mean there are hundreds of options from which to choose. However, only a handful can be had on a dime. One such pair is the new OnePlus Nord Buds 2, which are just $85 per pair. They come with a charging cable, charging case, and cute stickers for a fun touch.
Naturally, I was curious to try these earbuds. Are they decent enough given the under $100 price point? Here's my take.
The Specs
First, let's review the specifications of these earbuds. They feature a 12.4mm extra-large driver, titanized vibrating diaphragm, ANC, Clear Call technology, fast pairing, and fast charging.
Made of sustainable materials, the OnePlus Nord Buds 2 feature PureBeats by BassWave enhancement, which the company says compensates for weak bass pitches to help improve quality while listening to music, playing games, or making calls. They also feature adaptive noise cancellation, along with transparency mode to hear outside sounds when desired.
Designed to be dust- and water-resistant with an IP55 rating the Nord Buds 2 boast custom touch controls you can tailor to your needs with quick taps and long presses. Clear Call technology, which uses an AI algorithm, is combined with a dual mic system that helps amplify your voice while also blurring outside noises.
The buds use AAC for digital audio encoding and decoding and can connect to the Dirac Audio Tuner on a OnePlus smartphone for a more immersive listening experience (I was not able to test this feature). There are several equalizer modes from which to choose, including balanced, serenade, bold, vocal, and bass modes. Also with a OnePlus phone, thanks to Oxygen OS, you can pair easily with the mobile device via a pop-up notification.
Using the included case, the OnePlus Nord Buds 2 support fast charging: you only need to charge for 10 minutes to get five hours of use with ANC off. Thanks to multiple charges in the case, you can get up to a total of 27 hours of playback time with AAC and ANC on. They come with a cute (albeit short) red USB-C to USB-C charging cable, though you can use any standard USB-C charging cable to give them a battery boost as needed.
The included Emoji sticker can be used to add a customized message for a friend you might be gifting the item to, or even as a nice, feel-good surprise in the box. There are also customizable themed pop-up skins, including an animation that appears on the case when it's opened.
Testing the OnePlus Nord Buds 2
The first thing you notice when unboxing the OnePlus Nord Buds 2 is that they look more expensive than they actually are. The charging case is a lovely white and silver as are the buds themselves (they also come in Thunder Grey). They boast a traditional buds design connected to pill-shaped stems that sit outside of your ears. Three eartip sizes come in the box to ensure a perfect fit.
I tested these connected to an Apple iPhone 14 as well as a Google Pixel 6a smartphone: I did not have a OnePlus phone for testing. To pair, place the buds in the charging case and open the lid. The buds popped up instantly in my Bluetooth list on both phones and paired without a hitch.
They fit comfortably in the ears, but make sure you're using the right eartips. Try them all on for size if you aren't familiar with your typical size. I switched to a smaller size, popped them, in and turned on an Apple Music playlist to enjoy.
To manage playback beyond just play/pause and skip tracks, like to adjust transparency and noise cancelling on another branded Android device, you need to download the HeyMelody app. I was able to get this to work on the Google Pixel 6a but not the iPhone. I was never able to figure out why they wouldn't pair with the HeyMelody app on iPhone. Nonetheless, I continued using the Android phone for testing (and listened from the iPhone without adjusting EQ).
Tap once on the left earbud to pause, double tap to play the next track and triple tap for previous. It was easy to use, with audible confirmation as you tap, albeit with a slight delay after you press.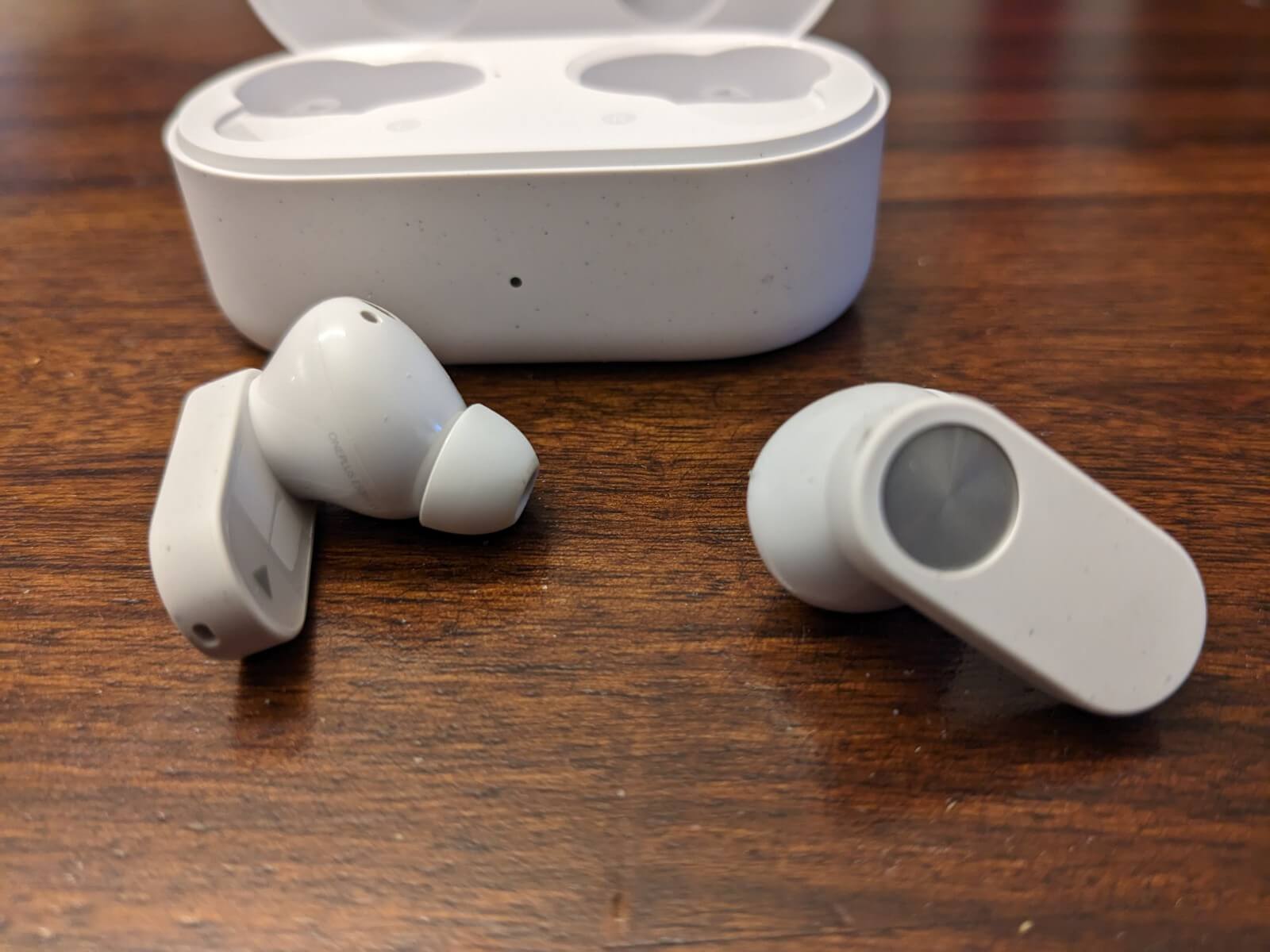 Touch and hold the silver circle on the stem of either bud for one second until you hear a prompt to switch between noise control modes. Noise cancellation mode reduces ambient noise, transparency lets in some external sounds, and off is to listen without noise cancellation. You can only select two of the three modes at any given time, however. There's a slight audible confirmation so you know you've switched from one mode to the next, but you won't know which mode you're in unless you reference the app or hear a notable difference. Alternatively, you can go into the app to adjust and select which two you prefer at any given time and which one you want to use.
Audibly, the buds initially sounded tinny when listening to Apple Music and SiriusXM from my iPhone 14, both when listening at home and while going for my daily outdoor walks on both quiet trails and around the busier neighbourhood. When listening to Rihanna's "Lift Me Up" and Lizzo's "2 Be Loved (Am I Ready)" in spatial audio from Apple Music, the sound was quite pleasant and detailed. With the latter, however, I noticed the same sibilance and tinny sound. This is where the EQ settings come in.
Switching to my Android phone (Google Pixel 6a) where I could access the EQ settings in the HeyMelody app, I toggled among Balanced sound mode (the recommended default), Bold, Serenade, and Bass and adjusted the BassWave. It was still sibilant and tinny. Using the custom EQ is when I could really hear a difference. Tweak this until you find the sweet spot for your ears and the earbuds become vastly improved.
Once adjusted, some tracks sounded much better. In Run DMC's "Walk This Way" (featuring Aerosmith), the stereo separation was wonderful, with the guitar solo in the intro beautifully emanating from the left or right as needed.
Overall, I found the sound could sometimes be harsh without adjusting the EQ, so make sure you take the time to tweak this setting in the app. Nonetheless, even when doing an A-B test between these and my Google Pixel Buds 2 Pro (admittedly much more expensive earbuds), the latter offered noticeably offered clearer vocals, more detailed instruments, and wonderful audio separation, no matter how much I adjusted the EQ. The experience with those buds, which sell for twice the price, melded the vocals and backing instruments more seamlessly. But again, these are also much more expensive buds.
Should You Get the OnePlus Nord Buds 2?
The OnePlus Nord Buds 2 might suffice as a primary pair of noise cancelling earbuds for some. If you own a OnePlus smartphone and want the seamless pairing, you might find them worthwhile.
They are a suitable back-up pair for those with more discerning ears or a good first pair given the generous battery life, attractive case, quick charging, water-resistant rating, and included active noise cancelling feature. These are the types of buds I'd keep in a purse or backpack to use while making a quick phone call, listening at the gym, or while going for a walk. If I forgot my primary pair at home or the battery in those is depleted, I wouldn't be mad at having to use these.
Given the attractive cost, they'll also serve those who are on a tight budget. You'll still get pretty decent sound for an incredibly low price.
These buds are also a logical option for OnePlus phone owners, offering a seamless experience, akin to Apple AirPods with an iPhone or Galaxy Buds with a Samsung Galaxy phone. They could be the perfect pairing.
The OnePlus Nord Buds 2 are now available in Canada in Lightning White and Thunder Grey for $85 per pair.