Amazon is bringing a new selection of Echo Dot Kids products to market offering new features and designs specifically for kids and their parents.
Echo Dot Kids combines an Echo Dot with an owl or dragon design. It features and parental controls, one year of Amazon Kids+ to access curated content, and a two-year worry-free guarantee: if it breaks, return it and Amazon will replace it for free. Echo Dot Kids is available for pre-order at www.amazon.ca/echodotkids.
Amazon Kids+ on Alexa brings the Amazon Kids+ membership to Alexa, along with a wide selection of Alexa-specific content such as kid-friendly radio stations, audiobooks, and premium skills. With Amazon Kids+, kids have access to a curated selection of kid-friendly books, family movies, TV shows, educational apps, audiobooks, stories, and games across Fire TV, Fire tablets, Kindle, iOS, Chromebook, Android devices, and now on Alexa.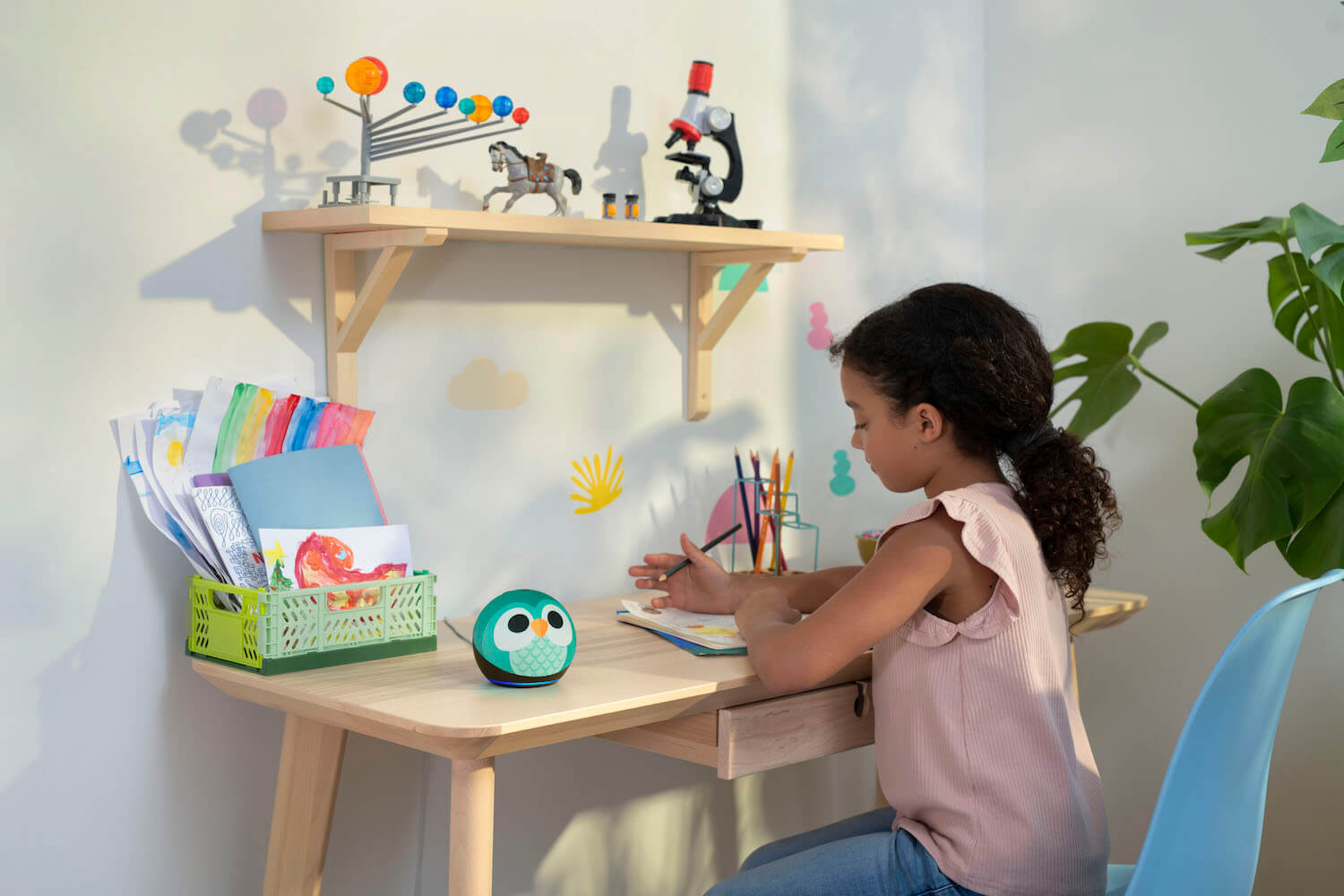 Amazon Kids+ on Alexa takes the best of Amazon's existing all-in-one Amazon Kids+ membership and adds Alexa-specific content such as Audible books and kid-friendly premium Alexa skills like Disney Stories, Barbie, Pinkfong Baby Shark, and Star Wars. With Amazon Kids+ on Alexa, parents get all the parental controls and features of Amazon Kids, plus unlimited access to kid-friendly content.
To get started, kids simply say, "Alexa, open Amazon Kids" and Alexa will suggest an audiobook, skill, or other piece of content. Kids will enjoy access to hundreds of entertaining and educational Audible books performed by some of their favourite characters like Aladdin, Alice in the Wonderland, The Little Prince, Beauty and the Beast, Little Women, and Peter Pan.
There are eight ad-free, kid-friendly stations from Fun Kids Radio as well, with thousands of songs and stations like Fun Kids Non Stop, Fun Kids Party, and Fun Kids Sleep Sounds. Kids also get their own tailored news thrugh flash briefings from News-O-Matic subjects like football, fashion, and major scientific discoveries in other galaxies. There are also frequent updates on arts and entertainment, technology, and animals that kids love to learn about. The news is often international as well, which Amazon says helps "empower kids to become true global citizens."
The kids-specific Alexa skills include Amazon Storytime, Amazon Math, You Choose Epic History, Frozen SING!, and Ghostbusters: Franchise 84. Kids can explore Alexa skills developed by the best in kids' entertainment and education.
There are also special alarms to help kids wake up with their favourite characters, including Moana, Rapunzel, Olaf from Frozen, and Judy Hopps from Zootopia.
When parents choose a child profile and turn on Amazon Kids on an existing or new Echo device, it's always enabled. If they prefer to have a shared Echo device in a common space like the kitchen or family room, parents can enable two optional features to personalize the experience for each family member, including their kids:
Create Alexa voice IDs for kids so that Alexa recognizes who is speaking and switches to Amazon Kids mode when a child speaks. When parents talk to Alexa, their settings will seamlessly switch back on.
On Echo Show 8 (2nd Gen), Echo Show 10 (3rd Gen) and Echo Show 15, parents can also set up visual IDs for their kids. With visual ID, when an enrolled child is recognized, age-appropriate content will be shown on screen. The device may also display personalized content, like a note from a family member that says, "have fun at school today!" Like Voice ID, visual ID is optional and requires explicit enrolment. The images of your face that are used to create your kid's visual ID are encrypted on the device, and you can delete your kid's visual ID at any time.
As with all Amazon devices and services, Echo devices like Echo Dot Kids and Amazon Kids on Alexa are designed with privacy and security in mind. Strict measures are in place that protect children and provide parents with transparency and control over the experience. This includes the Parent Dashboard, where parents can choose which services and skills kids can use and review activity. Voice purchasing is also disabled by default in Amazon Kids.
Parents and their kids will always know when Alexa is sending a request to Amazon's secure cloud because a blue light indicator will appear on the Echo device. They can turn the microphones off on the device via a press of a button, and most Echo Show devices also come with a built-in shutter to cover the camera. Parents can go into the Alexa app to check their privacy settings and make adjustments. They have access to all voice recordings and can choose not to have recordings saved or delete them at any time.
Customers who already use Amazon Kids+ on their Fire tablets, Kindle, Fire TV, iOS, Android, or Chromebook devices can now access the Amazon Kids+ content and Amazon Kids features and parental controls on Alexa at no additional cost. Amazon Kids+ costs $6/mo. for Prime members, and $10/mo. for customers who are not yet Prime members.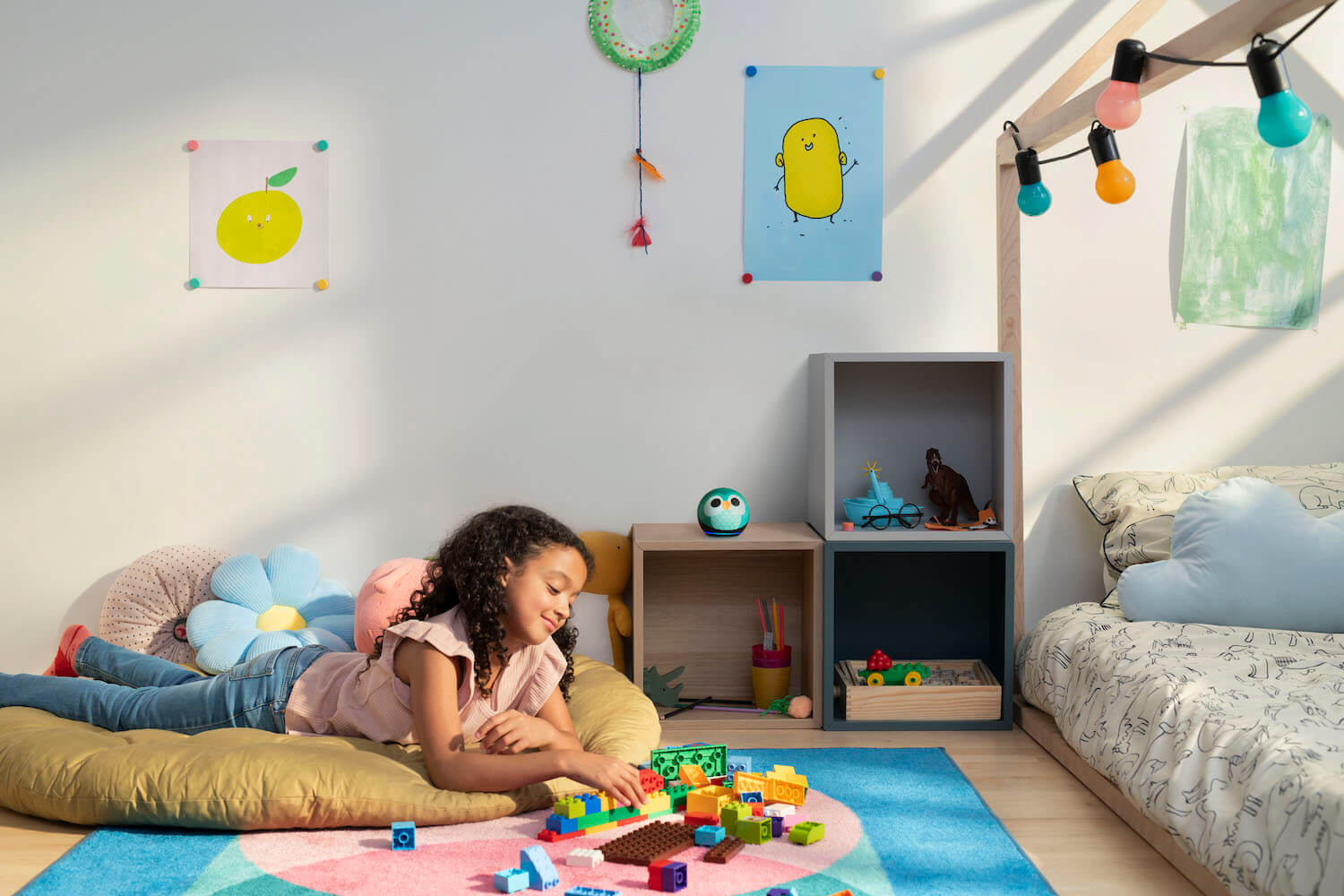 Echo Dot Kids is built with 100% post-consumer recycled polyester yarn and 55% post-consumer recycled plastics. Plus, 99% of the device's packaging is made of wood fiber-based materials from responsibly managed forests or recycled sources. In addition to using sustainable materials, Echo Dot Kids also has a Low Power Mode to intelligently conserve energy during periods of inactivity and deliver energy savings over the lifetime of the device.
Amazon Kids+ on Alexa will be available to enable via the Alexa app to new and existing Echo, Echo Dot, Echo Flex, Echo Plus, Echo Show, and Echo Studio devices, through an over-the-air software update that will start rolling out October 20.
Echo Dot Kids is priced at $80 and begins shipping October 20, but you can pre-order Echo Dot Kids starting today at www.amazon.ca/echodotkids.