The Amazon Luna cloud gaming service along with the Luna controller is now officially available in Canada, allowing Canadians to game of supported devices like the Fire TV. Prime members, meanwhile, get access to Luna titles every month, included with their membership.
Using the Amazon Luna cloud gaming service, customers will be able to stream console-quality games to their existing devices. The Luna game catalog includes games across three different subscription services, with an array of titles for all types of gamers. Luna is powered by Amazon Web Services (AWS), which the company says makes it easy to stream games without lengthy downloads or updates, expensive hardware, or complicated setup.
The Luna Controller, meanwhile, is designed and optimized for cloud gaming, connecting directly to the cloud via Wi-Fi or Bluetooth to control your game and minimize gameplay latency. Cloud Direct technology makes it simple to seamlessly switch between screens like Fire TV and mobile phone without additional pairing or configuration changes.
Daniel Rausch, Vice President, Amazon Entertainment Devices and Services, says that gamers in the U.S. "have been enjoying Luna for the past year so we're thrilled to now expand the service to customers in Canada, Germany, and the United Kingdom."
Games range from casual to retro classics and AAA titles. Prime members get access to a rotating selection of games each month. This month, those games include Mega Man 11 from Capco while next month will include casual games like Jackbox Party Pack 3.
Prime members and Luna+ subscribers can also link their Ubisoft Connect account to Luna, and play select Ubisoft PC games they already own on their Fire TV or any other supported device.
To play more titles in the Luna catalog, choose from three monthly subscription options. Luna+ is $13 per month and includes a selection of games across every genre and for all ages, including titles like Sonic Mania Plus, Beach Buggy Racing 2: Hot Wheels Edition, Spongebob: Battle for Bikini Bottom – Rehydrated and Resident Evil 2. The Ubisoft+ plan ($23/mo.) includes access to AAA titles like Assassin's Creed, Watch Dogs, Tom Clancy, and Far Cry. Then, there's the Jackbox Games plan for $6.50/mo. that includes games only available on Luna, like Quiplash, Trivia Murder Party, and Drawful.
With the Luna Phone Controller, you can play Luna on Fire TV using an iPhone or Android phone as the controller through the Luna Controller app, available as a free download in the iOS and Android app stores. The on-screen controller is an option for new or casual gamers without a controller who want to check out side-scrollers, turn-based RPGs, trivia titles, and more.
Luna Couch, meanwhile, makes it possible to play with others. Enjoy local co-op games together with friends on Luna, like Overcooked!, Pile Up, Death Squared, the Contra Anniversary Collection, and the Jackbox Party Pack.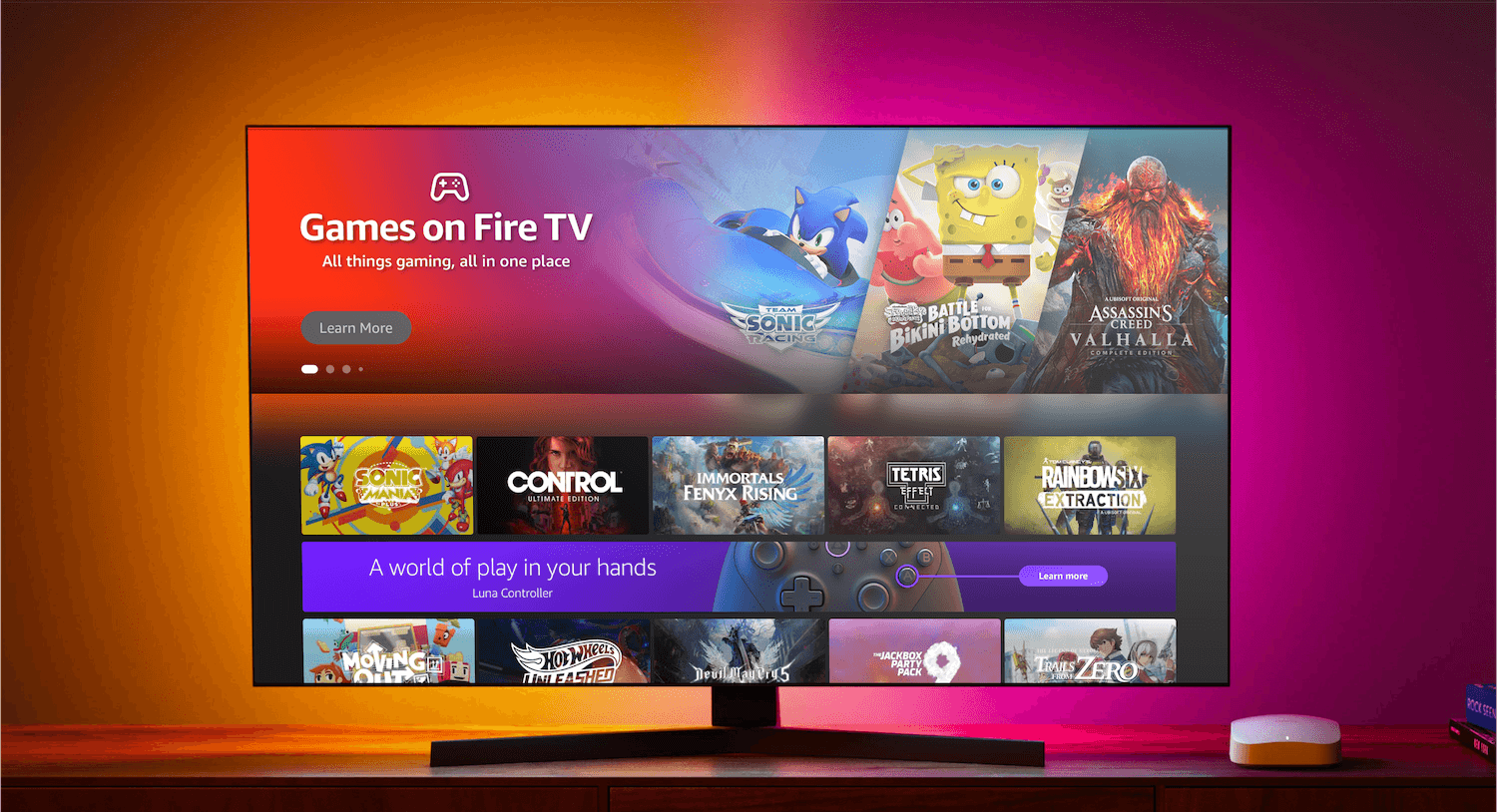 Live Broadcasting to Twitch with Luna is available on PC, Mac, and Fire TV. Stream game play live with a camera feed overlaid on-screen using the broadcast button, which provides a simple way to broadcast to the Twitch community. For those on Fire TV devices, use a QR code to connect your phone as a webcam and mic.
Luna is available to everyone in Canada on compatible devices including Fire TV, Fire tablets, Windows PCs, Chromebooks, Macs, iPhones, iPads, and Android phones. To start playing, download the Luna Controller app, use a compatible third-party controller, or purchase the Luna Controller for $90.
A Luna+ subscription costs $13 per month.