All year, I have been writing about, researching, and, in some cases, getting hands-on experience with, a variety of products, including many within the sphere of tech. As we close out 2020, here are – in no particular order – 15 products, in tech, small appliances, and other related categories, that are my favourites of the year.
Fitbit Sense Smartwatch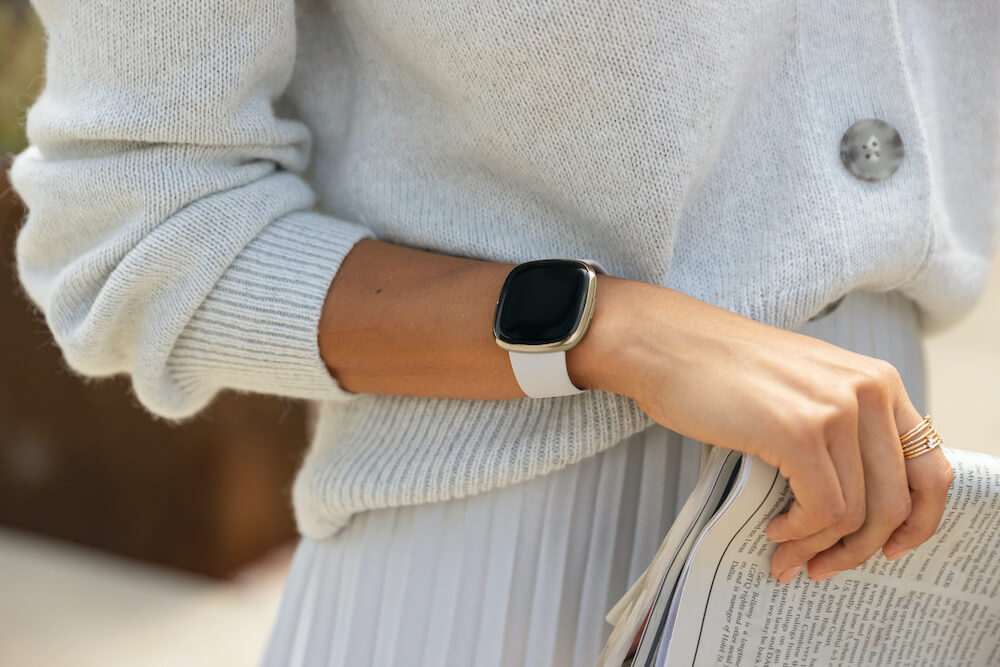 I have long been a fan of Fitbit smartwatches, and that hasn't changed over the years. The latest, highest-end model in the line-up, the Sense, adds some worthwhile upgrades that make it one of the most robust health, wellness, and workout companion on your wrist.
What I love most about Fitbit is the detailed sleep tracking as well as features like the ability to follow on-screen workouts, reminders to move, 24/7 heart rate tracking, and the camaraderie and competition by being able to do weekly or daily challenges with friends and family member who also own Fitbit devices. Beyond the basics, the Sense has a cool temperature sensor that will record a baseline body temperature after a few nights sleep that lets you know how your body temperature fluctuates, going above or beyond that. It also provides a score relating to stress management, based on captured data as well as your manually inputted reflections about how you feel at different times of the day.
What I don't like? You need to sign up for a Fitbit Premium subscription to get access to more data and learn more about what it all means. Sure, Fitbit offers a free six-month trial period, which is a pretty decent amount of time to figure out if it's worth paying for once the period ends. Nonetheless, offering such compelling features that only give you surface-level information unless you subscribe is slightly annoying, especially given the high price tag of the Sense.
That said, for anyone looking to truly make a different with their health, wellness, and fitness, the subscription price might be worth it. And even without a subscription, the Sense is one of the most feature-rich smartwatches available that retains everything that's to love about Fitbit, from the long battery life (6+ days) to the customizable watch faces and swappable bands and amazingly detailed app experience. It doesn't come cheap at about $360 (on sale).
Apple AirPods True Wireless Earbuds
Granted, I don't yet have the newest version of the AirPods. But the design, convenience, and ease of use of the 2019 edition true wireless earbuds continue to be useful this year and have been a lifesaver during the pandemic. Whether I was logging on to a work-related meeting or training session, or doing a Zoom call with family and friends, I could quickly and easily pop these babies into my ears to listen and/or chat with ease. They connect easily via Bluetooth to my MacBook. I can easily check battery life of both the buds and the case by opening the case close by my iPhone. And if I check them right before my meeting and see that the battery is low, I can plug them into my iPhone's Lightning cable and have the battery boosted in no time.
These aren't high-end over-ear headphones, let's get that right. But sound quality is sufficient for Zoom meetings, video calls, or listening to tunes while going for a quick lunch-time power walk. The noise cancelling feature of the newer version could be a game-changer, and a worthwhile upgrade. But for anyone on a budget looking for a simple solution that's an ideal companion to an iPhone and/or Apple Watch, the original AirPods are worth considering. It's about $200 for the 2019 version, or upgrade to the new ones for $265.
Brookstone Digital Photo Frame
Remember way back when digital photo frames were all the rage? They were a massively growing category for the photography business until, one day, the whole thing just petered out. But now, the category is enjoying a resurgence, arguably fueled by the popularity of devices like smart displays that combine smart speaker functionality with large screens that are effectively more feature-rich digital photo frames. I have this Brookstone digital photo frame set up on a side table in my living room, displaying a rotating and ever-growing selection of still images and videos.
Smart digital frames are enjoying a resurgence, and this one comes in 10.1″ or 14″ screen sizes. Using the app, I can easily add photos from my phone. There is a slight delay between when I select a photo and when it registers, which can be annoying if you want to add photos in a rush. But once you get used to it and be patient without tapping multiple times (which will continuously select then deselect a photo), the process is simple. I can add 50-100 photos to the frame while relaxing on the couch. An audible "ding" on the frame confirms when they have been uploaded, which happens within seconds.
But the really cool feature is PhotoShare technology, which makes it easy for a frame to be updated by multiple people by assigning a special e-mail address to each frame. Invite others by providing the frame's address and they can upload photos to it as well. The main contact will receive a notice to confirm the addition of the photos, and voila! They're ready.
It's a perfect gift for the grandparents, especially someone who lives alone, as they can wake up to a new selection of photos every day from all of their grandchildren and their respective families.
Like with other digital photo frames, you can use slideshows and transitions, upload videos, and display the date, time, and current weather report when you want a break from the rotating images. A 10.1″ frame is about $230.
Ring Video Doorbell 3 Plus
The latest addition to my smart home this year has been the Ring Video Doorbell 3 Plus, a battery-powered doorbell that offers motion detection, customizable motion zones, and four-second previews of motion events called Pre-Roll. At a time when we're reluctant to answer the door for unknown visitors, it provides added peace-of-mind.
Powered by a removable and rechargeable battery pack (hard-wire it to an existing doorbell system for continuous charging) and with dual-band connectivity, the doorbell offers 1,080p HD video with a 160-degree field-of-view and two-way talk with noise cancellation so I can easily let a delivery driver know to leave the package on the porch or tell a solicitor that we aren't interested: all I need to do is push a tap to talk button on my phone.
Night vision makes it easy to see late night footage, whether it's just a car passing by that triggers the motion sensor or someone milling around the property. Set up the People Only mode if you only want motion detection to pick up humans and not cars going by or trees waving in the wind.
It works with Alexa for voice control if desired. If I'm working in my office in the basement and don't hear the doorbell ring, a notification on my phone will let me know someone is there. Easy to set up in the app and to mount using the included screws and click-in-place faceplate, add Ring Protect for a few bucks per month (free 30-day trial) to be able to record videos, capture photos, and share moments if needed. There's no worry about the frigid winter months in Ontario as it is weather-resistant down to as cold as -20 degrees Celsius. Get is for $210; Ring Protect plans start at $5/mo.
iRobot Braava Jet m6
I have been using an iRobot Roomba vacuum for years, and at the end of 2019, I added a Braava jet m6 mop to the equation. While Roomba dutifully vacuums the floors of my home, Braava jet m6 focuses on the kitchen, leaving them sparkling clean.
Like with certain Roomba models, including the i7+ and s9+, you can have the device map your home after several passes, name rooms, then use voice commands to send it to mop only a specific room. I found that the Braava Jet m6 didn't as accurately map my main floor as the Roomba, and I needed to use the deep cleaning option in order to sufficiently clean my kitchen floors (which essentially sees it take two passes over each area.) But it has been a game-changer for quick floor mops when needed.
The m6 uses water and a special cleaning solution along with reusable or disposable pads that slide right onto the bottom.
For more details on my experience with the m6, check out my full review from earlier this year. The robot mop frequently goes on sale, especially around the holiday season. Get it for $650.
Instant Pot Air Fryer Lid
Every year for the past four or five years, I have always included the Instant Pot on my list of top devices for the year. The versatile multicooker, now owned by Corning Brands and with several models available to suit different sized families and with different features, is just as popular today as it was five years ago. But my latest addition to the mix has been the air fryer lid for the Instant Pot.
While I was intrigued by the idea of air frying food, I didn't want yet another large small appliance sitting on my counter. This seemed to offer the best of both worlds solution so I took the plunge. The lid sits atop of the Instant Pot and plugs in to an outlet for power. The air fryer basket it comes with goes into the Instant Pot's stainless-steel inner pot. Place food inside, set the temperature at the top and the cook setting, and let it do its thing. It will beep when it's time to turn the food over then again once the food is done. Lift up the lid at any time to check on things.
While the air frying surface is small (just slightly larger than a CD) – I can barely fit three boneless pork chops or chicken breasts – we use this accessory at least weekly, often daily. It's not only great for air frying things like homemade French fries or frozen chicken nuggets (sometimes when you need a quick lunch for a kid who's virtual learning at home, these do the trick!), but it also beautifully reheats food. Chinese take-out chicken balls and egg rolls taste better the second day reheated in this device. Virtually anything I'd normally heat up in the oven, if it's a small single or double serving, we use the air fryer. This not only saves significant time since it doesn't have to preheat first, but it also uses less energy, and it's super convenient. The lid, which fits most 6-quart Instant Pots, is $100.
Yonanas Frozen Dessert Maker
Interestingly, while I really didn't want another contraption on my kitchen counter, that idea sadly went out the window when I heard about this handy device. Girlfriends of mine convinced me to invest in the Yonanas Frozen Dessert Maker, advising that the machine isn't really that big and can easily be put away in a cupboard when not in use.
The concept is simple: take frozen fruit out of the freezer and let it sit for about eight minutes. Once partially defrosted, start pushing the pieces through the small chute of this machine, into a bowl placed at the bottom. Out comes a delicious frozen treat that has the consistency of ice cream without all of the guilt. As someone who has issues digesting lactose, this became a lifesaver and a perfect way to have healthy dessert treats all summer long.
There are tons of recipes you can use to add other ingredients beyond fruit. Since bananas make a great base (though you don't need to include them), this machine is a great way to make use of leftover overripened bananas if you don't have enough to make a fresh loaf of banana bread. Peel, break in half and keep them in a Ziplock bag in the freezer until it's time for dessert. It's also a great way to use up other fresh fruit before it starts to go off, preventing food waste. It's often out of stock, but when it is available, you can find it for anywhere from $40 to $70.
SodaStream Fizzi OneTouch Soda Maker
Over the past year, our household has gone through a ridiculous amount of carbonated water drinks of every brand, from Buble to La Croix. That doesn't just get expensive, but those cases upon cases take up room, not to mention the mountains of recyclable cans. The SodaStream Fizzi One Touch (I know, I know – yet another small appliance on the counter!) is a great way to get a glass of sparkling water in literally seconds.
Place the bottle in position, press a button to get your desired level of carbonation, and the water will become carbonated in an instant. Add flavoured syrups or use fresh fruit or vegetables to infuse the flavours of your choosing – from fresh lemon slices to cucumber. Drink right from the bottle or pour into your desired cup and place the rest in the fridge. The unit is sleek and slim, easily tucking away into a corner.
While the OneTouch model has to be plugged in to use versus the regular SodaStream, it completely takes the guesswork out of how much carbonation to add. Once you know if you like the 1, 2, or 3 setting, just tap the button and the machine will deliver consistent carbonation, every time.
Once the CO2 cylinder is empty, take it to pretty much any big box retailer to exchange for a new one, which costs about $35 for a 60L canister. Each cylinder should last about three months, depending on how much you drink.
Working out the cost, whether it saves you money or not, having a SodaStream is still a much neater solution in the long run that produces less clutter and more room in your weekly recycling bins. At $180, it's more expensive than other SodaStreams, but worth it for the quick and easy one-touch operation.
MasterBuilt Gravity Series 560 Digital Charcoal Grill + Smoker
What makes this smoker so great is that it requires very little love: once you get a cook going, you don't need to keep checking on it every 15-30 minutes, adding coal as needed. Instead, fill the charcoal hopper with more coal then you could possibly need. Turn on the Gravity 560, pop open the app (after connecting it via Bluetooth – it's admittedly finicky) then monitor the temperature from your phone. When it reaches the desired temperature, place your meat, poultry, cheese, pizza – whatever you have prepared, inside, then get cooking.
Made by the same company that makes Kamado Joe grills (a serious competitor to the popular Big Green Egg), it's the perfect smoker for someone just starting out. We have made everything from smoked ham and turkey to pulled pork, brisket, chicken wings, and even homemade pizza, and everything turns out absolutely delicious. This baby will go up to 700 degrees. You can grab it for about $750, which is really affordable when it comes to quality smokers.
Asus C423 Chromebook
Earlier this year, right at the onset of COVID-19 being declared a pandemic, I wrote a comprehensive review of four Chromebooks that are suitable for kids. Among the ones I reviewed, all of which were stellar options, I really loved the Asus C423. It's the perfect size for young kids with a 14-inch screen, has a quad-core processor, 10-hour battery life, and permits access to everything they'd need, from Google Classroom to apps, games, music, streaming TV, and e-mails. It's also totally portable at just 1.2 kg.
With a headphone port as well as Bluetooth, it's easy for kids to get set up for virtual school. And while I initially missed the idea of a 360-degree hinge that would transform it into a tablet for downtime, my 8-year-old never uses his Chromebook for play anyway. And I quickly realized that it's better he use a separate device, be it an old iPad or separate, child-friendly tablet, for playing games versus the same computer he uses for school.
Even without tablet mode, the C423 does have a touch-sensitive screen, which is handy should he ever need it. It's a solid computer that isn't going to rival a MacBook or higher-end Pixelbook Chromebook. But for the price (about $500) it's a suitable option for a grade school-aged child.
Google Nest Mini
Another device that I have come to appreciate more since my son has been doing virtual school at home is this handy smart speaker. Set up on his desk, he uses the Google Nest Mini to play music from his own Spotify playlist during downtime. But during school, I have set up the really handy Family Bell feature so it rings a few minutes after his recess or lunch period to remind him to go upstairs to grab a snack or stretch his legs.
A second Google smart speaker upstairs on the main floor rings a few minutes prior to recess or lunch being over to remind him to head back downstairs and get ready to log in again. Without this feature, I'd likely be looking at my watch constantly to remind him to get back, or my son would be sticking at his computer, getting more screen time than needed. Now, he can go play outside, grab some toys, make a snack, or do another activity and rest assured that he can listen for the "bell."
If you have a school-aged child in virtual school, a Google Nest Mini is worth buying just for this feature alone. You can set up the exact times you want the bells to go off as well as set personalized messages, like "Billy, it's time for recess. Grab a banana and yogurt from the fridge!" or "Sally, school is done for the day. Please do quiet reading for 20 minutes."
Of course, it also serves as a miniature speaker for background music, to answer queries about everything from the weather to the best jokes, and control other compatible smart home devices. Grab one for as little as $35.
Streaming TV Service Subscriptions
This header is purposely generic because it's really difficult to pick favourites here. While you can't go wrong with Netflix, who doesn't have a Netflix subscription at this point? The streaming service, which will be increasing in price by $2/mo. come January, continues to release amazing original series, like The Queen's Gambit, continues to be home to library title series like Schitt's Creek, The Blacklist, and Grey's Anatomy, and even surprises every now and then with puzzling shows like Tiger King, which, let's face it, was released at a perfect time to help Canadians get through quarantine. Pricing starts at $10/mo. for the basic service and goes up to $19/mo. for the Premium version, which permits four simultaneous streams and up to 4K quality.
But it might be time to augment things, and every major streaming service will give you a reason to sign on. Amazon Prime Video has a growing list of fantastic titles like Upload, The Boys, and The Wilds. Even if you aren't planning to do a ton of online shopping through Amazon, a Prime subscription is worth it just to be able to watch series like The Marvelous Mrs. Maisel and Fleabag. It's $8/mo.
Crave, Bell's streaming service, is a wonderful option and worth the investment with HBO, especially if you have canceled your cable or satellite subscription. HBO remains home to some amazing series, and many Hulu and HBO Max series, like The Handmaid's Tale for the former and The Flight Attendant for the latter, are available through Crave. The basic price is $10/mo. but you'll pay an additional $10/mo. for a total of $20/mo. to get access to HBO content as well.
But we can't also discount some of the newer players, like Apple TV+ ($6/mo.), which has fabulous shows like The Morning Show, Servant, and For All Mankind with plenty of new titles coming in 2021. Disney+ ($9/mo.) is a must-have to watch The Mandalorian, but if you have young kids, it's a treasure trove of library title movies that will keep them entertained, like Frozen II, Moana, and Ralph Breaks the Internet. Disney+ is also continuously releasing new original series, like The Right Stuff and Becoming, with more in the pipeline that appeal to kids of all ages (and adults).
If you have a robust Internet plan, it might just be worth subscribing to all of the above – getting the highest tier of all of them will run you under $70/mo., plus whatever you have to pay to increase your Internet plan. But for cord cutters, you can't go wrong with any or all of these services, along with others that might have content better suited to your tastes like CBS All Access, BritBox, and more.
Rosetta Stone
Another pandemic purchase, when the stay-at-home orders began and school was out, we were looking for activities to keep our 8-year-old busy. One such idea was to learn another language. Rosetta Stone was offering a free three-month trial, so we picked it up and began doing Spanish lessons together.
While the service has a totally outdated look and feel, my son did seem to be picking things up. So once the trial ended, we kept it going. We switched over to French, which my son now does for a half hour several times a week as an after-school activity (since he cannot attempt organized classes.)
For anyone who has extra free time on their hands since they aren't able to go out, this is a way to fill it with something productive. Plus, you can access the account via a mobile device as well and continue on the go as well, whether it's at the gym (when they re-open), on the bus or subway, or while going for a walk. There's currently a three-day trial to get you started, then you can check pricing for individual languages, packages of languages, or get access to everything for one lifetime fee.
Twinkly Smart LED Lights
We set up a few strings of these smart lights on the porch to make the house even more festive this holiday season. Each set of Twinkly Lights comes with a string of 150 lights that you can hang around the perimeter of the porch or inside for a party, arranging them any which way you want, whether it's in the shape of something, a pattern, or just as standard lights.
Once set up, connect them via Bluetooth or Wi-Fi and you can control the lighting effects and colours from a mobile device. There are pre-loaded effects or you can create your own animations. There's an embedded microphone and music sensors so you can play Christmas music as well. And use Google Assistant or Amazon Alexa to control them by voice.
The lights are IP44 water-resistant and can run in temperatures as cold as -15, so you'll have to use them indoors if it's an especially frigid winter. And you'll want to keep them somewhere that's covered in case there's a downpour of rain. Put them outside for Christmas or keep them in the basement to create fun effects for a dance party. A string of 150 lights is $100.
Savant Pro Remote X2
My home is fully automated, with Savant at the heart of our control system, managing and affording control of everything from the televisions and Bell Fibe set-top boxes, to the smart lighting, security, automates shades, speakers throughout the home, and more. And while we most often use the app on our phones to control everything, the Savant Pro Remote X2 smart remote comes in handy and is used most often when we're watching television in the living room.
The sleek and slim remote combines both tactile buttons with a large touchscreen interface that allows me to activate scenes, turn on the television, Apple TV, or other source device, adjust the lighting or shades, and more.
While it includes Siri voice integration as well (we don't really use it), the remote comes in space gray, jet black, or rose gold – every purchase of the remove in the latter two finish options will see the company donate a portion of the proceeds to COVID-19 relief efforts.
You can make your own custom screen layout to quickly access your favourite functions or scenes and even add an optional PIN to lock down certain settings if desired.
When I'm ready to relax and binge watch some shows, I can simply sit down on the couch and press one button to turn on all of the required devices in the AV rack in the basement. When it's time to turn in for the night, I simple press "living room off" and the television and lights all go dark. You can switch among different users so each person has their own customized remote layout. This might come in handy for setting up a layout for grandma and grandpa or the babysitter, for example, that's more simplified. Check with a trusted and authorized Savant dealer for pricing and to get one up as part of an existing or new Savant system.