Ladies and gentlemen, in the right corner weighing in at 1.623 kg is the virtually undefeated Sonos speaker for $249. And in the left corner weighing in at 1.191 kg: the new contender Google Nest Audio for $130.  
Ding!!!
That was the matchup scene in my home office for the past week when I compared the new Nest Audio smart speaker to the renowned Sonos One, the company's lowest priced Wi-Fi wireless speaker. You might think this as an apples to oranges undertaking but the Nest Audio smart speaker delivered some good punches against the Sonos.
The Nest Audio was able to keep up with deep sounding bass although it was slightly less physically penetrating as the One.  But voices came to the foreground on the Nest Audio. I played dozens of song from different genres, switching back and forth between the speakers. I found that depending on the genre and original recording quality, some songs sounded better on the Sonos One while others were better on the Nest Audio. For example, "Fifth Element, The-Lucia Di Lammermoor" – Eric Serra sounded better on the Nest Audio with the singer's voice being more prominent with penetrating bass, whereas Hans Zimmer's "Backdraft You Go, We Go" was clearer with better separation of instruments and choir on the Sonos. Both songs were streaming over Wi-Fi.
Clearly, the Nest Audio is part of a new breed of affordable quality small smart speakers in the company of Apple's just announced HomePod mini and Amazon's newest 4th Gen Echo, all selling for $130. Don't you love when tech companies try to outdo each other?
Stereo Mode Adds More Depth
It gets better. Nest Audio supports pairing stereo mode (as do its similarly priced competitors, above) through the Nest Audio app for impressive 3D sound producing an even richer and affordable music listening experience. Like Sonos, Google smart speakers can be assigned in mono or paired stereo or connected to more speakers or groups of speakers all around your home. From here, the apples to apples between Nest Audio and Sonos ends. The 15-year-old mature Sonos offers a large selection of pricier speakers including two soundbars, a dedicated bass unit, even the excellent portable Move. It also uses proprietary Wi-Fi monitoring for the best quality audio. Newer Sonos models also work with Google and Alexa as well as dozens of streaming services compared to the several streaming choices Alexa and Nest Audio offer. The Google Home app which includes Nest Audio features, works on Android and iOS.
In comparison, the Nest Audio's smartness (like the HomePod and Echo) with Google Assistant goes a long way in voice command features as you read further on.
Both speakers work in Wi-Fi for listening to streaming online music. But for folks who still want to listen to music physically stored on their phone (who still does that – I do!) the Nest Audio requires you switch to Bluetooth mode for a slightly lower quality sound compared to the Sonos family of speakers which uses the better quality Wi-Fi for phone stored music. Even though I have good Bluetooth, there were occasional hiccups playing the Nest Audio in Bluetooth mode, depending on other Bluetooth traffic in my home. Nest Audio works with YouTube Music, Google Play Music, Spotify, SiriusXM, Pandora, Deezer, and iHeartRadio.
What Do Good Speakers Have in Common?
I knew the Nest Audio was a quality speaker right out of the box just from its hefty weight, which is often a telltale sign of better speaker quality. Heavier speakers carry larger speaker components like magnets that re-produce music with less distortion and deeper bass. Tip: when shopping for speakers, even affordable ones, pick each one up comparing their weight and continue sound comparisons with the heavier ones first. For example, soundbars, and there are many, vary in price and weight. The 1.27 kg Toshiba TY-SBX130 16-Watt 2.0 Channel Sound Bar ($160), can't hold a candle to the 6.2 kg Sonos Arc ($999) in sound quality – thought one might expect such a result given the astronomical price disparity as well.
For newbies, smart speakers like the Nest Audio respond to voice commands for weather, jokes, currency or weight conversion and more. It can move your music between compatible home devices.
You can organize speakers in groups around your home and connect to other smart home devices like TVs, lights, thermostats, and locks; and it's Chromecast compatible. You can create reminders, make external voice calls, call any room with any speaker of the same brand, including intercom-like announcements to all speakers.  Your voice command history is reviewable and can be deleted.
Smart Speaker Features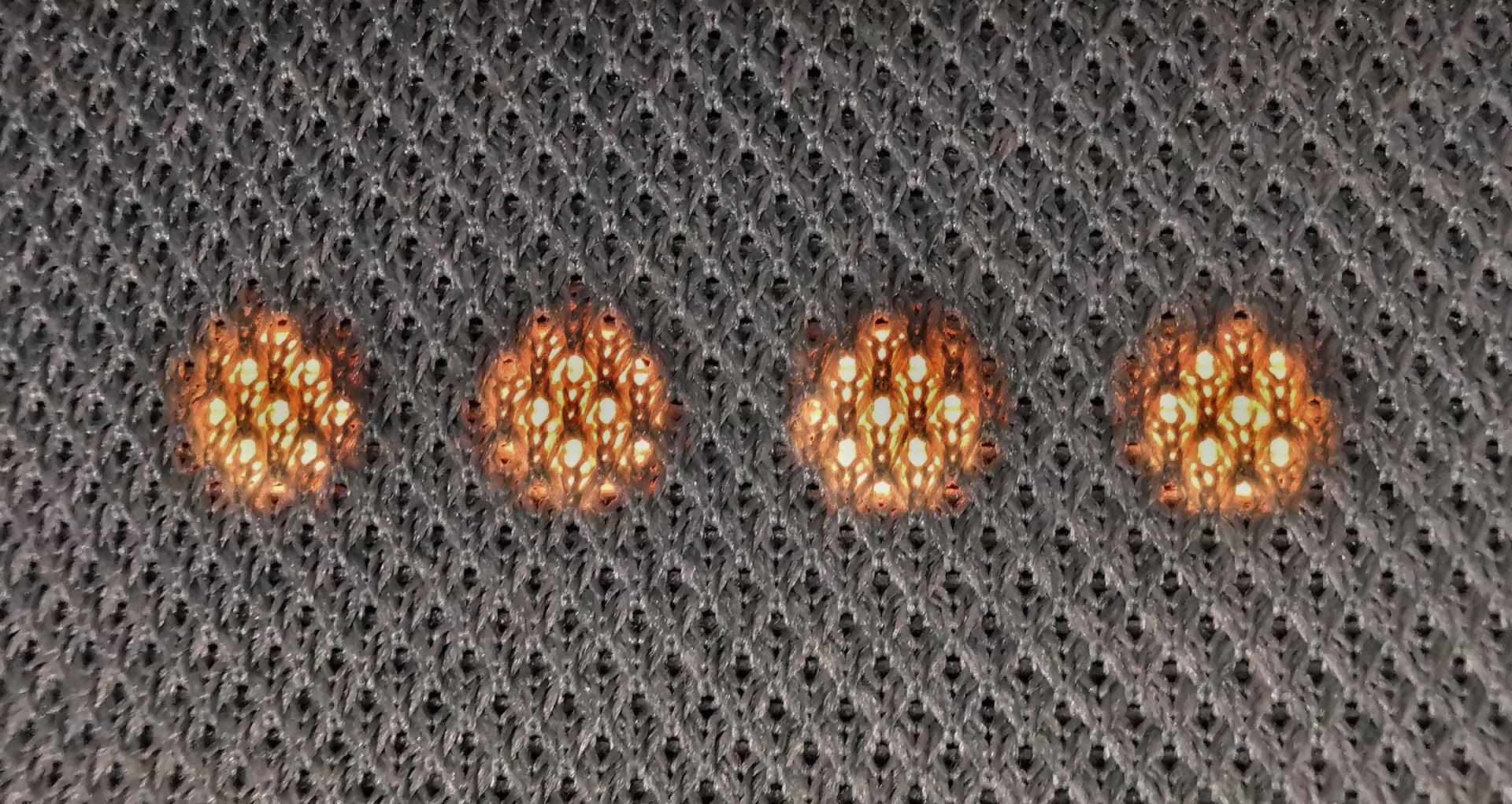 The Nest Audio is made with tightly wrapped durable fabric at the top made from recycled plastic bottles while the housing, foot, and a few smaller parts are made from 70% recycled plastic. The weave is especially designed to minimize sound distortion. It has 802.11 b/g/n/ac (2.4 GHz /5GHz) Wi-Fi, Bluetooth 5.0, and Chromecast built-in. It sports a 15mm woofer, 19mm tweeter, three far-field microphones that can pick up voice commands even with loud music, and a hardware mute on-off switch. According to Google, Nest Audio is 75% louder and has 50% stronger bass than the original Google Home.
Google Assistant is built in as is voice matching technology for up to six family members. Three capacitive touch controls for play/ pause and 16 volume levels are indicated in four LED lights, each changing in brightness as you gradually adjust levels. Voice volume commands are less gradual skipping up or down by four stages each time. 
The Nest Audio uses Google's recently released Media EQ and Ambient IQ technology to adjust sound. Media EQ tunes audio based on the type of sound playing like podcasts, music, audiobooks or assistant voices, but also to the music genre sound profile differences in classical music versus hard rock. This means less time fiddling with the bass and treble controls on your phone. Ambient IQ adjusts the volume to account against ambient background noise in your home.
The Nest Audio is available in Chalk, Charcoal, Sand, Sky and the new Sage.
Which speaker won? After much listening to many song genres I can call it a draw with the Nest Audio having more noticeable mid-tones compared to the Sonos One's slightly deeper bass. If you consider the added savings to pair stereo speakers, you can't go wrong with the Nest Audio.