As a long-time Fitbit user, I have used numerous smartwatches and fitness trackers from the brand over the years. I'm also a well-known Apple iPhone user. While I own Android phones for testing purposes, admittedly, the iPhone is my primary device. Nonetheless, when I heard about the Google Pixel Watch, first teased at Google I/O earlier this year, I was intrigued.
As Google's first branded smartwatch, it also comes with Fitbit integration, something fans have been anticipating since Google acquired Fitbit in January 2021. The Pixel Watch does not work with the iPhone, but paired with the new Google Pixel 7, I was off to the races. Once connected to my Fitbit account, I was also able to track my stats from the Pixel Watch using the Fitbit app on my iPhone.
What is the Google Pixel Watch?
As noted, the Pixel Watch is Google's first branded smartwatch, running on the Wear OS 3 platform and featuring Fitbit integration. It also comes with a six-month trial to Fitbit Premium, which provides access to a wide selection of workouts, accessible through the app, mindfulness activities, detailed health reports, and more.
Resembling a standard rounded-face wristwatch, the bezel-less design makes it all screen at the front. There's a crown on the side for navigating menus (it's also touch-enabled) along with a side button that sits flush into the casing. To put it simply, the watch is very elegant looking.
Using the Google Pixel Watch
Set-up of the Watch was super simple. After charging it and the Pixel 7 smartphone to full battery, I downloaded the Google Pixel Watch app on the phone and paired it with the Watch. It ran a quick update, then was ready to go. I was able to easily link my existing Fitbit account to the Watch: if you aren't a Fitbit user already, you'd have to set up a new account.
Once ready, I browsed through the available clock faces to choose the one I liked (I stuck with the default), set up notifications for the desired apps, then wrapped the Watch around my left wrist, which allows for more comfortable handling with the side crown since I'm left-handed. (I later switched to my right hand to ensure a similar tracking experience to the Fitbit, which I usually wear on that hand.)
Navigating menus is simple: I'd recommend going through the short tutorial that advises how to access certain menus, typically with a swipe up/down or left/right motion on the touchscreen. At any time, push the digital crown to go back to the home menu.
The always-on display is useful so you can easily raise to wake and see your stats at any time, including steps, time, and continuous heart rate (what's shown will depend on which clock face you choose). Keep in mind this will drain the battery much faster.
One of the features I appreciate the most from smartwatches and fitness trackers, alongside tracking activity and workouts, is sleep tracking. Fitbit is one of the best if not the best in this department. And the Google Pixel Watch tracks this just as accurately as any Fitbit device. But you need at least 30% battery life on the Pixel Watch in order for it to work. Indeed, the Watch needs to be charged daily, a departure from the 5-6-day+ battery life with other Fitbit smartwatches like the Fitbit Sense 2 and Versa 4. You can activate Battery Saver mode to extend battery life in a pinch by temporarily turning off certain functions.
You don't get those Sleep Profiles that analyze your sleep over a period of weeks to compare your sleep habits to an adorable animal. Given that this is one of the added features with Fitbit Premium, it reduces the value of a Fitbit Premium subscription. You do, however, still get the Sleep Score and Sleep Stages, which are the most important stats when it comes to tracking sleep quality and duration.
You'll hear a notification sound or feel a slight vibration when you are getting an update from a connected app, messages, incoming call, and more. You can use the watch to take an ECG reading from the Fitbit ECG app, just as you would with Fitbit-branded smartwatches that are compatible with this feature.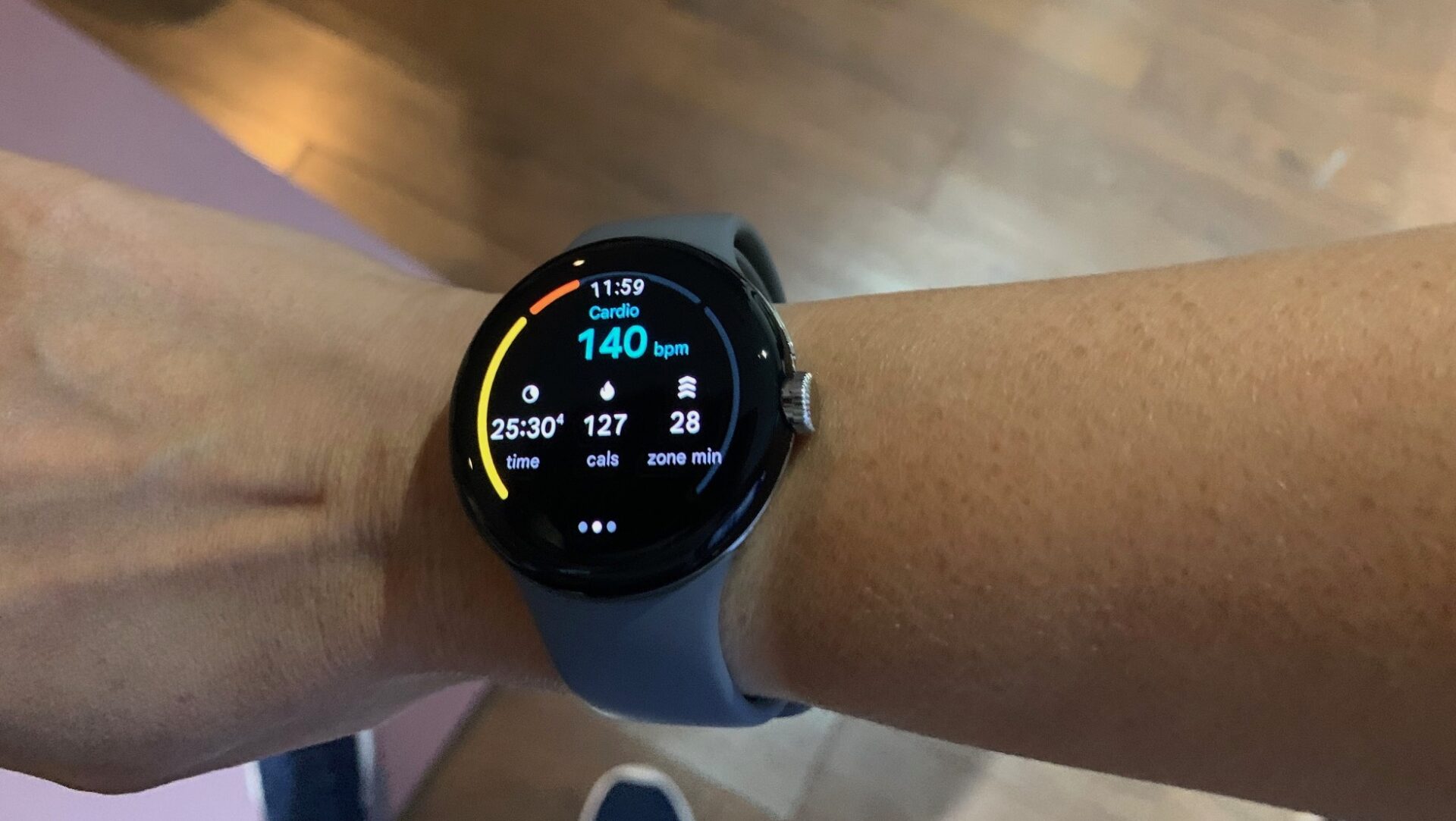 Workout-wise, you get the same Fitbit Active Zone Minutes and Daily Readiness Score (Premium required) as you would with Fitbit devices, and can track various types of workouts right from the watch or the app. I used it to track my daily workouts for a week and found it to work smoothly.
It was easy to select the type of workout, like workout, weights, or walk, with a variety of other specialized options already loaded on the watch from which to choose, like circuit training, CrossFit, dancing, golf, and HIIT, among others. Unlike with a Fitbit device, however, I did not feel a slight vibration each time I entered a different heart rate zone (fat burn, cardio, and peak).
There are other cool features like being able to talk to Google Assistant to get quick answers to queries right on your wrist, and even control compatible connected smart home devices. This will require an Internet connection, however, unless you have an active LTE model.
You also get a three-month trial to YouTube Music Premium for accessing more than 100 million songs from the watch. Save songs for offline listening, useful for gym rats or if you're going for a walk or run and don't want to bring your phone with you.
It works with Google Wallet for tap to pay at compatible terminals once you add a payment card.
One particularly neat feature is the addition of maps on your wrist so you can receive walking, driving, or even cycling navigation instructions, glancing down at your wrist for the next turn or highway exit. (Yes, it also has built-in GPS so you can leave your phone at home if you go for a walk or run and still capture your route). You can also control Google Camera from the watch, taking a photo from the device, even adjusting zoom to make sure you get everyone in the frame.
There's also the ability to call emergency services in the event of an accident or incident: rapidly press the crown five times to do this and a five-second countdown will initiate until emergency services or an emergency number of your choice is contacted.
Bottom line
I didn't put the Google Pixel through its paces as an Android user looking for a new smartwatch, which admittedly, isn't the ideal set-up. But I did put it through its paces as a potential replacement for a Fitbit smartwatch (for Android users).
Aesthetically, the Google Pixel Watch is a stunning timepiece on your wrist that will be a welcome device for those looking for something that will look just as good worn to work as it will during a workout. The screen is, to put it succinctly, beautiful, with clear text and large lettering that's easy to read. The watch is comfortable to wear 24/7, and with a water-resistant rating, you can even take a dunk in the pool, wash dishes, and shower with it on.
It has all the usual suspects when it comes to features you'd expect from a smartwatch, both in terms of connected features and apps as well as fitness and wellness. It would have been nice to be able to follow on-screen workouts like you can on a device like the Fitbit Sense 2 or even the Apple Watch given the larger screen, but that isn't a dealbreaker.
What the dealbreaker is for me, and the same reason I haven't yet invested in an Apple Watch, is battery life. I despise having to charge a watch daily, or even every two days. It bothers me to potentially lose out on valuable steps or sleep tracking. Many argue that you can charge it for an hour while at your desk, and chances are, I'd probably get used to a routine after wearing it for a while. For now, I often forget only to look over and realize the watch is almost or already dead.
With that said, anyone who has owned an Apple Watch or has used any smartwatch that requires constant charging might not be bothered by this.
It's worth noting, however, that given the extra features available with a Fitbit-branded smartwatch, including Sleep Profiles not to mention compatibility with both Android and iOS, I'd stick with the Fitbit Sense 2 or, if you prefer a slimmer tracker design, the Fitbit Charge 5 instead. The Pixel Watch is a beautiful piece of technology and a wonderful first entry for Google. For an Android user, particularly a Google Pixel phone user, it's a solid choice. But it isn't there quite yet when it comes to competing with top-end Fitbit smartwatches that are comparable in price, or even the Apple Watch as it's rival on the iOS end of the spectrum. However, with improved battery life, deeper Fitbit integration, and added premium features like automatic workout detection and Sp02 sensing, not to mention charging options beyond the proprietary magnetic puck, it could be a real contender.
The Google Pixel Watch will be available in Canada towards the end of October for $450 ($530 for the 4G LTE version) but is available for pre-order now.