Smartphone cases are dime a dozen, right? Well, not necessarily. While there are hundreds of options from which to choose for the most popular devices, they range from sleek and stylish to uber-functional, and from cheap and flimsy to properly designed and impact resistant. Some have features that are especially convenient, while others boast designs that fit your personal style.
Most people have more than one case for their smartphone, using one for nights out on the town, one for travel, one for daily use, and so on.
When I first bought my iPhone XR, I was on a quest to find the perfect case. I wanted one that was textured in some way so it wouldn't easily slip out of my hands. I wanted it to be form fitting while also being easy to take on and off – a single piece was ideal. I wanted it not to add too much bulk to the phone. And I wanted a raised lip plus some shock-absorption or added impact protection so that if I were to drop my phone which, let's face it, is bound to happen, the screen wouldn't shatter on impact or the edges crack.
The case I ended up selecting was chosen for its simplicity in design, but also one minor but important detail: a kickstand recessed into the back that I could pull out when I wanted to prop the phone up to watch videos. I do this any time I travel by plane to watch downloaded TV series from streaming services. But I also use it at home to watch videos with my son, use my phone's calculator, or simply prop the phone up on my desk while working.
I was familiar with Handl, having owned one of the very first cases launched by the brand when it first made its appearance at CES in Las Vegas years ago. Designed by artist Allen Hirsch, who was inspired by looking at how he held a paintbrush while painting, the concept is simple: a flexible and elastic brace system is attached to the back of the case, allowing you to slot your fingers inside to secure the phone. The idea is to help reduce strain. But the added benefit: pull it out, push one side into the slot, and use it as a kickstand to prop up your phone.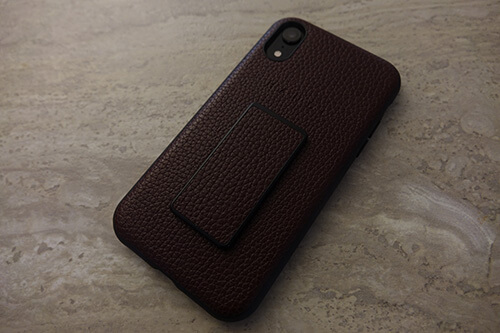 The brand, now distributed in Canada through Erikson Consumer, has expanded its product assortment considerably since 2016 with a number of designs and models, all containing the signature brace system.
I tried out the Merlot Pebble case, which is made from premium materials and sells for $60.
The Look
It looks and feels luxurious, with an attractive finish that will appeal to both fashion-conscious men and women. The brace system is finished in the same colour so it doesn't look out of place, with a black outline. The perimeter of the case itself are also black.
It goes on and comes off my device easily, which is important for someone like me who likes to switch my cases often.
How It Works
The first thing I noticed is that the brace system on this device is far stronger than it was three years ago. In fact, the only reason I stopped using my original Handl case, aside from the fact that I got a new device, was that the elastic broke. Judging from the feel of this one, it would take a lot of wear and tear for this to break.
Walking about, it's simple to keep your phone secured to your hand without having to stretch your fingers around the device. Just slide your fingers inside – I find it most comfortable between my middle and ring fingers – put your hand down, and it won't slide off. If you wear a ring, you might need to pull it overtop the ring. It's also comfortable for those who tend to hold the handset up to their ears while having conversations instead of using a Bluetooth headset or earbuds/headphones. Your hand can remain outstretched instead of wrapped around the phone, which can put strain on your fingers. It's also useful for taking selfies, since you can hold the phone steady, stretching your thumb around to tap the shutter without awkwardly trying to hold the phone and press the shutter at the same time while trying not to drop the device.
But for me, the most valuable part of the brace system is its ability to be used as a kickstand, which can prop your phone up in both portrait or landscape mode. Just pull out the brace, pull down, and stick the top portion into the little slot where the elastic resides. Push it in until you hear a click and voila, you have a kickstand.
Using it in portrait mode is great for when my phone is on my desk and I'm using the calculator, playing music from a streaming service that I want to control, or chatting with someone on speakerphone. In landscape mode, it's perfect for setting my phone down on a tray table to binge watch TV series or movies during a flight. As noted, I also use the kickstand to place the phone on the coffee table or kitchen counter and watch videos with my son.
Another great feature about this case is that it works with wireless chargers. I use a Ventev Qi charger in my living room. While the brace piece gets quite hot after charging, and I've noticed a bit of the merlot colour coming off onto the white charging surface (likely due to the way I slide the phone off the charger every day), it successfully wirelessly charges the device while it's housed in the case.
For protective purposes, the case has been rated for drops from up to eight feet. I'm reluctant to test this aspect, so I'll take their word for it. I have, however, dropped my phone from a foot or less a few times since having it in the case, and the case has successfully absorbed the impact, with no damage to my device.
Bottom Line
This case is a winner all around. It looks classy, it's functional, fits nicely, and is affordable. For those who suffer from strain on their hands, which might be caused by the way you hold your phone, or how often you hold it, it could be a worthwhile choice. You will also appreciate the ease at which you can secure you device while walking without a purse or backpack, and no pockets. I've found myself many times having to awkwardly hold my phone while going out somewhere without my purse, and while I'm wearing a dress or tights that don't have pockets. Using the brace provides that extra bit of security that your phone won't slip out of your hands and onto the hard pavement.
If you're looking for a strong and elegantly-designed case that looks good, will keep your phone sufficiently protected, and has the added benefit of a built-in kickstand, this one is a good option. At $60, it's on the pricer side, but it's worth it if you'll make use of the kickstand and the brace system.