We're back with the WiFi HiFi holiday gift guides! Each week, we'll release a new themed gift guides, chocked-full of great tech gift ideas for different people on your list. This week, we're looking at great gifts for gamers.
Microsoft Xbox Series S or X
The latest versions of the Microsoft Xbox gaming and entertainment console are now available and gamers who use the Xbox platform are salivating over it. The Xbox Series S sells for $379 and the Xbox Series X for $599. With the top-line Series X, they'll get true 4K gaming, up to 120 frames-per-second refresh rates, 8K HDR high dynamic range, and more. If you know someone who already owns one, or want to sweeten the gift, consider picking up a few hot game titles for it as well.
Razer Mouse Grip Tape
Think the gamer on your list has every peripheral they could possibly need? When you're talking about PC gamers, this grip tape for a mouse is a pretty unique option that they might never have even thought about. It's simply pre-cut adhesive grip tape that helps enhance the grip on a mouse while you're engaged in an intense battle. At just 0.5mm thing, it is made from anti-slip Polyurethane. Grab it for $15 or go all out and add the actual mouse as well, like the Razer DeathAdder V2 ($100).
Nintendo Switch
Any kid on your list who likes gaming will love the idea of the Switch. It's a portable gaming console they can play on the go, but when they get back home, or to a friend or family member's house, they can connect it to the big screen to continue playing. It's a versatile, travel-friendly gaming system that works with a ton of popular titles, from Super Mario Odyssey to Animal Crossing. Lots of bundled versions are available, so you can get the device with Neon Joy-Con controllers or in a special edition package specially designed with Animal Crossing: New Horizon themes.
UNIS Technology Atari Pong Table
Given the COVID-19 restrictions, chances are you're spending a lot more time at home than usual. And with the cold weather coming, you could use some fun things to entertain you at home. Markham, ON-based UNIS Technology's retro-styled Atari Pong tables allow gaming enthusiasts to play the classic video game in their homes, using cleverly designed furniture. Step into full nostalgia with the coffee table, which includes mechanical components and a Bluetooth speaker so you can play Pong on family game night, or when buddies come over to visit. It has an LED and clock display, plus four USB ports so everyone can keep their smartphones charged up while playing. When you're done the game, hide the control panels by closing the sides. US$2,999; there's also an Arcade Table, Cocktail Table, and Ottoman.
Steel Series Nimbus Wireless Gaming Controller
For the hardcore gaming fans, this controller lets you play hundreds of favourite controller-supported games —including exclusive Apple Arcade titles — on your Apple TV, iPhone, iPad, or iPod touch. $64.95
Razer Iskur Gaming Chair With Built-in Lumbar Support
With all of the time we've been spending at home lately due to the COVID-19 pandemic, video gaming is becoming a common hobby for many. If the games room has been totally decked out for game nights with the kids, or to play online with their buds, this chair might be a welcome enhancement. It has built-in, fully sculpted lumbar support to prevent backaches after lengthy gaming sessions. Made of multi-layered synthetic leather, it also includes high-density foam cushions so the gamer's butt doesn't get sore either. $650
Google Stadia Premiere Edition Bundle
This game platform lets you play on virtually any screen, including laptops, desktops, and tablets, with full Chrome browsers, as well as on Pixel smartphones. A $140 Premiere Edition Bundle includes a controller that uses Wi-Fi to connect directly to games running in Google's data centres along with a Chromecast Ultra streaming device. Subscriptions for Stadia Pro are $12/mo., or they can buy games as they desire, with pricing for titles ranging from $4 all the way up to $120.
Austere III Series HDMI 2.0 Cable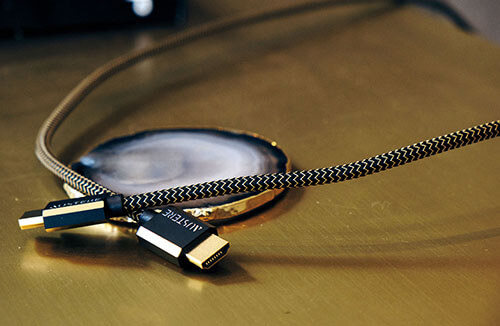 Connect your console or other gaming-related equipment using one of these cables, which come in 1.5, 2.5, and 5-metre lengths. Beautifully packaged, making them perfect as gifts (just pop a bow on top and you're good to go!), the cables feature HDMI 2.0b, 4K HDR, 15𝝻in pure hard-gold contacts, 24K gold-plated contact shields, and aDesign precision connector housing and WovenArmor cable. Pricing is $70, $100, and $170, respectively.
Sony PlayStation 5
Arriving in Canada on November 12, if you can get your hands on one of these anticipated consoles for a gamer on your list, they will be thanking you forever. It's $629 for the version with an Ultra HD Blu-ray disc drive or $499 for the Digital Edition. Both models use the same custom processor with integrated CPU and GPU for high-fidelity graphics up to 4K, as well as the same ultra-high speed SSD with integrated I/O that will deliver lightning-fast loading. Both also support DualSense wireless controller and 3D audio capabilities. Plenty of popular titles are available for the console, including Devil May Cry 5 Special Edition (Capcom), Marvel's Spider-Man: Miles Morales, and Call of Duty: Black Ops Cold War.
Want to grab some accessories, too, or get ones as a gift for someone you know is already getting a PS5 under the tree? There are DualSense Wireless Controllers for $90 ea., Pulse 3D wireless headset with 3D audio support and dual noise-cancelling microphones ($130), HD Camera with dual 1080p lenses for broadcasting gameplay moments ($80), a Media Remote for navigating movies and streaming services ($40), and the DualSense Charging Station for charging two DualSense Wireless Controllers ($40).
Asus ROG Delta S Headphones
Asus' latest pair of ROG (Republic of Gamers) headphones, the ROG Delta S, features MQA technology to offer improved audio quality for gamers. The headset features the ESS 9281 CODEC with QUAD DAC technology. But most importantly, they are the first with MQA Renderer technology.
LG UltraGear 27-Inch Gaming Monitor
Created for gamers, the 27-inch LG UltraGear Gaming Monitor is ideal for use during graphic-intensive games. It is an NVIDIA-tested and officially verified G-Sync Compatible monitor, built with VESA Display HDR 600 for a smooth gaming experience and the Nano IPS display offers brilliant picture quality and fast, smooth motion control to prevent screen tearing and lag. It can maintain a wide colour range while delivering lightning-fast refresh rates. Sphere Lighting 2.0 is also included to alter the ambience when playing.
Glorious GMMK Keyboard
This patented mechanical modular keyboard is designed for PC gamers, featuring hot-swappable switches that give users full control. It is compatible with any modular MX switches with no soldering required. It features discreet LED indicators, a professional-grade aluminum faceplate, and high-quality gold-plated USB cable. It features a 16.8 million colour RGB backlight and is compatible with most custom keycap sets giving users even more ways to make the gaming experience their own. Available in a pre-built or customized option in three variants: full size, keyless and compact offering users options to fit their specific needs. US$110
SteelSeries Stratus Duo Controller
Gamers can use the SteelSeries Stratus Duo controller to swap between the low-latency 2.4GHz wireless connection for gaming on Windows, and Bluetooth for Android devices, including the Samsung Gear VR, and Oculus Go – there's no additional software needed for setup. The 2.4GHz wireless receiver offers a solid, low latency plug-and-play connection for uninterrupted PC gaming. The controller is also Steam-enabled, with full Steam Big Picture Mode and SteamLink support. A trigger design features Magnetic Hall Effect sensors that keep triggers consistent and precise. Clickable analog joysticks feature minimal dead zones and smooth operation. Powered by a lithium-ion battery that offers 20+ hours of play time, it includes a 1.8-metre micro USB cable. US$60; a SmartGrip adjustable phone mount that clips on to hold a phone in place is US$10.
Didn't find what you were looking for? Check back as this gift guide will be updated through to the end of 2020, and check out more gift suggestions in our other Holiday Gift Guides.