We're back with the WiFi HiFi holiday gift guides! Each week, we'll release a new themed gift guides, chocked-full of great tech gift ideas for different people on your list. This week, we're looking at great gifts for busy parents.
C by GE Full Color Bulb
This new bulb, the first under C by GE's new Savant ownership, lets you select from millions of colours, syncing them to your sleep/wake cycle, making it perfect to both help busy parents wake up slowly, but also to help wake kids up in a way that will have them feeling refreshed and ready for the day. You can set schedules and scenes, adjust colours, and even dim the lights right from your phone, so you don't even have to get out of bed. While they're perfect to set up in the kids' rooms, parents will probably end up grabbing more over time to place all over the house. $45 per bulb.
Microsoft 365 Family
Especially useful if everyone is working or going to school from home, or at least needs programs to help with homework and other projects, this single subscription affords access for up to six people living in the same household. In addition to the usual programs you'd expect and use, like Word, Excel, PowerPoint, and OneNote, it also includes access to location alerts with the Family Safety app. And with a total of 6TB of storage space, it's totally worth the price of admission for worry-free cloud back-ups of photos, videos, important documents and files, and more. $110/yr.
LG AI Front Load ThinQ Washer and Dryer
Busy parents likely have lots of laundry to do, so a great gift, especially one to buy for your own family, is a new washer and dryer pair to upgrade from the old, tired ones you might still be hanging on to. These are super high-tech, with AI technology that promises to help extend the life of your clothing via gentle fabric care for all clothing types. The AI technology compares information against more than 20,000 data points to program the optimal wash pattern and drying cycle settings for optimal results, improving cleaning and extending the life of garments by 15%, says LG. Wash cycles are programmed to use customized wash motions, temperatures, and times for the optimal wash pattern. The new ezDispense feature automatically adds the exact amount of liquid detergent and fabric softener customized for each load size at precise times during the wash cycle. The machine can conveniently store up to 18 loads of detergent so you don't have to refill after every load. They also work with Amazon and Google through the mobile app to provide notifications advising when the laundry detergent is running low, how much time is left on the cycle, and when the cycle is complete. When it's time to dry, the ThinQ mobile app includes a Smart Pairing feature that automatically sends the optimal drying cycle based on the compatible wash cycle that was just used. The washing machine and dryer are $1,800 each or $3,600 for the pair, so it's a hefty investment, but one that might be worth it for families who are long overdue for an upgrade and invest a lot in quality clothing.
Nest Audio Smart Speaker
The new Nest Audio smart speaker is a great device for parents who can use it to control smart home devices, set up calendars their kids can access by voice, play music, and more. Younger kids can enjoy fun features as well, like story time, jokes, and games, and parents will love the Family Bell option for kids who are in virtual learning – set up times for customized messages to play, like "Recess is almost done. Head back to class!" Or "Lunch time!" It is 75% louder and has 50% stronger bass than the original Google Home, and is covered in sustainable fabric. It comes in chalk, charcoal, sand, sky, and a new sage finish for $130.
Philips Air Fryer XXL
Large families will appreciate this massive air fryer that allows for making up to six portions at once. It cooks food faster, resulting in a nice, crispy texture but without the need for deep frying in oil. This means you can enjoy kid-friendly dishes like chicken nuggets, fish sticks, and French fries, but made in a much healthier way. And Twin TruboStar technology ensures that food cooks faster and more evenly. Excess fat is removed and captured at the bottom. Approx. $400
Evenflo Gold Smart Infant Car Seat
For the high-tech new mom and dad, consider getting them this smart infant car seat, which uses SensorSafe connected technology that sends safety status information about the baby to a parent or caregiver smartphone via an app. Opt-in for the alerts you want, such as when the child in unbuckled from a stroller, if the temperature is too warm, or if the child has been sitting for too long. Each comes with a 100-day trial, lifetime warranty, and five finish options inspired by gemstones: onyx, moonstone, sapphire, garnet, and opal. For toddlers, there's also the Smart All-in-One Convertible Car Seat and Pivot Xpand Smart Modular Travel System. From US$220-US$500.
Epson EcoTank ET-2760 All-in-One Printer
Especially for parents who are working from home and might even also have their kids doing virtual schooling, there will be a lot more printing going on than usual. So, an efficient printer like this one makes a lot of sense. EcoTank printers use ink reservoirs versus cartridges that only need to be replaced every two years or so, depending on use. And they come with a two-year supply in the box to get you started. They are wireless enabled so you can send print job from anywhere and can also make copies and scan items. There are various models in the line, but this one is a nice size for families, and is pretty affordable at about $400.
Tile Bluetooth Trackers
Great for keeping tabs on valuables, like your child's tablet, keys, backpack, camera, or other items, these trackers can be hooked onto a keychain or lanyard or, with the new Sticker, adhered to a pair of headphones, tablet case, or other valuable item. Use your phone to "ring" the device to discover its location or check the map in the app to find out where it is if it was left behind at school, for example, or a friend's house. The network of Tile users from around the world help pinpoint item locations, so as long as another Tile user is in the general area of the item with Bluetooth on, you'll able to see where it is and hopefully retrieve it. The Pro, which you can easily slide into a compartment in your child's backpack or wallet, is $40 ($130 for four), while the Stickers, which you can stick to everything from a DSLR camera to a pair of headphones, are $50 for two or about $75 for four. The Mate has a hole for clipping onto keychains or lanyards and sells for $30 for one or $90 for four. These make great stocking stuffers and can offer tremendous peace of mind for parents who might be worried about their kids losing their pricy tablets or wireless earbuds.
Instant Ace Nova Blender
This high-speed blender from the makers of the Instant Pot can be used to make everything from hot soups to dairy-milk alternatives, nut butters, stews, mains, sides, dips, spreads, sauces, and frozen treats. By using a concealed heating element to cook soups without having to puree them, you can decide how creamy or chunky you'd like your soup to be. It's a great appliance for parents who need to feed hungry kids or make their own homemade recipes due to severe allergies. About $150
Instant Pot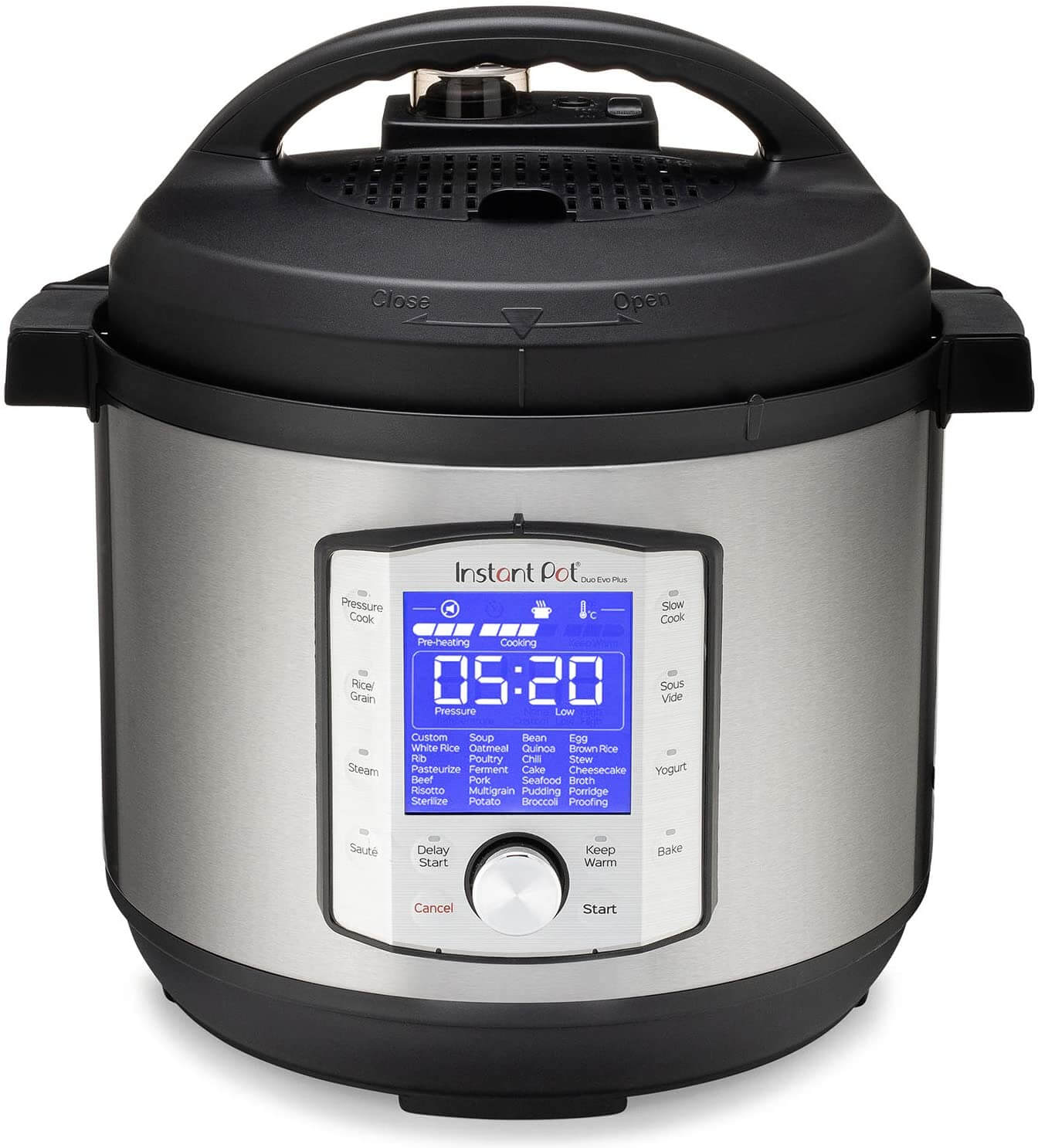 If you've been on the fence about getting one of these multicookers, know that they are wonderful for busy parents who need to make quick and delicious home-cooked meals for kids. Balancing a busy work schedule plus extracurricular activities like hockey and soccer practice can leave little time to make dinner. You can literally dump ingredients inside, tend to other chores, like tidying up the kitchen or helping the kids with their homework, then serve dinner in under a half hour. The latest models like the Duo Evo Plus 9-in-1, come with a new inner pot that is cookware-grade and stovetop-friendly with easy grip handles and adds new features like ferment and pasteurize. It has an easier-to-read bright displays with 48 presets that can remember custom settings, a cooking process indicator, and a new lid that automatically sets to seal and features QuickCool technology. You can also use one to experiment with new recipes with the kids on the weekends, baking everything from cakes to making your own homemade yogurt for school lunches and quick and nutritious after-school snacks. It's about $170 but chances are it'll be on sale during Black Friday week at the end of November. And there are plenty of different Instant Pot models with various features and sizes to suit every family's needs.
Disney+ Subscription
If you're looking for a new streaming TV subscription service to add to the mix, Disney+ is a great option for parents with young kids. You can stream thousands of Disney, Pixar, and Marvel movies and TV series, including original titles as well as classics. And there are original titles like The Mandalorian that Star Wars fans will enjoy, along with High School Musical The Series, The World According to Jeff Goldblum, and Encore! $9/mo.
Amazon Fire HD 10 Kids Edition Tablet
With a 10" display and 32GB of storage (expandable up to 512GB via microSD card) this tablet offers up to 12 hours of battery life. Parents will especially love the Amazon Kids+ content subscription service, which provides access to premium books, educational apps, videos, and games in English and French, all curated for kids. It comes with a free year of access and is $3.99/mo. thereafter. Download content for viewing offline to keep kids entertained in the car, plane, or wherever Wi-Fi isn't available. Parental controls, managed through the Parent Dashboard on any web browser, let you hide entertainment until daily educational goals are met, set limits, and block social media, in-app purchases, and ads. Bedtime mode turns FreeTime off until a set wake-up time. $260 but it will almost definitely go on sale during Black Friday week.
Didn't find what you were looking for? Check back as this gift guide will be updated through to the end of 2020, and check out more gift suggestions in our other Holiday Gift Guides.