It's that time of year again! We're back with the WiFi HiFi Holiday Gift Guides! Not sure what to get that special someone on your list? It has been a particularly tough year, and we all deserve some joy. There are lots of tech gift to suit an enduring passion, new hobby, personality, or style. Here, we'll look at great gifts under $150.
House of Marley Rebel True Wireless Earbuds
One of the newest additions to the House of Marley line are the Rebel true wireless earbuds, designed as a special collaboration with musician Skip Marley, grandson of the legendary Bob Marley, they are, like all House of Marley products, made from renewable materials, including bamboo and natural wood fibre composite along with recycled plastics. Running for up to eight hours per charge, a total of 30 hours with the included charging case, they are IPX5 rated for water, sweat, and weather resistance to handle everything from rugged environments to tough workouts. With auto play/pause functionality, simply remove an earbud from your ear and your music conveniently pauses. Place the earbud back in the ear, and your music resumes for seamless listening. Engineered to allow optimal microphone positioning, Rebel provides echo noise cancellation to remove background noise and improve call quality. Regularly $180, they have gone on sale in the past for as little as $120. Grab a pair in black or cream.
Apple HomePod
While nothing has changed with the Apple HomePod mini internally, externally, there are three new colour options launching: yellow, orange, and blue. Measuring 3.3 inches tall, the HomePod mini includes features like Siri, smart home control with compatible devices, and privacy and security built in. Additionally, it features the Apple S5 chip, full-range driver, premium neodymium magnet, and a pair of force-cancelling passive radiators., providing a full 360-degree audio experience. Play through just the speaker or sync with a second HomePod mini to create a stereo pair. The new colours, like the existing white and space grey, will include colour-matched details throughout, including the tinted touch surface, mesh fabric, volume icons, and woven power cable. The HomePod mini in new colours remains at $129.
Satechi Aluminum Stand & Hub
The Satechi Aluminum Stand & Hub for the newest iPad Pro tablet features six ports and a foldable design. The stand elevates the iPad Pro off a desk, making it ideal to use as a second screen, drawing canvas, or for video calling friends and family, keeping it at the optimal viewing angle. Designed to complement Apple devices with the sleek aluminum design, the Stand features a 4K HDMI (60Hz) port, USB-C PD charging, USB-A data port, SD card readers, and an audio jack port so you can connect a variety of peripherals. Because it is foldable, you can also easily carry it from the office to home and pop it into your bag, backpack, or briefcase for travels. US$100
EZViz Wi-Fi Indoor Smart Security Cam
A great entry-level device to get someone who is just exploring the concept of the smart home, this camera sells for just US$30. Compatible with Amazon Alexa, Google Assistant, and IFTTT devices, you can view live streams from an Echo Show or Spot, or Google Hub device. The camera has a 130-degree viewing angle and a magnetic base and can be set up easily via W-Fi. The EZVIZ app offers Wi-Fi and installation support. Use it as a general home security camera, baby monitor, or even to keep an eye on pets when you're away during the day. Speak to visitors as well from a smartphone, PC, or Mac. The PIR sensor can detect motion that should initiate an alert and motion that shouldn't, such as a pet simply roaming around the house. If something out of the ordinary is detected, the camera will send a push notification to the app so you can check in. It comes with a microSD card slot that can accommodate an optional card up to 256GB in size, so it's a good idea to grab one of these as well to go with the gift. Choose continuous recording to the card, or just motion detecting recording. There's also a cloud storage subscription option.
Fitbit Ace 3 Fitness and Activity Tracker for Kids
My son has been wearing the Fitbit Ace 3 for months and absolutely loves it. Designed for kids aged 6+ (ideally, kids 6-10), it helps them keep track of their daily steps, helps parents keep tabs on data like sleep, allows for fun family challenges, and serves as a handy watch on their wrists. With an impressive eight days of battery life, you won't have to charge it too often either. Parents can set bedtime reminders in-app, kids can set timers and stopwatches, and enjoy having their very own watch. Get it for about $100.
Amazon Smart Air Quality Monitor
This new air quality monitor is a clever addition to the home that can keep them apprised of indoor particles that can be a source of allergens and toxins. It's easy to set-up using the Alexa app and is just 65x65x45mm (WxLxH), perfect for sitting on a shelf, counter, nightstand, or table. It will particularly appeal to those who have allergies or experience symptoms like coughing, wheezing, shortness of breath, or chronic headaches. The device measures temperature, humidity, dust, volatile organic compounds, and carbon monoxide. As a smart device, when your air quality is poor, you'll receive an alert from the Alexa app and/or hear an announcement from your Echo device so you can take action, like opening a window, or turning on a fan or air purifier. Ask a compatible Alexa-enabled device for the air quality in your home at any time, or get deeper insights into your air quality through your Echo Show or the Alexa app. Through this information, you can also discern how doing simple things like keeping a window open, using an air purifier, or cleaning your vents can impact the quality of the air in the home. Starts at $90.
Star Wars The Child Animatronic Edition
Let's be real: this adorable companion isn't just for kids: Star Wars, and particularly The Mandalorian, adult fans will squeal with joy at receiving one, too. Who wouldn't, after all, want a baby Grogu, a.k.a. The Child, of their own? Instead of a boring plush, this is a cool animatronic version. Available from Hasbro, it makes more than 25 sounds and motion combinations by simply touching the top of its head to activate. Grogu goes from being happy and excited to giggling and babbling, tired and sleepy, and making Force effect sounds: when you pat its head three times in succession, Grogu will raise its arm, close its eyes, and sigh as if it just used The Force and all its energy is drained. Movements include its hand going up and down, ears moving back and forth, and eyes opening and closing – just like in the popular Disney+ series. While this is one toy that will appear on many kids' wish lists this year, we wouldn't be surprised to see it on a few adults' wish lists, too! Pricing varies but you can often find it on sale for anywhere from $60 to $75.
Tile Pro Bluetooth Tracker
There's nothing worse than trying to rush out the door only to realize you can't find your car keys or phone. The Tile is a handy device that I have relied on more times than I can count on both hands. It connects to your smartphone via Bluetooth, then clip it onto a keychain, your gym bag, purse, backpack, camera strap, or other device. You can then keep track of the device's location using the network of Tile users around the world. So, if you can't remember if you forgot your gym bag at the office or left your headphones on the bus, you'll be able to see where the item is. It also works in the reverse, so you can call your phone from a Tile by tapping its built-in button. I have done this many times to locate a misplaced phone when I have been rushing out the door. I have also used my phone and the Tile app to "ring" the Tile when I couldn't find my car keys. There are various versions with different features, Bluetooth ranges, volumes, and durability, but I'd opt straight for the new 2022 version of the Tile Pro, which is US$35 for one, US$60 for a two-pack, or grab a four-pack for multiple people, complete with four gift envelopes, for US$100. It has the same 400-foot range as the previous generation version, and maintains the user-replaceable battery, which ensures you don't have to buy a new one every year or two. It's also IP67-rated so you it can withstand getting wet or dirty. And it has a cool, new rectangular design.
Shell 12,000mAh Jump Starter
Safety isn't just about health and wellness but also keeping safe in case of emergency. The Shell 12,000mAh jump starter can quickly revive a dead vehicle battery instead of having to wait in the cold for roadside assistance or a family member or friend. It includes advanced safety technologies such as short-circuit, reverse polarity, over-current, over-charge and overload protection. It also has built-in flashlights and SOS lights in case of emergency as well as USB ports to recharge phones and other devices on-the-go. $90
Google Hub Smart Display
A great update from a smart speaker, the Google Hub smart display has a louder speaker with 50% more bass, built-in Thread radio, and Sleep Sensing that, if activated, can analyze how you sleep based on movement and breathing. It can also detect sleep disturbances, like coughing or snoring, as well as light and temperature changes in the room using the built-in microphones, ambient light and temperature sensors. Each morning, a personalized sleep summary will appear on the display, or simply say "Hey Google, how did I sleep?" to get the details. Using built-in Thread radio, meanwhile, the Nest Hub will work with the new connectivity standard created by the Project Connected Home over IP working group, simplifying control within a connected smart home. Sleeping Sensing can also be connected to the Google Fit app on Android or iOS devices, allowing you to view your sleep summary from your phone, along all the other captured health and wellness information. You can also get tailored bedtime schedules and personalized suggestions on how to improve, which are compiled after several nights of analysis. Sleep Sensing can be disabled if desired as well. Get it in Chalk, Charcoal, Sand, or Mist finish with an attractive edgeless glass display that makes it look like a digital photo frame, for $130.
Razer Kishi Gaming Controllers
While we traditionally think of gaming at home using a console and a big screen TV, today, gaming extends far beyond that to more mobile experiences. And that includes using some of the latest premium smartphones and apps. This gaming controller includes two pieces that attach to either side of an Apple or Android device providing all the familiar controls for all types of games. This includes face and bumper buttons, a D-pad for extra inputs and better accuracy, and Type-C charging. They're available in Canada through distributor Gentec International for $130, with either an iOS or Android/Xbox/universal version.
Sony PlayStation DualSense Wireless Controller
For a gamer who has already been gifted with a Sony PlayStation 5 console (or perhaps splurged to get one for themselves), this wireless controller would be a welcome gift. It has adaptive trigger buttons and offers haptic feedback technology for a more immersive gaming experience. The dynamic vibrations provided by the haptic feedback simulate the feeling of the environment, even the recoil of different weapons, while the adaptive triggers further help feel the tension when doing things like pulling back a tight bowstring or hitting the brakes on a speeding car. A gamer can never have too many controllers, and this one comes in new colours like cosmic red and midnight black along with a built-in mic and headset jack so they can chat with friends or fellow gamers as they play. It is available for MSRP $90 for white/black or midnight black or pay an extra $5 for the super-cool cosmic red at $95.
HidrateSpark Steel Connected Water Bottle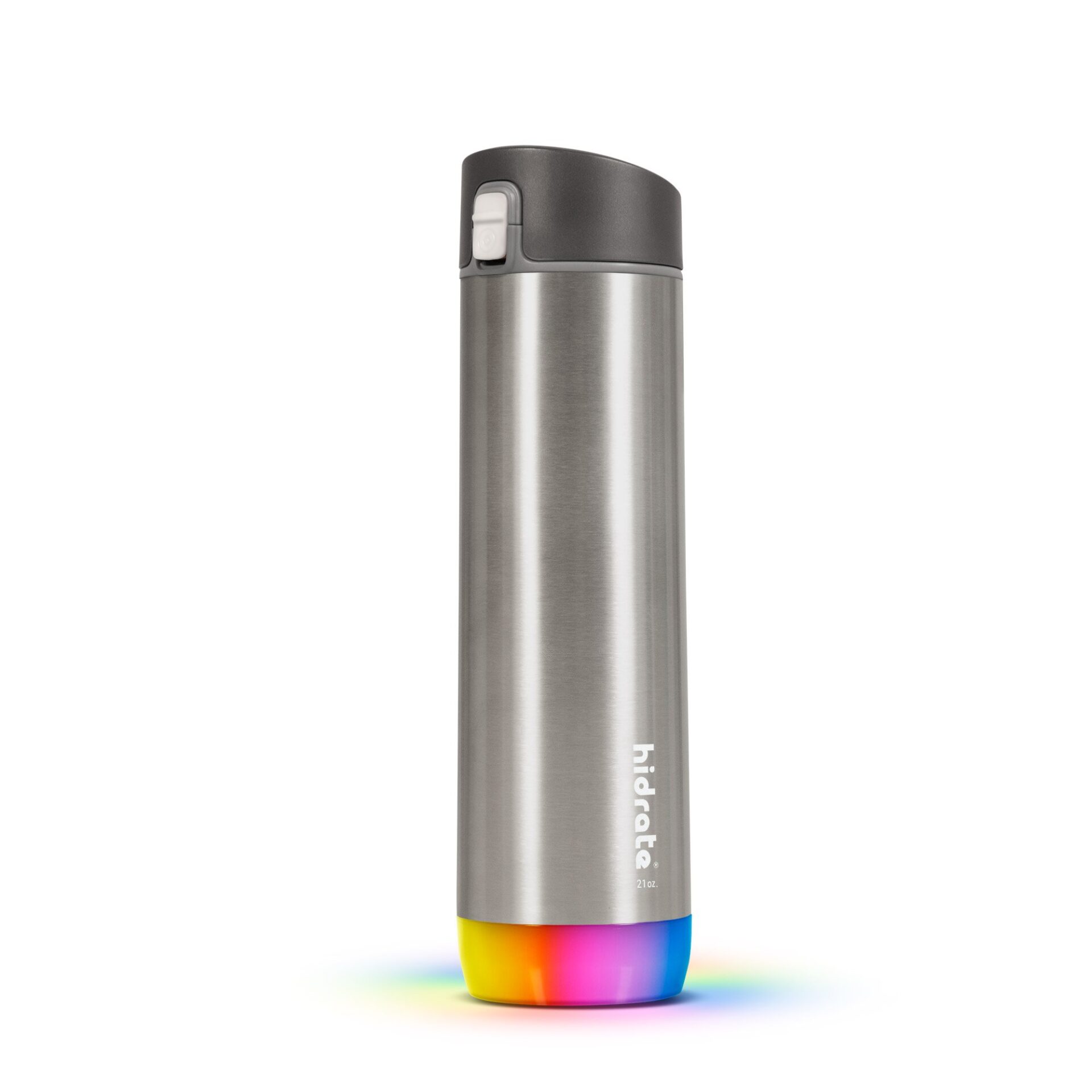 There are a few aspects of health and wellness that many people neglect to realize can have a huge impact on their performance and results: sleep and hydration. I'm one of many who are guilty of not drinking enough water during the day. Sometimes, a little push can help, just like reminders to move in fitness trackers can encourage you to get up, stretch, or walk around for a minute or two during the workday. This water bottle uses Bluetooth and the free Hydration Tracker app and smart sensor to cause a customizable LED ring to glow on the bottom to remind you when it's time to drink. It then tracks your water intake in the app using sensors. Considering we find it difficult to ignore the glow of a smartphone screen when a notification comes in, why not a bottle reminding us to take a sip? Speaking of which, it can even be set to send those annoying notifications, with wording like "It's all in the wrist, just swish and sip!" and "Stop trying to make dehydration happen!" The battery is easily rechargeable and the lid leak-proof. As a water bottle, it contains stainless steel vacuum insulation to keep drinks cold for up to 24 hours. Grab it in a 17 or 21 oz. size, with a chug or straw lid, and in one of five colours or three limited edition colours for $94.
Amazon Fire TV Stick 4K Max
Amazon's Fire TV Stick 4K Max is a 4K Ultra HD streaming media player with Dolby Vision, Dolby Atmos, and Wi-Fi 6 support. Available for $75, it includes many of the new Alexa voice features, plus it's 40% more powerful than the Fire TV Stick 4K thanks to a new quad-core 1.8GHz processor and 2GB RAM. It supports 4K UHD, HDR, HDR10, and HDR10+ streaming, as well as Dolby Vision and Dolby Atmos. Shipping with latest Alexa Voice Remote, it's Amazon's first streaming stick to offer Live View Picture-in-Picture. Alexa Home Theater is enabled, so you can wirelessly connect with Echo Studio or a pair of Echo (4th Gen) smart speakers for immersive sound, including multichannel Dolby audio formats.
Urbanista Seoul True Wireless Earbuds
These true wireless earphones are designed specifically to wear during mobile gaming, offering low latency and premium audio quality. They come in Urbanista's signature Scandinavian design in four colours: midnight black, electric blue, vivid purple, and pearl white. Seoul's connectivity provides low latency audio so you can play mobile games or watch movies with minimal delay, at 70ms. They run for up to eight hours per charge with a USB-C wireless charging case that provides three extra charges on the go for a total of 32 hours. It can charge wirelessly using a certified Qi pad. The in-ear design has a universal fit with customizable Silicon GoFit tips in three sizes. Switch between gaming and music modes via the tap of an earbud to get the best possible audio experience. They have touch control, a noise-cancelling microphone, and three microphones on each side. With IPX4 water-resistance, Bluetooth 5.2, and compatibility with Siri and Google Assistant, The Seoul headphones are available through Urbanista's Canadian distributor Erikson Consumer for a MAP of $125.
Fitness Service Subscription
It's great to have the drive and equipment at home to do workouts, but a subscription to a fitness service is what can really motivate someone to start working out every day and to get in shape. For the last year, my friends and I have been doing classes "together" from our own homes. We all do the same workout program and everyone gets it done whenever they can throughout the day. Once done, we share a screenshot of our fitness tracker with the workout stats along with a "sweaty selfie." This keeps us all accountable and allows us to share insight and opinions about the day's exercises. From boxing to weight training, cardio, and more, we have tried them all. There are lots of services to choose from, easily accessible on a big screen TV through an app and casting via a device like a Google Chromecast or AirPlay via Apple. In fact, Apple just launched SharePlay, which allows those who subscribe to Apple Fitness+ to workout together via video communication. Up to 32 people can join using FaceTime on an iPhone or iPad. Select the session and it will stream in sync for everyone. It works through Apple TV as well. When someone moves ahead on the Burn Bar or closes their activity rings, everyone gets notified, which allows you to celebrate one another and motivate you to achieve goals. Particularly ideal for workouts like cycling, treadmill, strength, dance, and yoga, the audio will even pause when someone talks so you can push each other to work harder (or just gossip as you exercise!) A subscription to Apple Fitness+ is $13/mo. or $100 per year and can be shared with up to five family members. You get the first month free if you own an Apple Watch. So, you can sign them up for 13 months for $100. But there are other options worth considering as well, from BeachBodyOnDemand to Fitbit Premium and Studio SWEAT on Demand, all of which clock in at under $150, depending on the duration.
Google Pixel Buds 2 True Wireless Earbuds
For those who live within the Android ecosystem, especially those who own a Pixel smartphone, Google's newest branded earbuds offer the same sound quality as the previous generation ones along with access to Google Assistant, and real-time translation in a low-profile and more affordable design. Selling for $139, the earbuds feature custom-designed 12 mm dynamic speaker drivers along with Bass Boost. A spatial vent helps reduce ear pressure, making them comfortable to wear for long periods of time without the plugged ear feeling. Each earbud connects to the main device playing audio, and has strong individual transmission power, says Google. Adaptive Sound increases or decreases the volume based on your surroundings, so you can adjust based on your setting, whether you're listening at home or while jogging past a loud construction site. Beamforming mics, meanwhile, focus on your voice and reduce outside noise during phone calls. Once the call is over, say "Hey Google, Play my music" to resume the playlist. Get up to five hours of listening time on a single charge or up to 24 hours using the charging case. Get a quick charge in about 15 minutes for up to three hours of listening time when you need to use them in a pinch and the battery is running low. Because they are sweat and water-resistant, you can confidently wear them during a workout or on a rainy night. With a compatible phone with Android 6.0 or above, get real-time translation in up to 40 languages as well as ask Google Assistant to do everything from telling you the weather to checking your calendar, calling someone, reading notifications, queuing up your music, and more. Get a pair in clearly white with gray undertones or dark olive.
BlendJet2 Portable Blender
Fueling your body with healthy smoothies and shakes isn't just for fitness fanatics, but any busy professional who wants breakfast or a snack on the go without having to resort to unhealthy options. Whether it's a protein shake, a fresh fruit and vegetable smoothie, or some other healthy concoction, the Blendjet 2 makes it easy to make a freshly blended drink just about anywhere, from a hotel room to the office, at home, even on a campsite. The blender recharges via its water-resistant USB-C port and can power through everything from leafy greens and frozen fruit to ice in about 20 seconds using its patented turbojet technology. It runs quietly as well, with the company saying you could easily blend in a library and not disturb anyone. You'll get up to 15 blends per charge, making it perfect to bring along for a one-week vacation for your morning smoothies after doing some yoga or working out in the resort gym. It's easy to clean, too, using just soap and water. And it's BPA-free. They sell for about $64 in tons of colours and pattern options to suit your personal style. Grab some JetPack Ready-to-Blend just-add-water smoothie mixes for about $4 a pack for those times when you need on-the-go nutrition but don't have a refrigerator or cooler nearby.
Streaming TV Subscription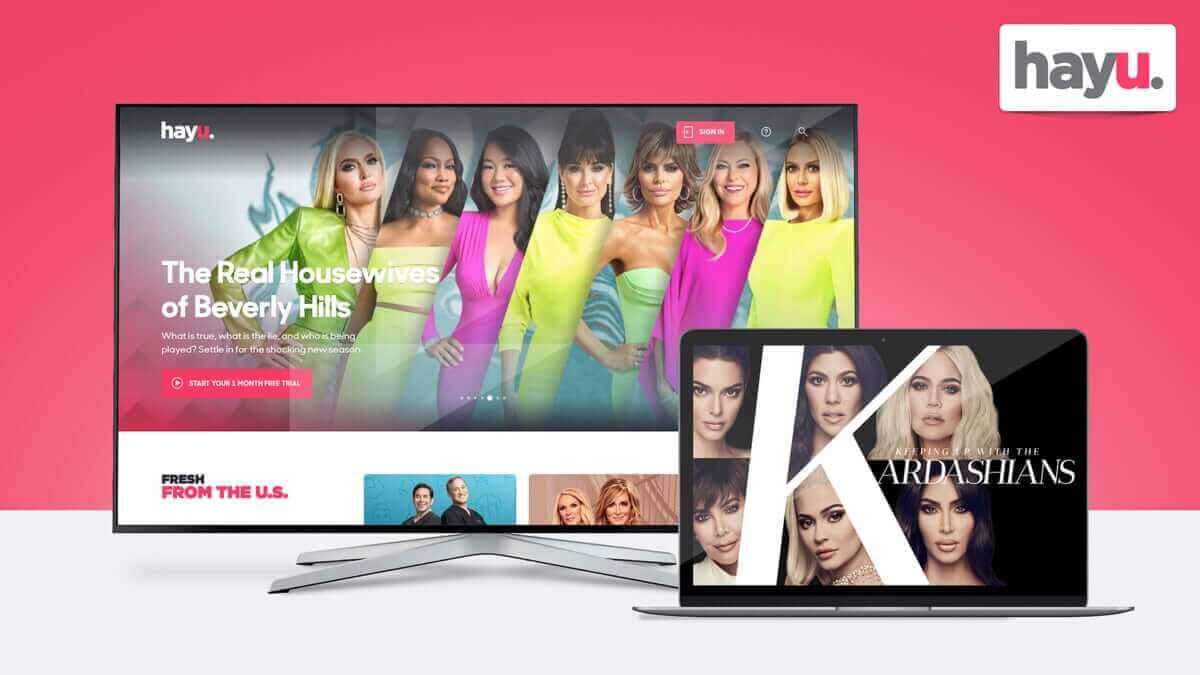 The best gift for a home entertainment enthusiast is a subscription to a streaming service, particularly one that they don't already have. While everyone subscribes to Netflix these days, and even Amazon Prime Video via Amazon Prime, other services TV lovers might not yet subscribe to include Crave, Paramount+ (formerly CBS), or Disney+. Sign up for a year for, in most cases, under $150, to access premium content, from original to library title series. If they're into reality TV, consider a service like Hayu, which offers tons of reality TV content and is easily accessible through multiple platforms, including Xbox consoles, Samsung TVs, and even via the Bell Fibe TV menu. Alternatively, a gift card for a service like Netflix would allow those who already subscribe to use the money towards upgrading their plan to the 4K tier to go along a new 4K TV.
Roku Streaming Stick 4K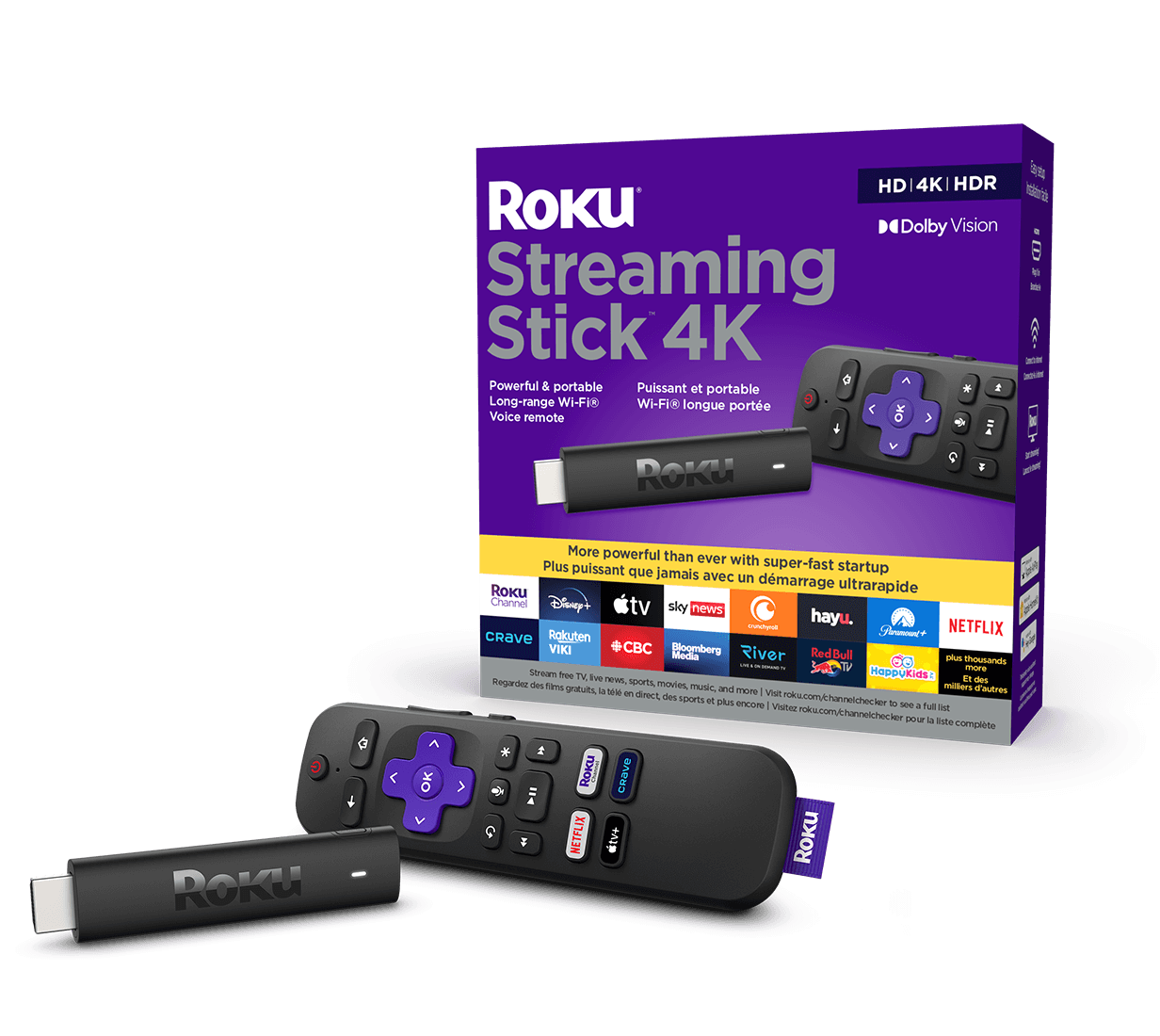 Ideal for the cottage, a room of the home without a smart TV, or even for enjoying the intuitive Roku interface in any room, Roku's new Streaming Stick 4K ($70) offers up to 30% faster 4K streaming in a new, more portable form factor. With support for 4K as well as Dolby Vision and HDR10+, the new streaming stick also has a redesigned, long-range Wi-Fi receiver that offers twice the Wi-Fi speed. It is designed to hide neatly behind the TV with easy set-up and the ability to use your voice to control it via the included remote. Fast streaming and navigation is possible thanks to the new quad-core processor combined with the new Wi-Fi receiver, providing quicker, easier, and more seamless navigation. In addition to using your voice, the remote also has buttons for powering up the TV, adjusting volume, and controlling the stick. You can use audible commands via Amazon Alexa or Google Assistant to search for content, initiate playback, and more. With AirPlay 2, you can control and share content directly from an iPhone, iPad, or Mac. The new Roku Streaming Stick 4K also supports HomeKit for easily and securely controlling Roku devices using Siri or the Home app on a compatible Apple device.
Apple AirTag
Apple's AirTag is an accessory that allows you to locate any device to which it's attached using the Apple Find Me ecosystem. Attach the AirTag to a valuable item like a backpack, keychain, jacket, or gym bag, for example, and it can tap into the Find My network to locate the item if you have lost or misplaced it. Location data is kept private and anonymous, with end-to-end encryption. Each AirTag has its own built-in speaker to play a sound to help you locate keys that are in nearby or, if it's out of Bluetooth range, you can pinpoint the last known location on a map using the Find My network of users (in countries where the service is available). Put the AirTag in Lost Mode and you will get a notification once the item is in range or whenever it has been located. If another iPhone user finds your item, they can tap it using their smartphone or any other NFC-enabled device and be taken to a website that advises them of your contact phone number, if you have provided one. Get an AirTag for $39 ea. or in a four-pack for $129, but keep in mind that you should also grab a loop or key ring to secure it, of which Apple offers a both polyurethane and leather.
Dark Matter Hyper-K Gaming Mouse
Employing a honeycomb design on the front makes this mouse ultra-lightweight (60 grams without the cable or USB connector) and comfortable to use for even long gaming sessions. It has an adjustable 16,000 dpi sensor for precision movement and Omron switches for easy and seamless clicks. It comes with a premium paracord-wrapped cable jacket, high-grade PTFE feet, and customizable dpi. Grab one for US$40.