It's that time of year again! We're back with the WiFi HiFi Holiday Gift Guides! Not sure what to get that special someone on your list? It has been a particularly tough year, and we all deserve some joy. There are lots of tech gift to suit an enduring passion, new hobby, personality, or style. If you know someone who decided to adopt a strict fitness regimen during the lockdowns and pandemic, here are some gift ideas to help keep that momentum going.
Fitness Service Subscription
It's great to have the drive and equipment at home to do workouts, but a subscription to a fitness service is what can really motivate someone to start working out every day and to get in shape. For the last year, my friends and I have been doing classes "together" from our own homes. We all do the same workout program and everyone gets it done whenever they can throughout the day. Once done, we share a screenshot of our fitness tracker with the workout stats along with a "sweaty selfie." This keeps us all accountable and allows us to share insight and opinions about the day's exercises. From boxing to weight training, cardio, and more, we have tried them all. There are lots of services to choose from, easily accessible on a big screen TV through an app and casting via a device like a Google Chromecast or AirPlay via Apple. In fact, Apple just launched SharePlay, which allows those who subscribe to Apple Fitness+ to workout together via video communication. Up to 32 people can join using FaceTime on an iPhone or iPad. Select the session and it will stream in sync for everyone. It works through Apple TV as well. When someone moves ahead on the Burn Bar or closes their activity rings, everyone gets notified, which allows you to celebrate one another and motivate you to achieve goals. Particularly ideal for workouts like cycling, treadmill, strength, dance, and yoga, the audio will even pause when someone talks so you can push each other to work harder (or just gossip as you exercise!) A subscription to Apple Fitness+ is $13/mo. or $100 per year and can be shared with up to five family members. You get the first month free if you own an Apple Watch. So, you can sign them up for 13 months for $100.
Galaxy Watch4
For Android users, specifically someone who has a Samsung Galaxy smartphone, the Galaxy Watch4 is the perfect smartwatch companion. As the first in the line to feature the new Wear OS powered by Samsung, which was built in collaboration with Google, it also comes equipped with One UI for a more intuitive interface. Samsung's BioActive Sensor boasts a smaller and more compact design that doesn't detract from measurement accuracy. This new sensor uses a single chip to run sensors such as Optical Heart Rate and Bioelectrical Impedance Analysis so wearers can monitor their heart rate, blood oxygen level, and for the first time, calculate body mass composition. The new Body Composition measurement tool gives you a deeper understanding of their general wellness and fitness, with key measurements like skeletal muscle mass, basal metabolic rate, body water, and body fat percentage. To check body composition, place two fingers on the device while it's on your wrist and in about 15 seconds, the sensor will capture 2,400 data points. Choose from a range of guided workouts, enjoy Group Challenges with your friends and family, or set up a home gym by connecting your Galaxy Watch4 to a compatible Samsung Smart TV, where calorie counts and heart rate metrics appear on screen for easier tracking. At night, the Galaxy Watch4 also tracks detailed sleep with Sleep Score as well as blood oxygen level. Auto Switch ensures your earbuds can toggle audio between your phone and watch, depending on usage. You can also control your mobile experience with Bixby voice, bezel, and Gesture Controls. Move your forearm up and down twice to receive calls and rotate your wrist twice to reject them, or to dismiss notifications and alarms. Wear OS Powered by Samsung affords access to popular Google apps like Google Maps and Galaxy services like Samsung Pay, SmartThings, and Bixby. The new platform also includes support for third-party apps, like Adidas Running, Calm, Strava, and Spotify, available from Google Play. An enhanced built-in compass that works in tandem with Google Maps to make it easy to explore a new area is one example of many seamless experiences with the new OS. It lasts for up to 40 hours per charge, so you will have to charge it every few days, but a quick 30 minutes gets an extra 10 hours of battery life. The Galaxy Watch4 comes in 40mm and 44mm band sizes starting at $330 for the Bluetooth version and $400 for the LTE model while the Watch4 Classic variant, which adds a rotating bezel, starts at $460 for the Bluetooth version and $530 for the LTE model. It comes in 42mm and 46mm variants.
Apple Watch Series 7
Apple Watch is to iPhone what Galaxy Watch4 is the Galaxy phones: it's a match made in heaven. So, if you know someone who owns an iPhone and has been considering a smartwatch, the Apple Watch is the most logical choice. And why not go for the latest and greatest with the Apple Watch Series 7? Along with enhanced durability, faster charging, new aluminum case colors, and watchOS 8, its Always-On Retina display is surrounded by softer, rounded corners. You'll still get the same 18-hour battery life, but the Watch will charge up to 33% faster. Stronger and made of more crack-resistant crystal, it is the first Apple Watch to have an IP67 certification for resistance to dust as well as a WR50 rating for water resistance. Along with an electrical heart sensor, ECG app, and Blood Oxygen sensor and app, watchOS 8 includes new workout types, like Tai Chi and Pilates, a new Mindfulness app, sleep respiratory rate tracking, better access to Apple Wallet, and more. There are five new aluminum case finishes along with new band colours and styles. There are new features for those who love cycling, including advanced algorithms to analyze GPS, heart rate, accelerometer, and gyroscope data once a ride begins, and prompting to begin the Outdoor Cycle workout if it wasn't initiated. There's also auto-pause and resume for cycling workouts so you can stop while waiting at a stoplight, for example, to ensure accurate reporting. New voice feedback through the built-in speaker of Apple Watch, or through AirPods or other Bluetooth headphones, will also automatically announce workout milestones and Activity ring status, helping users stay focused during activities like running or HIIT. It starts at $529.
Fitbit Charge 5
If you prefer to stay brand-agnostic and get a fitness tracker or smartwatch the person can use with any phone, regardless of brand, Fitbit is always a top choice. I recently reviewed the Fitbit Charge 5 and call it the Goldilocks of devices: larger than a thin fitness band with an easy-to-read screen that displays phone notifications as well as fitness stats, but not as large and square-shaped as a dedicated smartwatch. It has all of the features you'd expect from a premium tracker, including 24/7 heart rate measurement and Sp02 plus EDA stress management, built-in GPS, and, coming soon, ECG assessments. While it doesn't have any storage for built-in music and doesn't track stair climbs, something hikers might not like, it's a solid device that will help motivate you and keep track of your workouts as well as sleep in the handy Fitbit app. With the included six-month subscription to Fitbit Premium, they'll also get access to things like guided workout sessions, meditations, detailed health reports, and the new daily readiness scores. You'll get smartphone notifications and with a connected Android device, you can also do quick replies.
Phonesoap SurfaceSoap UV Portable UV Sanitizer and Disinfection Tool
Portable UV-C sanitizers have become particularly popular over the last year due to the COVID-19 pandemic. But Phonesoap was onto the trends for years before that, recognizing that our smartphones may very well be among the dirtiest devices we take with us 24/7. While the company offers a wide selection of phone sanitizers, this is a new device that comes in a wand format. The idea is to bring it with you and run it over high-touch surfaces to help kill up to 99.9% of bacteria and viruses. Just press a button to turn it on, wait for the orange light to glow for five seconds indicating that it has warmed up, and once the light turns blue, it's ready to use. The skin exposure guard on the handle protects hands from UV-C exposure while in use. When not using it, the UV-C portion magnetically folds into the wand for compact storage. It's perfect to take with you to the gym and use on a yoga mat, dumbbells, exercise equipment, or even boxing bags. Phonesoap says it offers 10 times the UV-C power of competing wands, attacking viruses and bacteria like Salmonella enterica, Staphylococcus aureus, and Human Coronavirus strain OC43. Powered by a rechargeable battery, it lasts for up to 30 minutes per charge, which should be enough to do a quick pass of the equipment and materials at your gym that you want to use. Plus, you can take it with you to use at hotels, on airplanes, restaurants, and other spots with high-touch surfaces. US$200.
Jabra Elite 7 Active True Wireless Earbuds
I never go out for a walk or run without my earbuds, using them to listen to favourite playlists that get my blood pumping when I need to work on endurance, or help relax me as I enjoy some time to unwind. It makes sense to have a pair that are designed specifically for active users, and the Jabra Elite 7 Active (US$179) fits the bill. They use liquid silicone rubber and a wing free design as well as the new ShakeGrip coating designed to provide a secure fit, no matter how you move. The microphone mesh removes wind from calls for users who engage in outdoor activities, while the performance-boosting audio ensures a powerful music experience during a workout, says Jabra. For the runner, jogger, trail walker, or even dog walker on your list, they're a solid gift.
Scosche ThudBuds True Wireless Earbuds
Scosche's first foray into the true wireless earbuds market, these offer IPX7 waterproof and sweatproof rating and six hours of play time plus an extra 30 using the included charging case, which can be charged via USB-C or any wireless charging pad. A neat addition to the buds, which have hooks to wrap around the ear for a secure fit, is the detachable magnetic sports clip, which is ideal for runners, cyclers, or those who wear them at the gym and want to make sure they don't lose or misplace them. Using Bluetooth 5.0 technology for fast and consistent connectivity and low latency, they also include TWS Plus technology with a built-in equalizer and ambient pass-through. At just US$60, they are a pretty affordable entry for gym rats, runners, or those working out at home who want to tune out distractions or listen to their own playlists, podcasts, or other content while doing a half an hour on the stationary bike or treadmill.
Tile Pro
There's nothing worse than wanting to head out the door for a run or a quick workout at the gym only to realize you can't find your car keys or phone. The Tile is a handy device that I have relied on more times than I can count on both hands. It connects to your smartphone via Bluetooth, then clip it onto a keychain, your gym bag, purse, backpack, camera strap, or other device. You can then keep track of the device's location using the network of Tile users around the world. So, if you can't remember if you forgot your gym bag in the locker room at the gym or back at the office, you'll be able to see where it is from home. It also works in the reverse, so you can call your phone from a Tile simply by tapping its built-in button. I have done this many times to locate a misplaced phone when I have been rushing out the door. I have also used my phone and the Tile app to "ring" the Tile when I couldn't find my car keys. There are various versions with different features, Bluetooth ranges, volumes, and durability, but I'd opt straight for the new 2022 version of the Tile Pro, which is US$35 for one, US$60 for a two-pack, or grab a four-pack for multiple people, complete with four gift envelopes, for US$100. It has the same 400-foot range as the previous generation version, and maintains the user-replaceable battery, which ensures you don't have to buy a new one every year or two. It's also IP67-rated so you it can withstand getting wet or dirty. And it has a cool, new rectangular design.
HidrateSpark Steel Connected Water Bottle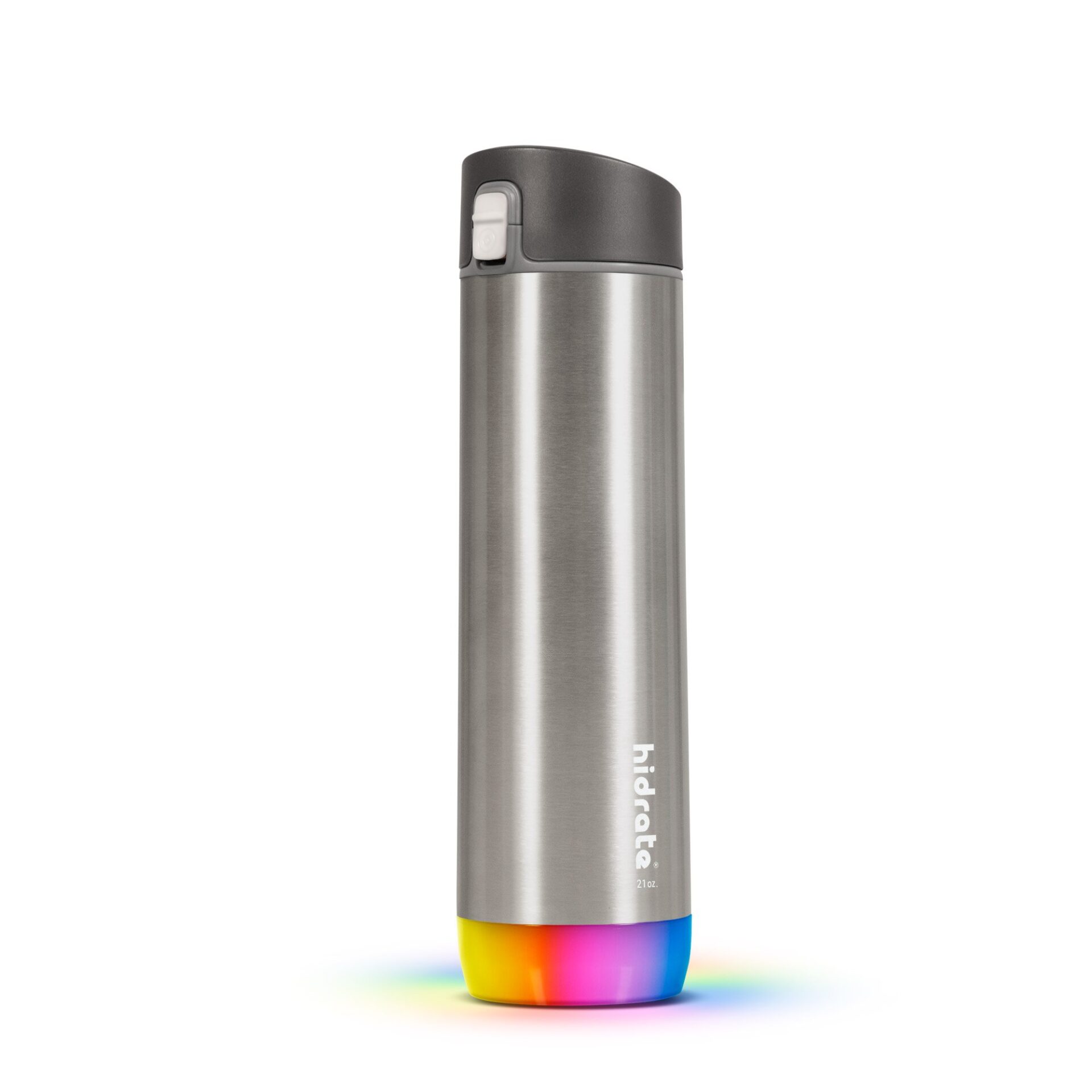 There are a few aspects of health and wellness that many people neglect to realize can have a huge impact on their performance and results: sleep and hydration. I'm one of many who are guilty of not drinking enough water during the day. Sometimes, a little push can help, just like reminders to move in fitness trackers can encourage you to get up, stretch, or walk around for a minute or two during the workday. This water bottle uses Bluetooth and the free Hydration Tracker app and smart sensor to cause a customizable LED ring to glow on the bottom to remind you when it's time to drink. It then tracks your water intake in the app using sensors. Considering we find it difficult to ignore the glow of a smartphone screen when a notification comes in, why not a bottle reminding us to take a sip? Speaking of which, it can even be set to send those annoying notifications, with wording like "It's all in the wrist, just swish and sip!" and "Stop trying to make dehydration happen!" The battery is easily rechargeable and the lid leak-proof. As a water bottle, it contains stainless steel vacuum insulation to keep drinks cold for up to 24 hours. Grab it in a 17 or 21 oz. size, with a chug or straw lid, and in one of five colours or three limited edition colours for $94.
BlendJet 2 Portable Blender
Fitness fanatics don't just focus on exercising and getting enough sleep and water, they also want to fuel their bodies with healthy foods and other drinks. And sometimes, that includes smoothies and shakes. Whether it's a protein shake, a fresh fruit and vegetable smoothie, or some other healthy concoction, they'll have one after or before a workout, or even midday as a meal replacement. The Blendjet 2 makes it easy to make a freshly blended drink just about anywhere, from a hotel room to the office, at home, even on a campsite. The blender recharges via its water-resistant USB-C port and can power through everything from leafy greens and frozen fruit to ice in about 20 seconds using its patented turbojet technology. It runs quietly as well, with the company saying you could easily blend in a library and not disturb anyone. You'll get up to 15 blends per charge, making it perfect to bring along for a one-week vacation for your morning smoothies after doing some yoga or working out in the resort gym. It's easy to clean, too, using just soap and water. And it's BPA-free. They sell for about $64 in tons of colours and pattern options to suit your personal style. Grab some JetPack Ready-to-Blend just-add-water smoothie mixes for about $4 a pack for those times when you need on-the-go nutrition but don't have a refrigerator or cooler nearby.