Chances are you have a child or two (or many!) on your gift buying list this holiday season. What can you get kids? Here are some great tech items that any child will love to unwrap.
Kindle Kids eReader
You might have to find a U.S. source to buy this eReader as it isn't available on Amazon.ca. But it's effectively a kid-friendly version of the popular Kindle eReader. Ideal for the bookworm who has amassed a large library of book sets or has been burning a hole in their library card, it's an easy way to have thousands of books at their fingertips without tempting them with the distractions of the flashy lights and fun apps of a tablet. At US$120, it's suitable for kids aged 7-13 and comes with a one-year subscription to Amazon Kids+, which includes a selection of thousands of books they can access for free, including classics as well as new titles in popular series like Diary of a Wimpy Kid, Big Nate, Percy Jackson, and Harry Potter. For new titles that aren't included, they are about US$3 each, a fraction of the paperback or hardcover price. Parents will love that they can monitor their kid's reading from the Parent Dashboard on their own device, and even set bedtime schedules to ensure their kids aren't up until midnight finishing just one more chapter. Meanwhile, literacy tools like Word Wise and Vocabulary Builder help kids along as they read and encounter words they don't understand or phrases they want to know more about. It's a win-win.
PlayShifu Plugo Count
A great gift for younger kids learning to count, the PlayShifu Plugo Count is both fun and educational. All they need is a compatible tablet (it works with various iPad models, Samsung tablets, Lenovo, Amazon Fire, and others) to dock to the Gamepad. Download the app then use the included counting toys to play math games. Suitable for kids from pre-K up to grade 5, there are five games with more than a total of 250 levels so kids can continue to use the set as they move from one grade to another, feeling challenged the entire way through. Games range from counting sequences to basic addition, progressing to multiplication, division, and word problems. Pick it up for about $70.
Fujifilm Instax Mini 11 BTS Butter Version
A teenager or older child might be familiar with instant cameras and ask for one, but if they're also a fan of the K-pop group BTS, you'll have them squealing when they open up this BTS Butter version of the printer. Introduced last holiday season, it remains a hot item just like the boy band. Like the standard Instax Mini 11 (which you can grab for kids who want one but aren't hot for BTS), it has an automatic exposure function to sense ambient light and adjust shutter speed and flash accordingly. There's also a selfie mode you can activate by pulling out the front edge of the lens when the camera is powered on. This version comes in what colour but buttery yellow, of course, along with a colourful bezel and matching shoulder strap. There are also fun shutter button accessories, including a jewel and the Butter heart emblem. Don't forget some Instax Mini BTS Butter version instant film, featuring a vivid yellow border with the trademark BTS Butter heart insignia. The film will be available in single cartridges featuring 10 exposures each. This one is $130 if you can still find it. Otherwise, they'll still be pleased with the standard Instax Mini 11 in a variety of solid colour options for about $100.
Planet Buddies Penguin Speaker
The miniature wireless penguin speaker screams adorable and might actually also be a good gift for an adult on your list who loves the cute animals. Enjoy up to four hours of total playtime with a 60-day standby time and connects wirelessly to any Bluetooth 5.0 compatible device. Kids can also use it as a Bluetooth speaker thanks to the built-in mic. With multi-speaker pairing, this cutey can even connect to a second Planet Buddies speaker for a fuller surround sound experience. There's also an owl option that's just as darling. They sell for about $40.
PlayShifu Orboot Educational Globe
Making this holiday gift list for kids several years in a row, there's good reason: this educational globe puts a modern spin on a classic item that every kid wants to have in their bedroom. Great for kids aged 4-10, it works with a compatible tablet and app (iOS and Android) and provides a full, interactive experience when kids point the tablet at a specific spot on the globe. Learn more about countries and regions, landmarks, culture, food, native animals, languages, inventions, and more. The package also includes a mock passport, stamps, country flag stickers, and a detailed help guide to provide an experience far better than a basic circular globe. The best part? You only need the Internet to set it up after which the apps works entirely offline. $70
JBL JR Wireless Headphones
After having gotten several pairs of kids' headphones for my son that offered subpar sound quality, I came to a realization: little kids need good sound too. Brands like JBL are synonymous with great sound, and the JBL Jr headphones are no exception. Boasting up to a 20-hour battery life and wireless connection, kids can freely move around. They come with a detachable audio cable as well so you need not panic if the battery dies in the middle of a five-hour flight and there's nothing to keep your wee one entertained. They even feature active noise cancellation (ANC), a feature my son would appreciate while on a flight to our next vacation destination. If they use headphones at school, these will make the experience much more pleasant as well as they can focus while blocking out the annoying chatter around them during solo work time. The simple controls make them easy to operate and they are fine-tuned to kids' ears and head sizes. Made of child-friendly, safe materials, they're rugged as well so they can withstand a child knocking them about. At $100, the JBL Jr headphones are a little more expensive than others, but the child's ears will thank you. The best part? A pair is just $70.
iClever BTH19 Cat Ear Kids Headphones
Some kids love the novelty aspect of the design of a good pair of headphones as well, and this pink or purple pair features cute cat ears that make them look like headphones and headbands in one. They don't skimp on the audio, though, with volume limiting technology to protect little ears, 45-hour playtime, USB-C fast charging, and Bluetooth 5.2 connectivity along with a wired mode. Foldable and lightweight with soft protein earmuffs and an adjustable headband, they're a good, affordable pair for everyday use during road trips and at school. Grab them for about US$40.
StoryPod Audio System
As noted, good audio is not just for adults: get them started early. The Storypod is not only an audio system designed specifically for kids, it's an interactive learning centre as well. Designed for both bedtime and play time, it includes fairy tales, fables, original stories, and calming music. At US$100, kids can access their own curated selection of content based on age, including audiobooks and trivia cards. Lessons, meanwhile, are delivered in both English and Spanish. Designed for babies up to age 6, kids can also listen to stories while following alone with a physical book, being exposed to exciting new subjects in a fun way. There's even a character named Princess who teaches kids about sign language and introduces them to some basic signs to get them started. The idea is to offer an interactive experience without the distraction of a screen. For parents looking to avoid too much screen time but still wanting something to hold their kid's attention when they need a few minutes to attend to a task, this could be a useful solution that pleases both sides.
Amazon Echo Dot Kids With Alexa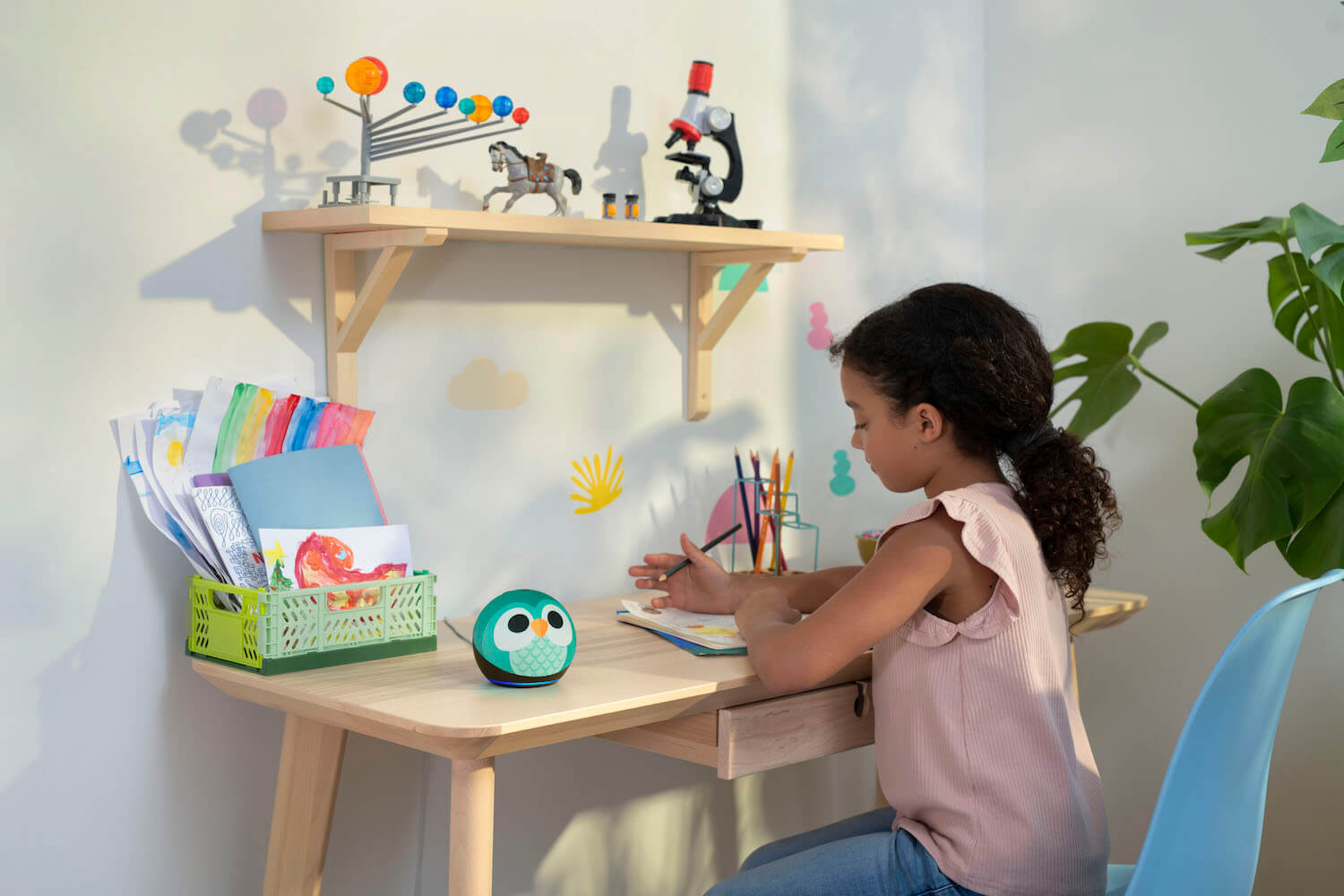 The latest version of the Amazon Echo Dot Kids comes in an owl or dragon design with parental controls, one-year of Amazon Kids+ with curated content, and a two-year worry-free guarantee that ensures Amazon will replace it for free if it breaks. Meanwhile, Amazon Kids+ on Alexa includes Alexa-specific content like hundreds of entertaining and educational Audible books performed by favourite characters like Aladdin, Alice in the Wonderland, The Little Prince, Beauty and the Beast, Little Women, and Peter Pan, along with kid-friendly premium Alexa skills like Disney Stories, Barbie, Pinkfong Baby Shark, and Star Wars. There are eight ad-free kid-friendly stations with songs, flash news briefings on topics from sports to science, arts, entertainment, and technology, and kid-specific Alexa skills for things like storytime, math, and more. There are also special alarms to help kids wake up with their favourite characters, including Moana, Rapunzel, Olaf from Frozen, and Judy Hopps from Zootopia. Create Alexa voice IDs for kids so that Alexa recognizes who is speaking and switches to Amazon Kids mode when a child speaks. When parents talk to Alexa, their settings will seamlessly switch back on. $80
Onanoff BuddyPhones POP Fun Headphones
The BuddyPhones POP Fun wireless kids' headphones are designed to protect a child's hearing thanks to SafeAudio technology that limits the volume to 85/94dB so the child cannot listen too loudly, which can cause hearing damage. To appeal to kids, the kid-sized headphones also sport fun designs and stickers so young ones can personalize the look. They come with durable, washable earpads that Onanoff says are comfortable to wear for long listening sessions. They are adjustable to fit different sized heads and can be folded for packing away when not in use. The included foil decals can be used to personalize the look further. The BuddyPhones POP Fun boasts a 24-hour battery life for wireless use but there's also a wired connection option that can be used, even if the battery has depleted. Onanoff headphones use a built-in, always on, sound control circuit to cap the volume at levels recommended for children by the World Health Organization. They come in white, blue, green, or yellow for US$40.
Amazon Fire 7 Kids Tablet
The Amazon Fire 7 Kids is the latest tablet designed specifically for kids, with parental controls, a one-year trial to Amazon Kids+ for curated content, a kid-proof case, and a two-year worry-free warranty. With double the RAM and 40% longer battery life compared to the previous generation model, it's designed for kids aged 3 and up. Amazon Kids+ content comes from sources like Sesame Street Workshop, PBS Kids, National Geographic, and Homer, as well as Amazon Kids+ Original series like Blippi's Treehouse and Lego Monkie Kid. There are also games, including original mobile games like Super Spy Ryan and Do, Re, & Mi.Parents and guardians can use the Amazon Parent Dashboard to easily manage screen time and set educational goals, age filters, and time limits for both weekdays and weekends. The Fire 7 Kids tablet starts at $140 and comes in either 16GB or 32GB storage options. The refreshed design kid-proof case comes in blue or purple and has an adjustable kickstand that can also double as a handle.
Babbit Speaker
Another speaker designed just for kids, Babbit focuses on a screen-free experience but, unlike the StoryPod, it works with special NFC cards for easy tap and play, each of which comes with a tailored playlist library loaded onto it. Each sticker is assigned to a specific Spotify playlist, so all the child needs to do is place the card atop the speaker and the music will start playing. You can use Babbit's Music app from a smartphone to assign your own playlists to the cards or use Babbit's expert-curated set of themed playlists attached to colourful design cards. The playlists are grouped in different styles and moods with music from around the world. The speaker itself plays music via Spotify, online streams, and USB. It has a stereo closed-loop Class-D amplifier and high-performance DAC with Burr Brown audio technology for distortion-free listening. Made of wood, it has two 6.5 inch full-range tweeter speakers integrated into a wooden body and covered with metallic grills. First available in Northern Europe, the Babbit speaker is now officially shipping to Canada and the U.S.
Philips Sonicare for Kids
Not every kid will appreciate the gift of good dental hygiene. But when you mention they are allowed to use their phone or tablet while brushing, their eyes will light up. That's the case with the Philips Sonicare for Kids ($60), a Bluetooth-enabled brush that works with an app kids can follow along with to make sure they're brushing properly. They can learn the proper techniques, make sure they are getting every quadrant and eliminating those pesky sugar bugs, time brushing so they go for the full two minutes, and keep on top of progress over time. Parents can also monitor brushing through the app.