How could an exit from a state-of-the-art airliner and an unplanned quick return moments later result in a perfect travel photo memento, then re-exiting the aircraft from the wrong door and getting a private ride around the Vienna International airport tarmac? Fate was on my side for this one.
Sometimes life's best moments happen with no warning. And then there're gone, just like that!
Well, not this one. It only lasted a few seconds for Vicky and me…a spectacular photo of us sitting in the captain and first officer seats on the flightdeck of Air Canada flight AC 886 shortly after arriving in Vienna from Toronto.
It's a digital photo, frozen in time forever and shared with friends and followers.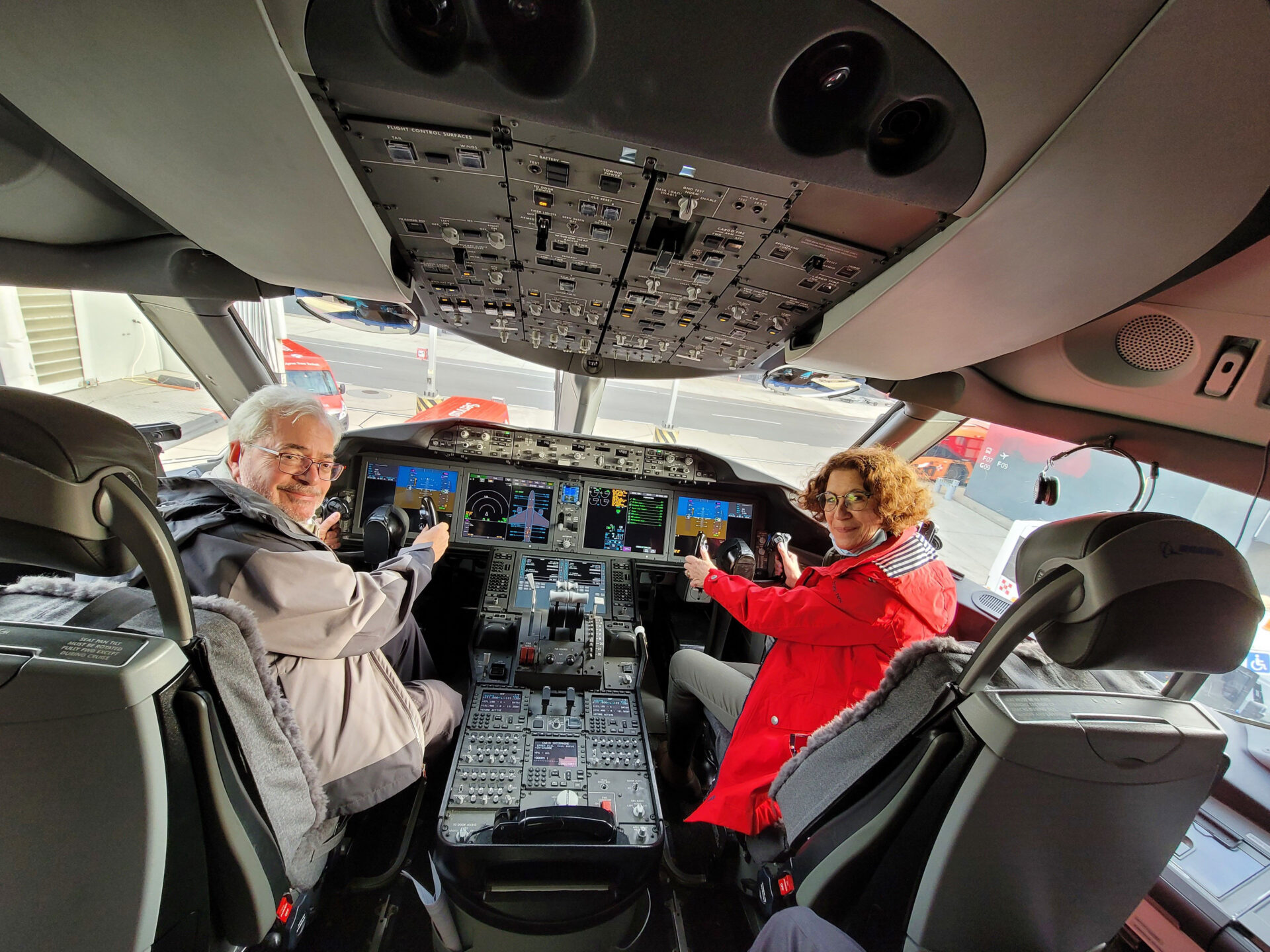 What are the odds of getting a photo like that? Next to impossible. It could only happen after safely landing. Then asking a flight attendant for a flightdeck photo on the way out amid impatient exiting passengers, a non-starter. Besides, access to the cockpit is the flightdeck crew's decision to make and they usually leave the aircraft early amid exiting passengers.
At best, we got a quick glance of the Boeing B788 flightdeck from a partially open door on the way out. Quite honestly, I wasn't thinking of taking any pictures on the flight. As a photographer I try to behave when traveling with Vicky.
How the Next Events Made the "Shot" Possible
I usually ask for wheelchair assistance on overseas flights with lengthy connection walks, due to my knee arthritis, limiting long distance waking. All airlines provide PRM (Passengers with Reduced Mobility) service with wheelchairs and golfcarts, just for the asking. But upon exiting the aircraft door I and about a dozen other PRM passengers saw no line of waiting wheelchairs. Whoa…no chairs? We were asked to stand aside on the gangway so the other exiting passengers could pass through. And to be patient.
When all passengers had left the aircraft, we were asked to go back in. Strange. As we gathered in the front galley, I noticed Captain Bruce Degeer was still by the flightdeck door and we started a conversation.
"Would you like a flightdeck tour" he asked us. We gladly accepted and were escorted into the flightdeck leaving the other waiting PRM passengers behind. Degeer patiently explained the highlights of the flight controls and was especially fond of the flip up HUD (Heads-up Display) we often see in jet fighters and some new cars, letting you see key flight information without taking your eyes away from the flight path in front.
"Click!"
"If you have a camera, I can take a photo of you two on the seats," he said. What? Do I have a camera on me? Ha! I quickly decided which of my three most recent smartphones on my camera vest was best suited for this rare photo op. I quickly gave Captain Degeer my Samsung Galaxy S21 Ultra set on the panoramic ultra-wide-angle lens mode to capture us, framed by the long curvaceous flight deck instrument ceiling and panoramic window view.
I felt giddy as Degeer snapped away thinking this was a keeper. Still do after more than three million photos taken in 53 years as a professional photojournalist and technology writer. From 4×5 inch and 35mm film cameras followed by an endless parade of professional and consumer digital cameras and camera phones I have reviewed.
After thanking Degeer we headed back to the adjoining galley where we noticed most of the passengers waiting for wheelchairs had already left. Not from the usual left exit door but the galley door on the other side of the aircraft. They were boarding a bus-like cabin raised six meters high. Once lowered down on the tarmac we were driven on the other side of the Vienna airport going by various docked airliners to a final unmarked entrance for customs processing. A cab had been waiting for us to take us to our hotel for a Huawei launch event.
Final Thoughts
I have flown with the Snowbirds twice, even breaking away with my Snowbird pilot executing my own roll over farmland after the press flight and other military aircraft. I also had a flyover at EIA in the late Max Ward's rebuilt first commercial three-passenger Tiger Fox Moth bush plane, with one foot on the wing for a better selfie.
But having a perfect eye-catching photo with my life travel companion "at the controls" of a state-of-the-art airliner means more than a treasured memory. A good photo with someone you love trumps my professional antics. And unlike my usual annoying penchant for special photos I didn't even tap a finger for this one.
Many thanks to Air Canada Captain Bruce Degeer for his hospitality and perfectly composed photo (you were right sir, you knew what you were doing and I love the slight slant) and YEG Air Canada Service Agent Stavros Kavgadoulis an amazing ambassador to countless happy AC passengers for his invaluable help. Fly safe folks.