Pros: Delivers on its promise, needs patience to know your home and is worth the charge-auto dirt disposal base
Cons: It cannot match small spot accessories of regular vacuums or stairs and you will want to spend more on even smarter models
Check out the Roomba i3+ in action at my home
iRobot CEO, Chairman and Co-Founder Colin Angle's ears must have been burning. Just weeks after blowing the dust off my first autonomous 2002 Roomba vacuum in my garage cleaning mission, I got a call from the company to try out the newer models.
I've been trying out the i3 + Roomba for the past week. Much has changed since my first 19-year-old model – most importantly, there were no smartphones when the original Roomba was launched in 2002.
The Roomba i3+:  $749 comes complete with a combo charging and automatic dirt disposal unit. You can buy them separately, the i3 for $500 and the Clean Base Automatic Dirt Disposal for $300
What Can the Roomba i3+ do?
Vacuum for months at a time without worrying about emptying the unit's dust bin. It self-docks to the Clean Base Automatic Dirt Disposal and is good for 60 days using disposable AllergenLock Bags that capture and trap 99% of pollen and mold.
Powerful suction performance pulling in stubborn dirt and messes with a Premium 3-Stage Cleaning System and 10X the Power-Lifting Suction of previous similar models.
The i3+ smartly navigates and maps your home in neat rows using state-of-the-art floor tracking sensors to vacuum hardwood and carpet. It finds itself around in total darkness.
It avoids obstacles by using Reactive Sensor Technology that tells the robot where it can and cannot reach. This means less time wasted getting stuck and more knowing where to go. Dirt Detect sensors focus even more intense cleaning where it's needed most.
It learns your cleaning habits to offer up personalized schedules, while Google Assistant and Alexa allow you to start cleaning with just a voice prompt. The i3+ will even suggest an extra clean when your area's pollen count is high or during pet shedding season.
Does the Roomba Live Up to the Name?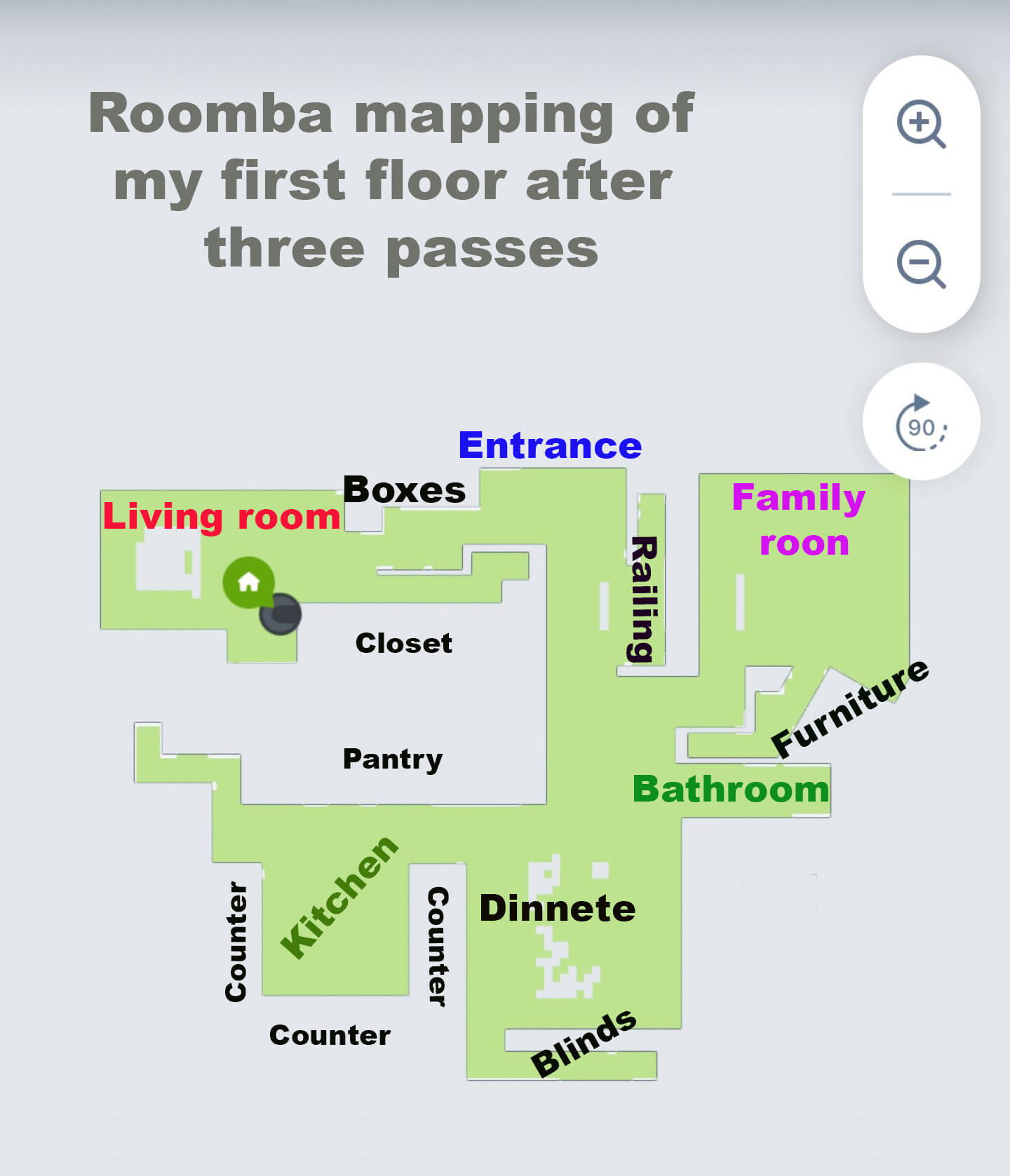 Without a doubt the i3 lived up to all the above with minor exceptions. I had doubts the first time I let it loose in our main floor living area, with living room, L-shaped entrance way, family room, dinette and kitchen. I found out the i3 needs more than one try to accurately map a complicated floor. It took more than its 90-minute battery time on the first pass. requiring it to automatically return, dump its load at the charge station, and recharge (about two hours).  It then continued for another 20 minutes to finish.
But by the third run, it's newest stored map covered every nook and cranny in my home layout. It completed the 800 sq. ft. job. under one battery charge. Impressive. Even a hardened techie like me followed the i3 in awe as it worked its way back to the base charger. It was noticeably quieter than the 2002 model but you couldn't miss the roar of rushing air when it emptied it's dust bin at the charge base.
The i3 failed the finger dust sweep test in hidden corners that had not been vacuumed for a long time. But after brief touchups with a wet cloth the Roomba left a spotless path. Impressive. Tip: if your home uses forced air heating, compared to electric heating, vacuum every two or three days. You can set the schedule for that.
How to Control Your Roomba
The i3 is simple enough to run on the three touch buttons: spot cleaning, just vacuum, and return home. All done by the phone app and even more detail on voice command. The i3 worked seamlessly with Amazon Alexa and Google Assistant. There are 25 multiple commands just for one Roomba. Like start vacuuming, stop or pause, the latter also responding to "Alexa, ask Roomba to play dead" LOL!
Voice command also lets you name and command multiple differently named iRobot models like the Braava jet m6 robot mop to follow up an i3 vacuum with a mopping pass using iRobot Imprint Link Technology.
What a Difference 19 Years Make in a Roomba
Apart from raw mechanical power and smarts (it hangs around a dirtier area until the job is done) the iRobot phone app makes the i3 a winner in ways never imagined 19 years ago.
While the Roomba robot vacuum of 2002 was impressive technology for its time, the i3's four primary areas of autonomous vacuuming have improved, including cleaning efficacy, navigation technology, hands-free cleaning features like self-emptying and voice commands, and Wi-Fi connectivity which includes direct access to customer care.
Patented technologies on the Roomba are plenty. Dirt Detect feature on Roomba vacuums employs an acoustic sensor that detects when extra dirt or sand enters the robot's dust bin and instructs the robot to put additional emphasis on that area of the floor.
Dual, counter rotating rubber brushes that don't get tangled with pet or human hair like traditional bristle brushes, and Anti-Tangle Technology that reverses the robot's dual brushes to prevent them from getting stuck on cords and rug tassels.
The self-emptying dust bin was impressive for its handsfree functionality. The area around the base remained dustless despite continued use.
Roomba vacuums are equipped with dozens of on-board sensors and technologies to help the robot clean the home, avoiding obstacles and traversing various floor types. Like "cliff" detection sensors to avoid stairs and other drop-offs, and bump sensors to identify obstacles. Infrared sensors help the robot follow walls and locate its home base.
Unlike the pricier Roomba i7+, Roomba i3 sensors are not optical, meaning they don't rely on a well lit room but use their own infrared light for guidance, even in the dark! The i7+, Roomba s9+ and Braava jet m6 mop use a top mounted optical sensor (camera) which helps to identify unique patterns of light in a room, which serve as waypoints for building a detailed Smart Map of a user's home. This lets you send them to specific rooms on command, albeit for a higher price
Love your Roomba to the moon and back? How about Mars and back? Turns out Angle and pre – iRobot MIT staff developed a six-legged Genghis space explorer robot in the '80s. Angle's name is on Mars inscribed in the case of the Spirit explorer.