By David Susilo
What comes to mind when you read the word "cheap?" You probably usually think "bad quality" or "poorly made." It's exactly what I thought when I received the Letsfit Smart Watch (product number IDL205) and the T22 TWS earbuds, which sell for US$49 and US$40, respectively. These weren't just affordable for what they were – they were downright cheap!
But my initial negative thoughts immediately changed once I opened the somewhat generic packaging. The plainly named "Smart Watch" is of nice quality with an Apple Watch-inspired design that manages not to look like a copy. The "T22" TWS earbuds actually look expensive, albeit the case is on the heavy side (this is because it can also be used as a mini power bank to charge your phone in a pinch).
The watch comes with it own unidirectional magnetic charging cable. It feels smooth; not cheap at all, which is impressive considering the asking price.
After an hour of charging it up, I was ready to go with the review process. I had to dig into the user manual to find the app the device pairs with. To download it, either scan the QR code in the manual or search VeryFitPro in your app store. I wasn't sure it was the correct one at first, as the branding between the app and the fitness tracker is very different.
Once downloaded, pairing the device was extremely simple. I had to make sure the phone's Bluetooth was on and then tap the fitness tracker to wake it. Within seconds, they were connected, and I filled out my profile with physical details and my fitness goals. You can set step, sleep, and weight goals. By the way, the included user guide is fairly comprehensive and covers troubleshooting issues and usage questions should anything arise.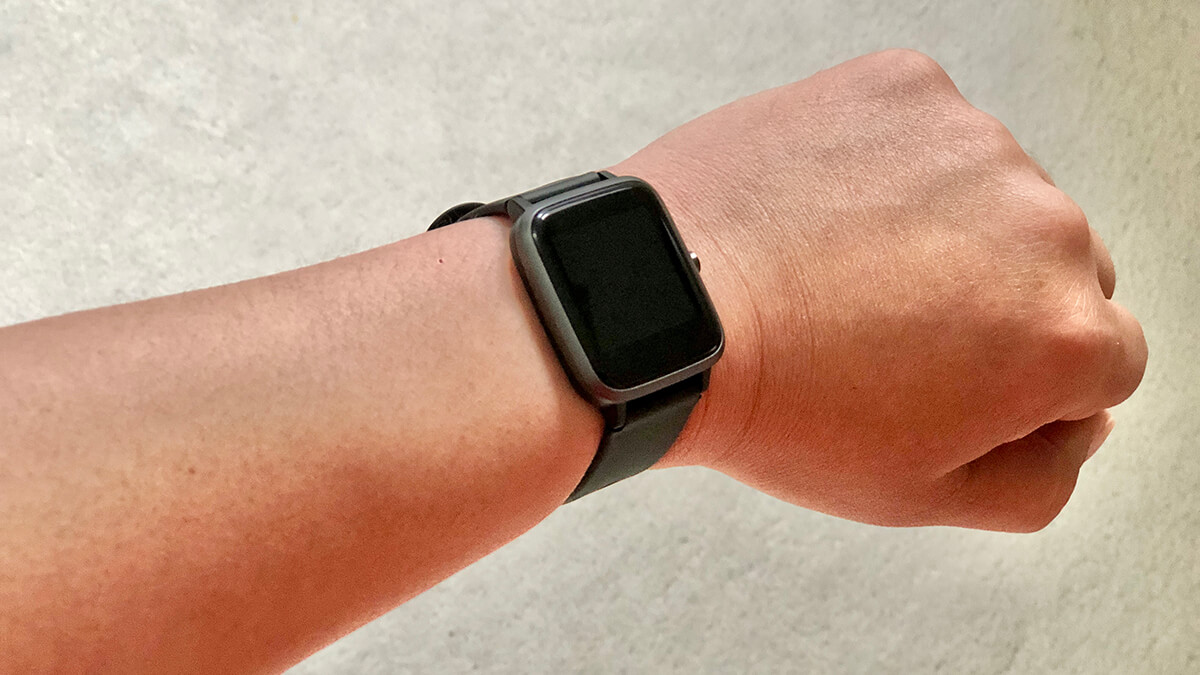 The tracker comes loaded with three activity modes: walking, running, and biking. Within the app, you can add others like yoga, "fitness" and even badminton, though you may only have three modes on the watch at a time. Starting an exercise is easy: Just tap through the watch screens until you find the activity you're looking for and press and hold to select.
Since the Letsfit Smart Watch is a fitness tracker, I was looking forward to an affordable alternative that does many of the same things as my Apple Watch. But after wearing it while walking my dog, I already encountered an issue. I had clocked only 140 steps—a number I knew was way below my actual step count when walking my dog for an hour. Because of this concern, I wore my Apple Watch along with it to compare the data and found the Letsfit tracked almost 1,000 fewer steps. That's not good. Other tracking options such as heart rate and sleep monitoring are acceptably accurate compared to the Apple Watch. However, because the differences in readings for these activities are minimal between the two devices, there is no easy way to tell which reading is more accurate. But if I had to put money on one, it would be the Apple Watch.
The smartwatch can also display notifications such as SMS, WhatsApp, and incoming calls. It is about as stable as the Apple Watch, too, although the Apple Watch can display notifications from many more apps. But if you're like me and only use the most popular apps like Facebook Messenger, LetsFit is good enough to fit the bill as a smartwatch. Again, just don't rely on the step counter.
The complementary T22 earbuds don't sound bad at all. With an IPX6 sweatproof rating that means it can withstand minimal rain, too), you don't need to worry that these buds will fail on you during your exercise. Furthermore, the real-world battery life of four hours of music playback and an additional 70 hours via re-charges means the power should be enough for most daily exercises for a month. Considering the factory rating of a total of 80 hours, the real life 74 total hours is quite impressive.
One thing I particularly love is that the charging case that comes with the T22 earbuds can be used to charge other devices, too, like the smartwatch or even a phone. It won't provide a full charge, of course, but enough to make that one important call when your phone battery is nearly dead.
Buy the 205 Smart Watch and the T22 true wireless earbuds separately or together, but both are worth the money and I would recommend them, especially the earbuds, for anybody who is on a tight budget. But keep in mind that, as noted, the smartwatch doesn't seem to track steps accurately. If you want to use it more so for the notifications, sleep tracking, and heart rate, however, and don't care so much if you actually get the suggested 10,000 steps per day, that might not matter.