When it comes to listening to music, we're facing a huge dilemma. On the one hand, many people opt to listen from their smartphones while on-the-go versus (or in addition to) via a sound system at home. On the other, many view listening to music as an immersive experience not just something you have going in the background.
So how can you get a better music experience when listening from a mobile device? It is possible. Here are some ways to improve audio quality from your phone.
Use a Smartphone That Supports High-Res Music
Several smartphone manufacturers are building high-end DACs into their devices, or have products that boast high-end audio features to offer a better sound experience. The HTC 10 was one of the first phones to be certified for Hi-Res audio, with a 24-bit DAC and high-performance headset amplifier. But several phones have been released since then that focus on providing a better audio experience. The Samsung Galaxy S9 and S9 Plus, for example, have AKG-tuned speakers, while the S10 has 32-bit/384kHz audio and Dolby Atmos. The LG V30 has a high-end 32-bit DAC, and the V40 has a quad DAC. The Essential Phone supports MQA streaming and will work with an Audio Adapter HD accessory to deliver full MQA rendering.
The LG G8 ThinQ smartphone offers a new take on improved smartphone sound via Crystal Sound OLED (CSO) technology that uses the phone's OLED display as an audio amplifier. Thus, the entire phone's surface vibrates to produce sound and function as a speaker. LG worked with Meridian as an audio partner for the device, which also features DTS:X 3D surround sound that emulates a 7.1-channel system with or without headphones. It also has a 32-bit Hi-Fi Quad DAC to upsample most audio files, and supports MQA.
If audio quality is of the utmost importance to you, consider investigating how the smartphone you've been eying ranks when it comes to audio playback and sound quality.
Grab an External DAC
Invest in a portable DAC/amplifier, like the iFi audio xDSD, which can connect to headphones or another audio source via wires or wirelessly, and supports the streaming of high-resolution formats, including MQA and DSD. It's compact enough to bring along with you, but it'll cost about US$400.
The iFi xCAN ($420) is pocket-sized as well, and can remember up to eight devices at once in memory, including smartphones and tablets, as well as computers and smart TVs, so you can seamlessly switch from listening at home to listening on-the-go.
The NAD D 3045 hybrid digital DAC/amplifier is another option that supports MQA and DSD as well. It can stream tunes from a mobile device, or to any pair of Bluetooth-enabled headphones. It's a hefty investment at $999 but comes with an IR remote as well.
You could also use a device like the US$150 Creative Labs Super X-Fi headphone amp, which is designed for use with headphones and Android devices. Download the Android app and use it with the phone's camera to map your face, connect the Amp to the phone, and listen with any pair of earbuds or headphones. The sound will be reproduced as if you are listening to a surround set-up, regardless of the source, for music that fully envelops you. If you have access to an Android device to at least create a profile and do the initial calibration, you can use the Amp with an iPhone as well through a bit of a workaround. Grab a USB-to-USB C (female) adapter and the official Apple Lightning-to-USB Camera adapter, and you can connect the Amp once the profile has been set up. A wireless version is supposedly coming soon that will be easier for iPhone users to enjoy.
Use High-end Headphones
It goes without saying that a better pair of headphones equals improved sound. You could go ultra-high-end with a pair like the $1,200 Focal Elegia high-end closed back headphones, which come with a 3.5mm headphone jack. Or go wireless with a pair like the Sennheiser Momentum true wireless earbuds (US$380), which work with the Sennheiser Smart Control app for fine-tuning the audio to your personal preference using the built-in audio EQ.
Another option is the Sony WH-1000Xm2 headphones ($450), which also boast active noise cancelling technology for better listening in areas with a lot of ambient noise, such as outdoors, at a café, or on a plane or train.
Stream to a High-Res Speaker
In order to enjoy a better music experience from your smartphone when listening at home, stream high-quality songs to a high-res speaker. The Bluesound General 2i streaming music players include Apple AirPlay 2 support so you can stream tunes directly from an iPhone, as well as an iPad or Mac computer, from a variety of services, as well as songs stored on the devices themselves. Speakers that support aptX HD Bluetooth wireless audio, which supports 24-bit audio over Bluetooth start from the $599 Pulse Mini 2i up to the $1,500 Vault 2i.
For US$799, there are also speakers like the Kanto TUK, which has Bluetooth music streaming with Qualcomm aptX HD, a built-in headphone amp and USB DAC.
Stream Tunes From a Service That Offers High-Res Music Files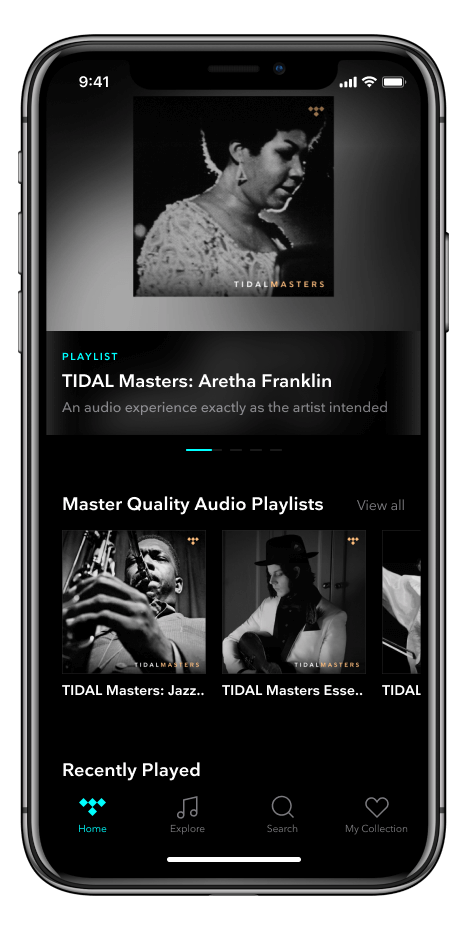 Just like you need a proper video source in order to watch high-definition video, you also need a proper source of high-res music files. This might include high-res files stored in your phone's library, or those you stream from a supporting site. Music streaming sites like Tidal offer a selection of MQA tracks and premium subscription options with higher-res music files. MQA files are now available through Tidal on both Android and iOS smartphones and tablets.
Make sure that no matter what music streaming site you use, go into the settings and select the highest quality audio streaming to ensure the best listening experience, including both when you are on Wi-Fi and, if you don't mind using the data, when on the wireless carrier network, too. The highest setting in Spotify, for example, will give you about 320kbps.