If everyone is feeling nostalgic for how life used to be, then this may be a great time to use nostalgia as a selling tool. Covid has certainly made me feel nostalgic. Well actually, I am a sucker for nostalgia on most days, but lately I have been in over-drive, longing for the ability to travel again and to once again enjoy simple pleasures like a dinner out with friends or to see a concert in some packed sweaty club on a summer's night. If anything has helped me through these past 18 challenging months, it has been my love for music. My daughters have been successful in keeping me current, introducing me to the likes of Kacey Musgraves, Old Dominion and so on, but that feeling of nostalgia just keeps creeping back and I find myself daydreaming of listening to Led Zep in the basement on my parent's Dual turntable and old Altec Lancing speakers.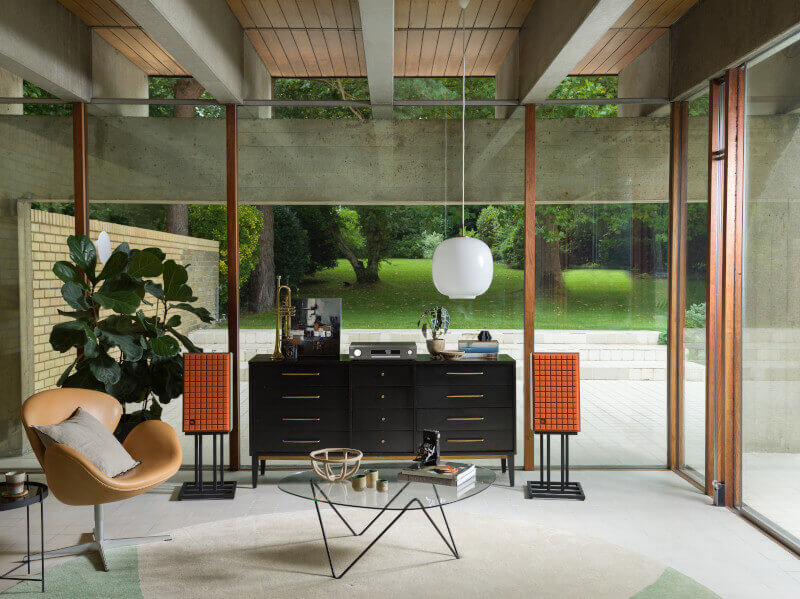 When I look at the evolution of audio gear, there was a time when sound was everything and looks, well that came in second. Then came this whole design trend where audio gear had to look like art and was purchased as much for the look as the sound. We can probably blame Apple for some of this when Steve Jobs proved performance and esthetics did not have to be enemies of each other. Sadly, consumer electronics may have pushed it too far. Do a poll on how many audiophiles love in-ceiling speakers (not many) vs. how many designers LOVE in-ceiling speakers (most) and you will get my point.
Nostalgia, by definition, is a sentimental longing or wistful affection for the past, mostly driven by happy memories but if we are honest, nostalgia is usually a contrived memory where we convince ourselves that things were better mainly because our memories are foggy, and the passage of time leaves us remembering only the good stuff. Was growing up in the '60s really any better than growing up in the '90s? Is the food in Italy that much better than the food in North America? Is there any joy driving a classic automobile? We trick ourselves into believing the answer is YES!
With so much nostalgia on the brain, this could be a great time for brands to play on their past and market their nostalgia card. Can you think of any better selling tool than nostalgia in a time when we are all nostalgic? Manufacturers from automobiles to sound systems love to play on their brand's legacy; If you are going to sell a new Jaguar F-Type, make sure you start your branding strategy showing the iconic E-Type from the 1960s. If you are selling Omega watches, it sure helps to reference that Omega has been to the moon and is also worn by James Bond. Indeed, nostalgia and legacy are fully entwined. If you are already nostalgic for a brand you've experienced, a little history lesson can go a long way to encourage you that it's time to re-live those glory days and revisit these old brands. How does that cliché go? What's old is new again!
For fun, I wanted to relive those days of my youth and the audio brands that had their start in the 1970s, arguably the golden age for audio gear. At first, I thought of searching eBay and some vintage websites to source the very audio gear that I had as a kid. But then I started to think: what about DACs and optical cables? What about wireless streaming? How can I possibly enjoy listening to vintage gear when my habits of listening have changed so much in 40 years? I want the look of yesterday with the performance of today, but mostly I wanted to know if there was any hint of that 1970s energy remaining in these legacy brands.
We know that most consumer goods are a continuum, meaning traces of what came before can still be seen in the new. A F-Type Jag from 2021 is far superior in every way to say, a 1963 E-Type Jag (except of course in bragging rights being able to say you own the most beautiful car ever built) but the reason you buy an F-Type is for the homage it pays to the original E-Type. Instead of feeding my nostalgia by buying old gear, I looked to new gear from old brands. For my nostalgia-induced set up, I sourced a Dual CS 518 turntable, an Arcam A20 integrated amplifier and a pair JBL L-82 speakers on purpose-built JBL JS-80 speaker stands, all sent to me by Erikson Consumer, the distributor for each brand.
A Little History
Dual: In 1935, German brothers Christian and Joseph Steidinger, who had a company manufacturing gramophone parts in the Black Forest town of St. Georgen, adopted the name Dual, a reference to the dual power supply or Dual motor the company pioneered that allowed their products to be powered from both electricity and with a wind-up mechanism. By 1975 Dual had 3,500 employees working in 11 factories.
The history of Dual is complicated and like many legacy brands, the company went through several ownership and licensing configurations over the past thirty years, to a point where you would not be wrong to conclude Dual became more of a licensed name than a brand. But that started to change in 2018 when Dr Josef Zellner purchased the company DGC that controlled the Dual brand in Europe and renamed the company to Dual GmbH. Why this brought credibility back to the brand is that Dr. Josef Zellner, was the last Dual export manager in the 1990s and is working with several individuals with strong knowledge of Dual, to run the new company. Xaver Schmid for example, who is head of service for Dual GmbH, started with Schneider, (the previous owner of Dual) in 1980 as an apprentice, and then worked for years in the Dual service department after 1988. Schmid has a mandate to make available replacement parts for new and old Dual turntables going as far back as the 1970s. In other words, a brand that had lost its soul is firmly back on solid ground and run by people with first-hand experience from the old days that made Dual so successful in the first place.
JBL: There are few speaker manufacturers more synonymous with the 1970s than JBL, founded by James Bullough Lansing (1902–1949), an American audio engineer and loudspeaker designer best known for establishing two audio companies that bear his name, Altec Lansing and JBL, the latter taken from his initials.
In 1955 the brand name JBL was introduced to resolve ongoing disputes with the Altec Lansing Corporation. The company name "James B. Lansing Sound, Incorporated", was retained, but the logo name was changed to JBL. According to the company's history page, The JBL 4320 series studio monitor was introduced through Capitol Records in Hollywood and became the standard monitor worldwide for its parent company, EMI. JBL's introduction to rock and roll music came via the adoption of the D130 loudspeaker by Leo Fender who said it was the ideal driver for electric guitars. JBL also had firm rock credentials playing a role in the Woodstock concert.
In 1969, JBL was sold to the Jervis Corporation (later renamed "Harman International"), headed by Canadian-born sound engineer Sidney Harman who grew up in Montreal, the home of Harman's long standing distributor Erikson Consumer. The 1970s saw JBL become a household brand, starting with the famous L-100, which was the best-selling loudspeaker model of any company to that time, selling over 125,000 pairs by the end of the decade. The 1970s were also a time of major JBL expansion in the professional audio field from their studio monitors. By 1977, more recording studios were using JBL monitors than all other brands combined. Two years ago, JBL re-introduced the L-100 Classic at the CEDIA trade show and recently added the L-82 Classic, a 2-way monitor with 8" drivers versus the 3-way 12" drivers on the L-100. The two models look almost identical except the L-82 are smaller and both are perfectly true to their 1970s esthetic.
Arcam: A&R Cambridge Ltd (Arcam) is a British manufacturer of hi-fi equipment and was established in 1976 by science and engineering students John Dawson and Chris Evans from the University of Cambridge. Arcam in the '70s was the new kid, a boutique brand competing with the big names like Marantz and MacIntosh. They survived and company remains based in Cambridge, England today.
A&R Cambridge's first product was the A60 integrated amplifier, released in 1976, and known as much for its sleek contemporary style as its high-end sound performance. In the 1980s, the name was shortened on the products to ARCAM, although the company's trading name remained A&R Cambridge Ltd. Arcam, like many legacy products have had ownership changes and today Arcam is part of the Harman Luxury Audio Group, a division of Harman International and the owner of JBL. Moving up the ladder, Samsung owns the parent company Harman.
Unboxing the JBL L-82 speakers first (MSRP $3500 CDN /pair), the biggest complement JBL could receive for staying true to the 1970s original was my wife saying that they were too big and boxy!  Exactly!!  "But Cathy, how do they sound?" Me, manipulating the response by playing her favourite Fleetwood Mac.  "They sound amazing" she said, followed by "but they look too big."  Being an expert in getting my way with audio gear, I asked Cathy for her opinion with the grills off.  Now some speakers look much better with grills off where Kevlar and titanium are beautifully on display.  The L-82s are not that speaker and as soon as I put on the orange grills, Cathy was waxing on about the mid-century aesthetic and the three-dimensional texture of the small square foam patterns from the custom grills.  If you owned a pair of these speakers in the 1970s, you would remember how the grills would get brittle like a dried-out sponge and start to decay.  No such worry of that happening with the new L-82 classics as JBL has adopted a better foam but retained the look.  At first, I was thinking I would have to gripe that the grills not being magnetic was taking the whole vintage thing too far, but the weight of the custom grills framed in a veneer to match the wood of the speaker cabinets could only work with old school male/female mounts and the speakers look absolutely beautiful. The speakers come with standard black grills but optional colours in orange and blue are also available at $249 CDN MSRP.  Go for the orange grills and the purpose-built stands at $350 / pair bring the whole 1970s vibe to life.
Do you ever watch movies or shows as much for the audio gear, that becomes the perfect prop for character development? Think of the Amazon Prime show Bosch and you will know what I am talking about.  The Dual CS-518 ($899.00 CDN MSRP) would be great in a movie.  The turntable is big with a deep plinth and a bold logo.  A big dial on the right turns the belt-drive turntable on or off and also sets the rpm speed.  She's a beauty to look at and a gorgeous balanced tonearm produces excellent no noise reproduction. I tested the turntable listening to Original Master Recording pressings in both 45 and 33 rpm.  That the CS-518 has the option of playing 78's, I would think you would be best to buy a second tone arm head and attach a proper 78 rpm cartridge.  Included in the box is a pre-installed Ortefon red cartridge and set up is a breeze for this turntable.  The CS-518 comes with a built-in phono preamp that is a nice feature to include, but to truly get the performance from this turntable, avoid using the built-in phono stage if you can.
I used the phono stage built in to the Arcam A20 with little to no phono buzz. The turntable benefited from me swapping out the supplied RCA phono connectors with an Audioquest "Wildcat" flexible tonearm cable. If Dual could improve anywhere, a nice touch would be in supplying a heftier power cable in the box. The one supplied is thin but allows for swapping out the head plug depending on where you live. I would suggest including a beefy North American power supply for North America and not worry about including a European head as an accessory.
While Arcam is now part of a monster, multibillion dollar global company, I still view Arcam as that boutique bespoke brand just doing their thing in Cambridge England. Arcam have always had a reputation for being over-built and the A20 ($2,499 CDN MSRP) is no exception. Arcam uses a hybrid 90 watt per channel amplification that they call Class G, that allows the amp to run in audiophile choice Class A amplification at 12 watts for low level signals but then bumps up to the more common Class D amplification for high performance. The A20 includes a built-in 32-bit Sabre ESS9038K2M DAC, something that would be non-existent had I sourced vintage gear and enhances Spotify and Tidal streaming. Indeed, the A20 includes three digital inputs in addition to five analogue inputs including the built-in phono preamp that I used to run the Dual CS-518. Arcam two-channel amps have a beautiful matte finish and a gorgeous LED display with analogue buttons for an easy switch from one source to another. Arcam have always built products to be seen and the A20 is no exception.
Combining the three audio components created a beautiful vintage look – current, but true to their 1970s roots. The JBL L-82 speakers were the stand-out and if I were to keep any of this borrowed gear, the speakers would be at the top of my list. The boxy, big cabinets on the tilting stands just look so cool and since they existed well before Steve Job's took credit for the product design revolution, maybe it was these speakers that inspired Jobs and not the other way around! The L-82's are so true to their 1970s esthetic but with modern components including 25mm titanium dome tweeters that you won't be looking at because the grills are just too impressive!
Playing the Grateful Dead, Fleetwood Mac and of course Led Zep on vinyl on this 1970's inspired set up, fed my Covid-fueled nostalgia handsomely and left me thinking that maybe things were indeed better back in the day.
All products are currently available through the Canadian distributor.