PSB Speakers, one of the first premium hi-fi loudspeaker brands to enter the headphone market over 10 years ago, has announced all-new additions to their high-performance M4U line, the M4U 9 and M4U TWM, on the heels of releasing a new espresso brown finish of the M4U 8 MKIIs earlier this year. 
The headphones implement sound personalization options through a partnership with Audiodo Personal Sound along with PSB's proprietary RoomFeel technology. The next-generation M4U 9 and M4U TWM designs feature improved engineering, better componentry and overall enhanced musical detail. The new wireless over-ear and in-ear headphones will be available for demo at the AXPONA Audio Expo from April 14-16, 2023, with retail availability across PSB sales channels starting June 2023 with the following MSRP: (M4U 9) US$499 / CA$699 / €549 / £449 and (M4U TWM) US$199 / CA$299 / €229 / £199.
M4U 9 – Premium Wireless ANC Headphones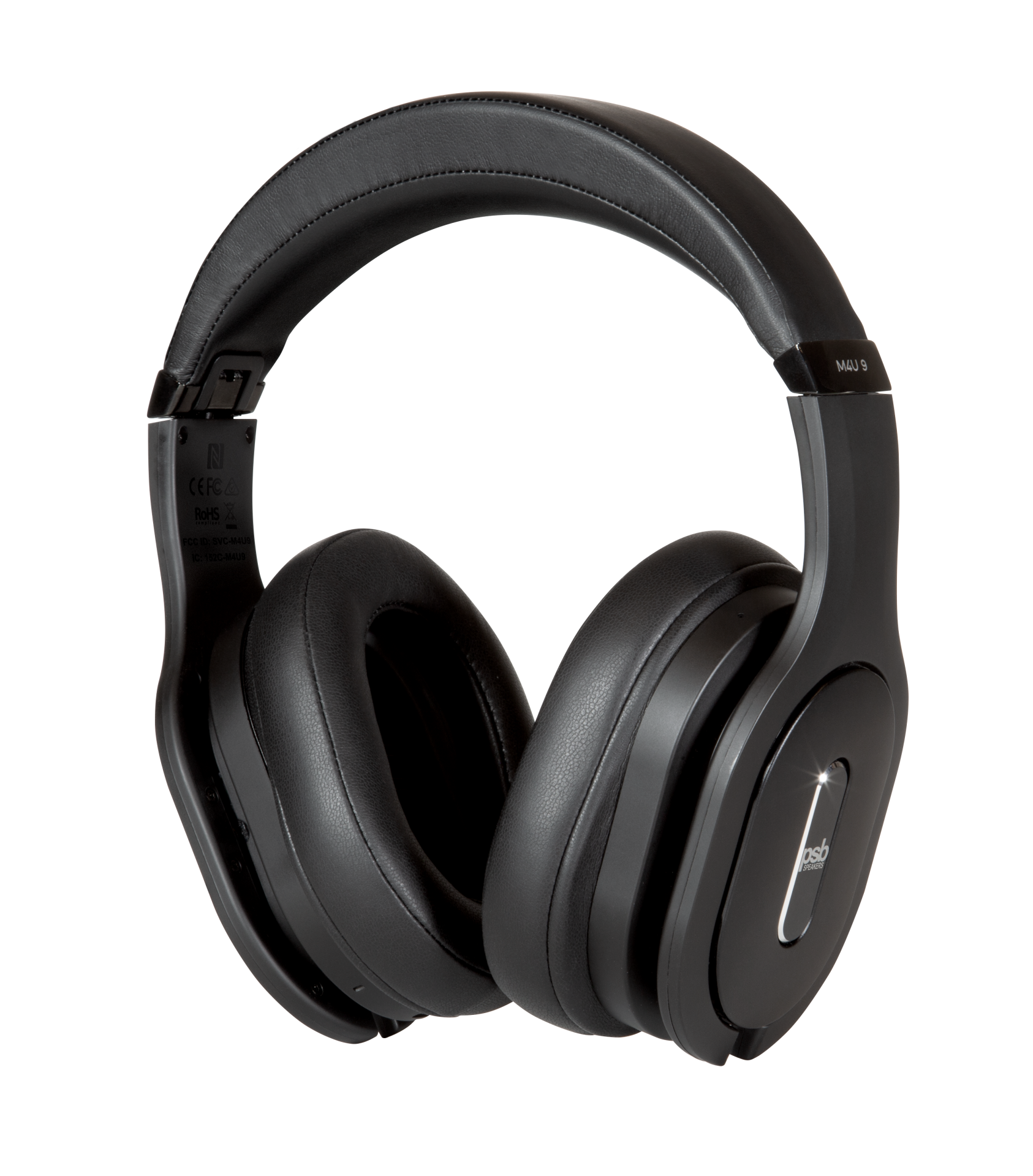 Improving on three generations of award-winning headphone design, the M4U 9 is crafted with premium materials, adaptive audio technologies and intelligent features. The wireless active noise cancelling over-ear headphones implement new graphene-infused drivers which improve on damping, stiffness and efficiency to reveal PSB's "true-to-nature" sonic signature, more crisp and powerful than ever before. aptX Adaptive Bluetooth technology enables fast and easy pairing with any device, with support for up to 24-bit high-definition audio. The M4U 9 features all-digital active noise cancelling (ANC) capabilities utilizing 4 digital MEMS microphones to decrease audio conversion errors in audio processing for pure noise-free listening, while two additional mics for cVc (clear voice capture) technology deliver crystal clear call quality. A three-position mode switch on the M4U 9 allows users to choose between ANC with RoomFeel, Active with RoomFeel or a Passive mode. Gyro-suspended, fabric and leatherette earpads tilted at 15 degrees provide excellent seal and ergonomic comfort for an extended listening time of up to 25 hours in Active Mode.
M4U TWM – True Wireless Micro Planar Earphones.
The M4U TWM earbuds leverage powerful Magneto-Static technology in a Hybrid Planar dual driver design, utilizing the same technology found in high-end magneto loudspeakers and fitting them into remarkably compact earbuds. Dedicated transducers, one for high frequencies and one for low frequencies work together to make the in-ear listening experience truly pristine, reproducing sound with crisp highs, natural midrange and deep lush bass. Enhanced aptX Adaptive Bluetooth technology keeps everything in sync from movies to games with dynamic low latency and an adaptive bit rate. Convenient features like hard click buttons on both earphones make music control and 
voice calls hands-free and intuitive, while a smart USB-C charging case delivers a maximum of 32 hours of extended play time (8 hours out of the case and 3 additional charge cycles in the case).
Sound Optimization with Audiodo Personal Sound
An integration with Audiodo Personal Sound technology is one of the most unique features offered in both wireless headphones. The breakthrough technology uses a non-replicable set of algorithms which allows listeners to calibrate their headphones in a way that accommodates for the listening qualities of their left and right ears independently. After completing a quick and easy hearing assessment accessed through the PSB Headphones app, Audiodo Personal Sound maps out a precise and thorough understanding of the listener's hearing, calculates what changes need to be made based on personal sound perception, and formulates a compensation curve for the listener that can be applied to the overall headphone sound.
Natural RoomFeel Tuning
Created to deliver rich and natural sound through headphones, the next generation of PSB's proprietary RoomFeel technology mimics the experience of listening to a pair of high-quality, full-range speakers properly set up in a good room. Carefully developed using research and expertise around 'Room Gain' – the energy and warmth that room boundaries add to the response curve of a flat-measuring loudspeaker, RoomFeel makes the music feel less 'in the head' by recreating an open and natural in-room listening experience through the M4U headphones.
PSB Headphones App
All headphone settings, including Audiodo Personal Sound tests and Transparency modes are accessed centrally through the PSB Headphones app, a full-featured app that allows users to adjust settings, check battery levels and regularly keep the headphones up-to-date with the latest firmware updates and codes.
Key Features of the M4U 9
Bluetooth HD wireless connection with Qualcomm aptX Adaptive and cVc technology
Graphene-infused, 40mm drivers
Separate Active Noise Cancelling (ANC), Active and Passive Modes
All-digital ANC with digital MEMS microphones decreases audio conversion error
PSB's latest RoomFeel technology for greater detail and better imaging
Personal Sound by Audiodo through the PSB Headphones app
NFC pairing for supported devices
Over-ear, amplified, closed back design
Physical controls for volume, playback and mode selection
Unique dual 3.5mm input connections (left or right side)
Tangle-free, braided cords for analogue wired and USB-C connection
¼" stereo and dual-input flight adapters
Runs on included rechargeable battery power
Up to 25 hrs battery playtime in Active Mode
Gyro-suspended ear pads
Carry case and easy folding for travel and storage
Key Features of the M4U TWM
Wireless auto-pairing with any Bluetooth enabled device
Magneto-Static, Hybrid Planar dual driver design
Lightweight, secure fit suits any active lifestyle
Activate voice assistants or use hard click buttons for hands-free calling and music control
Rechargeable with 8 hours of playback and 24 hours in the smart charging case for 32 hours of total extended play time
IP65 rated for protection against sweat, dust and weather
RoomFeel, Audiodo and cVc (clear voice capture) technologies built-in
Separate Active Noise Cancelling (ANC), Active and Passive Modes
All-digital ANC with digital MEMS microphones decreases audio conversion error
PSB's latest RoomFeel technology for greater detail and better imaging
Personal Sound by Audiodo through the PSB Headphones app
NFC pairing for supported devices
Over-ear, amplified, closed back design
Physical controls for volume, playback and mode selection
Unique dual 3.5mm input connections (left or right side)
Tangle-free, braided cords for analogue wired and USB-C connection
¼" stereo and dual-input flight adapters
Runs on included rechargeable battery power
Up to 25 hrs battery playtime in Active Mode