This is a review for the JBL 4305P active bookshelf speakers, a "studio monitor" with looks from a bygone era. The "P" stands for powered not professional. If mid-century houses from the 1950s, cocktail shakers from the 1930s or muscle cars from the 1960s and '70s big stadium rock 'n' roll get your heart beating a tad faster, the 4305P may just be the perfect speaker for you, but first….
What do Brian Eno, Frank Zappa, Steeley Dan, Grateful Dead, Jimmy Page and countless other musicians from music's golden age have in common? At some point in their careers, they all recorded or performed using JBL studio monitors. Jimi Hendrix's Electric Lady Studios, made famous with sessions with The Rolling Stones, Led Zeppelin, and David Bowie, used JBL speakers for studio playback. Steeley Dan even show a JBL monitor on the back of an album cover; that's just how standard the JBL name came to be in the '70s and '80s for studio reproduction.
Hardly a company to live off the good ol days, JBL today continues to be synonymous as the go-to company for live entertainment and studio production (at least in North America). The JBL Professional VTX Series Speakers for example, are what drive the Coachella Music Festival attended by over 250,000 concert goers in California over two weekends in April and headlined by the likes of Billie Eilish, Harry Styles and The Weeknd.
If speakers intended for a studio manage to produce such amazing sound, why wouldn't we all just go out and buy professional studio gear for our homes? Well, at the risk of sounding too obvious, real studio monitors or professional speakers are designed with an almost non-existent sound signature that is intended to be manipulated by a sound engineer using a mixing board – that's the professional part. Most real studio monitors are designed to be neutral with little sound signature whatsoever, but in the hands of the right producer, you get the magic. If we were to pop a true studio monitor on our credenza at home, we'd be pretty disappointed with the sound. You'd love the look but not the sound.
JBL knows there are legions of music fans that lust after the look of those old studio monitors or wish they had those hanging speakers on the side of the stage that we see at almost every concert. In fact, if you were to take a JBL 7 Series Master reference studio monitor and shrink it down, you'd be left with JBL's latest release: the 4305P active "studio monitor".
The 4305P oozes 1970s style with a 5.25 inch black paper cone woofer along with JBL's high-definition imaging horn in a walnut casing. I can see the target buyer of this speaker being the same individual that lusts after owning an original Palm Springs bungalow. That's the best part of these legacy-inspired releases; on the outside we get to re-live a bygone era, while under the hood, this speaker is as modern as it gets. Firstly, it is active, meaning the speaker is powered by internal amplification. Secondly, this completely contained powered speaker features extensive wired and wireless connectivity options either through Bluetooth, built-in Google Chromecast or Apple Airplay 2. Playback can accommodate digital high fidelity via a 24-bit/192kHz high-resolution DAC, but true to the speakers historically inspired roots, can also play multiple analog sources via a professional-grade combination XLR / ¼-inch TRS phono input for use with either balanced or unbalanced signals.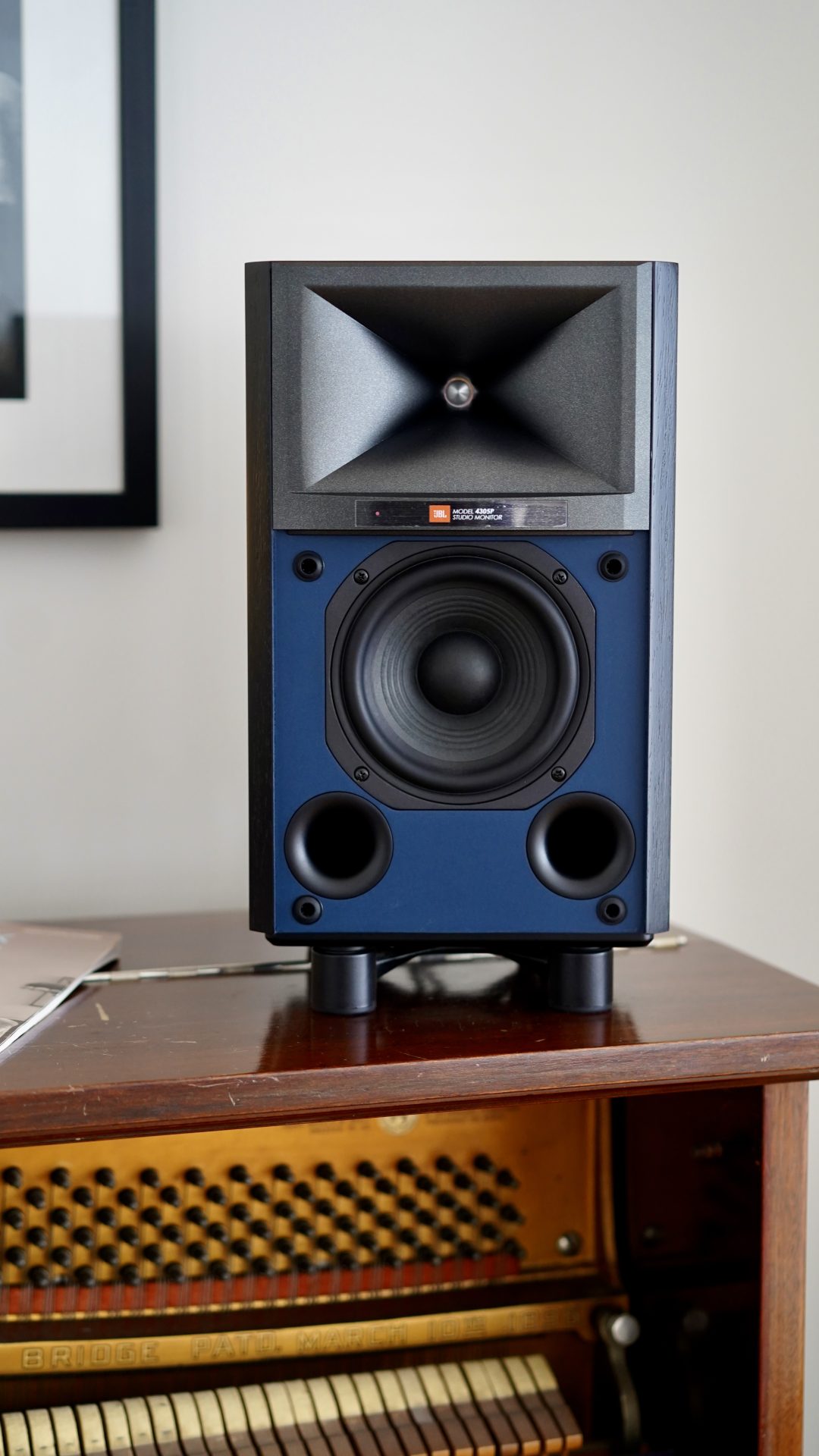 Unlike the pure pro model studio monitor, JBL sound engineers have given the 4305P a balanced sound stage intended for home. Featuring 300-watt total RMS power powered by a pair of class D amplifiers; 25 watts goes to the treble unit while 125 watts drives the mid/bass. Naturally they are loud. They are also loud because, well, they are JBL! For my test, I placed the speakers on either end of an upright grand piano on Iso-acoustic stands. While both speakers are powered you must wire them together using the supplied cat-5 cable if you plan on listening to 24-bit/192kHz high-resolution playback. The supplied cable is about 8 feet long. The amplified primary speaker can be assigned either as a right or left channel with the flip of a switch, a nice feature that gives you flexibility to place the main speaker closest to the components you plan to connect to. I placed the speakers on the piano, because the 4305P's just look so legacy cool that I figured they'd look best if I tried recreating a studio vibe! For testing, I listened to some dreamy house music, The Rolling Stones Exile on Mainstreet and Sticky Fingers as well as Miles Davis and John Coltrane, seeing that I have original Bluenote outtake photographs of both artists next to the piano.
Volume is controlled using a dial on the master speaker or when streaming, via the volume control on your streaming device or through the supplied Bluetooth remote control. Bass was punchy on the Stones song "Dead Flowers" but with Mick's voice fully out front as it would be seeing the Stones Live. The slow and low build-up of the Miles Davis track "So What" had mid-tone clarity with a subtle bass note. Clear and crisp without any muddy competition between highs and lows and the speakers effortlessly managed both the into and crescendo of the track. Using the JBL app allows for an EQ customization to the listener's preference. You can also tweak the bass by 3dB via a rear mounted switch on the primary speaker.
The highlight of the demo was my wife visiting the office and sitting down at the piano to join the Sones on both "Dead Flowers" and "Sweet Virginia". My studio vibe accomplished!
The JBL 4305P are a well-crafted, well spec'd modern bookshelf speaker that play homage to a long and very legit studio legacy. If I was to be invited to a mid-century house in the Hollywood Hills owned by an ex-Capitol Records exec, the 4305P bookshelf speakers would be the speaker I'd hope to see alongside framed old black and white photos of The Eagles and Bob Segar.
Powered bookshelf speakers are one of the fastest growth segments of the audio industry as they provide an all-in-one solution for those restricted by space. It's also one of the most competitive categories with plenty of options from the likes of Kef, Dali, Elipson, Devialet, Kanto, Kin by Totem and so on, with prices starting at entry level to full audiophile grade.
JBL has a reputation as a loud brash rock n roll brand. If my main source of music was classical and easy listening, the tonality and get-go attitude of the 4305P may not be exactly what you are looking for. But if the Stones, Led Zep, The Dead, Bowie and the Black Keys are on your usual playback rotation and you love the look of vintage gear that plays homage to a day when your music idols were at their most creative, the JBL 4305P is a great option with a ton of rock 'n' roll cred!
JBL is distributed exclusively in Canada by Erikson Home. JBL 4305P MSRP $2999.00