I have reviewed numerous headphones over the last two decades and, most recently, plenty of true wireless earbuds. Each model has its own features that make it stand out amongst the pack. With the Shokz OpenFit open-ear true wireless earbuds, it's the patented design that puts the buds over top of your ears instead of inserted inside them. They aren't the only earbuds to employ such a design. But Shokz has a reputation for being a favourite among runners, so I wanted to give them a try.
What Are The Shokz OpenFit Open-Ear True Wireless Earbuds?
The Shokz OpenFit open-ear true wireless earbuds, which come in black or beige for $230, feature patented open-ear technology and patented air conduction technology. Rather than be positioned inside the ear, as mentioned, OpenFit earbuds are built around the ear, leaving the inner ear open. The ultra-lightweight buds allow wearers to comfortably hear audio while also being able to hear surrounding noise clearly as well, so you maintain a level of situational awareness.
They employ a Dolphin Arc Ear Hook design that is said to adapt to your natural ear shape. The 0.7mm ultra-fine flexible memory wire provides an ergonomic fit and since they are lightweight at just 8.3 grams, they can be worn comfortably all-day. Each earbud is engineered with a dual-layered liquid silicone that provides a pliable fit for every ear shape along with a customized dynamic driver.
OpenFit uses DirectPitch technology and Shokz OpenBass, Shokz's proprietary low-frequency enhancement algorithm, to carry low-frequency vibrations directly toward your ear without covering it. OpenFit also uses AI Call Noise Cancellation technology to ensure favourable call quality. The technology is tested in common noisy call settings, such as stations and intersections, filtering out up to 99.7% of ambient noise, says Shokz.
The 18x11mm customized dynamic driver unit is built with an ultra-light composite diaphragm comprised of two parts. The inner dome-shaped cap is made of a high strength, ultra-lightweight carbon fiber that is 20 times stronger than steel.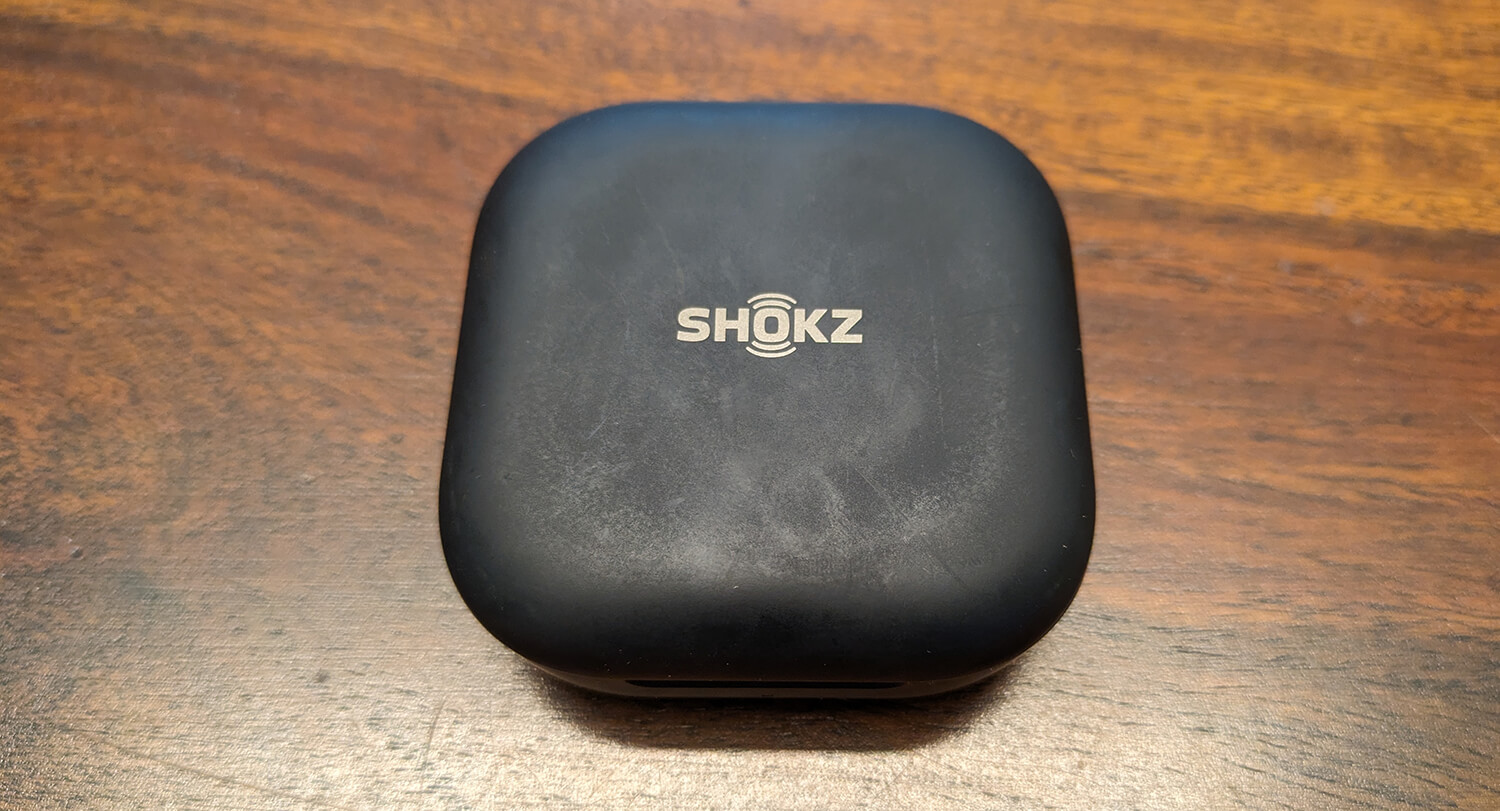 Get seven hours of listening per charge and up to 28 hours of music-listening time when charged in the charging case. A quick five-minute charge will provide an extra hour of listening time. Control audio playback and calls using the built-in touchpads.
An IP54 water-resistant rating is achieved thanks to the double-layer waterproof steel mesh and gauze. Download the Shokz app for a more personalized listening experience, selecting among different EQ modes and button functions. Shokz recently added multi-point pairing to the latest version, so make sure to download the latest app. The buds feature Bluetooth 5.2 for a seamless and reliable connection to one or two devices at the same time.
Setting Up the Shokz OpenFits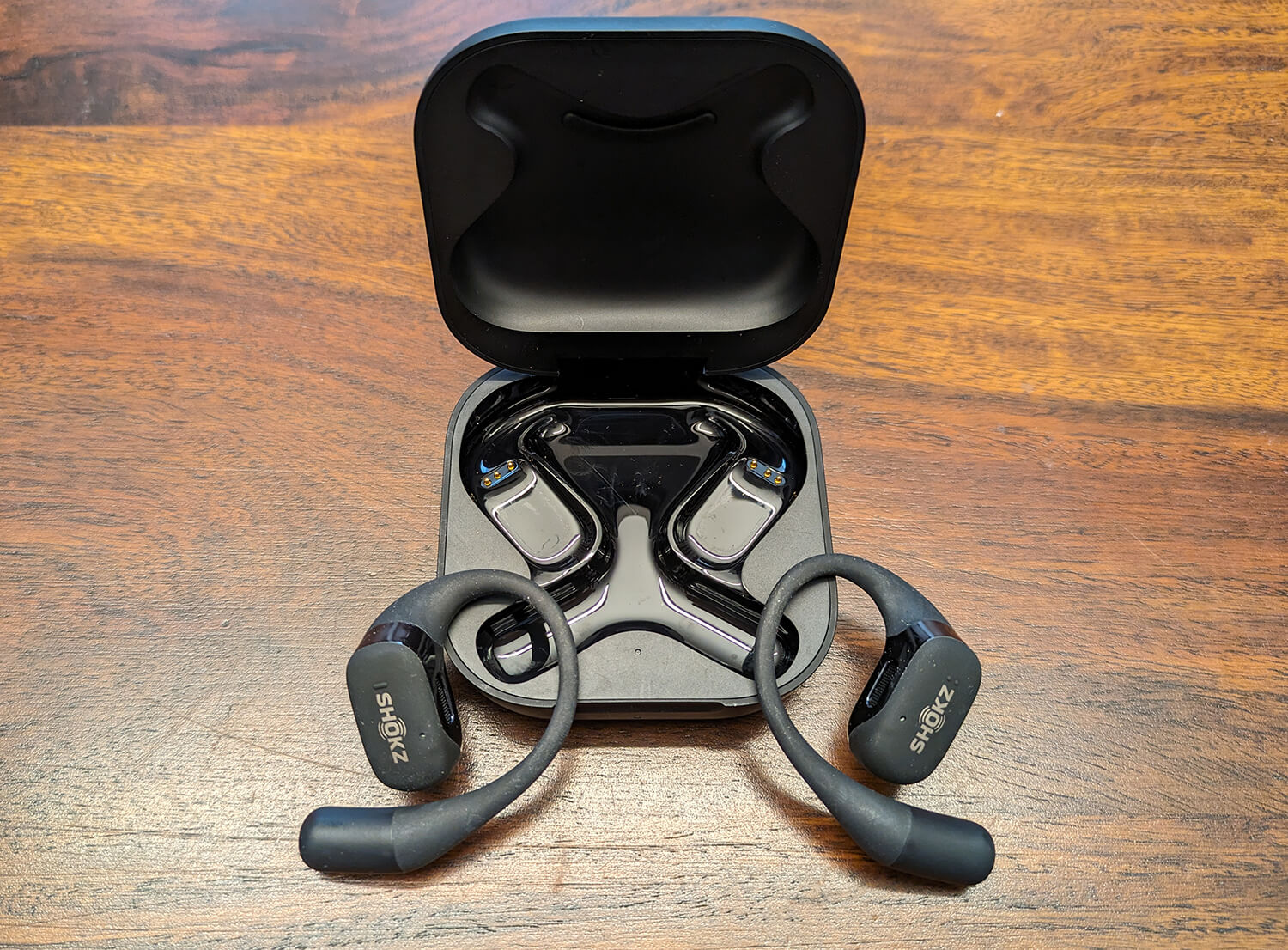 Setting up the earbuds was blazingly simple. Charge them up, pair them to your smartphone while they are in the case and in pairing mode, and you're off to the races. Download the Shokz app to further personalize the experience.
I was given the black set to test, and while the case is larger and flatter than most others, that's to accommodate the design of the buds, which include, as noted, ear hooks. You might need to make some adjustments so they sit nicely overtop your ears. At times, I found it was difficult to position them right at my ear drums, which meant I had to turn the volume up more than I usually would so I could hear well. The fit is ultra-comfortable: you don't feel the wings around your ears at all.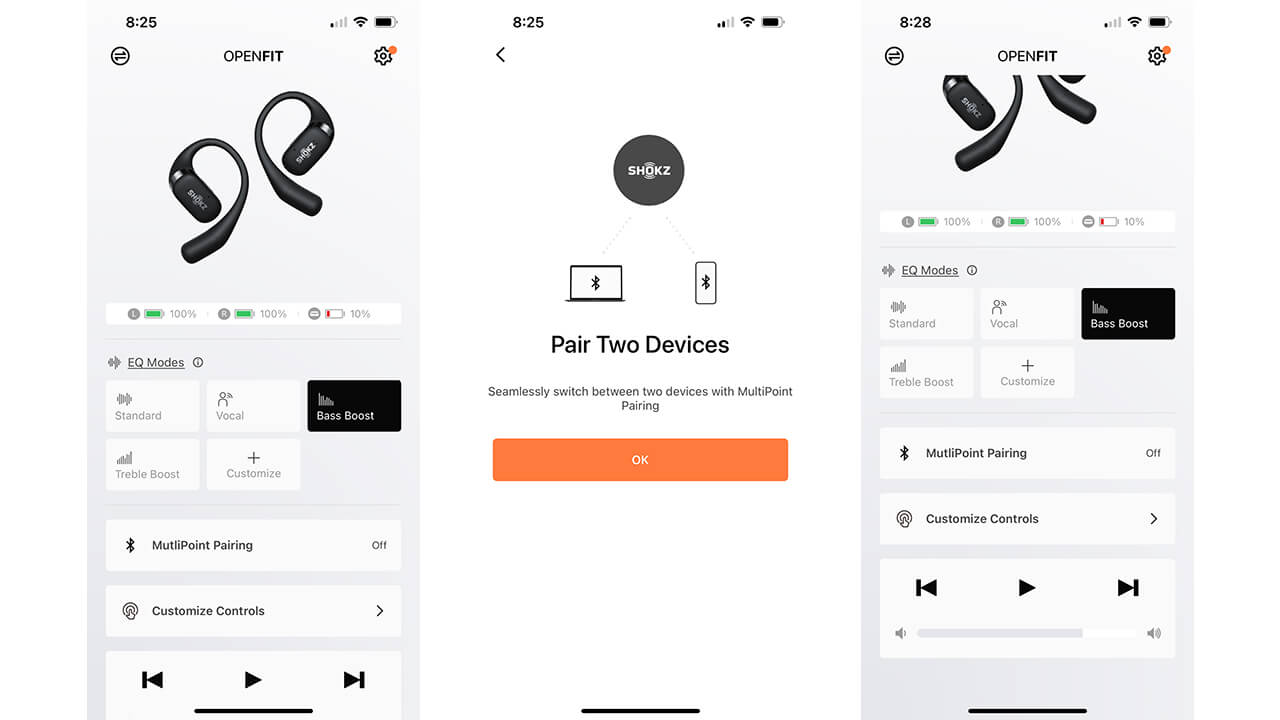 Within the app, you can choose among the various EQ modes, including Standard, Vocal, Treble Boost, Bass Boost, or customize the sound to your liking. You can also turn on multi-point pairing if you want to be able to pair with two devices, like your smartphone and laptop or smartphone and tablet.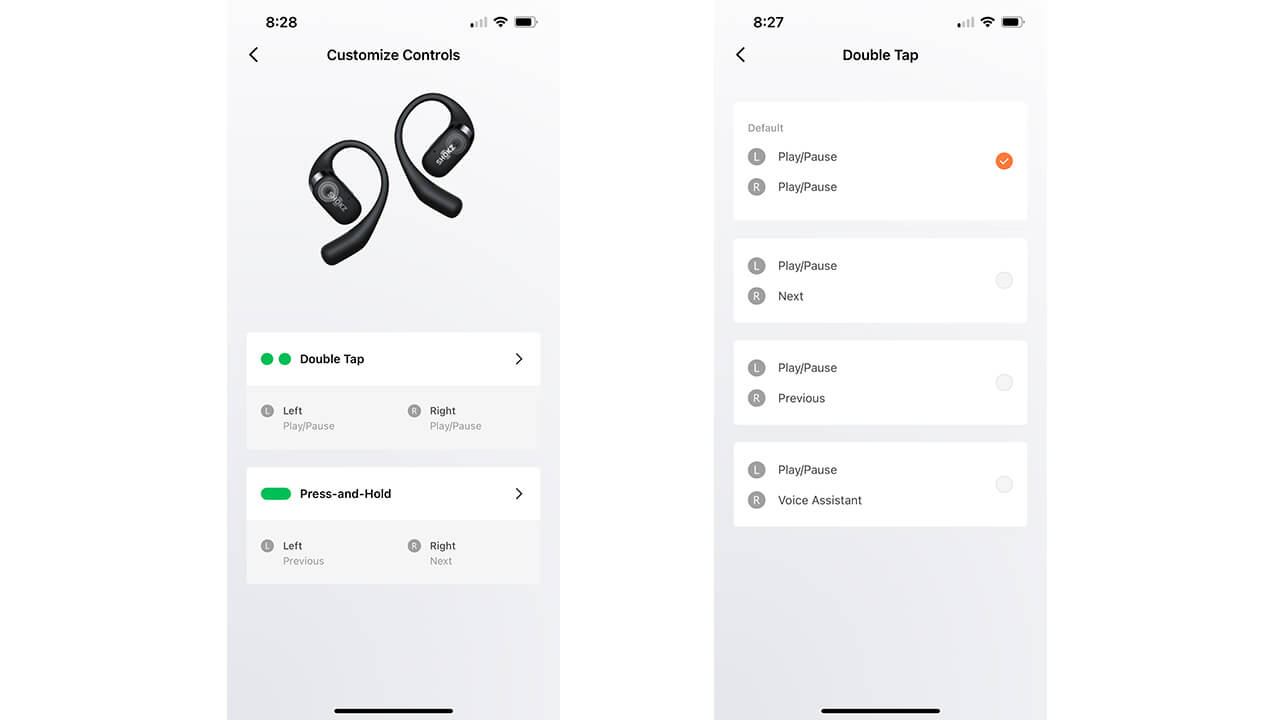 You can also customize the controls if you want to change the default tap options. By default, double tapping on the left earbud will play/pause, but you can adjust what happens when you double tap on the right: it can be play/pause as well, next track, previous track, or activating voice assistance.
You can also choose what happens when you press and hold either bud. By default, this switches from previous and next track but you can make this action a volume control instead or activate voice assistance. Control playback right from the app as well with a convenient play/pause, previous/next track, and volume control panel at the bottom. The app is also where you'll receive firmware updates.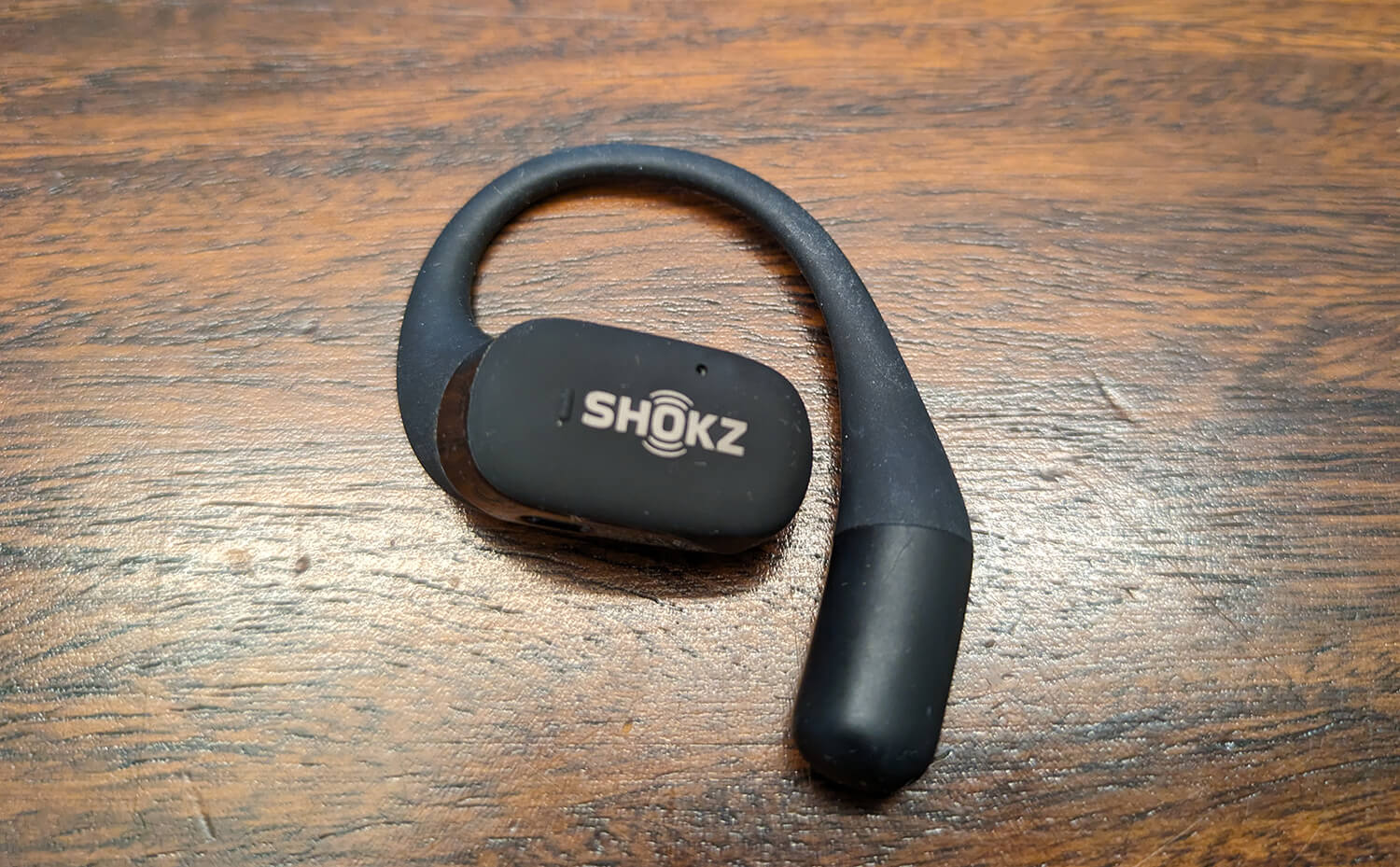 I loved being able to press and hold the right bud to instantly go to the next song or the left to return to the previous one (or rewind or fast forward in a podcast). I ended up switching the right double tap to control next track (you can't change the left double tap function from play/pause) and used the press and hold control option for volume as these are two functions I'd use most often. As I played with the options, control from the buds was seamless and simple.
Using the Shokz OpenFits
I enjoyed popping these buds onto my ears to go for my usual trail walks. The distance between the top of the ear hook and the buds is fixed which means they might not fit every ear perfectly. They sit nicely overtop the ear canal but I feel like a couple millimetres longer might have afforded a better fit for me. If I push them into my ears slightly, the sound is infinitely clearer and better at a lower volume. But it's a trade-off for being able to wear them without feeling restricted or cut off from the world.
I listened to music playlists from various sources, including Apple Music and SiriusXM, as well as podcasts from Spotify: I checked out the new Strike Force Five podcast by the late-night talk show hosts Jimmy Kimmel, Stephen Colbert, John Oliver, Seth Myers, and Jimmy Fallon. All proceeds of the podcast, which is sponsored largely by Ryan Reynolds' Mint Mobile and Aviation Gin companies, go to the hosts' writing staffs during the Writer's Strike – I'd highly recommend giving it a listen! I also listened to the Apple Fitness+ Time to Walk walking workout with Anderson Cooper: I like to listen to these occasionally alongside my music playlists.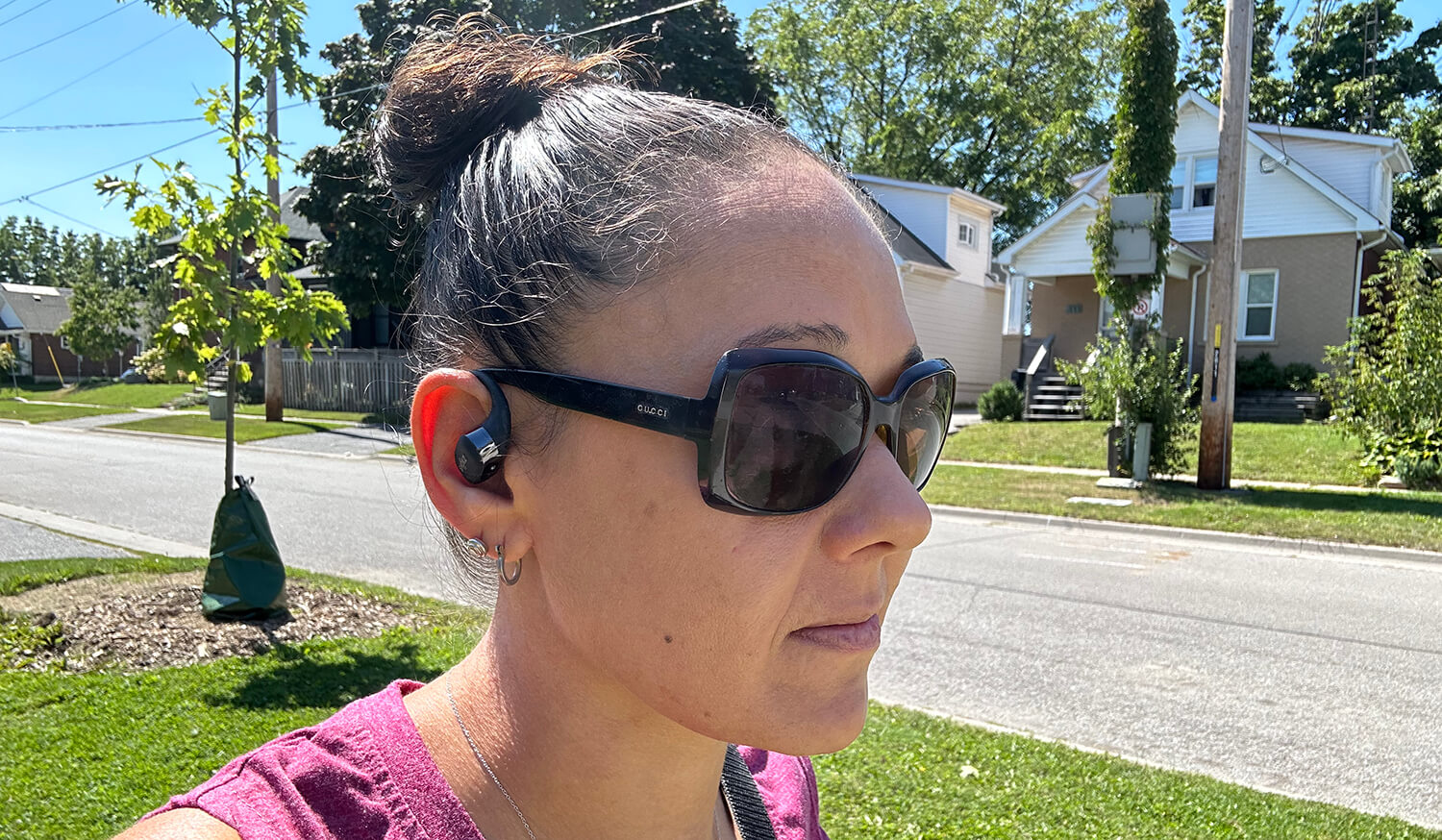 Overall, the listening experience was positive. But I did notice that when I was walking down a noisy, busy street with a lot of traffic, it was more difficult to hear than with my regular buds because of the open design. Remember, there's no active noise cancellation, nor passive either. So, a lot of outside noise gets in. Because of this, I had to crank the volume up slightly higher than I might with other earbuds whenever I hit a main road or got near to someone mowing the lawn or doing work outside. It was a minor annoyance to have to turn the volume up and down as needed, but since it's so easy to do from the on-bud controls, it wasn't an issue.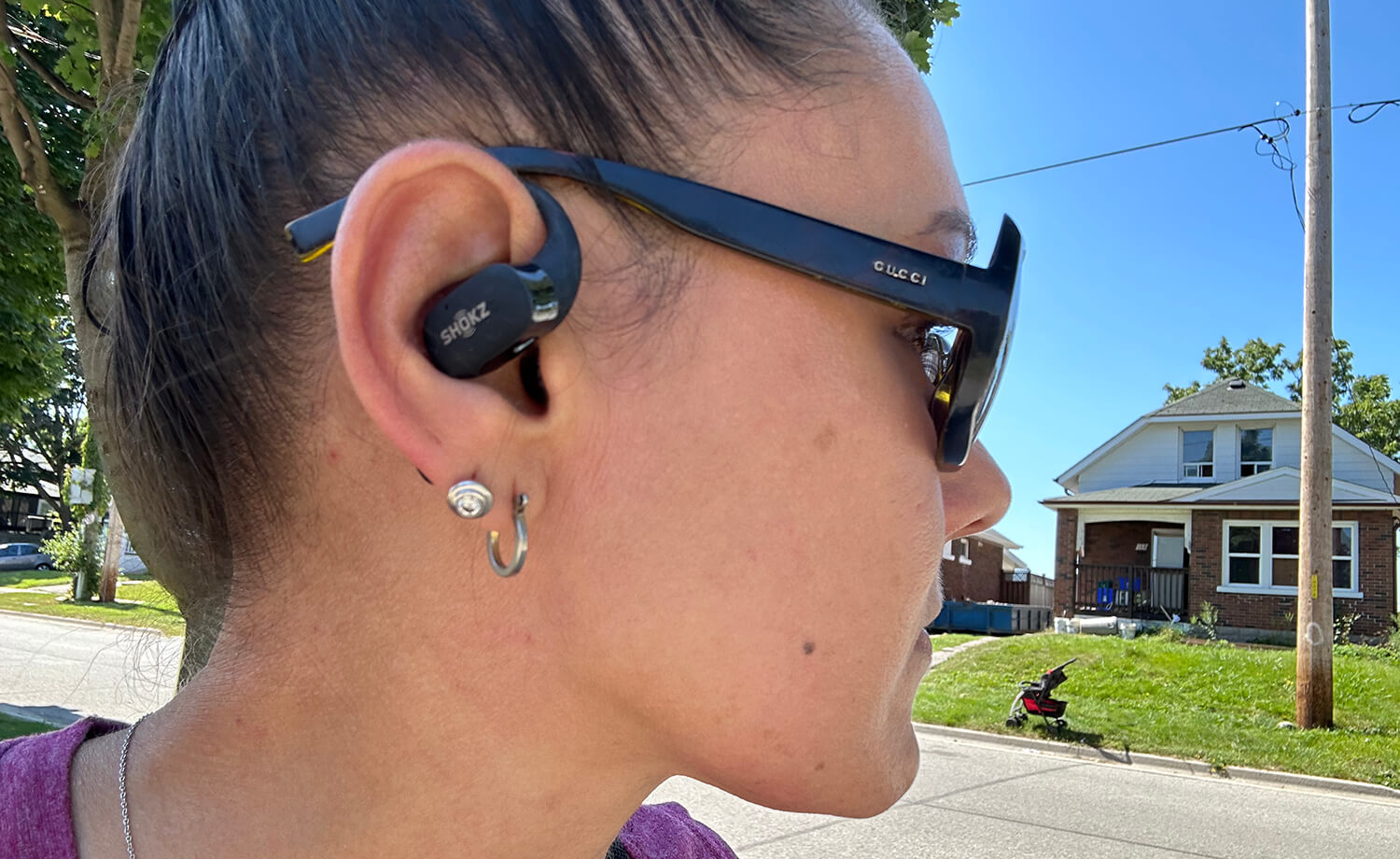 Sound quality is as good as some more expensive earbuds I have tested but not quite as good as some of the top-line models: you get good value for money with this pair. Overall, these buds provide a pleasurable listening experience with clear vocals, booming bass, and fabulous detail in all types of music and other audio content. In songs like Michael Jackson's "Don't Stop 'Til You Get Enough," all the instruments shine, from the strumming of the guitars to the symbols in the background. While listening to Cooper's Time to Walk chat, the seagulls zooming above his head and the leaves crunching below his feet had depth and clarity.
Should You Get the Shokz OpenFit Earbuds?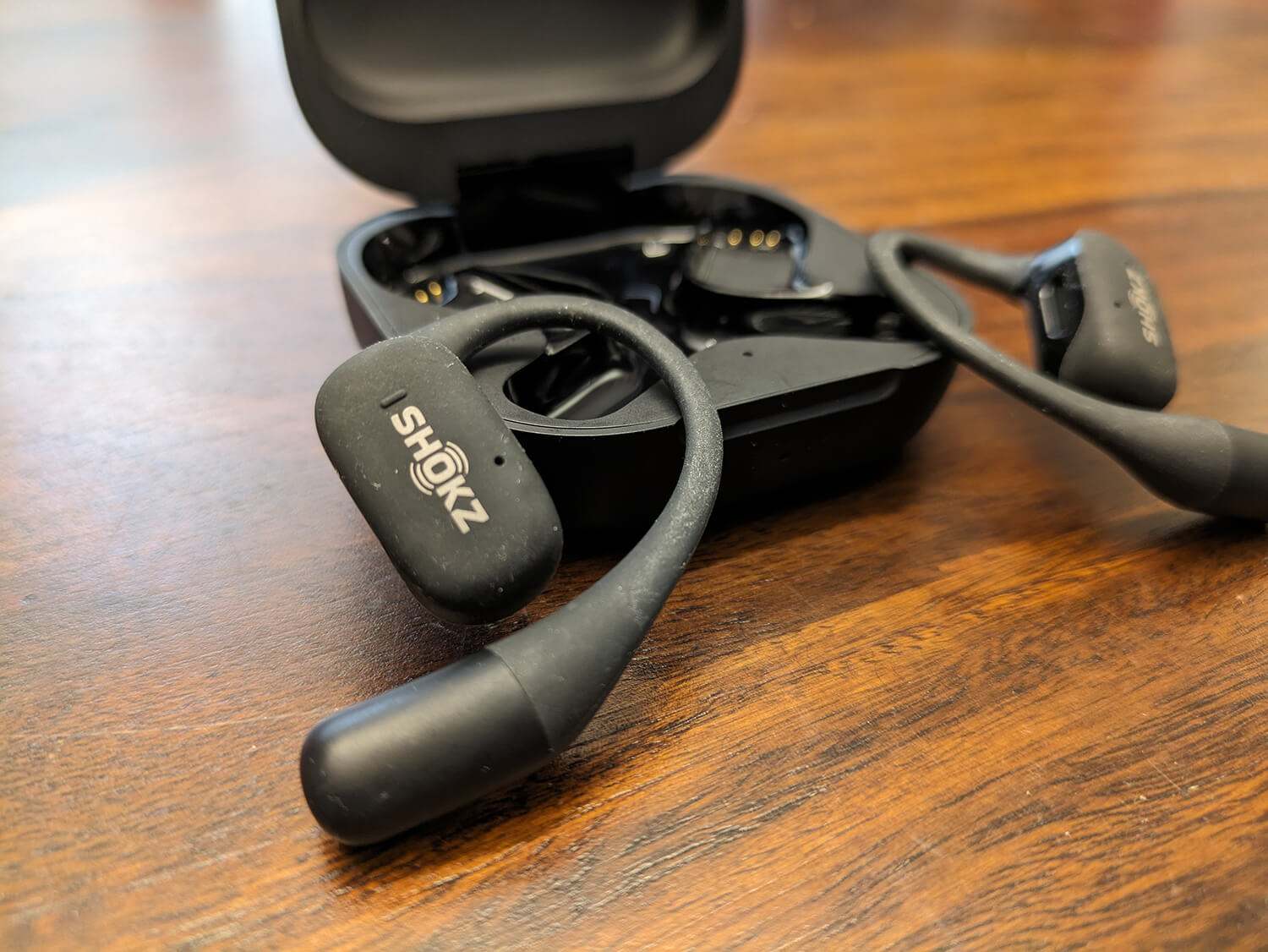 These aren't headphones you'll be wearing to blast tunes and immerse yourself in a hifi playlist. These are ideal for runners, exercising, and on the go use. And they serve this purpose beautifully. Thanks to the ear hooks, they'll never budge, even during rigorous activity. They also don't restrict you while working out at the gym, for example, since they aren't blocking all ambient noise by plugging your ears. Because of the ear hooks, you also don't need to worry that your extra intense cardio session might cause them to fall out.
The Shokz OpenFit earbuds are ideal for active individuals looking for a pair of buds they can wear while working out at home or the gym or going for walks or runs. Keep in mind that without ANC, loud noises like cars going by will be distracting. If you tend to run or walk in city centres, you might want to look for a pair with ANC so you can truly cancel out ambient noise.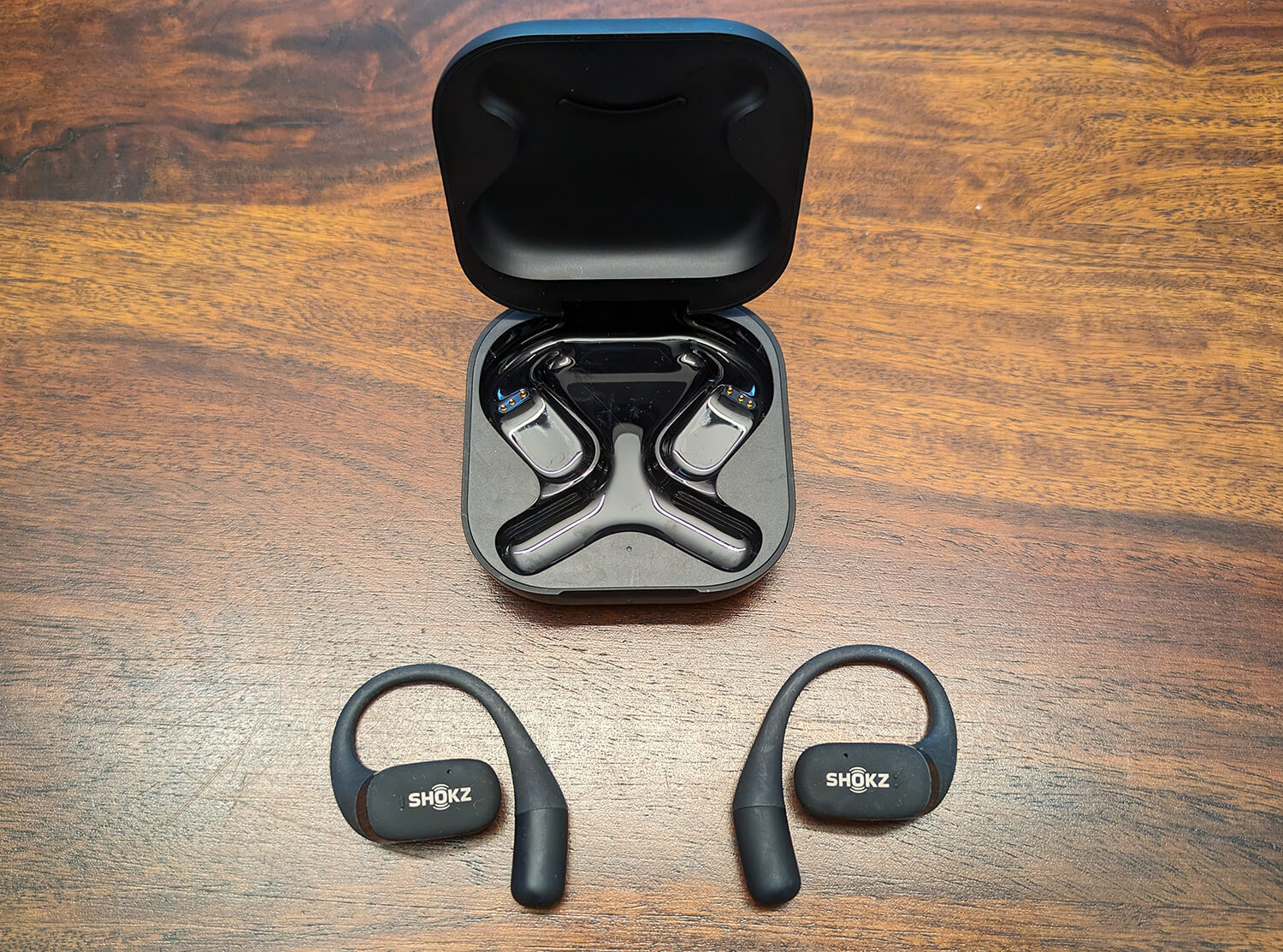 Otherwise, for quieter environments, leisurely walks, to listen to coaching while working out at home, or even making calls from your computer, tablet, or smartphone, the Shokz OpenFit earbuds are a solid option.
Shokz OpenFit is available in beige or black for $230 in Canada.