Telus has announced the launch of HomePro, a new service that provides device repairs, protection, and on-demand expert live support for various smart devices in the home. The service, which is available both a la carte and as a subscription, also comes with an Amazon Prime membership.
HomePro offers customers access to in-person and 24/7 online tech experts to support nearly every connected device in their home. Telus has partnered with tech-care industry leader Asurion to provide customers with device protection coverage and online support for everything from device setup to installation, troubleshooting, and more. In addition to personalized support, HomePro also includes a monthly membership to Amazon Prime at no cost, valued at $10/mo.
"The growth of smart home devices is rising rapidly, but most have dedicated apps, logins, and compatibility challenges, and consumers are looking for a simple way to set up, manage and protect them," says Dwayne Benefield, Senior Vice President, Mobility & Home Products and Transformation at Telus. "Our research tells us that nearly 75 per cent of Canadians have needed expert technical support or repairs for smart home products, and they're looking for a stress-free solution. Our new HomePro service makes it easier for Canadians to maximize their smart home experience, regardless of how tech-savvy they are. HomePro offers customers peace of mind and comprehensive assistance for almost every technology-related challenge they could encounter in the home, all with an Amazon Prime membership included."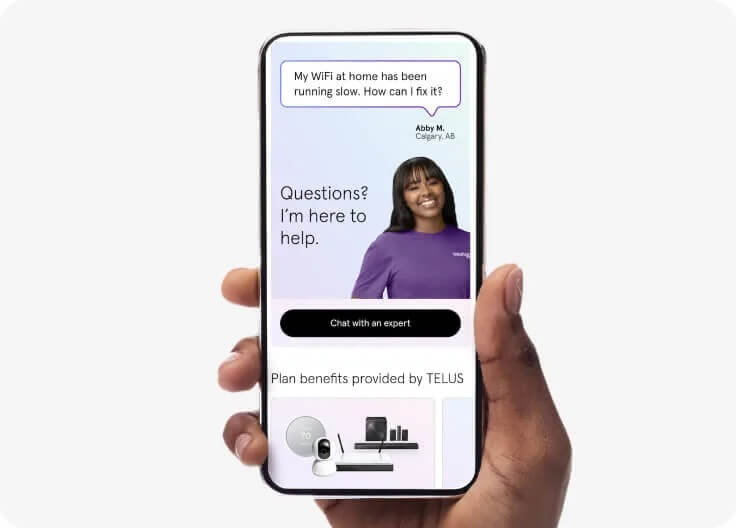 HomePro offers two monthly subscription plans and in-person à la carte services. The HomePro Starter plan is $15/mo. and affords 24/7 virtual (chat or phone) access to expert technical support and set up for almost any device in the home, plus access to an Amazon Prime membership. Customers can connect with tech experts any time for personalized support, including set up of the latest electronics purchased on Amazon or elsewhere. HomePro Starter is now available across Canada, excluding Quebec.
The step-up HomePro Plus plan ($25/mo.) includes all the benefits of HomePro Starter, including access to an Amazon Prime membership, plus device protection coverage on almost every device in their home, regardless of where or when it was purchased. HomePro Plus will be rolling out across Canada in the coming months.
In-person à la carte services are available for customers needing expert tech installations and setup of almost any device as well, from mounting a TV to setting up Wi-Fi, and configuring a smart thermostat, all without requiring a subscription. HomePro in-person services are currently available exclusively in Calgary with plans to bring these services to more Canadian provinces in the coming months.
With an Amazon Prime membership baked into the two subscription options, meanwhile, customers will receive fast and free shipping on thousands of items, access to exclusive Amazon Prime deals and special deal events, access to Amazon Prime Video for streaming TV shows and movies, Amazon Music, Prime Gaming, Prime Reading, and Amazon Photos. If you already have an Amazon Prime membership, you can link the subscription billing to your MyTelus account to merge the two. There will not be any changes to your Amazon Prime account preferences, viewing history, or profile.
HomePro is available to all customers regardless of whether they have current Telus services.