Pros: Excellent 3D sound and ready for Dolby Atmos
Cons: Be prepared to buy a newer TV and upgrade music subscriptions to paid-for
The highly marketed Sonos Beam (Gen 2) sound bar $559, available now in black or white, delivers in price, features and ease of use. But there's a caveat. If you want the best audio Dolby Atmos offers you will need a newer TV and be prepared for paid-for music subscriptions that offer higher quality tracks. The new Beam is ready for Dolby Atmos, along with TrueHD, MAT, Dolby Digital Plus, Dolby Digital and more feature rich audio formats.
For big screen streaming movies a newer TV with HDMI eARC capabilities is required, not just HDMI ARC or the plain optical cable connection. eARC stands for enhanced Audio Return Channel. It allows full-resolution sound signals, including Dolby Atmos, to be passed from your TV to the soundbar. The traditional optical cable is slowly fading away for top streaming audio enthusiasts.
Apple AirPlay 2 allows you to send sound from your Apple devices directly to Beam, while Amazon's Alexa and Google's Assistant are supported for digital voice assistants.
If you are just listening to music, sans TV with your Sonos mobile, you need to fork out higher premium subscription fees to get your streaming music encoded with more information. The new Beam's 40% more powerful processor than the first Beam is ready to crunch the additional metadata in streaming music for realistic 3D and presence.
How Does it Sound?
Some of the highly touted Atmos Sound effects are not easily perceived by many consumers. Most notice the difference if the additional effects are turned off and on in an A-B comparison. For example more separation in stereo music or the sound following objects are heard all around you. The Beam (Gen 2) delivers but much depends on whether the movie or music has additional encoding for the Sonos to process. Here are some examples.
Listening to "Damage" by H.E.R. in the paid Spotify subscription brought the Beam's center channel forward with more clarity to vocals feeling closer to me than the other musicians, yet the bass was still powerful and distinct. I had similar experiences with Amazon Music Unlimited on "Reach Out" by Sufjan Stevens and Angelo De Augustine hearing the separation of the finger picking from panning guitars. Like most Sonos speakers, I did not hear any distortion with the volume cranked up.
Streaming movies was even a better experience with 3D taking center stage. In Netflix "The Midnight Sky" protagonist George Clooney's meal preparation sound is heard from the right before the actor is shown in a slow pan. With Dolby Atmos on a 2021 Samsung Crystal screen through the HDMI eARC connection, overhead helicopters sound much higher than the Sonos Beam as does a spaceship taking off upwards in a later scene. The Sonos app easily let me switch volume control on the TV's remote to the Beam "external" speaker.
It's important to place the beam at your most common head level, usually when sitting, to notice sound effects "over your head". The newer the movie the better the chances of hearing top Dolby Atmos effects. The Beam text enhancement in the phone app makes for more clear sounding talking scenes, even improving muffled mid tones in talking scenes. I like it when listening to newscasts.
Trueplay, for balancing your Sonos speaker is only available in iOS or iPadOS devices and I found that in average rooms or smaller it does not make much difference for the wide multi-speaker like the Beam. Night sound which works with both platforms comes  in handy for limiting the dynamic volume range.
What is New with the New Beam?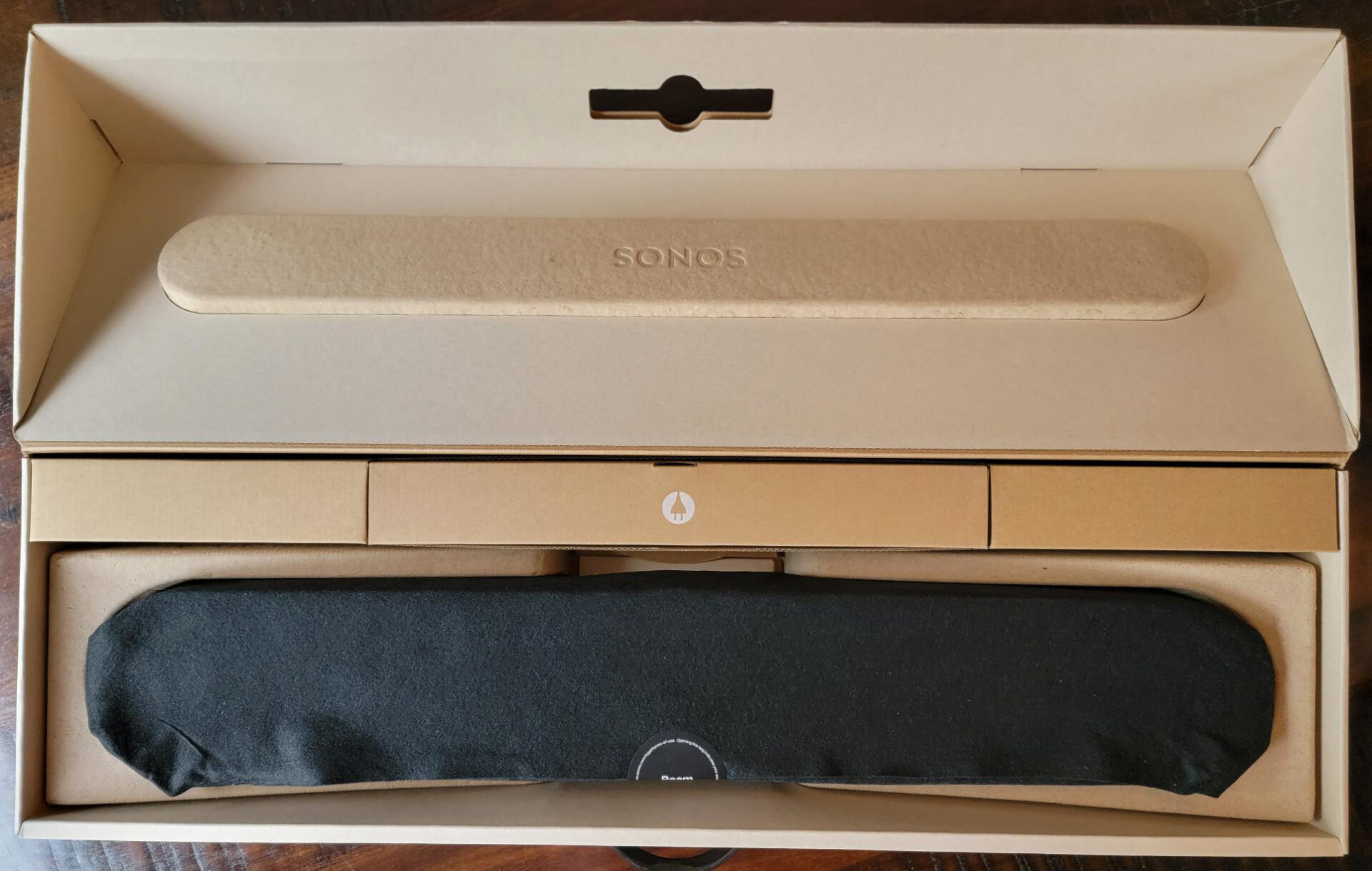 Both Beams are similar in weight, size with eight speakers. But the Beam (Gen 2) had a speaker grouping redo: one center tweeter for crisp high-frequency response, four elliptical mid woofers mid-range frequencies with low-end output and three passive radiators for low bass frequencies and a far-field microphone array for multi-channel echo cancellation. They now work in five arrays, two more than the original Beam for surround and height channels.
The new grill non-cloth polycarbonate grill is easier to keep clean and looks slicker.
Feel-good eco-friendly sturdy packaging using 97% sustainable craft paper and no single use of foam other than a few small plastic bags for the HDMI cable, optical to HDMI converter and power plug line.
The Beam (Gen 2) has NFC for easily connecting with your phone by a simple tap. Sweet.
How does the Beam compare with the Sonos Arc Soundbar?
Both soundbars are the only Sonos speakers that support Dolby Atmos music. Without first hearing the Sonos larger Arc, the compact Beam's 2.72 x 25.63 x 3.94 inch smaller size blows away any conventional larger soundbar competitor. But plain physical limitations understandably place the Beam (Gen 2) in second place when the Arc fires up even more speakers with additional horsepower delivering that extra tingling sensation on my skin.
How do the Old and New Beams Compare in Sound?
Using an apples-to-apples side by side comparison, by simply playing plain MP3 files from my phone, the new Gear (Gen 2) wins hands down. Due to the much-improved center channel, voices have more clarity as does better separation of instruments with a cleaner bass.
Who should buy it?
If you are new to Sonos, the Beam (Gen 2) at half the price of the top Sonos Arc, is an affordable way to start with one do-it-all quality speaker, especially if you have a smaller TV. Later you can add affordable left and right speakers for an impressive 2.1 system with several choices of Sonos models. Remember, it offers amazing sound under computer monitors too.
Launching later this year in select markets, Sonos plans to support Amazon Music's Ultra High Definition audio, which will allow listeners to hear tracks in lossless audio up to 24-bit / 48kHz on their Sonos speakers, as well as Dolby Atmos Music, an immersive audio format that breaks the boundaries of traditional studio recordings and puts you inside the song, revealing every detail of the music.
Sonos products that will support Amazon Music Ultra HD on S2 include Roam, Arc, Beam, Five, Sub (Gen 3), Move, One, One SL, Port, Amp, SYMFONISK Bookshelf, SYMFONISK Table Lamp, Play:5 (Gen 2), Connect (Gen 2), and Connect:Amp (Gen 2).
---