We live in a progressive society these days. Flowers, candy, and jewelry are traditional gifts for Valentine's Day, but who wants traditional anymore? OK, maybe the chocolates would still be appreciated, especially as we are stuck in lockdown. But why not give your loved one something thoughtful, in the realm of tech? Here are some great options worth considering if you're out of ideas.
Limited Edition Tile Trackers
A forgetful partner will appreciate a Tile Bluetooth tracker any day of the week to keep with valuables like keys, headphones, gym bag, purse, or expensive camera. And now, these tiny and handy trackers are now available in some limited-edition finishes. While there's everything from Pearl Jazz to Onyx Jazz, Night Bloom, Jungle Boom, and even Red maple leaves, the ruby red finish is the perfect one to keep with the theme of Valentine's Day. They come in either the Pro or slim versions for $36 or $32 each, respectively, or opt for a performance pack that includes one of each. Then, the person can track the location of the item from the smartphone app if it's out of range (at the coffee shop or gym) or signal the tracker to buzz if it's close by but you just can't find it, like in your other jacket pocket or fallen under the couch cushion. The limited edition finishes are a fun way to add some fashion to an otherwise boring and functional tech gadget.
Focal Celestee Luxury Headphones
Surprise your loved one, with this sleek and sexy pair of headphones that might be far more appreciated than a pair of shiny new earrings or a set of cufflinks. The Focal Celestee come in stylish navy blue, blended with the soft copper finish. You can choose from a semi-aniline leather and microfibre headband and leather earpads. They ship with a thermoformed woven carrying case in colours that match the headphones. US$990
C by GE Light Strips
Set the mood for your date in with these cool light strips that can be used to create ambiance or create fun lighting effects. Select from millions of colours, including tunable white. Set schedules and scenes, and even sync the lights to your sleep/wake cycle. The strips can be easily cut to fit the space where you want to place them. They work with both Google Assistant and Amazon Alexa for voice and app control. Grab a two-metre pack for $119 and one-metre extensions for $50 ea.
Dressy Smartwatch Band
Instead of grabbing your loved one a fancy new watch, consider getting them a fancy new band for their smartwatch. That's the wristwatch they probably wear most days anyway. For a Fitbit Versa 3 or Shine, there are stylish ones like the Pendleton woven band, which features a woven pattern that is inspired by traditional basket weaving techniques employed in the American Southwest. It's also environmentally friendly, made of REPREVE recycled plastic fibres. It comes in blue/pink or blue/grey canyonlands for about $50. If they don't already own a Fitbit Sense, by the way, that's a worthwhile gift to consider as well if you have a bigger budget with which to work.
If they wear an Apple Watch instead, help them upgrade their brand-new Apple Watch Series 6 (or better yet, get them one if they don't have one already!) with a step-up more fashionable band. There are tons of options from which to choose, from sporty to braided. Surprise your LGBTQ+ partner with the Pride Edition Sport Band ($60) or get something sophisticated like the Leather Loop ($119), which comes in diver blue, saddle brown, and black.
Streaming TV Service Subscription
Date nights nowadays usually involve a romantic candlelit dinner in the dining room followed by a quiet movie night on the couch with some popcorn, wine, and a cozy blanket. Given that we have been in and out of lockdowns and stay at home orders since March 2020, chances are you have probably already breezed through the entire library of your favourite streaming service. And while new titles are added all the time, subscribing to another one can't hurt. If Netflix is your favourite, consider adding Amazon Prime Video to the mix, which has the added benefit of free and fast shipping on items ordered on Amazon.ca, as well as access to Amazon Music and other features. And Amazon Prime Video has some great original series that are perfect to binge-watch together, like The Marvelous Mrs. Maisel, Transparent, Upload, Utopia, and The Boys. Plus, they can enjoy watch parties with their friends remotely, which is a nice feature when it's time to enjoy some girl or guy time.
If you're into British comedies, consider a service like BritBox, which provides access to tons of them along with other British content, including movies, new and legacy series, and more.
For fun with the whole family, look into Disney+, which provides access to series like The Mandalorian and WandaVision as well as a wide selection of classic Disney shows and movies as well as new originals.
Apple TV+ also has a wide selection of options that are perfect for couples, from Losing Alice to The Morning Show and For All Mankind.
Depending on the service, a one-year subscription will cost about $100. Go the extra mile and set up a watch list with romantic movies and hot TV shows that you guys plan to watch together.
The Original Flippy Tablet Pillow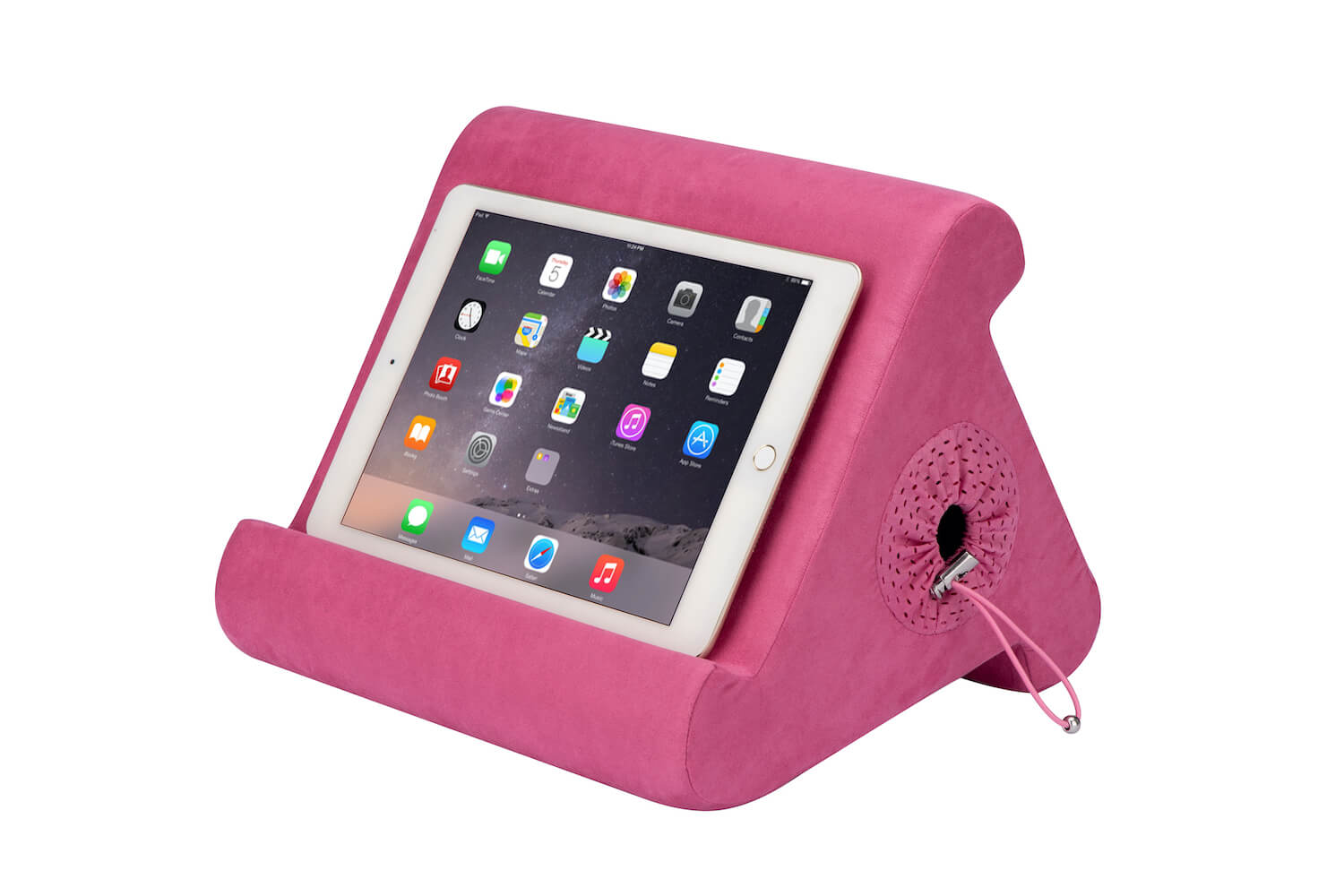 Anyone who loves to enjoy downtime by relaxing on the couch with a tablet watching videos, playing games, surfing the Web, or doing other activities will love this thoughtful gift that makes the experience more comfortable. And once we're able to travel safely again, it's a great item to take with you. It's a combination stand and pillow that comes in full or mini tablet sizes, propping the device up for easy viewing while featuring a soft surface to position on your lap or desk. It comes in a variety of colours and patterns and has three sides for different angles and positions. It weighs just a few ounces and does not have any moving parts to break. There is even a version that comes with internal storage for holding items like charging cables and eyeglasses. You can also feel good about the purchase since proceeds from every sale go towards the literacy non-profit FirstBook.org. Feminists will also appreciate that they are made by a certified women-owned business, Happy Products, Inc. Grab one for about $40.
Dyson Corrale Hair Straightener
While a hair dryer or a straightener might not typically fall into the realm of romantic Valentine's Day gift, it does when it's made by Dyson. This straightener is the type of straightener than every woman (and possibly even man with long locks) wants but will never buy for themselves. Why? Because it costs $650. But it has Dyson's deep knowledge and extensive research behind it to offer a supposed better experience that includes styling with less damage to your hair. It's also wireless, which is a huge benefit that allows you to straighten your hair virtually anywhere. It's suitable for all hair types and Dyson's Intelligent Heat Control offers precise temperature.
Urbanista London True Wireless Earbuds
While these true wireless earbuds are a fun and fashionable purchase in their own, the company is offering a special deal on its website for Valentine's Day that includes a Sydney wireless speaker with every purchase. The total price will be US$149, though you'll have to pay for shipping to Canada as well as the exchange rate. The deal is available from February 4 through to February 14. www.urbanista.com/valentinesday The Urbanista London earbuds incorporate Active Noise Cancelling technology and come in five colour options to suit every taste: midnight black, pearl white, rose gold, dark sapphire blue, and burgundy red. They also include Ambient Sound Mode so you can hear your surroundings when needed, and charge wirelessly in the included case to afford up to 25 hours of playtime total, with four hours per charge. The Sydney is a three-watt, water-resistant portable Bluetooth speaker that comes in similar colour options (midnight black, fluffy cloud, rose gold, and olive green), and is easy to bring with you for travel. It offers up to five hours of total playtime, and you can connect a pair via Bluetooth.
Ring Video Doorbell
Nothing says "I love you" like a new video doorbell that can make life easier for everyone in the family. The new Ring Video Doorbell is the smallest in the company's line-up to date but still includes all of the features you'd want in a top-notch smart doorbell, including advanced motion detection, two-way talk, HD video, live view, night vision, customizable privacy zones, and more. It's easy to install, connecting directly to your existing doorbell wiring. You can trigger alerts if there's motion within specific zones, like from the driveway to the front door, and speak to visitors from the app to do things like tell a delivery person to leave a package at the door or advise a solicitor that you aren't interested, and even call up the app using your voice and Alexa. Grab just the Doorbell (pre-order it for shipping around February 24, 2021) for $80, or sign up for a Ring Protect Plan (starts at $5/mo.) to access six second previews of motion triggers called colour Pre-Roll, People Only Mode that can track motion from only humans, and Rich Notifications that show a snapshot preview of who is at the door or what is happening before you even need to open the app. Expand the system each year, or occasion, with new compatible products, from alarms to smart lights.
Brookstone Digital Photo Frame
These frames keep appearing on every gift guide this year, and for good reason. Digital photo frames are one of the more exciting growth categories for 2021, and especially appreciated while people are stuck at home in lockdown. People can remotely share an updated selection of photos of the grandkids for the grandparents, uploading them to the frame remotely. But for Valentine's Day, what a lovely way to say "I love you" to a special someone. It's important, however, not to just gift a frame but to load it up with a slideshow of images of the two of you together. Go all out and digitize old photos or simply search for the best of the best in your smartphone, add them, create transitions, and voila! A super-thoughtful gift.