Vizio has released its entire 2021 line-up of TVs and soundbars, most products of which are available immediately.
The 2021 LED 4K UHD TV line-up includes the V-Series, M-Series Quantum, P-Series Quantum, and P-Series Quantum X, all offering 4K picture performance, SmartCast smart TV interfaces, and robust gaming features. The company is also launching its first-ever 4K OLED TVs, which will come in both 55″ and 65″ sizes. Complementing the displays are new V-Series soundbars, including the 2.1 and 5.1, and M-Series All-in-One 2.1 soundbars. The new Ele vate soundbar, meanwhile, comes with Adaptive Height Speakers that automatically rotate upward when Dolby Atmos or DTS:X content is detected to reflect sound off the ceiling for immersive surround sound.
VIZIO is also rolling out a major update to SmartCast, which will be available to all SmartCast users with SmartCast TVs dating as far back as 2016.
The new TVs offers 3,000 nits of brightness, new IQ Ultra and iQ Active processors, and a new ProGaming Engine. All but the P-Series Quantum X 85", the V-Series 75", and the OLED TVs (available in the fall) are available today.
The P-Series Quantum X comes in 65″, 75″, and 85″ models and range from US$1,500 to US$2,300.
The P-Series Quantum (US$1,200-US$1,700) offers premium 4K HDR picture quality with the IQ Ultra processor, 240 zones of local dimming, and 1,200 nits of peak brightness. It comes in 65″ and 75″ sizes.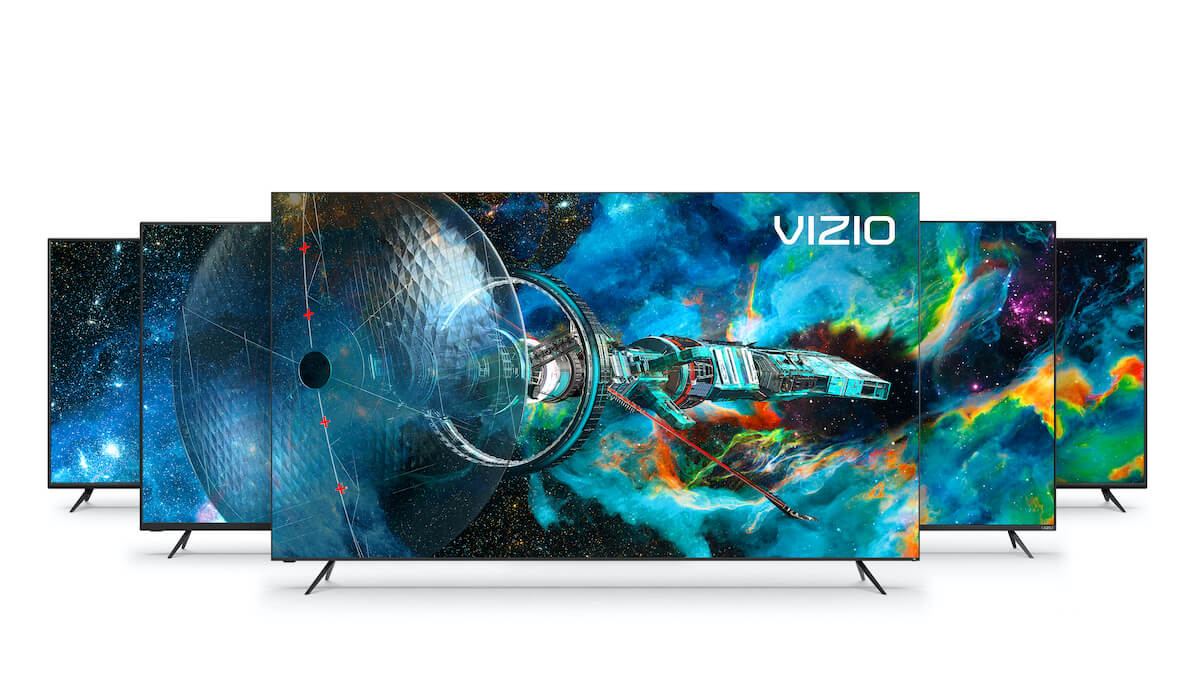 The M-Series Quantum is the mid-range option with HDMI 2.1 inputs and the IQ Active Processor. The MQ8 TVs come in 55″ and 65″ sizes, ranging from US$550-US$750 exclusively at Amazon. The MQ7 TVs come in 50″, 55″, and 65″ sizes, ranging from US$400 to US$700 and will be available at most major retailers.
The V-Series offers 4K HDR picture with broad HDR support, future ready 2.1 inputs with eARC, and a V gaming engine with low input lag. Screen sizes range from 40″ to 70″ and cost between US$230 and US$800.
Vizio's first ever OLED TVs offer Ultra Color Spectrum that supports more than one billion accurate colours set against OLED's pure black. OLED also affords a wider viewing angle than conventional televisions, with no loss of image quality for family and friends sitting anywhere in the room. The Vizio OLED 4K HDR SmartCast TVs will available this fall in 55″ and 65″ models, ranging between US$1,300 and US$2,000.
On the audio side, the V-Series 2.1 Sound Bar (US$180) includes full-range speakers combined with a wireless 5" subwoofer for deep, tunable low end. It is also enhanced with Dolby Audio for crystal clear sound and DTS Virtual:X, and you can stream music wirelessly with Bluetooth from a phone or any compatible device.
The V-Series 5.1 Sound Bar (US$250, July 5) adds a dedicated centre channel inside the sound bar for improved dialogue clarity in TV and movies, further enhanced by an adjustable Dialogue EQ option. DTS Virtual:X and Dolby Audio are on board to enhance 5.1 soundtracks, or upmix two-channel content.
The M-Series All in One 2.1 Sound Bar US$150, July 26) includes Dialogue Enhancement EQ to boost clarity along with DTS Virtual:X for an immersive experience through its high-performance two-way speakers.
Set for availability this fall for US$1,000, the Elevate 5.1.4 Sound Bar usess built-in Dolby Atmos and DTS:X decoding and contains 18 speakers across 10 total channels. Contained in the 48" anodized aluminum body, as noted, are patent-pending Adaptive Height Speakers that automatically rotate upward when Dolby Atmos or DTS:X content is detected.
The SmartCast smart TV update, which will be available to all owners of compatible Vizio smart TVs, include new features like the ability to jump in and out of the most popular apps, including Netflix, Disney+, Hulu, YouTube TV, Prime Video, CBS All Access, NBC, and others. New apps are continuously being added, such as Movies Anywhere, which is now available on SmartCast TVs.
It is also easier for viewers to use their preferred smart home device with SmartCast, easily choosing Siri, Google Assistant, and/or Alexa-enabled devices. Users can now more easily integrate their Vizio SmartCast TV with their preferred smart home system to control the TV with their voice, view their Google Nest camera feed on the TV, and more.