Worx has revealed its new 12V Multifunction Jump Starter, a device that serves as an emergency jump starter for the vehicle as well as a two-way charger for mobile devices, including smartphones and tablets. It also comes with a work light, flashlight, and emergency light combinations.
The portable starter jumps gasoline-powered car engines up to 4.0 liters and diesel car engines up to 3.0 liters. Fully charged, it can make 30 jump starts before it needs to be recharged. The battery status indicator has four LED charge levels. It also jumps motorcycles, ATVs, lawn tractors, marine batteries, and other machines with 12V batteries.
The jumper comes with battery charging cables and a cigarette/power port cable for charging in vehicles. The jumper has a side power panel with a rubber flap enclosure. The power panel reveals multiple charging stations, including a plug-in to charge the jumper, two USB ports to charge small devices, a second plug-in charging port, and plug-ins for the jumper cables.
It takes eight hours to fully charge the jumper. Charge it using the cigarette/power port cable or through the included USB cable and a cell phone or tablet. The Worx Multifunction Jumper has five LED light options in various configurations, ranging from a solid white LED work light to an emergency solid red or flashing red LED light. The jumper also doubles as a flashlight with a solid beam or flashes. Unlike incandescent or CFL bulbs, LED lights do not get hot and stay cool to the touch.
The tubular-shaped Multifunction Jump Starter is constructed of polymer resin with a clear plastic lens that houses the LED lights. It has a built-in retractable ribbed hook for hanging under a vehicle's hood, J-hook in the garage, in a closet, on a tree branch, or other site. The jump starter stands on end and has a magnetic platform base. It can be set on top of a vehicle, metal workbench, tool chest, and roll-away cabinet or other metallic surfaces.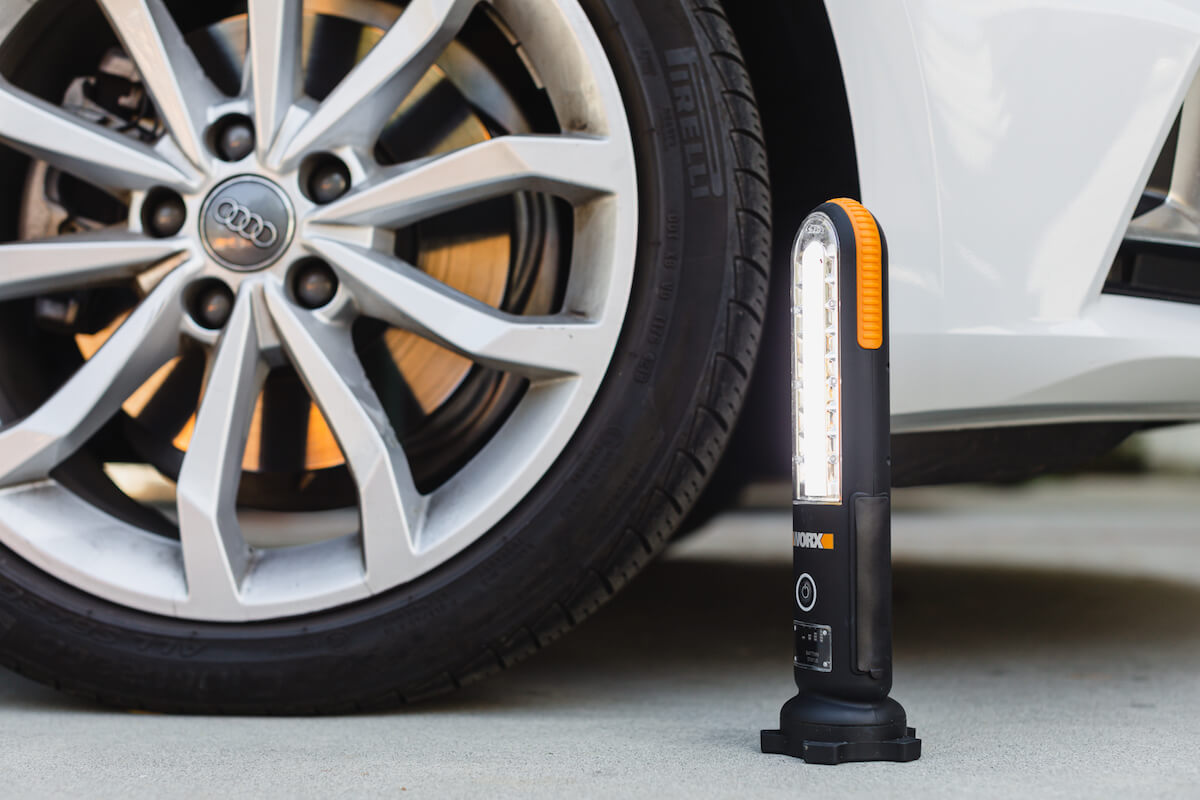 The water resistant, 12V jump starter weighs 1.05 lbs. Its auto-start peak current is 500 amps and its operating temperature range is 1.4º F to 140° F. The jump starter has reverse polarity protection, meaning it protects the jumper if the battery cables are connected to the wrong terminals.
Included with the Jump Starter are a set of heavy-duty cable with battery clamps, 12V charging cable, and a USB charging cable. The Jump Starter is covered by the Worx three-year limited warranty.
The Worx 12V Multifunction Jump Starter with LED Light is available in Canada for $100.