Orthotics get a bad reputation for being for older people who have trouble walking. But the truth is that everyone of any age and even athletic ability can suffer from foot troubles. My 11-year-old son requires orthotics due to flat feet.
Plantar fasciitis can strike at any time, and while it's not something I personally suffer from, I can see the value in having custom orthotics that cushion your feet and fit perfectly to you. While those with serious issues should see a podiatrist, for others simply wanting to walk more comfortably, orthotics can help. They are available online and in retail stores. In some retail locations, Aetrex has a high-tech machine called an Albert 3DFit scanner that analyzes your foot composition to provide the perfect fit. The Albert 2 Pro scanner, which I tried at CES 2023, adds a pressure sensor as well.
Before delving further, here's a quick video demonstrating how the Albert 2 Pro works.
The Albert 2 Pro Scanner
I visited Aetrex at the Venetian Convention Center during CES 2023 and did a complete scan of my feet. To do so, stand still on the platform (you can wear socks) then let the Albert 2 Pro scanner analyze your foot composition. It uses Intel RealSense 3D Depth Cameras to capture a complete, 360° scan of your feet in 10 seconds. This includes length, width, girth, and other stats, purportedly to a millimeter of accuracy.
I learned, for example, that I have average pressure on my forefoot and rearfoot and typically put more pressure on the right forefoot and bottom than the left. My right foot is slightly wider than my left and my arch type is "medium." I'm in the 55th percentile for foot length on my left and 64th on the right (my left foot is slightly shorter than the right, something I often struggle with when buying shoes) and I'm in the second percentile for shoe length on the right and 11th for the left. When it comes to instep, I'm in the 63rd and 67th percentile for the left and right feet, respectively, with an instep of 6.61cm for the left foot and 6.68cm for the right.
My arch height is 2.4cm on both the left and right which, as the rep describes, means I am fairly symmetrical. Most interestingly was that my shoe was clocked at a size 9 when I have been wearing size 8 all my adult life: the rep claims that most people tend to choose a shoe size smaller than what they actually are. With that said, I have never found size 8s to be tight but I will definitely give 9s a try the next time I'm picking up a pair of shoes.
Click the Advanced Measurements tab on the right to get a full picture of your foot metrics. You can also see a 3D model of your feet, generated from more than 3.5 million data points. Aetrex's proprietary FitGenius AI platform will then analyze this data and provide footwear recommendations by brand, style, and size. Retailers, both in person and online, can then provide the right orthotic to fit.
There's also a Learning Center tab with a dapper AI man (he was created just for the site) who walks you through explanations of everything from girth to plantar fasciitis, memory foam, heel spurs, and more.
Finally, there's a selection to scan the QR code with all your data to present to a salesperson at a specialty shoe store to find the right fit for you.
Finding the Right Shoe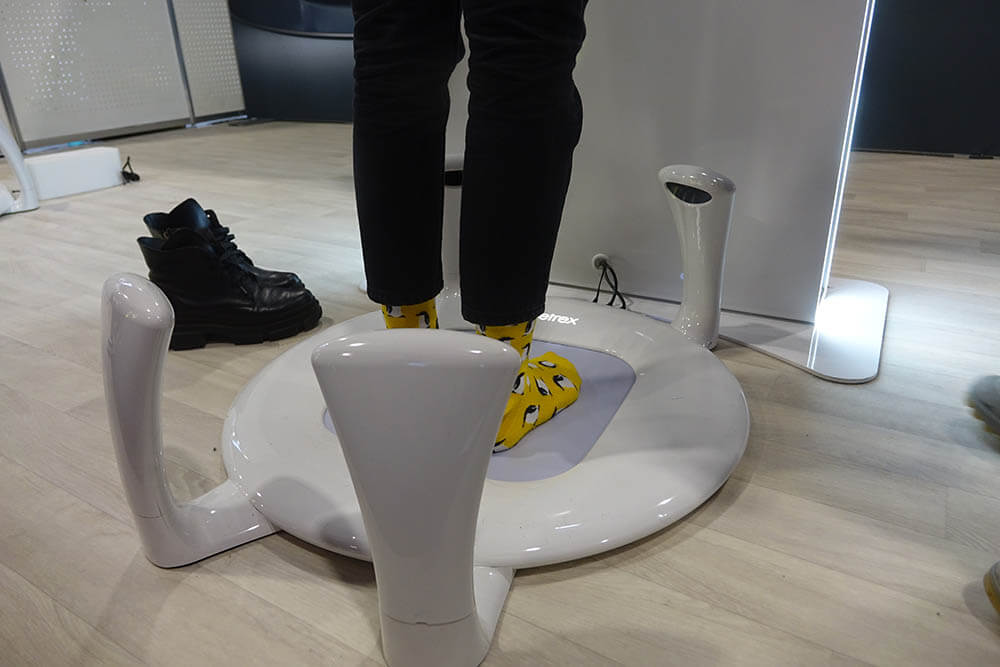 What do you do once armed with this information? Typically, the retail salesperson will look at the results and recommend the right fit. For me, who doesn't technically need orthotics, my result is a "00" which means if you're purchasing on the Aetrex website, anything that ends in a "00" would suit me. Others might get numbers like "05," which means they have a high arch or "20" which translates to flat/low arches, or no arch at all. According to Jason Israel, Senior Vice President of Business Development, Technology & Orthotics, at Aetrex, who we spoke with after the show, 60-70% of the population fall into the same category as me.
Aetrex also provides the anonymous data to shoe manufacturers around the world through its Foot.com data portal to help them create better fitting footwear. The idea is to not only help people find better fitting footwear but also help retailers reduce the astronomical 30-40% return rates online.
In Canada, Aetrex's Albert 3DFit scanner (not the 2 Pro I tried) is available in stores like Walking on a Cloud, and it is in 1,000 outlets across the U.S., including DSW, BOA, Burton, Marathon Sports, Sun & Ski Sports, The North Face, and other independent shoe and running stores and 10,000 scanners worldwide. Aetrex itself also sells shoes and orthotics on its website, which Israel says is usually where customers go after they buy a first pair at a retailer and want to re-order.
For active individuals, runners, or even simply those experiencing foot problems due to high arches or flat feet, this is a high-tech way to figure out what orthotic or type of shoe would fit best, and could help retailers reduce return rates in the process.