Apple's March 2022 event was an action-packed one that saw the launch of several new products, finishes, services, chips, and more. As always, Apple waited until its mega-event to reveal everything it has to offer across it expansive categories, which includes smartphones, tablets, computers, and streaming TV. Here's a rundown of what was announced.
What's New With iPhones?
A New, Affordable Apple iPhone SE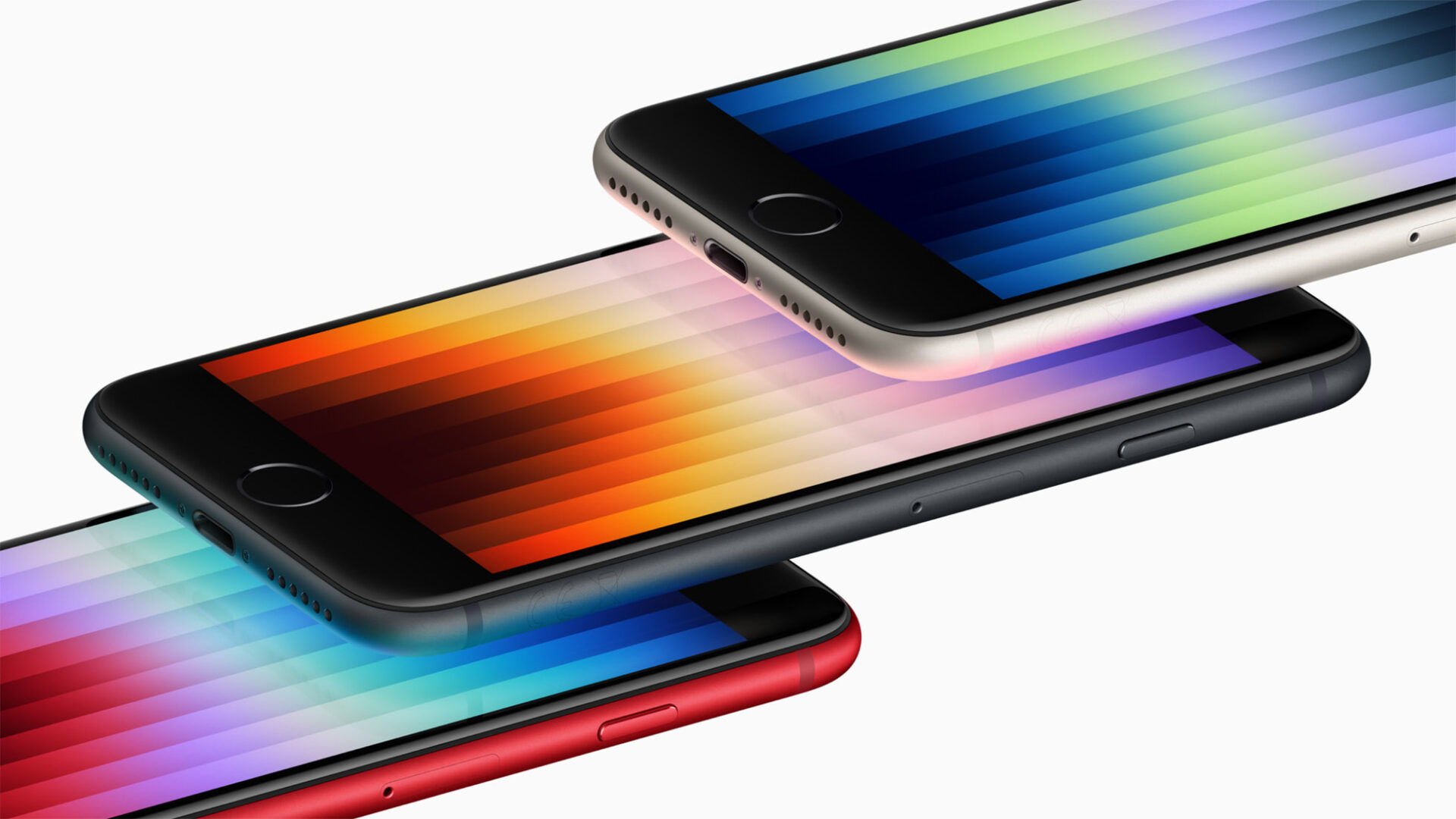 Apple made a couple of announcements in the iPhone space, including a new version of its affordable iPhone model, the iPhone SE. This new iteration boasts an A15 Bionic chip, 5G connectivity, and improved durability, battery life, and camera system with advanced features like Smart HDR, Photographic Styles, and Deep Fusion. Bottom line: the compromise on price won't be so big for those who don't have thousands to fork over in order to join the iPhone space. It will also be an appealing option for parents to get their kids if they want them to stick within the Apple ecosystem. Starting at $579, less when purchased on contract, it won't break the bank.
The phone has a smaller display than iPhone users have become accustomed to at just 4.7 inches, but it's made of aerospace aluminum and glass, making it tough and sleek. It's also water- and dust-resistant with an IP67 rating. Owners will get the usual Home button with Touch ID, and, thanks to the A15 Bionic chip, you'll be able to launch apps quicker, multitask, and more. Battery life is also "longer than previous-generation and older 4.7-inch iPhone models," and the phone works with Qi-certified chargers for wireless charging, with support for fast charging as well. The camera is 12MP wide with plenty of features that were originally found in the iPhone 13, along with intelligent adjustments, including preserving original skin tones.
Complementing the iPhone SE is the new iOS 15, which will announced in late 2021. A notable new feature is called SharePlay on 5G, which allows you to watch HDR movies or TV shows in sync with others while you're on a FaceTime call. There's also a new Portrait mode for FaceTime calls, Live Text to recognize text in a photo so you can take action, improved Apple Maps, and more. iOS 15.4 will be available as a free software update starting next week.
The new iPhone SE will come in 64, 128, and 256 GB versions, and in midnight, starlight, or (PRODUCT)RED starting at $579. It will be available starting Friday, March 18 with pre-orders available starting March 11.
iPhone 13 Goes Green, in More Ways Than One
Alongside the fact that the iPhone 13, introduced last September, is made with the environment in mind, including a variety of recycled materials in both the device and its packaging, the phone is also going green in a different way: exterior finish. It's not the most earth-shattering news from the event, but for those who go gaga for green, they'll appreciate the new alpine green and green colour options, which are available for both the iPhone 13 Pro and iPhone 13. The colours, created using multiple layers of nanometre-scale metallic ceramics applied across the surface, are on pre-order as of Friday, March 11, will be officially available for sale on Friday, March 18. Pricing will be the same at with the iPhone 13 Pro starting at $1,399, iPhone 13 Pro Max starting at $1,549, iPhone 13 (starts at $949), and iPhone 13 Mini (starts at $1,099).
Apple iPad Air Takes Centre Stage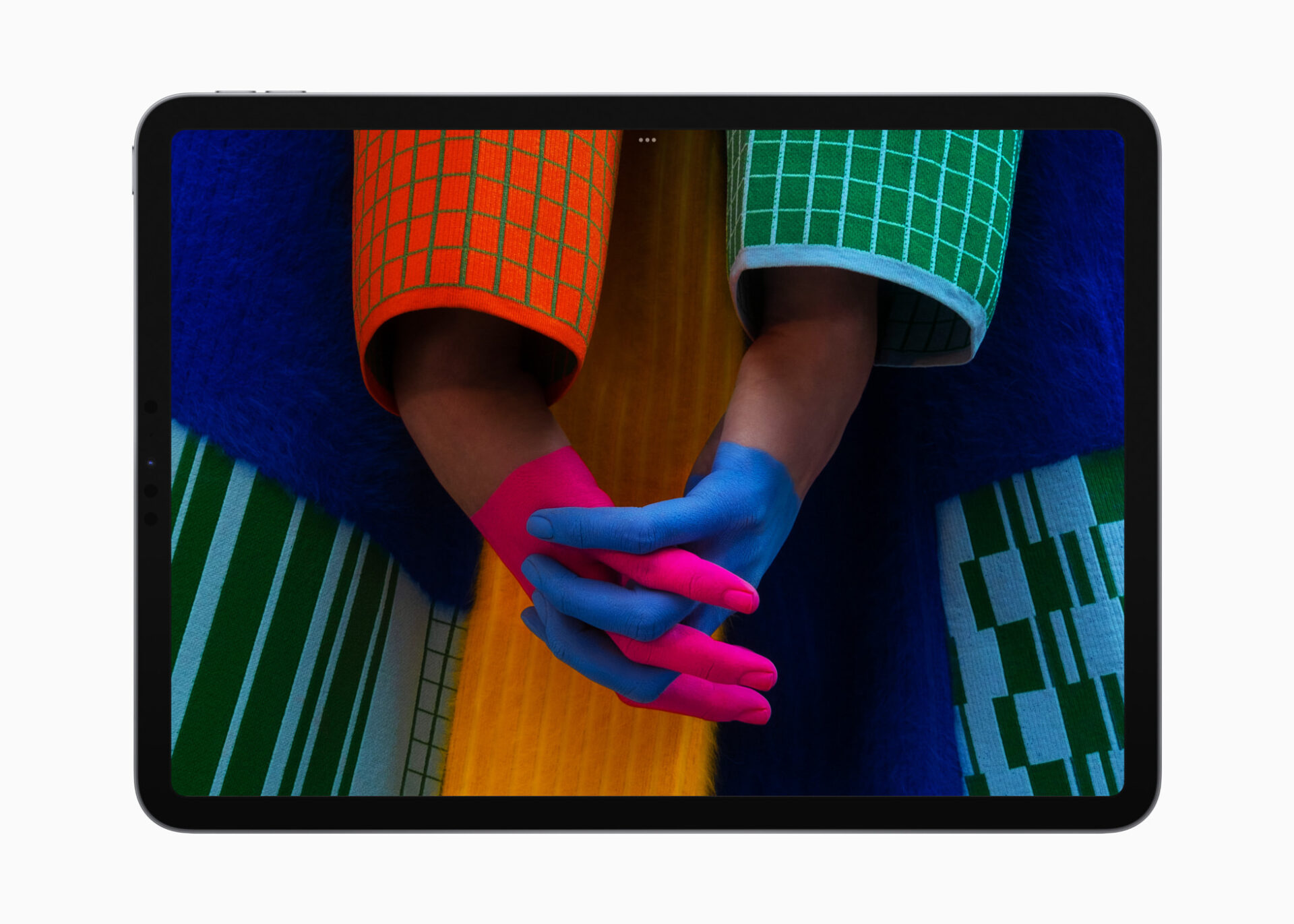 Apple's newest iPad promises to be the company's "most powerful and versatile yet." What makes it so? This is thanks to the new M1 chip, which promises better battery life and faster performance overall, there's ultra-fast 5G, new 12MP ultra-wide front camera with the Center Stage feature, USB-C port with up to two times faster transfer speeds. It offers both eSim and Wi-Fi 6 support, SharePlay, and a 10.9-inch all-screen Liquid Retina Display with 500 nits of brightness, True Tone, and anti-reflective coating, and Touch ID. It also comes equipped with landscape stereo speakers and works with the second-gen Apple Pencil and Magic Keyboard. It comes loaded with iPad OS 15 (available as a free update for iPad 2 and later) that boasts features like intuitive multitasking with split view and slide over, Quick Notes for organizing, and more. Universal Control, part of iPadOS 15.4 and macOS 12.3, will enable you to use a single mouse and keyboard and move between Mac and iPad for a seamless experience, with no setup required. You can even drag and drop content back and forth between devices, great for sketching with Apple Pencil on iPad and placing it into a Keynote slide on the Mac, says Apple. Pricing will start at $749 for the Wi-Fi model, with the Wi-Fi + Cellular version starting at $949. It will come in space grey, starlight, pink, purple, and blue. The Smart Keyboard Folio for the new iPad Air is available for $239 and the Smart Folio is $99 and comes in black, white, electric orange, dark cherry, English lavender, and marine blue. Customers can trade in their current iPad and get credit toward a new one.
Apple's Most Powerful Chip, M1 Ultra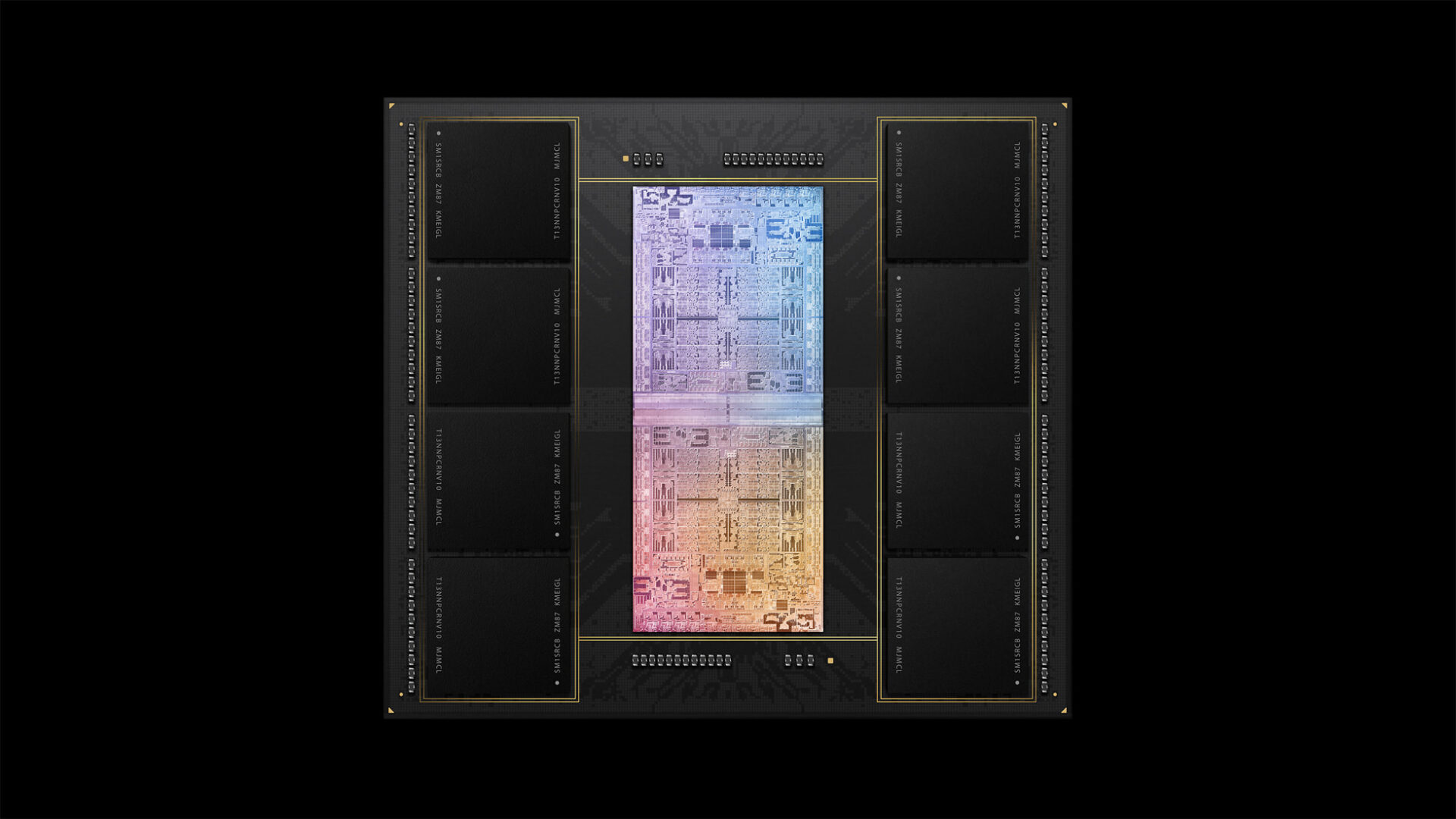 Of course, any time Apple releases a new computer chip, it's dubbed as the "most powerful yet," and such is the case with the new M1 Ultra chip, which works with the new Mac Studio desktop computer. It can be configured with up to 128GB of high-bandwidth, low-latency unified memory that can be accessed by the 20-core CPU, 64-core GPU, and 32-core Neural Engine. To build M1 Ultra, the die of two M1 Max are connected using UltraFusion, Apple's custom-built packaging architecture. It features a powerful 20-core CPU with 16 high-performance cores and four high-efficiency cores, and works efficiently so less energy is consumed and fans run quietly. Memory bandwidth is increased to 800GB/s, more than 10x the latest PC desktop chip, and M1 Ultra can be configured with 128GB of unified memory. Apple says the new Mac Studio with M1 Ultra (more on that below) can play back up to 18 streams of 8K ProRes 422 video.
Apple Mac Studio Makes Full Use of the M1 Chip
Apple's Mac Studio and Studio Display makes full use of the new M1 Max and Ultra chips. Studio Display, which can be used with any Mac but is designed to pair with the Mac Studio, has a 27-inch 5K Retina display, a 12MP Ultra-Wide camera with Center Stage, and a high-fidelity six-speaker sound system with spatial audio.
Meanwhile, every element inside Mac Studio was designed to optimize the performance of M1 Max and M1 Ultra. Built from a single aluminum extrusion with a square footprint of just 7.7 inches and a height of only 3.7 inches, Mac Studio takes up very little space, says Apple, and fits under most displays. Mac Studio also features a thermal design with a unique system of double-sided blowers, precisely placed airflow channels, and over 4,000 perforations on the back and bottom of the enclosure guide air through the internal components and help cool the high-performance chips. Because of the efficiency of Apple silicon, Mac Studio remains quiet, even under the heaviest workloads. Mac Studio Powered by M1 Max enables up to 2.5x faster CPU performance than the fastest 27-inch iMac with 10-core processor, up to 50 percent faster CPU performance than Mac Pro with a 16-core Xeon processor, up to 3.4x faster graphics performance than the 27-inch iMac, and over 3x faster than Mac Pro with its most popular graphics card, up to 7.5x faster than the 27-inch iMac, and up to 3.7x faster than 16-core Mac Pro when transcoding video.
Mac Studio Powered by M1 Ultra enables up to 3.8x faster CPU performance than the fastest 27-inch iMac with 10-core processor, up to 90 percent faster CPU performance than Mac Pro with 16-core Xeon processor, up to 60 percent faster CPU performance than 28-core Mac Pro, up to 4.5x faster graphics performance than the 27-inch iMac, and up to 80 percent faster than the fastest Mac graphics card available today, up to 12x faster than the 27-inch iMac, and up to 5.6x faster than 28-core Mac Pro when transcoding video.
On the back, Mac Studio includes four Thunderbolt 4 ports to connect displays and high-performance devices, a 10Gb Ethernet port, two USB-A ports, an HDMI port, and a pro audio jack for high-impedance headphones or external amplified speakers. Wi-Fi 6 and Bluetooth 5.0 are built in as well. There are also two USB-C ports on the front, which on M1 Max supports 10Gb/s USB 3, and on M1 Ultra supports 40Gb/s Thunderbolt 4. There is also an SD card slot on the front to easily import photos and video. And Mac Studio provides extensive display support — up to four Pro Display XDRs, plus a 4K TV — driving nearly 90 million pixels.
The new Mac Studio starts at $2499 and $2249 (CAD) for education and the Studio Display is $1999 and $1869 for education. Additional technical specifications, including nano-texture glass and a choice of stand options, are available at apple.com/ca/store.
Apple TV Offers Exclusive Access to MLB Pre- and Post-Game Shows
Through a new partnership with Major League Baseball (MLB), Apple will be offering a new show called Friday Night Baseball through Apple TV+. The content will stream each week and consists of live pre- and post-game shows and will commence as soon as the regular season begins. Fans in the U.S. will also be able to enjoy MLB Big Inning, a live show featuring highlights and look-ins airing every weeknight during the regular season. Baseball fans in the U.S. and Canada will also have access to a new 24/7 livestream with MLB game replays, news and analysis, highlights, classic games, and more, as well as on-demand programming, including highlights and MLB-themed original content.
Fans will be able to watch marquee games on Friday nights, free from local broadcast restrictions, across devices where Apple TV+ can be found, including on the Apple TV app on iPhone, iPad, Mac, Apple TV 4K and HD, and on tv.apple.com/ca, along with select smart TVs, gaming consoles, and cable set-top boxes. Friday Night Baseball will be available on Apple TV+ and, for a limited time, without the need for a subscription.