Skyworth is present at CES 2022 to showcase its new flagship TV line-up, and announcing a complete Google TVs that will be available in Canada and the U.S. later this year.
Among the new models is the Skyworth W82, the "world's first" mass-produced transformable OLED TV, and the Skyworth S82, a new 4K OLED TV that focuses on colour accuracy.
The Skyworth W82 is a 65" 4K 120Hz OLED TV with a screen that can be adjusted from flat to curved with a click of the remote. Meanwhile, the S82 is a 4K 120Hz OLED TV that boasts industry-leading colour accuracy of ΔE0.86. Both are supported by Dolby Vision, HDR10, Skyworth AI Picture Quality Engine, and Skyworth Audio Drum.
Skyworth has also developed a pair of OLED Basic Module (OBM) Technologies – OBM Transform and OBM Slim – and brought its 4K OLED TV series (XC9300 and XC9000 Series) to the U.S. market for the first time.
Looking ahead to 2022, the company plans to bring more products to market globally and promises an enhanced commitment to the North American market through the addition of more distributors, a strengthened supply chain, and a new strategic partnership with Google. Through this partnership, Skyworth will introduce a slate of Google TVs to Canada and the U.S. targeting summer 2022 for launch. The TVs will afford access to movies, shows, live TV, and more from across apps and subscriptions, organizing them in a neat dashboard. Owners will be able to discover new content with recommendations based on what they watch and their interests. Everyone in the family can enjoy a personalized entertainment experience with profiles for each member of the household, including dedicated kids' profiles. Users can ask Google to find movies and shows, answer questions, control smart home devices, and more, with their voices.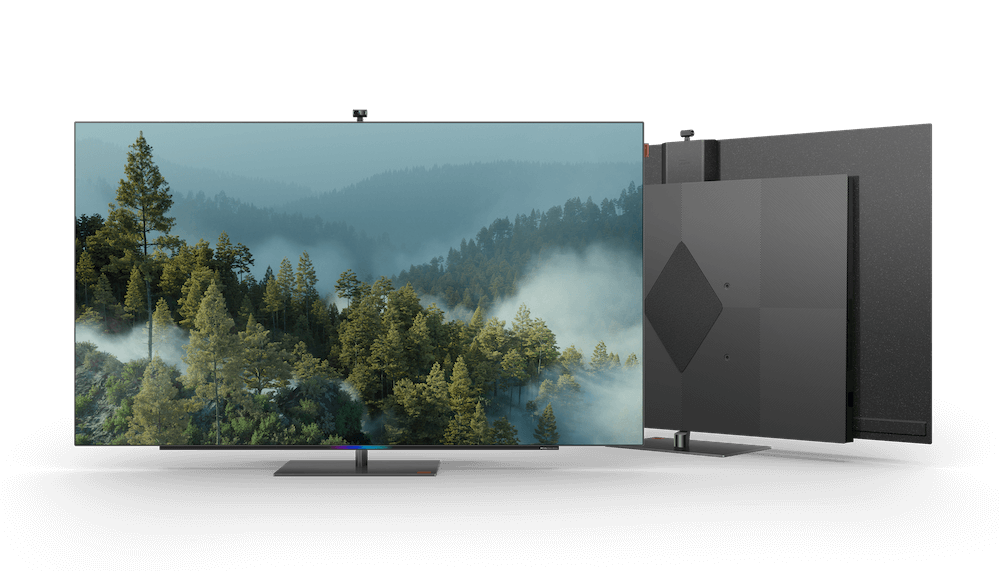 The Smart Google TV feature from Skyworth planned for the North America market in 2022 will consist of five new series and 11 different models. At the top is the 4K UHD Mini-LED QLED UD8500 Series offered in 65" and 75" screen sizes that will feature a sleek bezel-less design, 120Hz Refresh Rate, Dolby IQ, HDR10 & HLG HDR, Dolby Atmos, and an ATSC 3.0 Tuner. The UD8000 Series is a 4K QLED UHD TV offered in bezel-less 65" and 75" screen sizes, a 60Hz refresh rate panel, HDR10 and HLG HDR, and Dolby Audio. The 4K UHD UD7500 Series, with 86" super screen size, will feature a premium designed metal cabinet and a higher performance 120Hz refresh rate panel. The upgraded 4K UHD UD7200G Series, "G" for Google TV, is offered in 50", 55", 65" and 75" screen sizes, and has a bezel-less design with a 60Hz refresh rate panel. The entry-level TD7300 Series designed for smaller viewing spaces is offered in 32" and 40" screen sizes.
Skyworth says in Canada and the U.S., it has achieved record-breaking sales revenue. For Canada in 2021, this included added 82 London Drugs retail locations servicing 35 major markets throughout British Columbia, Alberta, Saskatchewan, and Manitoba. Expansion in the tertiary markets, meanwhile, was driven by O'Rourke Sales Company, Skyworth's national distributor. New business in Canada and the U.S., according to the company, accounted for more than 30% of the total business.
In support of a planned expansion strategy, Skyworth will move its manufacturing for the North America market to Mexico from China in 2022, which the company says will significantly reduce delivery times to distributors and consumers and diversify the supply chain to safeguard it against external shocks.
Those attending CES in person can check out the Skyworth W82 and S82 as well as other products in the new line at the Westgate Las Vegas Resort & Casino as well as in booth #52952, Halls A-C at the Venetian Expo.