Samsung Electronics shared its vision for the future at the 2021 all digital Consumer Electronics Show in a recorded press conference. While the emphasis on past Samsung press conferences puts product offering front and centre, and of course Samsung never disappoints in new product offering, yesterday's event however placed equal weight to Samsung's commitment to the environment, the company as a global citizen and how the Samsung has become a partner in easing the isolation and disruption of life during Covid-19.
"Our world looks different, and many of you have been faced with a new reality; one where, among other things, your home has taken on a greater significance," said Sebastian Seung, President and Head of Samsung Research, the advanced R&D hub of the company that leads the development of future technologies for Samsung Electronics' SET (end-products), addressing the company's efforts to enhance the at-home technology experience. "Our innovation is designed to provide more personal and more intuitive experiences that express your personality. We're hard at work to bring you next-generation innovation, with AI as the core enabler, for your better tomorrow."
As people spent more time at home last year, the tech they wanted became the tech they needed" added Seung. In relying on that tech, people came to understand the many ways connected solutions could make life easier. TVs came to be vital for entertainment, laptops became crucial home learning tools and smartphones became indispensable for communication and information.
New products were certainly announced such as the Bespoke refrigerator, available in Canada later this year, that features a flat-panel design that comes in a column format in two different sizes, allowing for modular configurations that can grow to fit each household's unique needs. A large family may have four modular together while a single person may only need one. The Bespoke is already in other markets and offers multiple colour options that you can mix and match. The Bespoke carries a Samsung theme first seen with the Frame Television where the product is as much art as it is fridge.
Samsung's appliance division also announced a featured called SmartThings Cooking: A new service from Samsung designed to make your culinary journey seamless. An automatic Meal Planner powered by Whisk's Food AI, recommends meals for the whole week, makes shopping lists with the ingredients you need. Recipe instructions can be sent directly to synced Samsung cooking devices to minimize hassles and mistakes
From the home entertainment division, Samsung unveiled a 110-inch MICRO LED: This new screen features self-lit inorganic LED with a slim and nearly bezel-less screen design. The thinking is the smaller the LEDs, the greater ability to control light adjustment on the panel allowing for a more detailed picture.
Samsung also expanded their "lifestyle TV series" including The Serif, The Frame, The Sero to now include The Terrace—a recently launched 4K QLED outdoor TV.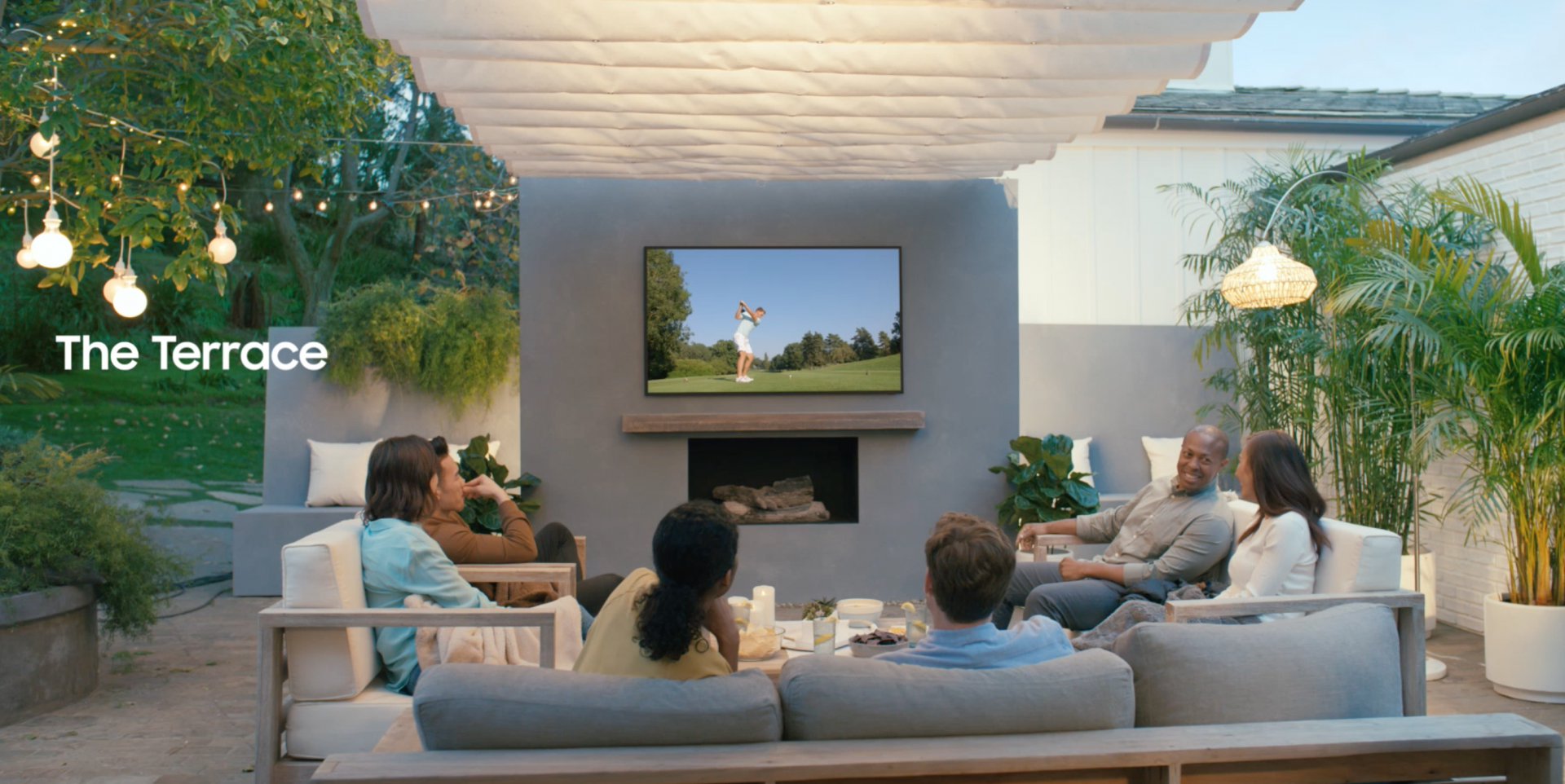 Samsung 2021 TVs feature Samsung Health and Smart Trainer, where the TV becomes your personal gym and trainer. Through cameras, the TV can track and analyze posture in real time as you follow along to the moves of the digitasl trainer on-screen. During and post-workout, Smart Trainer provides feedback on form, helps count your reps, and estimates calories burned. With video and interactive training via Bixby-enabled voice control, Samsung sees Health Smart Trainer as a tool to elevate and personalize the home workout experience, ideal for our stay at home environment.
It would not be a CES without the launch of at least one robot and Samsung used the press conference to introduce Samsung Bot Care and Samsung Bot Handy. "Care" is designed use AI to recognize and respond to your behaviour. It will be able to act as both a robotic assistant and companion, helping to take care of the details in your life. It will also learn your schedule and habits and send you reminders to help guide you throughout your busy day.
"Handy" will rely on advanced AI to recognize and pickup objects of varying sizes, shapes and weights, becoming an extension of you and helping you with work around the house. Samsung Bot Handy will be able to tell the difference between the material composition of various objects, utilizing the appropriate amount of force to grab and move around household items and objects, working as your trusted partner to help with house chores like cleaning up messy rooms or sorting out the dishes after a meal. During the press conference "Handy" could be seen doing the dishes and pouring a glass of wine. Handy indeed!
While the products are certainly impressive, Samsung closed its CES 2021 press conference by sharing more on the brand's vision for how technology can enable progress and create a better tomorrow for all. Samsung believes that there is no single all-encompassing solution; a sustainable future requires investments across a broad spectrum. Samsung is focused on three key areas that are poised to benefit the most from technological innovation: sustainability, education, and accessibility.
"At Samsung, we are always looking for ways to build a better, more sustainable future," said Sandeep Rana, Senior Manager, Environmental Sustainability Specialist at Samsung, who shared Samsung's sustainability message at the press conference. "With a focus on the environment, people and society, we will continue to provide our consumers with responsible tools and technologies to address our challenges today and enable a better future for all."
As part of its commitment to creating a "circular economy", Samsung is developing programs and packaging that promote a sustainable product lifecycle from beginning to end. At the CES event, Samsung announced an update to its Galaxy Upcycling program called Galaxy Upcycling at Home. The new program reimagines the lifecycle of an older Galaxy phone and offers consumers options on how they might be able to repurpose their device to create a variety of convenient IoT tools such as a baby monitor.
Samsung also announced that its eco-packaging would expand to QLED, UHD TV, monitor, and audio products in 2021 and as an almost afterthought, but could be one of the biggest stories of CES, Samsung announced a new Solar Cell Remote Control made in part with recycled plastic, that can be charged via solar, indoor lighting or USB, reducing battery waste and eliminating the need for disposable AA batteries. Approximately three billion AA batteries are sold each year in the United States.
Believing that future generations will play a critical role in building a sustainable future, Samsung has also prioritized technology education through Samsung Solve for Tomorrow,which encourages young people to creatively use technology to solve community challenges.
Samsung also highlighted at the CES event how it is making its products even more inclusive and accessible for all. The SeeColours application is designed to help those with colour vision deficiencies (CVD) to adjust the settings on their 2021 QLED TVs for a better viewing experience, and the Sign Language Zoom feature on TVs ensures that everyone, regardless of ability, can easily enjoy cutting-edge technology.
Lastly, understanding how challenging it can be to strike a balance between our digital and analog lives, Samsung presented the Digital Wellbeing feature,designed to help people take control and manage their digital time—so they can use technology to better their lives and empower themselves.
A kinder and more inclusive future may be the key takeaway driving consumer technology companies through 2021.