Last night I went to my first live concert in a COVID world. The last time I was at a concert, I flew to San Francisco to see Dead & Company perform in front of 20,000 fans for their New Year's Eve show. So technically, it was still 2019. Last night, I saw the Jim Cuddy Trio perform at Redstone Winery in Ontario's Niagara region, to an audience of 100.
No, this was not some special event put on by well-heeled corporate sponsors (oh, how I miss those days!) No, if you were willing to shell out $1,200 for a table of four, anyone could attend. The last time I saw Jim Cuddy, he was fronting his main gig with his band Blue Rodeo and the tickets were something like $60. It was probably at the Horseshoe Tavern or maybe it was Massey Hall. In any event, it was $60 and not $1,200 for a table of four!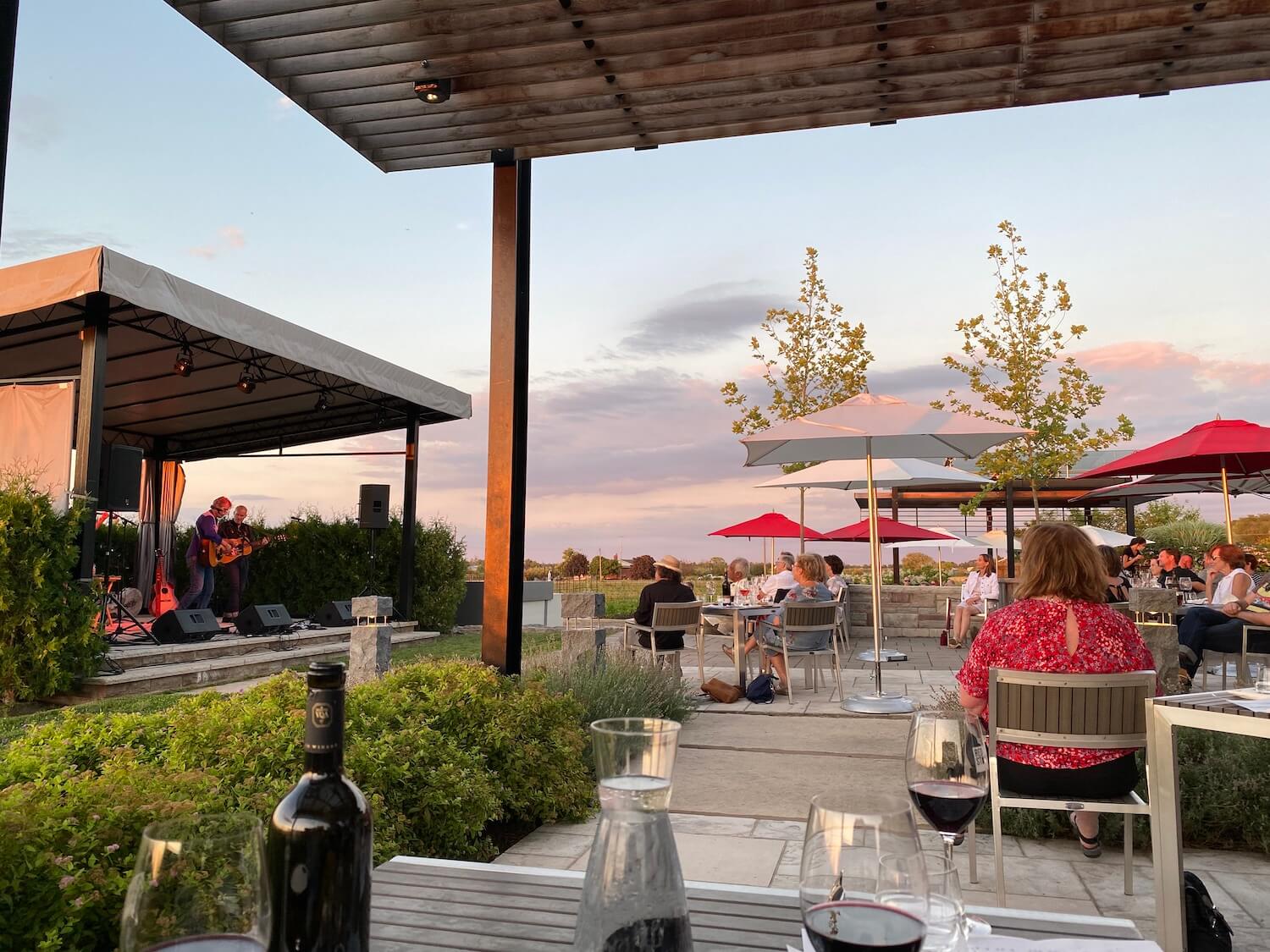 We arrived at Redstone Winery at 5:45 p.m., which was the time we were instructed to arrive to ensure a staggered social distancing entry (The band took the stage at 7:30 p.m.) We were greeted by the host who asked a series of health and travel related questions to determine if we had been out of the country in the last 14 days or feeling ill in any way. We had not. The next piece of business was that our temperatures were taken. Once we had passed that test, we were instructed that any bathroom visits required the wearing of a mask and outside of the bathroom, we were not allowed to leave our table for any reason. There would be no rushing the stage and no dancing. The tables and stage were both outdoors, set among the vines.
In total, there were 25 tables of four, all evenly distanced around the stage. Included in the price of our ticket was a three-course dinner and two bottles of wine per table. Your menu choice was selected online a week before the concert to further minimize any contact with servers and staff. We started the evening with a Tawse Rosé that came chilled in a bucket of ice. The pouring of the wine was up to the table and not tasked by the server.
Redstone Winery is the sister property to Tawse Winery which is located across the street from Redstone. Redstone has a magnificent contemporary building that houses a full-service restaurant and tasting bar. It's a hidden gem and a great outing inside an hour travel, from most places in the Greater Toronto Area.
When I mentioned that Jim Cuddy was putting on a show to my wife Cathy, her immediate response was "we should go." "But tickets are $300 and we need to buy the whole table," I protested. Undeterred, Cathy reminded me that we have spent money only on booze and groceries since March and even at $1,200, if that's the extent of our "summer travel/entertainment budget," it would be the cheapest summer that we have ever had in three decades. Cathy loves to finish most sentences when she wants to get her way with the knockout punch, "besides, we only live once."
So that's how we came to a Jim Cuddy show among the vines down in Ontario wine country. Our dear friends the Patels joined us, so it ended up being $600 per couple.
Was it worth it? YES! But I am left with an uneasy feeling that the social and economic divide in a COVID-19 world is just going to get wider with travel and concerts going way up in price. COVID is a great time to be rich. The Wall Street Journal reported on one family, on their 100-acre ocean-front farm in the Hamptons, hiring the camp councillors (at full salary) from their kid's summer camp to look after their four kids in a make-shift-on-property camp when they learned the real camp would not open this season. Full salary to look after four kids when the camp would normally house 500! There are other examples of families booking out every room of a boutique hotel to ensure safety and social distancing, and private air charter companies like Netjets have never been busier. If you can afford it, you pretty much can have any place to yourself.
Our table last night was 20 feet from the stage, and the food was excellent, as was our company. The sun set over the vines while Jim Cuddy played a greatest hit set. What's not to like about that? There was an exclusivity to the night sipping rosé, eating organic trout, and taking in a million-dollar view of the grapes. It was a great night if not a little embarrassing for that exclusivity (mind you, with time, I could get used to that).
My guess is that such bespoke experiences are how we will see live shows for the foreseeable future. And if you can afford it, what an experience it is! But elbowing my way to the bar to grab a beer in a crowded, sweaty, dark concert hall where talking to strangers is par for the night is a pretty good experience, too. Right now, I'm just glad to see a live show in any form it arrives.