By David Susilo
This review originally appeared in the December/January 2020 issue of WiFi HiFi Magazine.
As I was browsing online for another fully automatic turntable and speakers to replace the ones in my bedroom, I came across the MSRP $1,499 German-made Thorens TD240-2. Meanwhile, the Totem KIN Play speakers ($1,250), which were first shown at CEDIA 2018 in early September, also sounded intriguing. The combination of the two? I was eager to try it out.
Thorens TD240-2 Turntable
Thorens was founded in 1883 by Hermann Thorens in Sainte-Croix, Switzerland, manufacturing audio equipment like musical boxes and clock movements, as well as harmonicas and cigarette lighters. The company produced its first phonograph in 1903, and since then, has become known for its range of turntables. In 1928, Thorens made the first electric (i.e. motor-driven) record player and has been creating high-end record players for audiophiles since the '50s. In the '60s, the company briefly moved to Lahr in Germany, but returned to Switzerland when Heinz Rohrer became CEO. Earlier last year, Thorens returned once again to Germany, as Gunter Kuerten, former CEO of ELAC and Denon, founded the new Thorens GmbH in Bergisch Gladbach.
Needless to say, I was excited to try out one of the latest turntables from this brand that has such a long and influential history in the audio space.
The moment I opened the box of this belt-driven turntable, I did a double take. For an automatic turntable, it's very well made and solid in terms of build. It reminds me of Dual turntables, which are regarded in their class. But it weighs about 2.2 lbs. more than the Dual 455. This, to me, was a good sign right off the bat.
This 3-speed turntable (yes, 78rpm is available too) comes with a TP 19-1 tonearm that presents a very thin arm tube, with a badged Audio Technica AT95E cartridge. The tonearm structure includes a damped arm lift, anti-skate wheel and, on the tonearm base, start/stop selector and a selector for the automatic function for either 12" LPs or 7" singles, which are printed as 17cm and 30cm; likely due to the European heritage.
The aluminum platter is thin but fitted under the rim is a thick piece of rubber. There is some ringing if the platter is struck, but the rubber hosing keeps this effect to a minimum. The platter fits on the spindle and is fixed by two pins that pinch and secure it. The platter sits on a plastic sub-platter that holds the flat belt, connected to a pulley that also hides under the platter. Under that is the plinth, which is beautifully made from solid wood. The motor is fitted within.
Around the back is the power connection point for the wall-wart power block. I'd prefer a lump-in-the-middle power block, as I find it takes up too much space on the power bar. Trailing from the rear are the phono cables plus earth wire, a necessity as noise was heard without it. A hinged lid is supplied, but I removed it for the length of the test simply to eliminate the possibility of lid vibrations affecting the sound. Otherwise, I like the lid for helping keep dust away.
At $1,500, budding audio enthusiasts might appreciate it as a viable upgrade option with the benefit of being fully automatic. Usually, the higher up the food chain you go, the more manual a turntable becomes. But Thorens offers a nice exception for those who are serious about getting into (or back into) vinyl but aren't willing to buy into a $3,000 turntable.
The fully automatic nature makes it a great option for aging audiophiles, as well, or for those who have compromises with hand co-ordination, but still want to experience great sound from a turntable.
Totem KIN Play Powered Bookshelf Speakers
Now, it was time to replace the speakers. As a well-respected Canadian company, Totem was a no-brainer. Based in Montreal, Totem Acoustic was founded by Vince Bruzzese in the early '80s. Now a well-known face in the Canadian audio industry, Bruzzese was disappointed with the current selection of speakers, so he sought out to create his own. Over the last almost 30 years, Totem has launched a wide selection of speakers ranging from compact monitors to column speakers, in- and on-walls, and subwoofers, and has become a revered brand in more than 35 countries around the world, including its home country of Canada.
The Totem KIN Play bookshelf speakers are Totem's first active powered Bluetooth speakers, responding to the current trend toward wireless audio. They are active master/slave speakers that use Bluetooth aptX connectivity. Each measures 180 x 355 x 235 millimetres. The active loudspeaker weighs 7.2 kilograms and the passive one 5.4 kilograms. Those dimensions make the speakers perfect for a computer or desktop system, condo dwellers (where many Millennials and more young families live nowadays), or, in my case, a bedroom system.
Totem KIN Play is configured with the left 'Master' speaker containing the amplifiers and connections. The right speaker is passive and powered by the master via speaker cable. The connectors are positioned at the top of the back of the speaker, which I found a bit awkward – I prefer having them near the bottom.
Before pairing the KIN Play with the turntable via wired connection, I wanted to explore the Bluetooth capability first. Contrary to what many audiophiles want to believe, Bluetooth connectivity can be a great option for wireless audio transmission. And the KIN Play sports Bluetooth version 4.1 with aptX and aptX HD for up to 16 bits/48 kHz. So when it comes to sound quality, there's no post processing. At $1,250, these speakers are priced pretty well in their category, and come from a home-grown Canadian brand with worldwide prestige, to boot.
I played back tunes from various Apple devices, including my iPhone, as well as from my television. I brought my iPad down to the living room, which is a floor down with a distance of approximately 60 feet from the speakers, and playback was stable. Even taking the iPhone to the front door about 100 feet away, the signal remained stable.
For those like me who require a hardwired connection, you can use the TOSLINK optical (24bit/192 kHz), which I use for the TV sound, and analogue input that has a selector switch to choose between an ordinary line input and phono for MM turntable cartridges. I like this since it's one less item in my bedroom. If desired, you can also add a subwoofer via the Sub output.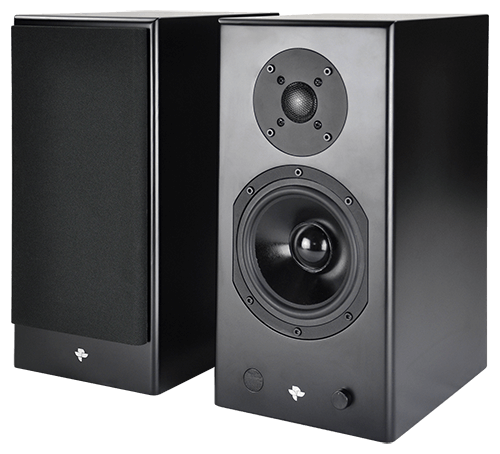 The Totem KIN Play uses a powerful five-inch Customized Natural Hybrid woofer and a one-inch custom-made metal alloy dome tweeter. The specified frequency range is between 39Hz and 20kHz. I measured 50Hz to 20kHz using an AudioControl-calibrated microphone with a sweeptone. This should not be an issue for most listeners, but if you want more bass, you can always add a subwoofer.
The built-in amplifier has a capacity of 2×120 watts. Since this is an active speaker set, I could eliminate my Tripath amp, which was yet another space-saver. I also love that volume can be controlled with the supplied remote.
As noted, the speakers are ideal for condo dwellers or those living in small spaces, or looking for speakers to use in a smaller space. This might include, for example, aging Boomers who might be downsizing, but still want a viable audio system to replace their larger equipment.
The Review
The first thing I did was listen to the Thorens turntable against my reference Technics SL2000 with Ortofon Blue cartridge for sonic accuracy. That model cost $2,000 when I bought it and would be worth about $2,500 today. So it's always my go-to for comparisons.
I began my review process by playing Linda Ronstadt and the Nelson Riddle Orchestra's "What's New" LP (original 1983 pressing) on the Thorens turntable and was fascinated by its sonic response. The sound offered plenty of detail and space, but with a twist tape compression to add fine detail. There was detail on offer here and delivered by a soundstage that was full of space. It benefitted from the inherent instrumental separation, as detail was pushed towards the ear. Even subtle aspects of this mix were opened up to the listener, giving the song a rich and grand demeanour.
It might be a little lively in the mid-range for some ears, though it provides the biggest and meatiest bass I've ever heard in a turntable of a similar class and price point.
The Totem KIN Play, meanwhile, sounded terrific, bringing Totem's signature sound to the "lifestyle" audience. Bass performance was amazing, going down to (measured) around 50Hz at -3dB.
Playing various Tony Bennett, Gloria Estefan, and Frank Sinatra albums, and the aforementioned "What's New" LP, confirmed how the Thorens and Totem combo can successfully dig deep into the mix to lift even subtle and various orchestral effects towards the ear.
Bottom Line
As Totem's first lifestyle active powered Bluetooth speaker, the KIN Play finally makes wireless playback an option for the brand. But it's not the only option. The KIN Play's phono preamp feature means it can serve as an ideal companion to a turntable for someone looking for a set-up in a small or downsized listening room, secondary listening area, or in a condo, on a desktop, or as a bedroom listening system like mine.
At sub-$3,000 for both, they would be a nice option to suit an audiophile dealing with space constraints. You might have massive tower speakers, for example, but are now moving to a small condo, or a smaller home with a smaller listening room. It might also meet the needs of Millennials who aren't quite ready to delve into larger speakers and turntables that run upwards of $3,000 on their own, but want to experience improved sound.
The Thorens turntable is a very capable player, and the Totem KIN Play is mighty, with the added advantage of Bluetooth capability with aptX and aptX HD support for those who prefer a wireless listening experience from a compatible source device, but don't want to compromise on sound.
The Thorens TD 240-2 and Totem Kin Play are both easy to use, and well built, offering a strong sonic signature that will please many audio fans, myself included.