It's that time of year again! We're back with the WiFi HiFi Holiday Gift Guides! Not sure what to get that special someone on your list? It has been a particularly tough year, and we all deserve some joy. There are lots of tech gift to suit an enduring passion, new hobby, personality, or style. Here, we'll look at great gift ideas for someone who is conscious about the environment and want to ensure that the products they own are eco-friendly.
Acer Aspire Vero Laptop
The Acer Aspire Vero laptop is made from recycled materials and employs an "eco-iconic look" in green. It is made using 30% post-consumer recycled plastic in the chassis, which the company says helps save about 21% in CO2 emissions. Meanwhile, the keycaps are made from 50% post-consumer recycled material, which helps reduce pollution from the production of virgin plastic and landfill trash. In addition, there is no paint on the surface of the chassis. The laptop has an 15.6-inch Full HD display and comes with up to Intel Core i7-119G7 processing, Intel Iris Xe Graphics, 16MB DDR4 memory, and 512GB NVMe SSD. Pricing starts at $700.
Microsoft Ocean Plastic Mouse
Available for $35, this computer mouse has a shell that is made from 20% recycled ocean plastics, helping to remove plastic waste from oceans and waterways. For someone who is conscious about the environment, they'll appreciate this accessory they can use at the office or their desk at home.
Epson EcoTank Photo ET-8550 Supertank Printer
Since switching to an Epson EcoTank printer several years ago, I would never go back. It doesn't just save tons of time in reducing trips to the store to get ink, not to mention money, but this also makes it more eco-friendly. You pay more at the outset at $1,000, but you still end up saving over time, eliminating the price of new ink cartridges every month or two. Each printer comes with a two-year supply of ink that pours into reservoirs. As a photo printer with six colour inks, you can print bright and bold photos up to 13 x 19 inches to display in the home. As a standard printer, it can also make prints, copies, and scans. With Energy Star qualification, eco-conscious users will feel good about this purchase, which itself as also a recyclable product.
House of Marley Rebel True Wireless Earbuds
When you're thinking of a socially conscious gift for someone, you can't go wrong with just about anything from the House of Marley line. One of the newest additions are the Rebel true wireless earbuds, which will bring them into the 21st Century trend of completely wire-free listening on the go. Designed as a special collaboration with musician Skip Marley, grandson of the legendary Bob Marley, they are, like all House of Marley products, made from renewable materials, including bamboo and natural wood fibre composite along with recycled plastics. Running for up to eight hours per charge, a total of 30 hours with the included charging case, they are IPX5 rated for water, sweat, and weather resistance to handle everything from rugged environments to tough workouts. With auto play/pause functionality, simply remove an earbud from your ear and your music conveniently pauses. Place the earbud back in the ear, and your music resumes for seamless listening. Engineered to allow optimal microphone positioning, Rebel provides echo noise cancellation to remove background noise and improve call quality. Regularly $180, they have gone on sale in the past for as little as $120. Grab a pair in black or cream.
LG XBOOM 360 Speaker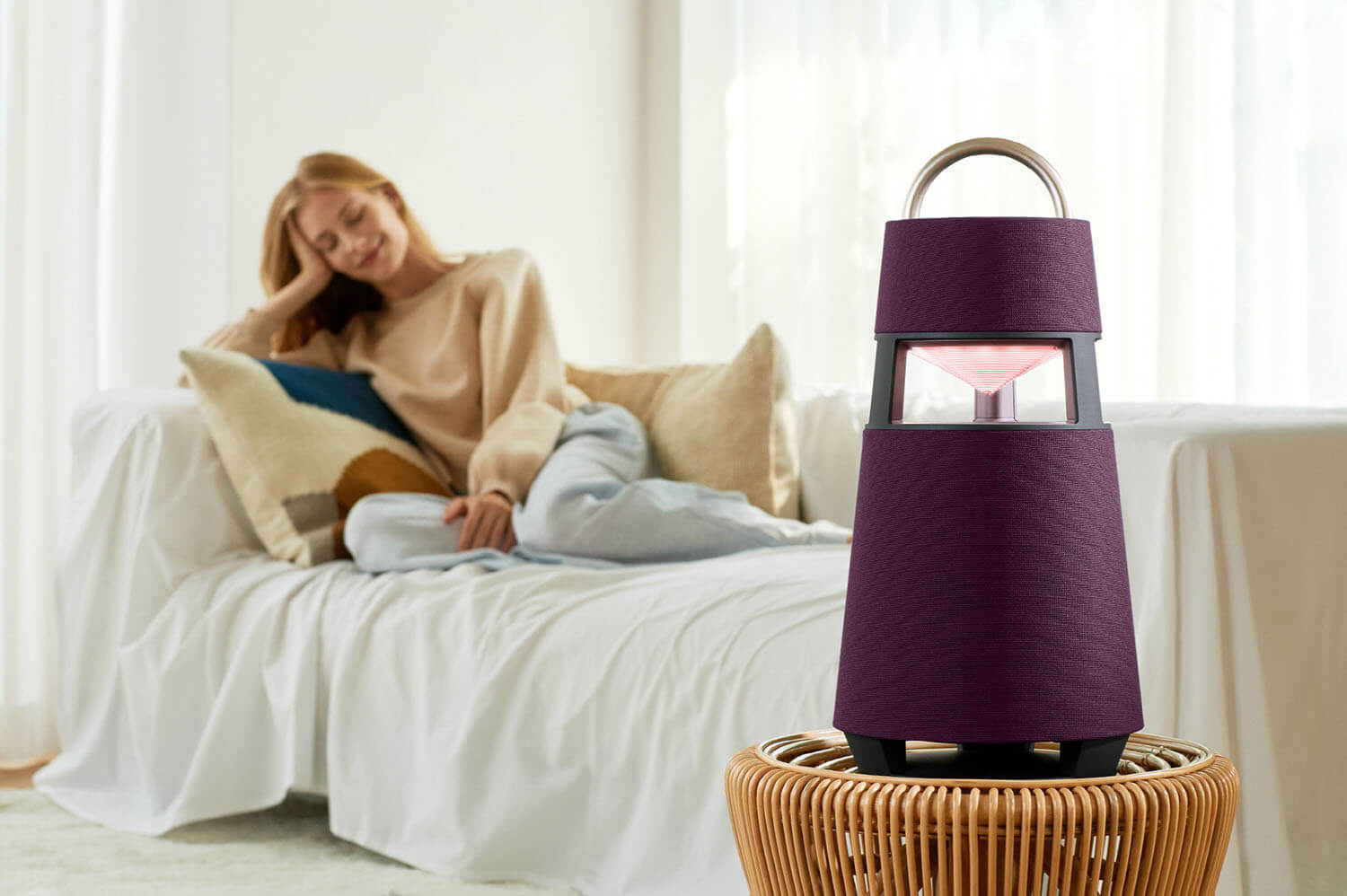 Fabricated partially from recycled plastic and other post-consumer materials, this eco-conscious speaker has received Eco-Product certification from SGS Société Générale de Surveillance SA of Switzerland, Environmental Claim Validation from Underwriters Laboratories and Global Recycled Standard recognition from Control Union Certifications. The cylindrical design provides omnidirectional audio while also showcasing a unique and eye-catching design. In addition to audio, it also provides 360-degree mood lighting via three presents (ambient, nature, and party) along with customizable lighting and sound effects, all controlled from the app. It can play for up to 10 hours per charge, has a built-in handle making it easy to move around or bring with you, and comes finished in durable burgundy fabric.
LastObject LastTissue
Help save the planet by getting a special guy or gal on your list this "modern take on the handkerchief." Each package includes a 100% silicone carrying case that holds six reusable tissues, each made from 100% organic cotton. Blow your nose as usual when the need strikes, then put the dirty tissue back into the top of the compartment. It's sanitary thanks to the barrier between the clean and used tissues. Once back home, machine wash the tissues in the included laundry bag and wash the food-grade silicone case in the dishwasher. Each tissue can be washed up to 520 times.
According to the company, each pack eliminates 3,100 single-use tissues – and their plastic packaging – from the environment. Sure, this might not be a set of tissues you want to share with someone else. But for personal use whenever you have a quick sneeze, runny nose, or even need to wipe your eyes, make-up from your face, or your sweaty forehead, these are a great alternative to wasting yet another full-sized disposable tissue. Grab a pack for $32 in a silicone case in one of six colour options.
Nebia by Moen Spa Shower
One of the way we use resources in excess is water in the shower, and this high-tech showerhead can help you reduce water usage without resulting in a subpar shower experience. It uses atomization to break water up into tiny droplets and a patented spray technology that Moen says creates the sensation of more water when you are actually using 45% less than you would get with an average showerhead. A normal showerhead would deliver 9.46 L/min. of water while the Nebia delivers 5.1L/min. with the Rainshower alone. This might not be a big deal for one-time use, but when adding it up a shower every day, including from multiple people in one family, the savings can be huge. It has an adjustable slider so each member of the family can adjust the showerhead for their height, water warmth, and body coverage preference. The showerhead even swivels for more personalization. It works with an optional handshower with a magnetic dock that can be installed at the preferred higher. Use the on/off switch to choose between rainshower and handshower.
Google Nest Thermostat
A smart thermostat is a great investment to help you not only expand a smart home but also cut energy usage and bills. And a learning one like this one learns your habits over time and adjusts to accommodate so the house is being heated or air conditioned to the max while you're at work during the day, the temperature drops a few degrees at night, or conversely, warms up or cools down before you get home. If you forget to manually turn down the heat before heading to the airport on vacation, you can control it remotely using a smartphone app. Set schedules with customized temperatures for different times and days and use the handy Savings Finder to learn how to optimize and save energy. It's simple to install and works in most homes. Along with the smartphone app, it can also be controlled by voice using Google Assistant. Get it in snow, charcoal, sand, or fog and splurge for the optional Trim Kit as well. Eco-conscious folks will love that the thermostat itself is made with recycled materials, with the plastic parts containing 49% recycled post-consumer plastic, and the Trim Kit made from 75% recycled post-consumer plastic. $180, $20 for the Trim Kit.