If you're looking for a cool gift for parents (yours or someone else's!), there are many tech items that parents of all ages will enjoy. Whether they use them together or for solo time, each of the gifts on this list will please any mom, dad, or parental figures in your life.
JBL Charge 5 Portable Bluetooth Speaker
The JBL Charge 5 is a portable Bluetooth speaker that packs a big audible punch. Perfect for listening to tunes while gardening out front, lounging by the pool, in the home office, or anywhere the desire strikes, it comes in cool colours, too. Connect up to two smartphones at the same time so two parents can take turns with their playlists or favourite tunes. Two of these speakers can also pair together for stereo sound, so consider getting the parental units a pair to use in one space, or for each to take their own for personal listening time. Offering up to 20 hours of play time per charge and favourable audio through JBL Original Pro Sound, a long excursion driver, and separate tweeter and bass radiators, it's even water- and dust-proof. Did we mention this speaker also has a built-in power bank to charge devices as needed? $240 ea.
Netflix Subscription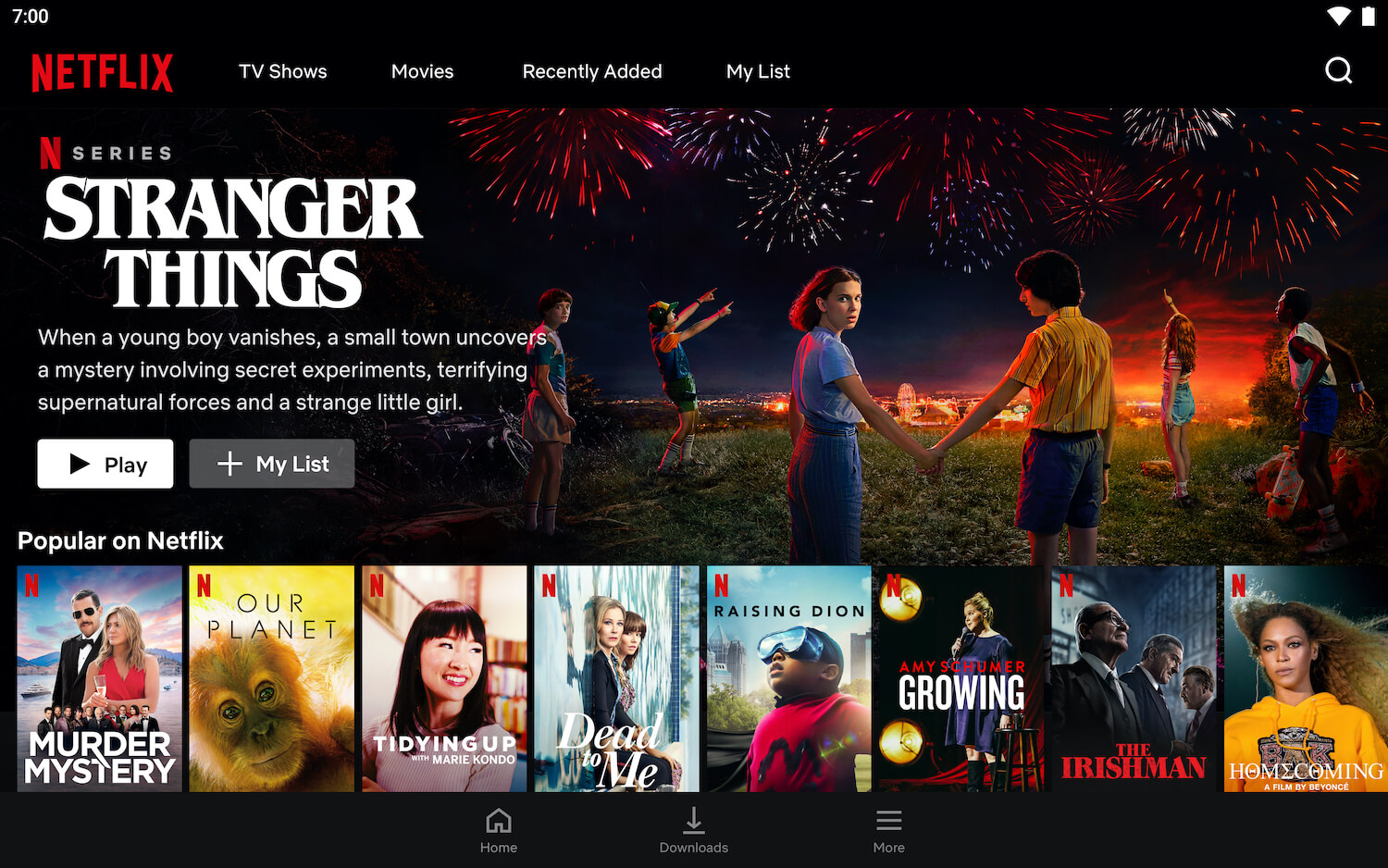 Surprise the parents with a Netflix subscription of their very own so they can stop piggybacking on yours. You'll benefit from this gift, too, since you'll no longer have to deal with late-night phone calls asking what you changed your password to. Netflix will be cracking down on password sharing, anyway, and this way, the parents can set up their own profiles and stop peeking at what you have been binging. There are tons of shows and movies to choose from, with a starting price of $9.99/mo. for the Basic subscription: don't bother with the Basic with ads tier or you'll end up receiving angry phone calls that they can't get the show they wanted to watch. With the standard subscription, two parents can watch something at the same time on two difference devices. It'll run $16.49/mo. or under $200 for the year. If they love it, continue to renew as their annual gift, which means you won't have to decide what to get from one year to the next.
iRobot Roomba Combo j7+ Robot Vacuum and Mop
What's better than a robot vacuum? A robot vacuum that can also wet mop. That's the case with the iRobot Roomba j7+ Combo, which uses advanced sensors to detect different floor types: if it's mopping and detects carpeting or rugs, the retractable mop arm will lift the wet pad to the top of the machine in the same manner as a retractable roof works on a convertible car. Once it's back on hardwood flooring or tiles, the mop will come back down. It has all the features you've come to expect in the latest Roombas, including PrecisionVision Navigation for common object recognition (everything from socks to cords, cables to pet poop), Alexa integration, and the Clean Base Automatic Dirt Disposal set-up. With the latest iRobot OS, it's the perfect machine for busy parents who could use some help with daily household maintenance and cleaning, especially pet owners. If they already have a Roomba or other robot vacuum, the j7+ Combo still a worthwhile upgrade since it does double duty in one. They can move the old robot vacuum to a different floor or leave it up at the cottage, and relegate the old mop and bucket to the garage. $1,399
Dyson V12 Detect Slim Absolute Cordless Stick Vacuum
I know, a vacuum sounds like a weird gift. But these days, gifting one to someone isn't implying that you think they need to clean more: vacuums can be high-tech gadgets that are pretty darn cool. At the top of the cool factor list are models like the Dyson V12 Detect Slim, which I have been using for the last few months. Not only does it have a longer run time than older models at up to 60 minutes per charge, it also boasts a more hygienic emptying process. There's a button for turning on/off versus a trigger you need to hold down the entire time. But the coolest part is the inclusion of the Laser Slim Fluffy head cleaner, which is more than just a novelty. Turn the lights off and it will illuminate the dirt and debris so you can easily see it, reporting what it picks up on the convenient screen. The Boost mode is fabulous for tougher, bigger messes, though it does impact battery life (about halves it). At about $850, the V12 Detect Slim isn't cheap. But along with the functionality and powerful suction, you also get the neat docking station, numerous attachments, and the ability to transform the vacuum into a handheld one that all justify the price tag.
Heys Smart Luggage
Parents will quickly get the hint that you think they need to take a break and travel when you gift them with the Heys Smart Luggage. It's also the perfect gift if you know they already have a trip planned, which is likely after being cooped up for so long due to COVID. The 26-inch, airline-approved carry-on has all the features they'd want in a good suitcase, including a hard case, lined interior with divider and mesh zippered pocket, and 360° spinner wheels. But what truly sets it apart are the high-tech features. Download an iOS or Android app and insert two AAA batteries (as long as you don't use lithium-ion, these are approved for air travel) and enjoy features like the smart handle with integrated scale to make sure you don't exceed weight limits. There's also a Bluetooth smart TSA lock so you can remotely lock and unlock the suitcase from your phone. A proximity alarm, meanwhile, lets you know when you are a specific distance away from the suitcase. It comes in eight language options though note that this suitcase isn't expandable, so it's ideal light packers or quick trips. The 26-incher on its own is $400 or you can splurge for the full, three-piece set for about $1,200 on sale.
Meater Meat Thermometer
The Meater meat thermometer is a high-tech device that works with a smartphone app so you can keep on top of the cook of your meat or poultry. Insert the probe, follow the instructions in the app, then get wireless notifications of the meat's internal temperature so you know exactly when it's at the correct doneness. It has dual sensors to measure both the internal and ambient temperatures and is calibrated to be within +/- 0.5°C so you'll get accurate measurements. It will even estimate how long it will take to get your steak to a perfect medium rare. With a battery that lasts for up to 24 hours per charge, Meater will work for plenty of dinner sessions, whether it's being used on the grill outside or in the oven or on the stovetop inside. There are three models, including one with a 10-metre range, one with a 50-metre range, and the Block that boasts full Wi-Fi range. Pricing starts at $120, but keep an eye out as the 10-metre option was sold out at last check.
Fujifilm X-T5 Digital Camera
Parents love snapping photos of their kids, whether it's an endless stream of images of a baby or toddler, or a full album of prom and family photos with older teens. Help them get better shots than they might get with a smartphone via manual control using a camera like the Fujifilm X-T5 mirrorless camera. The back-illuminated camera has a 40.2MP X-Trans CMOS HR imaging sensor and X-Processor engine. With features like in-body image stabilization (IBIS), EVF viewfinder, and dual SD card slots, it's a nice step-up camera they can play with to take both photos and videos. The X-T5 comes in at a hefty price of about $2,300, but if the kids band together, it'll be worth it for the photo-taking-loving 'rents.
Samsung The Frame TV
Surprise mom and dad with a glorious new TV for the living room like the Samsung The Frame. A TV that doubles as a piece of art on the wall, it comes in a range of sizes from 32 up to 85 inches including the 55-incher for $1,500 (through to January 5, 2023, it also comes with a free customizable bezel, valued at $200; it comes standard with the Slim Fit Wall Mount). The idea is that it's a fabulous TV when it's on that they can use for binge watching shows, movies, news, sports, and more. But when it's off, The Frame instantly goes into Art Mode. The new Matte Canvas further reduces glare so guests won't even realize it's a TV until your parents press the magic remote button and watch their friends' eyes light up. This TV is a total stunner and it'll have you jealous you didn't grab one for yourself. Indeed, WiFi HiFi's John Thomson instantly fell in love with the Samsung The Frame TV when he reviewed it last year.
Apple TV 4K
The latest generation of the Apple TV 4K is the parents' perfect portal into the world of streaming. Whether it's to access streaming TV services to watch shows at night, stream tunes while cleaning the house through Apple Music, initiate a workout video from Apple Fitness+, or queue up some Apple Arcade games, they'll get tons of use out of it. With a faster processor that offers better responsiveness, Siri control has also been improved with tvOS 16. She can even recognize each family member's voice, so parents get their own, curated experience every time they sit down to use it, including tailored recommendations on what to watch. Access the family's Shared Photo Library from iCloud to play a slideshow of photos on the TV or set up a FaceTime session with the grandparents. The Apple TV 4K can also be used as a smart home hub with compatible devices. It starts at $179, and the USB-C-powered new Siri Remote is $79.  
Fitbit Sense 2 Smartwatch
Whether it's for a single parent or you want to get a matching pair of Fitbits for two, the Fitbit Sense 2 is a good option to help them focus on their health and wellness. Whether they have a goal to lose weight (common after the indulgent holiday season and as a New Year's Resolution) or simply want to keep an eye on wellness stats like heart health, oxygen saturation, skin temperature, menstrual cycle, sleep quality and duration, and other stats, the Fitbit Sense 2 can accomplish it all. With access to Google Maps and Wallet coming soon, parents will get even more value out of it. The Sense 2 is $399 and comes with a six-month trial to Fitbit Premium for additional access to things like app workouts and mindfulness sessions, Sleep Scores and Profiles, and more detailed health metrics. Through the holidays, you might find it selling for as little as $260, so go ahead and pick one up for yourself as well, then challenge the parents to see who can get the most steps every day.