Have an audiophile on your list, or at least someone who appreciates good sound and a cut above "good enough?" Check out these audio and audio-related gifts they'll appreciate finding under the tree this year.
Oakywood 2-in-1 Headphone Stand
They might already have their favourite pair of hifi headphones, but do they have somewhere cool to put them when they aren't lying back with a favourite playlist? This 2-in-1 headphone stand (US$138) is made of eco-friendly material and both houses the headphones neatly as well as recharges your phone or other mobile devices via a wireless charging surface built into the base. The elegant accessory features a steel cradle and solid wood base with a modern geometric design. The wood is coated with eco wax to protect it. This would look perfect in the listening room, right next to the turntable. It comes in oak, walnut, or black finish.
Lyngdorf MXA-8400 8-Channel Power Amplifier
The MXA-8400 is based on Purifi Audio's EIGENTAKT Class D amplifier technology in addition to adding a brand new Lyngdorf PowerPerfect power supply design. It delivers 8 x 400 watts (into four ohms in two-channel mode) of ultra-linear and stable power, by using Purifi EIGENTAKT ErrorCorrection (EEC), that produces extremely low Total Harmonic Distortion (THD) at any frequency, and at any power level, as well as ultra-low Inter Modulation Distortion (IMD), leading to a highly stable stereo image. The 8 output channels are bridgeable in pairs, delivering up to 4 X 800 watts to drive even the most demanding loudspeakers effortlessly. The result is an incredibly neutral sound performance, says the company, with negligible audible noise and virtually no sonic fingerprint. Eight amplifier channels with a combined 3.2 kilowatts of output power and even higher peak power represent extremely high challenges for the power supply, which is often a limiting factor with common multichannel amplifiers. The MXA-8400 solves this by incorporating "PowerPerfect by Lyngdorf Audio," a new, highly efficient, power supply with Channel Balancing Technology, integrated filtering, and several protection systems. This will set you back $11,320, so serious audio enthusiasts only.
Bowers & Wilkins Px7 S2e Wireless Headphones
Get them a new pair of wireless headphones they can take on the go. The Px7 S2e, which replaces the Px7, feature pgraded high-performance DSP and new sound tuning from the engineering team. They use custom-designed 40mm drive units, specifically created to suit the requirements of headphone listening. The drivers offer an ultra-fast response, allowing them to faithfully reproduce every nuance in a piece of music while remaining low in distortion, resulting in a more accurate presentation, says the company. The drive units are also carefully angled inside each earcup to ensure a consistent distance relative to the listener's ear from every point across the surface of each driver, again producing a more natural and immersive soundstage. Along with aptX Adaptive wireless technology and active noise cancellation, there's USB-C and 3.5mm connections, with both connectors include along with a carrying case. Use the app to further personalize and fine-tune the listening experience as well as enjoy direct music streaming from services like Deezer, last.fm, NTS Radio, Qobuz, TIDAL, and TuneIn. Get them a pair in Anthracite Black, Ocean Blue, and Cloud Grey, or Forest Green for US$399.
Bryston BP-19 Analog Preamplifier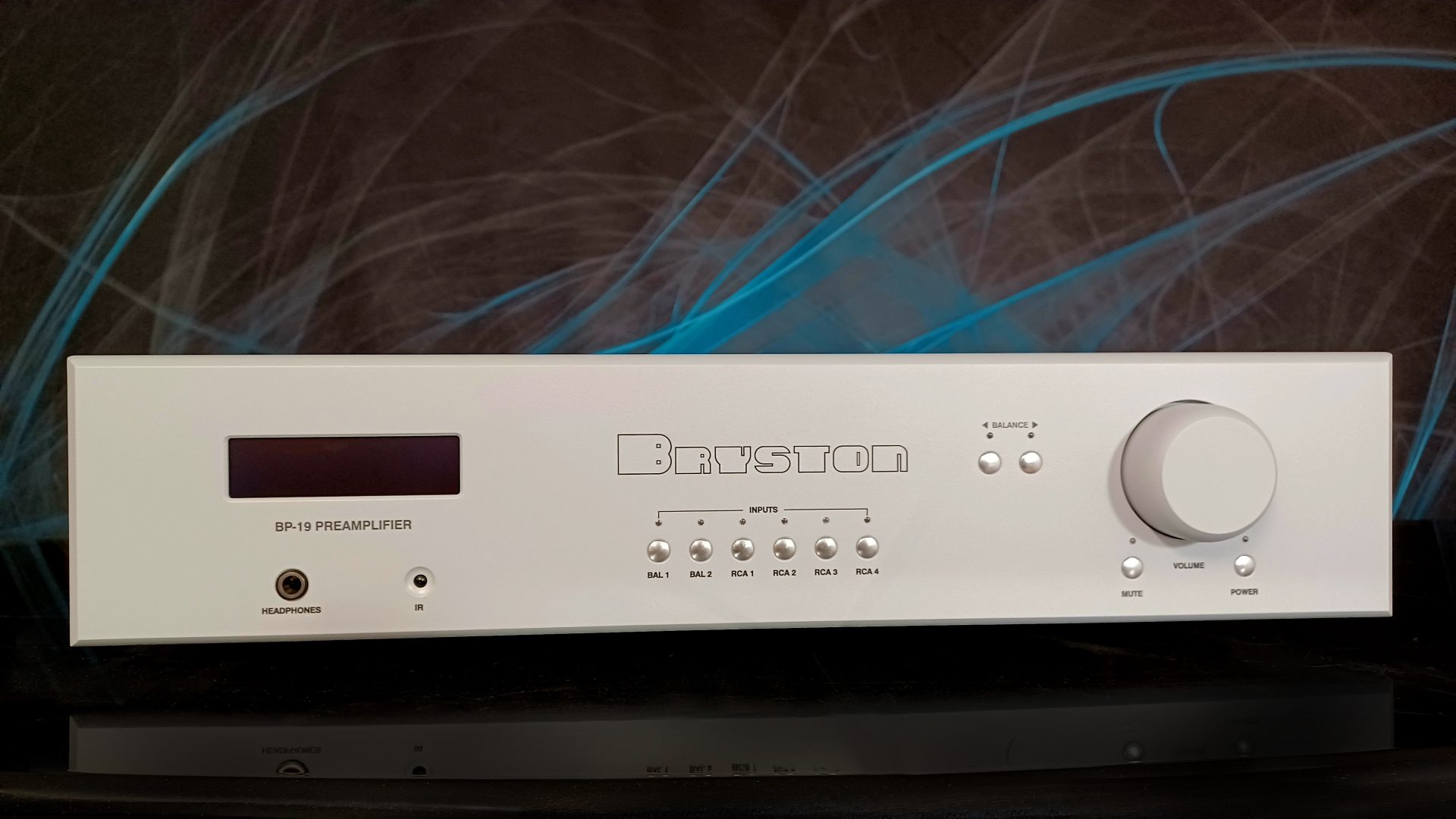 The Bryston BP-19 is handcrafted in Canada and reproduces music using an oversized toroidal power transformer and the input array includes two pairs of balanced XLR input jacks and four pairs of RCA input connectors. There are two pairs of RCA (phono) outputs (one pair fixed, one pair variable), and two pair of balanced XLR outputs (one pair fixed, one pair variable). For the first time ever, Bryston is offering the BP-2 moving magnet (MM) phono stage circuit as an onboard option for the BP-19 preamp. The BP-2 is highly accurate, offers extremely low noise, miniscule distortion, and provides headroom margins sufficient to prevent overload from any known phono source. Bryston also offers specially designed, custom-made outboard step-up transformers to accommodate low output Moving Coil (MC) cartridge designs. The BP-19 is available in five standard faceplate finishes, in 17 or 19-inch widths. MSRP $5,195.
PSB M4U 9 Over-Ear Headphones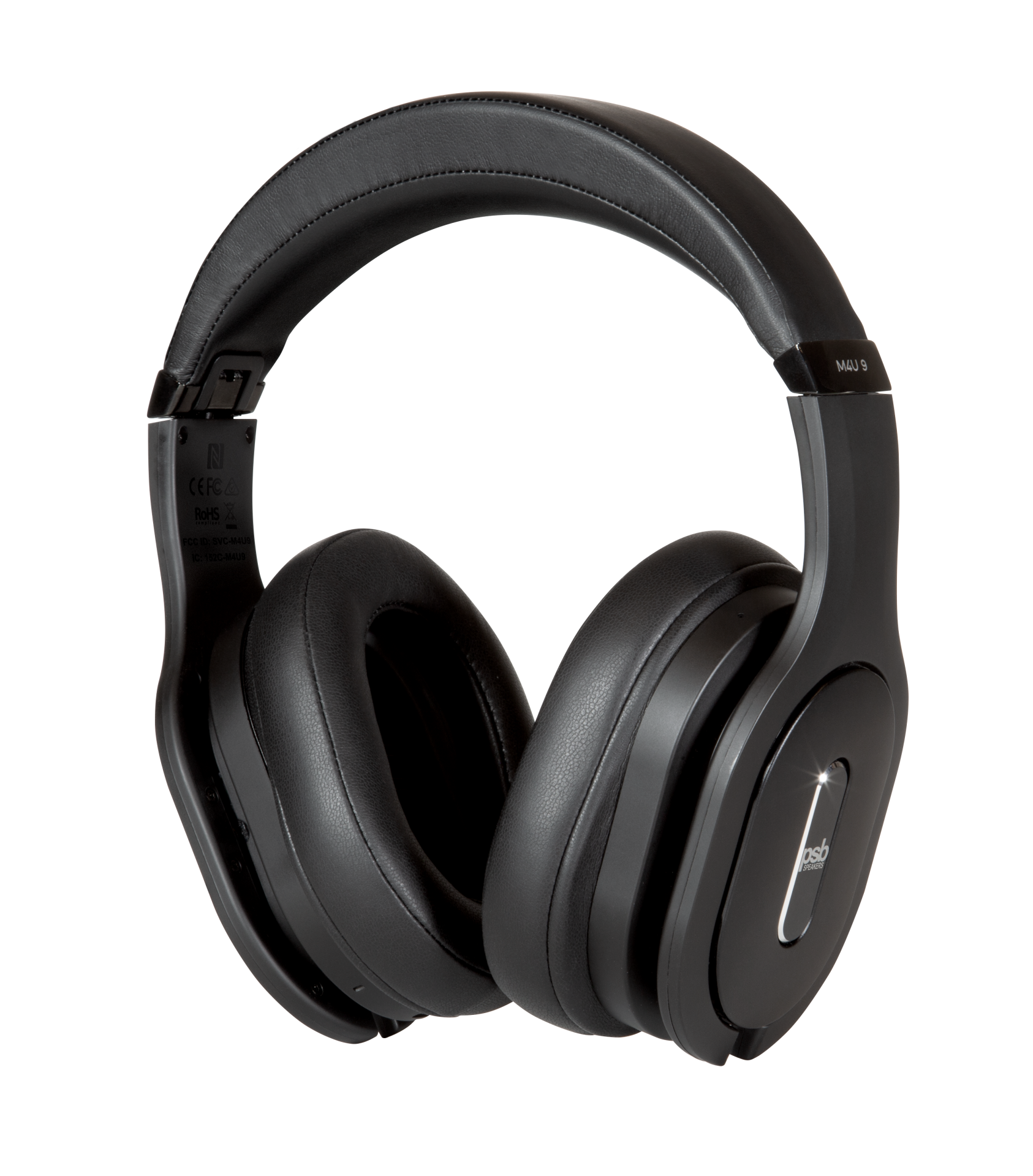 The PSB M4U 9 headphones ($699), one of several models in the M4U line, are crafted with premium materials, adaptive audio technologies, and intelligent features. The wireless active noise cancelling over-ear headphones implement new graphene-infused drivers which improve on damping, stiffness, and efficiency to reveal PSB's "true-to-nature" sonic signature, more crisp and powerful than before. aptX Adaptive Bluetooth technology enables fast and easy pairing with any device, with support for up to 24-bit high-definition audio. There's ANC using four digital MEMS microphones to decrease audio conversion errors in audio processing for pure noise-free listening, while two additional mics for cVc (clear voice capture) technology deliver crystal clear call quality. A three-position mode switch allows you to choose between ANC with RoomFeel, Active with RoomFeel, or a Passive mode. Gyro-suspended, fabric and leatherette earpads tilted at 15 degrees provide excellent seal and ergonomic comfort for an extended listening time of up to 25 hours in Active Mode. All headphone settings, including Audiodo Personal Sound tests and Transparency modes, are accessed centrally through the PSB Headphones app. Get up to 25 hours of playtime per charge in active mode.
Audio-Technica Sound Burger Portable Turntable
Only available for a limited time, the Audio-Technica Sound Burger is being released 40 years after it first graced the market. Available in a fitting retro red model, the compact unit works with a belt-drive system for playing 33 1/3 and 45 rpm records. The tonearm has a dynamic balance system in which stylus pressure is applied via a spring while a high-precision DC motor maintains stable rotation. For those who want a wired listening experience, it also comes with an audio cable. The entry-level turntable also offers Bluetooth connectivity and USB charging to last for up to 12 hours per charge. Get it in black, white, or yellow for $279. It ships with a 45rpm adapter, RCA audio cable (3.5 mm male to dual RCA male), and USB cable for charging (USB Type-A / USB Type-C). It features a replaceable stylus.
McIntosh ML1 MKII Loudspeaker
Improving on the original 1970s ML1, the new Ml1 MKII combines vintage style with contemporary sound. It has similar bass to the original without the need for an equalizer. Connect it with amplifiers up to 600 Watts. It also features wide dispersion, which allows for an equal distribution of sound throughout the listening area. The external design of the ML1 MKII retains the oiled American Walnut solid wood cabinets and satin finish veneers of the original. But internally it features a full modern revamp to reflect McIntosh's present-day high performance speaker technology. The ML1 MKII is a four-way speaker that uses five separate speaker drivers to produce a uniform listening area. It has a single 12-inch woofer in a sealed enclosure with a polypropylene cone and dust cap with synthetic rubber suspension. In the lower midrange is a pair of 4-inch drivers in a sealed sub-enclosure, also with polypropylene cones and dust caps with synthetic rubber suspension. In the upper midrange, meanwhile, is a single 2-inch soft dome upper midrange and the tweeter is a 3/4″ Titanium dome tweeter (the same tweeter used in the company's XR50 and XR100 speakers). It ships with a matching stand. Get it for MSRP US$6,000 per speaker or US$12,000 per pair.
NAD C 3050 Stereophonic Amplifier
Drawing aesthetic cues from the 1970s, the NAD C 3050 features a HybridDigital UcD output stage and high-performance Texas Instruments PCM5242 differential DAC. It also features NAD's MDC2 future proofing technology. By installing an optional module into the MDC2 expansion slot on the rear panel, listeners can add new capabilities like BluOS high-resolution multi-room streaming and Dirac Live room correction. It delivers 100Watts per channel of continuous power and 135Wpc of instantaneous peak power. It sells for $1,899.
Bluesound Node X Streamer
Introduced in celebration of the company's 10th anniversary, the Bluesound Node X streamer is available in a special edition silver finish for $999. It boasts the ESS 9028Q2M Sabre DAC, a favourite of audiophiles for its musicality, near-zero levels of clock jitter, ultra-low noise, and a wide dynamic range. A truly high-end headphone amplifier is driven by THX AAA (Achromatic Audio Amplifier) technology with patented feed-forward error correction resulting in low levels of noise, distortion, and power consumption. It has dual-band Wi-Fi, more than 20 natively integrated music services and affords access to thousands of Internet radio stations as well as your own personal library via computer, external drive, and the BluOS app. The BluOS platform can support up to 64 players, all streaming up to 24-bit/192kHz hi-res audio and supports lossless file formats and MQA playback, which allows music lovers to listen to the actual studio masters of favourite albums. Inputs include HDMI eARC, WiFi, Gigabit Ethernet, Apple AirPlay 2, aptX HD Bluetooth, or USB Type A.
Qobuz Music Streaming Service Subscription
Any music lover appreciates having access to music at the best quality possible. You can add another to their list with Qobuz, which offers access to more than 100 million titles, all lossless, downloadable files that are CD quality. This includes high-res FLAC files at up to 9,216 kbps with a sample rate up to 24-bit/192kHZ. The service is also about music discovery with access to content like artist interviews, in-depth articles, and a section dedicated to Hi-Fi hear within its online magazine. Each week, the expert editorial team also provides a list of recommendations and featured albums including both known and emerging artists. These are across a variety of music genres, like rock, jazz, classical, pop, R&B, electronic, world, and metal. Building a community, the Qobuz Club offers audiophiles and music lovers from all over the world a unique place where they can share their musical discoveries and recommendations as well as advice on Hi-Fi equipment. There are three subscription plans available, but for a single person, go with the standard Solo, which is $13/mo. or $130/yr. if you commit to the 12-month period. Or, if you think they will love it, consider the Sublime Solo subscription ($180/yr.), which includes access to the entire catalog of albums in studio quality for both streaming download as well as exclusive discounts on Hi-Res purchases of up to as much as 60% off.
Apple Music Classical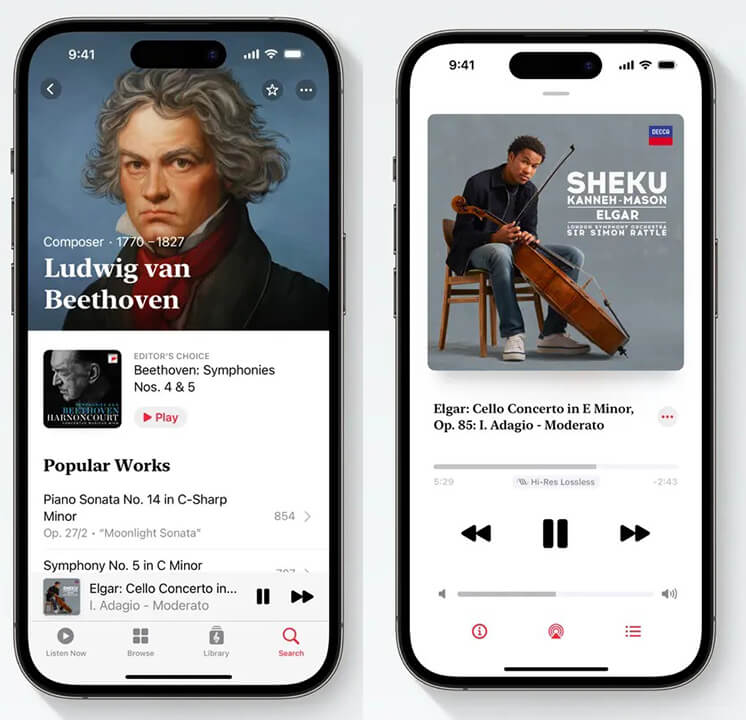 Another subscription service you can consider for an audiophile is the Apple Music Classical service, which offers special features like specifically tailored deep search, composer biographies and metadata, and more. Naturally, Apple Music Classical will also feature spatial audio.
The app functions separately from Apple Music but will be included as part of a standard Apple Music subscription for those who choose to download and use it. It will, however, only be available for iPhone (no iPad version nor MacBook), though it will work with AirPlay. The Apple Music Classical app features a large classical music catalogue with more than five million tracks ranging from new releases to celebrated masterpieces, as well as exclusive albums. Navigating it is simple using a special search engine designed for the more complex nature of classical work nomenclature. Music is available at up to 192 kHz/24-bit Hi-Res Lossless format alongside spatial audio. There aren't any ads with this app either. Metadata provides details about what and whom you are playing while you can read up on the composers while listening via their biographies, descriptions of their key works, and other useful information. It's available to all Apple Music subscribers with the exception of Apple Music Voice Plan subscribers. It works on all iPhones running iOS 15.4 or later and, of course, requires an Internet connection to work. An individual subscription to Apple Music is $11/mo.
iFi Audio Diablo X
The iFi Audio Diablo X supports the xMEMS solid state monolithic speaker technology. Just like the original iDSD Diablo, the Diablo X delivers reference level sound by using two BurrBrown DAC chips and a 16-core XMOS chip to process the data received via the USB and S/PDIF digital inputs, meaning the Diablo X can handle up to PCM 768, DSD 512, 2xDXD. It also provides full MQA decoding, like its predecessor. The Diablo X, when paired with In-Ear Monitors featuring the xMEMS' monolithic micro speaker, provides audiophile-level resolution, creating lightning-fast transient response, near-zero phase shift, and +/-1° part-to-part phase consistency. The result is a highly uniform and reliable driver that eliminates the need to match and calibrate.
Audiolab 7000A Power Amp
The discrete Class AB power amp stage of the Audiolab 7000A delivers 70W per channel into eight ohms, with a maximum current delivery of 9A amps into difficult loads. A new standard in Audiolab amplifiers, the output stage of the discrete power amp circuits uses a CFB (Complementary Feedback) topology, ensuring linearity and excellent thermal stability, as the idle current is kept independent of the temperature of the output transistors. Critically specified by Jan Ertner (lead engineer for the Audiolab brand), the newly developed power supply features a substantial 250VA toroidal transformer, followed by 4x15000uF reservoir capacity (60000uF in total), to help the amp deliver excellent dynamic range. While the 7000A looks similar to its entry-level sibling, it has sharper edges for the rotary controls and changes to the vent perforations on the top surface. The new amp is also a little heftier at 8.4kg compared to 7.8kg. The most obvious aesthetic change is the central display – while still stadium-shaped, like the 6000A's display, the window has been enlarged to 64x48mm. The 7000A's larger display uses a colourful GUI, like the one found on the flagship 9000A (albeit the IPS LCD screen is smaller – 2.8in as opposed to 4.3in). This shows a variety of information in a more visually appealing way than other integrated amps – volume level, input selection, format data and more. It gives access to the 7000A's impressive menu system, which includes such options as digital filter selection, upsampling, input sensitivity adjustment, balance control, automatic standby switching, and volume curtailment when the amp is powered up. It can even be set to display a VU meter in 'analogue' or 'digital' form, showing real-time signal levels for the left and right channels. Animations can be turned off and brightness adjusted, and the display can be set to activate only when a function is accessed and then switch off after a defined period, as the user prefers.
The 7000A incorporates digital-to-analogue signal conversion, enabling digital sources to connect directly without an external DAC. Like the 6000A, there are four S/PDIF inputs – two coaxial and two optical – but the 7000A adds a USB Type B input for PCs, Macs, smartphones, tablets and digital storage devices. It also includes an HDMI ARC input for AV system integration – the 7000A is the only Audiolab amplifier to include this facility. Bluetooth is included too, with support for multiple codecs including aptX HD, and Bluetooth 5 compliance for optimum range and speed.
For analogue sources there are three line-level RCA inputs, plus one for a turntable. Audiolab has tweaked the 7000A's MM phono stage to improve performance compared to the 6000A, with precise RIAA equalisation and input filtering to ensure vinyl is treated with as much care as digital sources. It's available in silver or black for MSRP $2,069.
Thorens TD 204 Turntable
Dubbed a high-end beginner turntable, the Thorens TD 204 is finished in black high gloss and walnut high gloss and shares similar design characteristics with other Thorens models. The newly developed TP 120 tonearm introduces a new high-quality bearing technology that places the turntable on the higher range due to the bearing play and the coefficients of friction being reduced to a lower level than competing turntables in a similar price range. The TP 120 features a 9″ J-shaped aluminum tonearm with an effective tonearm mass of 15 grams with a visual similarity to the larger flagship TP 1500 model. The detachable headshell with SME connector is equipped with an AT95E cartridge from the Japanese pickup specialist Audio Technica. The skating compensation is carried out via a spring. The connection terminal on the back features RCA sockets for amplifier connectivity and an integrated MM phono pre-amp (which can be switched on/off) enables direct connection to virtually any audio playback source. The platter, which is manufactured from die-cast aluminum, is set in rotation by a Thorens precision drive belt. The plinth of the TD 204 rests on four vibration-damping feet. You can pick one up for $1,499.
Totem Acoustic Bison Monitor Series Speakers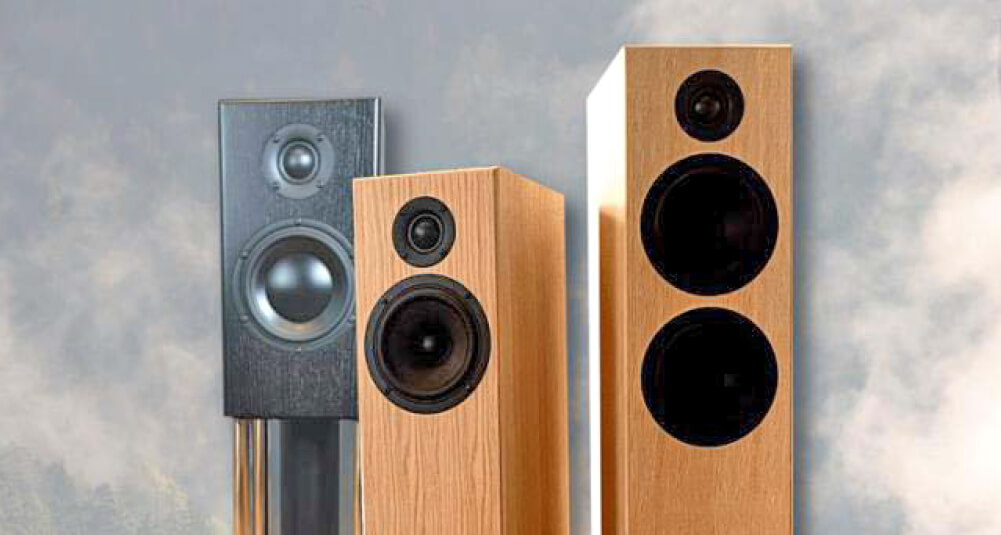 The Totem Acoustic Bison Monitor series includes three models: the Bison Tower and Bison Twin Tower as well as the Bison Monitor. The Monitor has "exceptional width and depth of image," says Totem, extracted from Element FIRE V2, resulting in "more spatial and lifelike restitution, a prairie like (re: wide open) soundscape, ultra-fast responsiveness, and exquisite harmonics, particularly in the upper octaves." The newly developed woofer is the result of four generations of development that provides a greater dynamic capability and when combined with a 43% increase in the cabinet volume versus the SKY Monitor. The "plug and play" monitor is both easy to drive and flexible with regards to placement. Further, the Bison Monitor can resurrect live recording ambience and create great separation of instruments, all the while remaining cohesive sonically. There have also been improvements to bass foundation.
The lateral soundstaging abilities of the Bison Monitor were applied to both the Bison Tower and Bison Twin Tower, resulting in ultra-wide and deep characteristics with great centrefill, whereby musical information hits you from all sides, says Totem. Both Bison Towers are easier to drive and offer a more flexible setup than the SKY Tower and exceed the performance of the Totem Hawk, especially in terms of midrange and harmonics. The Bison Tower and Bison Twin Tower sound "right" in terms of tonal accuracy, says Totem, in any application with any genre of music thanks in part to the 3D harmonics. The Bison Twin Tower offers a more powerful scale that is capable of filling a larger listening space while maintaining virtually the same phase coherency as the Bison Tower yet is still comfortable in a smaller room.
Finally, both Bison Towers create the perception of a slightly warmer sonic signature in comparison to the Bison Monitor as a result of a frequency response that extends well into the bottom octave, yielding bass response that is round and fast, while sounding musical.
All three Bison series models employ a new tweeter that was designed to Totem's specifications and guidelines. This tweeter is a neodymium activated, 1.3" laser etched, textile, soft dome, modified especially for the Towers. It extends up to 30kHz and is low enough to contribute to the midrange band.
All three Bison models come in White Oak, Black Ash, or Satin White finishes, include matching magnetic grills, and feature high quality four-way bi-wireable speaker terminals. The Bison Monitor is available for an MSRP of $2,250, the Bison Tower for $3,000, and the Bison Twin Tower for $4,000.
NAD Masters M66 BluOS Streaming DAC Preamplifier
The NAD Masters M66 BluOS streaming DAC preamplifier ($7,299) has separate digital and analogue signal paths that add functionality like distinct volume attenuation for analogue and digital signals, a true analogue bypass for the MM/MC phono stage, and an independent headphone amplifier. It also boasts four independent subwoofer outputs and includes licenses for Dirac Live Room Correction (full frequency) and Bass Control tools. The M66 also introduces a new proprietary technology, Dynamic Digital Headroom (DDH), that eliminates intersample clipping and relies on the widely lauded ESS Sabre DAC, ensuring only the cleanest signal is passed along for amplification. BluOS wireless hi-res multiroom streaming, is included, as are Apple AirPlay, two-way AptX HD Bluetooth, and a host of other inputs and outputs. It features both Ethernet and Wi-Fi networking as well as BluOS network streaming that provides access to over 20 streaming services, including several that deliver lossless and high-resolution audio. It supports popular music casting protocols like Apple AirPlay 2, as mentioned, along with Spotify Connect and Tidal Connect. The unit can also seamlessly integrate with smart home control systems such as Crestron, Control4, ELAN, RTI, URC, and others. There are four independent unbalanced RCA and balanced XLR subwoofer outputs, and a full bandwidth version of Dirac Live Room Correction and Dirac Live Bass Control licenses are included.
Spin-Clean Limited Edition The Beatles Record Washers
Spin-Clean is celebrating the 50th anniversary of The Beatles' iconic Red album from 1962-1966 and Blue album (1967-1970), as well as the company's own 50th anniversary, with a set of limited edition record washers. With a promotion brokered by Bravado International, The Beatles' North American licensing agent, the new limited edition record washer kits work like all the others, designed to preserve and keep vinyl records in pristine condition. But they also feature distinct The Beatles designs, which super fans of the group will love. The limited edition The Beatles Spin-Clean record washers will sell for US$80. They are, for now, only available in the U.S. so you might have to travel across the border to snag one.