If you're like me, you only have a small wine fridge and keep two-dozen or so bottles on hand at any given time. But if you're like a growing number of Canadians, and wine lovers from around the world, you might have a larger cellar that holds dozens of bottles, from expensive ones you're saving for special occasions to limited runs or guest favourites so you're ready to impress when each comes by. The InVintory app, designed in Canada back in 2018, is a great way to keep track of not only what you have but where each bottle is among the many shelves. The new Prestige subscription option, released today, adds some compelling features, like 3D views of the cellar and each bottle, with AR features to come.
How Does Invintory Work?
At a basic level, the app's free set-up called Aspire lets you log bottles in your wine fridge or cellar (or multiple fridges and cellars) either by manually typing in the wine name or snapping a photo of the label after which the app intelligently searches its vast database of more than a million bottles to find a match. If a match isn't there, you can submit it for approval by Invintory's team of sommeliers. Of the two-dozen or so bottles I have so far, only 1 or 2 obscure ones couldn't be found in Invintory's database.
I tried out the free version of the app and it's super easy to use. Snap a photo, confirm if the bottle identified is the right one, then log where you have placed the bottle. In my case, I named the main location "wine fridge" and added "second shelf," "third shelf," and so on.
After adding the bottles, the app populates additional information where available, including the market price and price range, drink window (the ideal range during which to drink the bottle), critic score, colour (red or white), winery, origin, grapes used, and ideal food pairings. Search for the bottle you want, select it, and voila! Its location will be identified like a modern-day virtual Dewey Decimal System, including which cellar the wine is in (if you have more than one) and the bin or shelf number.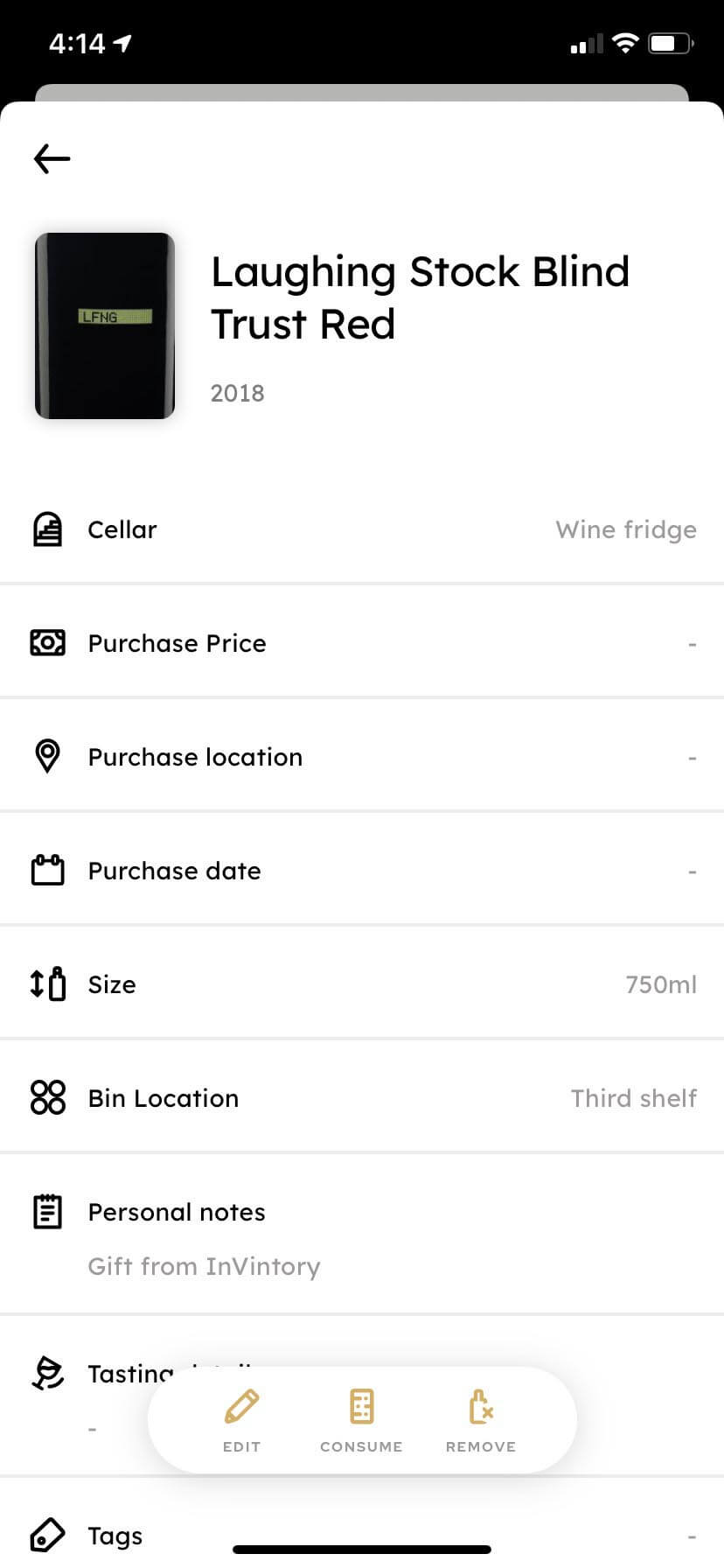 Tap "consume" and the bottle will be removed from your collection. When adding bottles, you can also add information like where you bought it and when as well as other personal notes. You can also add special colour-coded tags to each bottle to categorize them any way you like, such as bottles that are preferred by different guests or clients, by price range, and so on.
If you have already been keeping track of your wine collection in an antiquated way (Excel spreadsheet, anyone?), you can reach out to Invintory and the team will figure out a way to transfer the details for you, even if it means manually adding the bottles one by one to get you set up.
Another neat feature of the app is a digital journal for adding items to a wishlist; and memories where you can upload photos and add details you want to recall about a certain bottle, like when you drank it, or specifics about your assessment.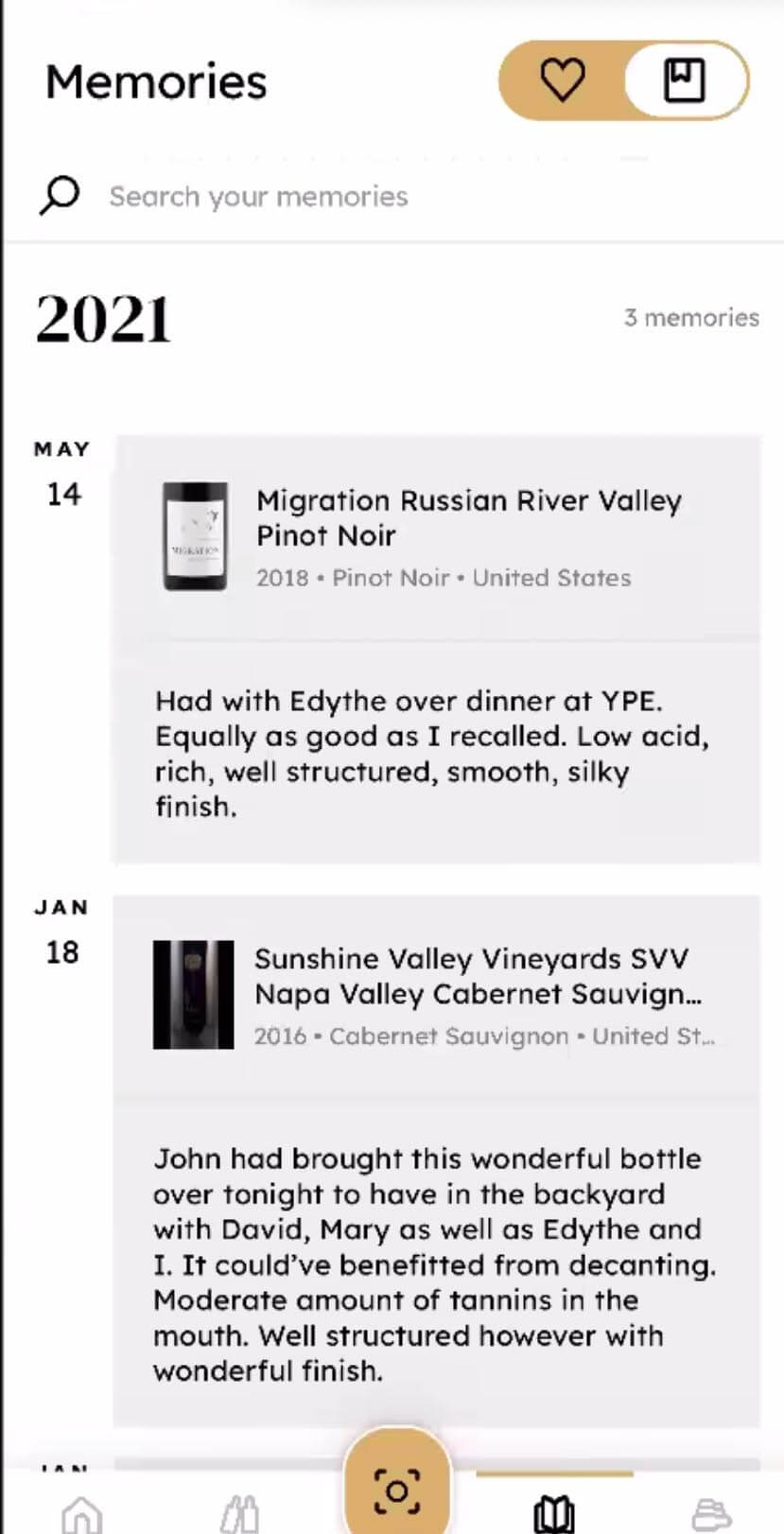 "Our app has evolved a lot since inception," says co-founder and CEO Jeff Daiter, a physician and investor. "Our goal from the start has been to offer a simple solution to a problem expressed by many – the challenge of finding their bottles."
How Did Invintory Come About?
During a virtual press briefing that involved complimentary wine, including a wonderful bottle from Laughing Stock Vineyards in the Okanagan Valley in B.C. (Blind Trust 2018), a delectable charcuterie platter, and good company, Daiter discussed how accidentally breaking an expensive limited-edition bottle of Caymus wine as he frantically tried to find it on his wine shelves led to the idea for the app. "I thought to myself," he said, "there must be an easier way, besides simply logging my wines on Excel or tagging each bottle with a handwritten note. And from there, in partnership with my son Josh, InVintory was created."
Josh built the first prototype of the app on a family vacation as a simple app to catalogue Jeff's wines. As Jeff's friends expressed an interest, the Daiters decided to release InVintory publicly last year and expand the team. Invintory is entirely self-funded with 13 full-time staff members and seven part-time Certified and Advanced Sommeliers.
"It's not enough to take the work out of collecting," says Daiter. "Our slogan is to bring your world of wine to life because we recognize that collectors of all ages and in all stages of their collecting journey want to engage with wine. We aim to present wine authentically – we neither make it pretentious nor oversimplify it – and bring people back to the idea that wine is more than just a drink. It is a portal into history, culture, and memory."
What do you get with a Prestige Subscription?
Prestige, which was built with the help of a 65-user beta team, adds advanced analytics and 3D technology to the app experience. How does this pertain to wine? In addition to locating bottles via your own logging system, whether it be numeric or descriptive, you can also see a 3D mock-up of the cellar. Using Invintory's proprietary VinLocate, collectors can build custom 3D replicas of their cellars or fridges, making it easier to quickly find a bottle, highlighting its exact location. This even includes imagery of the labels on all of the bottles around so identification is super simple.
With analytics, you can get down to the nitty-gritty, seeing how much you spend on wine, a breakdown of the regions of wine you own, the vineyards, and more. The data is presented in the form of interactive charts that breakdown everything from consumption history to spending over specific periods of time.
VinLocate will complement Invintory's patented VinAR augmented reality technology, which will be released in the future.
Who Should Get the Invintory App?
Anyone who currently collects wine, has a cellar, or is considering setting one up in their basement or cold room, should consider trying out this app. The Aspire version is free, and even if you're like me and only have a couple dozen bottles in the house at any given time, there are peripheral benefits beyond just being able to locate bottles, like being able to leave personal notes and seeing what food each bottle pairs nicely with.
I can't count how many times I have purchased a bottle of wine and taken a photo of the label to remind myself that I like it before heading to the LCBO, then scrolling furiously through the photos on my phone while standing in the store to find the pic. With this app, I could add a note in the journal about new wines I liked or didn't like. I could also use the wishlist feature to snap a photo of the label of a just finished fantastic bottle so I can call it up when I'm at the liquor store as a reminder to grab another bottle (or two).
Bottom line: there's a lot of opportunity for the app to expand to include other features wine lovers of all kinds can enjoy. And for those serious about wine collecting, the Prestige subscription might just be the organizing and locating app they've been looking for to replace their old, antiquated methods of keeping inventory.
How to Get Invintory and Prestige
InVintory is available on iOS and via the web, with Android due to be released in the near future. According to Yule Schmidt, COO, business strategist, and wine expert, the iOS app had 20,000 downloads after its first month of release and continues to enjoy a 4.7-star rating.
Prestige is priced at $10/mo. or $99 annually.