Some speaker manufactures hold legendary status based on the laurels of a single design, so it's not every day you find a speaker manufacturer with multiple legendary releases to their name, not to mention a tenure that has lasted decades. I am of course talking about Klipsch. The company would be in good standing in the audio hall of fame just with their Klipschorn, the only speaker that has been in continuous production for over 70 years. Then there is the Klipsch Heresy, a compact three-way design utilizing a 12" woofer and a horn mid-range tweeter that was first launched in 1957 and is still going strong today.
I include a third legendary Klipsch product with the Klipsch ProMedia 2.1 THX a PC/gaming 2.1 system that's been around for about two decades and a relative steal for under $300. This is the only 2.1 multimedia system that I can think of among all the 2.1 systems on the market. Originally released at the end of 1999, this setup still runs strong with practically no variation in design. As far as I can remember, the only change was swapping the regular push-pull amplification to a class-D amplification topology.
The system consists of two satellite speakers utilizing a two-way design, with Klipsch MicroTractrix horns accompanied by a 3″ midrange driver. In addition, each satellite includes its own desktop stand. The sub is tucked away in a ported enclosure that also contains the 200W class-D amplifier with a side-firing 6.5″ long-throw driver. The system is measured flat from 35 Hz to 20 kHz. While the 35 Hz does not look impressive on paper, quite honestly, for most applications, especially music, you would be hard pressed to miss anything as most music "energy" tends to taper off below 50 Hz anyway. There are exceptions, of course, but I'm talking in general.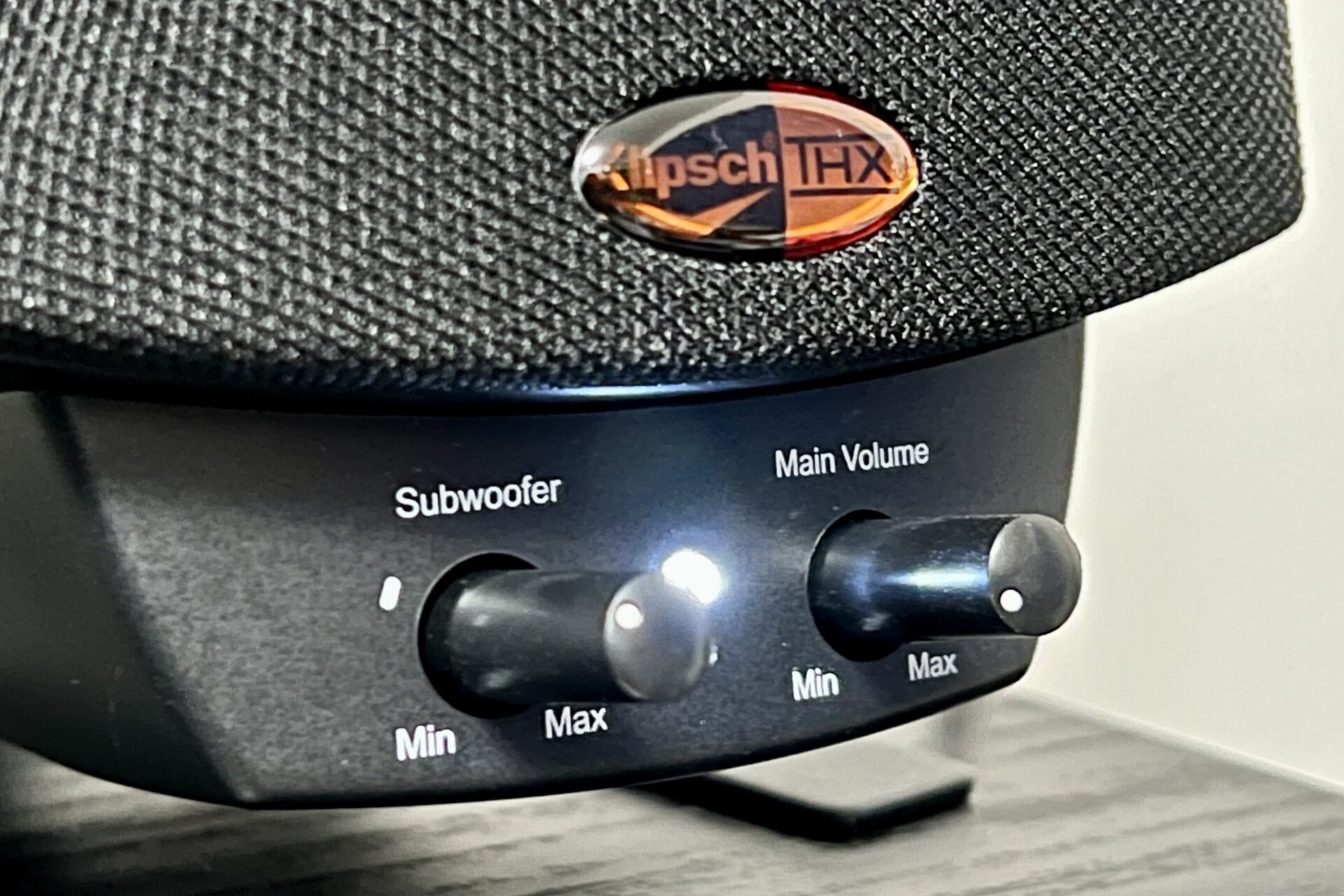 The ProMedia 2.1 system also carries THX Multimedia certification that was introduced with the original Klipsch system more than two decades ago. The certification is an effort to bring some standard quality requirements to multimedia audio environments, building on the influence that such standards have had in theatres. Though undoubtedly there is a marketing factor involved in utilizing the THX certification, there is about a 400-point testing and standards protocol in place to back it up. But that's only part of the story. For the best outcome for THX Certified products, THX engineering teams also act as consultants and collaborators for their partners (in this case, Klipsch) through the lifecycle of a product – design, prototyping, quality assurance, production, and finally, marketing.
On the right speaker, there are important features that make this system whole. The inclusion of a headphone jack on the control module (which is also where the volume control is situated) for private listening, and an additional stereo 3.5mm mini-jack input for connecting portable devices while at the desktop. This is great for me, as one who uses one input plugged directly to the receiver and the other to my Denon DCD-1420 CD player, which is also approximately the same vintage as the ProMedia 2.1 THX.
These speakers have a recommended "optimum" subwoofer level that is indicated by a marking next to the subwoofer knob (roughly 10 o'clock). With the suggested setting as our starting point, I played various songs from various genres of music from my Denon CD player. The mid-to-high frequencies sound crisp and clear but not overly so, the sub is not as clear as I'd like it to be, but it still offers better than average clarity compared to other 2.1 offerings in this price range (C$200 – $300). Playing at THX reference level of 85 dB average, I experienced no fatigue. Only when pushed to above a 100 dB playback level did the ProMedia 2.1 speakers suffer from slight distortion. Quite honestly, who is going to play these speakers at that insane level anyway? That makes my distortion argument moot.
I'm pleasantly surprised that after more than two decades, this system is still relevant and held itself strong even in a product category with lots of options, and for the price, I can't ask for anything more.
BONUS: for quick how-to set up the Klipsch ProMedia 2.1 THX, click here