It's that time of year again! We're back with the WiFi HiFi Holiday Gift Guides! Not sure what to get that special someone on your list? It has been a particularly tough year, and we all deserve some joy. There are lots of tech gift to suit an enduring passion, new hobby, personality, or style. Here, we'll look at great gift ideas for someone who has picked up hifi audio as a new hobby or continues to invest in their passion for great sound.
Bowers & Wilkins Zeppelin Wireless Speaker
Bowers & Wilkins' latest version of its popular Zeppelin wireless speaker is "smarter and more flexible," with high resolution sound that is "more detailed and dynamic" than its predecessor. The Zeppelin was first introduced in 2007, and the newest iteration is a complete stereo system in a single component that comes equipped with reference quality drive unit technologies arranged in dedicated left and right speaker assemblies around a central, large subwoofer, all powered by 240W of amplification. Available in both a dark midnight grey and light pearl grey finish, the redesigned Zeppelin includes switchable, dimmable ambient lighting to create a 'halo' effect on to its metal pedestal stand. The new Zeppelin also includes both AirPlay 2 and aptX Adaptive Bluetooth for streaming high-quality tunes from both iOS and Android devices, as well as other Bluetooth-enabled gear. There's also Spotify Connect for subscribers of that popular music streaming service. Control playback from the Bowers & Wilkins Music app, which affords access to other popular streaming services like Deezer, Last.fm, Qobuz, Soundcloud, Tidal, and TuneIn. The smart hifi Bluetooth speaker also has built-in Alexa for voice control, without the need to connect an external component, like another Alexa speaker. Alternatively, there are also physical buttons on the top, rear for manual control. With multi-room capability planned for introduction in early 2022, the new Zeppelin will be compatible with both other new Zeppelins in a multi-room environment or, if you prefer, a multi-room system based on Bowers & Wilkins own Formation range of high-resolution wireless speakers. It's $999 and you can go all out and get the wall bracket as well for $130.
Audio-Technica ATH-SQ1TW True Wireless Earbuds
These earbuds stand out with a unique square design that also functions to allow for clear and natural sound, says the company. Available in a choice of six colours (licorice/black, popcorn white, blueberry, caramel, popsicle red/navy, and cupcake pink/brown) and available in Canada for an MSRP of $119, the ATH-SQ1TW headphones are dubbed as a "fun, stylish and easy to use entry into the high-fidelity sound of Audio-Technica." They automatically turn on when they're removed from their supplied charging case and shut off and begin charging when they're put back. The Bluetooth ATH-SQ1TW headphones are easy to pair when first used, and support Google Fast Pair to easily connect with compatible Android devices. Each earbud features a built-in touch sensor control, which allows listeners to control music playback and make and receive phone calls without having to use a smartphone. With precision 5.8 mm drivers, a low-latency mode ensures minimal audio delay when watching videos or playing games, says Audio-Technica. The headphones are lightweight and are supplied with different sizes of ear tips to ensure a comfortable fit. They offer up to 6.5 hours of continuous use with the headphones fully charged, and up to 19.5 hours when the headphones and case are completely charged. A quick-charging function provides about 60 minutes of playback after just 15 minutes. The ATH-SQ1TW can be used in either single-ear or dual-ear mode according to your preference and needs. The hear-through function lets in some ambient sound if desired, letting listeners stay aware of their surroundings. A handy Voice Guidance function provides notifications about remaining battery level, pairing status, and more. The headphones have an IPX4-equivalent rain-and water-resistant design so they can withstand a splash as well as sweat.
Thorens Turntable TD 1500
This turntable allows anti-skating set by a sliding weight in the base of the arm, which is adjusted on a nylon thread guided over a ruby bearing. The contact force is set classically on the scaled and two-part counterweight. This allows a wide selection of pickups to be used, from 6-30 grams weight. It comes with a high-quality and pre-adjusted 2M Bronze pickup from the Danish pickup specialist Ortofon. The Thorens TD 1500 can be operated purely manually and features a sub-chassis that decouples the turntable and tonearm shelf from the motor and frame by means of three conical springs. In contrast to the TD 150 that was introduced back in 1965 and helped build the foundation for new 21st Century turntables like this one, the springs can be adjusted from above through corresponding holes in the platter, which makes correct adjustment much easier. The platter does not have to be removed to accomplish this. The platter itself, which weighs 1.4 kg and is 22 mm thick, is made of cast aluminum with a ground edge and turns its rounds in a bearing with a Delrin trust bearing, which guarantees smooth running, says Thorens. The speed of the DC motor is electronically monitored by an incremental encoder and deviations are automatically corrected. This also enables very good wow and flutter values. The TD 1500 has XLR outputs in addition to the usual pair of RCA jacks, thus enabling balanced operation with a suitable MC cartridge. Power is supplied to the drive by a 12V power supply unit. The new TP 150 tonearm is similar to the TP 124 used on the new TD 124 DD. It has an effective mass of 14 grams, is adjustable in height and azimuth and is equipped with a standard SME connector, so headshells can easily be switched or other cartridges mounted. The Thorens TD 1500 will be available starting in December 2021 for a MAP of $3,699.
NAD C 399 Hybrid Digital DAC Amplifier
This amp employs NAD's HybridDigitalÔ nCore amplification, which, until now, has been available only on Masters Series amplifiers. The C 399's digital section is built around a 32-bit/384kHz ESS Sabre DAC, the same chip used in NAD's acclaimed M10 and M33 Masters Series amplifiers. It's the first amplifier to incorporate the latest generation of NAD's Modular Design Construction (MDC) technology: MDC2. MDC2 lets users add optional modules that provide functions such as BluOS Hi-Res multi-room music streaming, Dirac Live room correction and more. The new architecture allows signals to be passed back and forth between moduke and host component. The MDC2 BluOS-D module includes the latest Wi-Fi and Ethernet protocols and supports Apple AirPlay2, Spotify Connect, and Tidal Connect. It also incorporates two-way Qualcomm aptX HD Bluetooth. There's also a USB port for playing music from a connected USB drive. With an MDC2 BluOS-D module installed, MDC2-capable components can play music from a range of local, networked, and cloud-based sources. Thanks to its bidirectional communications architecture, MDC2 can be easily upgraded when new technologies are made available. The MDC2 BluOS-D module will be available in time for the holiday season selling for $799 in Canada. The C 399's HybridDigital nCore amplifier can deliver 180 Watts per channel continuous power, and 250 Watts per channel instantaneous power. The HybridDigital nCore design is renowned for its wide bandwidth, flat frequency response, clean clipping behaviour with instant recovery, high current capability, and stability into demanding low-impedance speaker loads, says NAD. Noise and distortion are low under all operating conditions while "minute levels of harmonic distortion are dominated by sonically benign second and third harmonics," the company adds. These refinements enable the C 399 to produce neutral, distortion-free sound even at very high listening levels, with thrilling dynamics, exquisite detail, and superb portrayal of space." Also trickled down from the Masters Series is the ESS Sabre ES9028 high-resolution DAC, a design noted for its wide dynamic range, ultra-low noise and distortion, and near-zero levels of clock jitter. The C 399 has two optical and two coaxial digital inputs, plus an HDMI-eARC port for playing audio from a connected TV, while controlling amplifier output with the TV's remote control. There are also two pairs of RCA line-level inputs, plus a MM phono stage with precise RIAA equalization, low noise, and high overload margins. The phono preamp also features an innovative circuit that suppresses the infrasonic noise present on all LPs, without compromising bass response. The line inputs have low-noise buffer amplifiers to prevent sonic degradation. In addition to two sets of speaker outputs, the C 399 has preamp output jacks and dual subwoofer outputs. Two-way aptX HD Bluetooth allows 24-bit streaming from mobile devices, and high-quality output to Bluetooth headphones. Also built-in is a dedicated headphone amplifier with low output impedance and high output voltage capability, enabling the C 399 to drive demanding high-impedance studio monitor headphones. The NAD C 399 HybridDigital DAC Amplifier will also be available in time for the holiday season, selling for in Canada for $2,599.
Campfire Audio Holocene Earphones
Designed for audiophiles, the Holocene earphones use Campfire's signature 3D printed acoustic chambers and precision matched drivers. Holocene's sound profile offers an even, balanced frequency response across its entire range, while Mammoth is described as being "bold and vibrant, ideally designed to deliver an enhanced listening experience to the person who likes to turn things up and feel the bass, mid, and treble in all the right places." Machined from aluminum, connected with black tri-lobe screws, finished with a black PVD stainless steel spout, and completed with the company's custom beryllium MMCX connectors. Campfire has also given Holocene unique glow-in-the-dark elements on the earphones and cable overmolds. The units also ship with a custom-designed zipper case made of SEAQUAL upcycled marine plastic with glow-in-the-dark features and unique patterns on every case. The Holocene boasts a triple balanced armature earphone design with an SPL of 94dB @ 6.99 mVrms and 5.4 ohm @ 1K impedance. Frequency response is 5Hz – 20kHz. Available in an 'Umber' colour with glow-in-the-dark overmolds and a 3.5mm plug with a "Smoky Glow: silver-plated copper litz cable, it comes with the new "Epoch" carrying case. It sells for US$649.
Bluesound NODE Wireless Hi-Res Multi-Room Music Streamer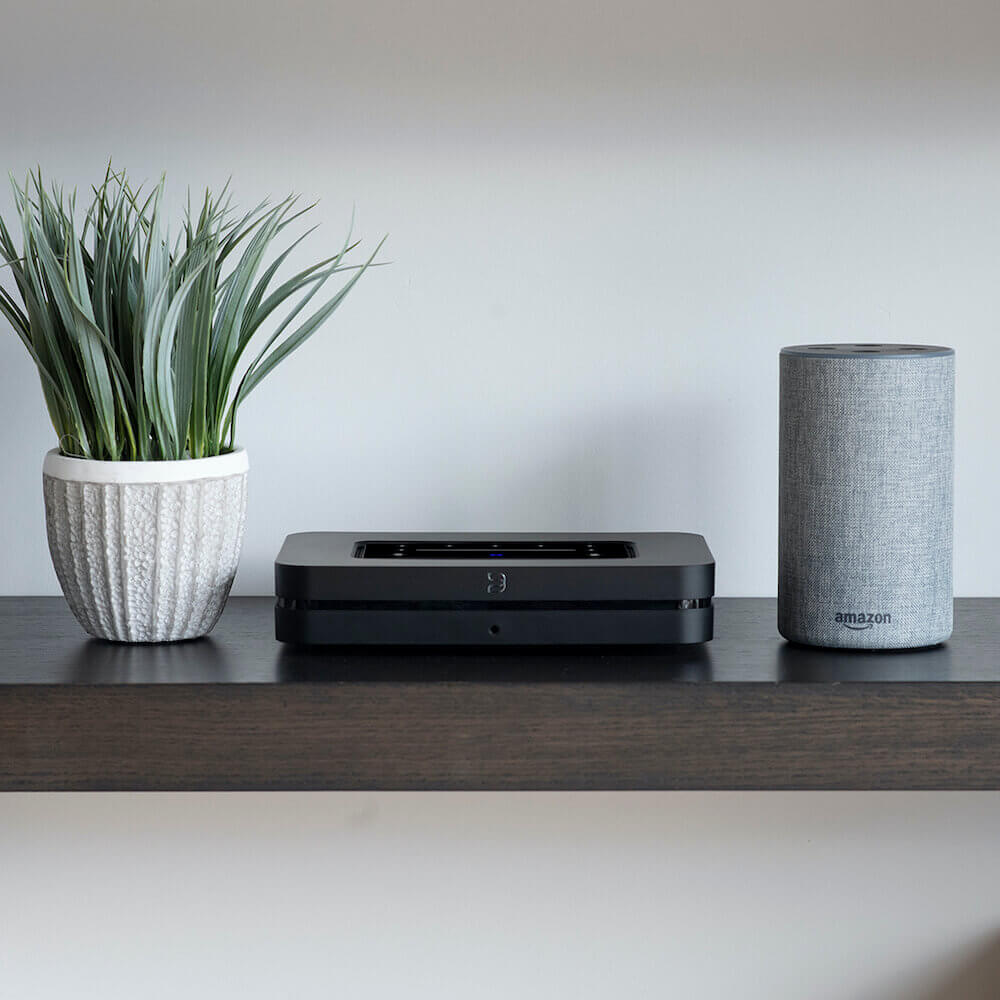 The new generation of Blueosund's NODE Wireless Hi-Res Multi-Room Music Streamer includes a new DAC design, more powerful processor, and touch panel controls with presets and proximity sensors. With an easy-to-clean satin finish in either black or white, the NODE ($649) supports 24-bit/192kHz audio processing, and MQA for studio-quality listening. User-friendly software features like tone controls and subwoofer crossover optimization allow you to customize your listening preferences in detail. It is also equipped with an array of digital and analog inputs and outputs. Bring music into your NODE using Wi-Fi or Ethernet, Apple AirPlay 2, aptX HD Bluetooth, or USB Type A connectors, to hear audio content from streaming services, internet radio and your own music library. The NODE now features an HDMI eARC input on the back panel, to keep your setup flexible and future-friendly. Listen to your music through your hi-fi system or through wired or wireless headphones, by connecting to the RCA, Toslink optical, aptX HD Bluetooth, 3.5mm jack, Apple devices, or other Bluesound or BluOS enabled players. The BluOS platform can support up to 64 players, all streaming in 24-bit hi-res audio. In addition to using the BluOS Controller app with your smart devices, quick access controls like play/pause, track skipping, and volume are available as touch panel controls, via voice assistants like Apple's Siri, Amazon Alexa, or Google Voice, by programming your own IR remote or using the optional Bluesound RC1. The intuitive touch panel control with proximity sensor now also features five presets. Advanced controls, including tone controls are available in the BluOS Controller app. The NODE can also be integrated into a smart home with full-feature drivers for Lutron, Elan, RTI, Crestron, and other popular home control systems.
Mission LX Connect Stereo Wireless Speaker System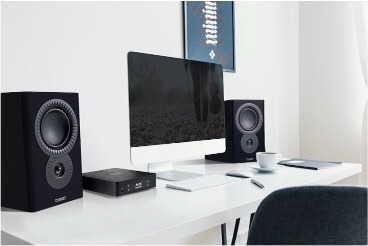 The LX Connect combines acoustic engineering by Mission and electronic design by Audiolab. Central to the LX Connect's design is the LX-2 MkII, a pair of Mission speakers launched in 2020 as part of the LX MkII series. The LX-2 MkIIs are traditional 'passive' hi-fi speakers, designed to be connected via speaker cables to an amplifier. To create the LX Connect, Mission has taken the LX-2 MkII, enhanced its design and added a suite of high-performance technologies to create an active wireless speaker system. The LX Connect removes a need for a connecting cable between the speakers, or you may want to hook up a cable from your source device – USB from a computer for hi-res audio, for example – and therefore need to run a cable to one of the speakers from wherever the device is situated. The LX Connect incorporates a third box –called the "hub," which transmits the audio signal from source devices wirelessly to the two speakers via uncompressed Wi-Fi. The speakers themselves have no cables, other than a power cord to connect them to the mains. This inclusion of a separate Hub has enabled Mission to optimize the LX Connect's audio circuitry and provide facilities that would be impossible to integrate or awkward to access without it. It connects to source devices – PCs and Macs, Android and iOS devices, music players, media boxes and so on – via asynchronous USB, S/PDIF (coaxial and optical) and HDMI digital cable connections, or wirelessly over Bluetooth. There is no built-in Wi-Fi networking – this is to maintain operational simplicity, without requiring a dedicated app (which are often not entirely satisfactory), and to avoid the potential instability of relying on a busy home Wi-Fi network. Instead, simply connect the Hub to a computer or smart device on your home network and use your preferred streaming app to drive the LX Connect. The Hub itself is a compact unit (55x235x231mm), easy to station conveniently near any source device. This might be a desktop or laptop computer, or perhaps a tablet, connected to the Hub via USB or Bluetooth. Or it could be a TV, media box or games console in an AV environment, hooked up via the Hub's HDMI ARC input. It even includes a line- level RCA-stereo analogue input, so you could connect a CD player, say, or a turntable (with the addition of an offboard phono stage). The high-performance DAC stage is based around the ES9018K2M DAC chip from theSabre32 Reference family, accompanied by proprietary circuitry to make the most of ESS Technology's 32-bit HyperStream architecture and Time Domain Jitter Eliminator for ultra-low noise and high dynamic range. The DAC stage supports hi-res PCM up to 32-bit/384kHz over USB and 24-bit/192kHz via the coaxial and optical inputs; DSD (up to DSD256) is also supported over USB. An RCA-stereo output is provided with fixed and variable output options, fed by a high-quality analogue stage – this enables the Hub to perform as an off-board DAC/preamp to connect to an external amplifier, or feed an active subwoofer to augment the LX Connect speakers. A high-quality headphone amp is also included, again derived from Audiolab – with its current-feedback circuitry, excellent gain bandwidth and high slew rate, a dynamic and detailed performance withall manner of headphones is assured. The Mission LX Connect wireless speaker system is available for $2,000 and come in soft-touch matte black or white, while the Hub comes in black. Read more about the Mission LX Connect in our announcement.
Audio-Technica AT-BHA100 Balanced Headphone Amplifier
Enhance the sound from your hifi headphones with this headphone amplifier (MSRP US$999) that has four JJ Electronic ECC83S vacuum tubes, one for each audio circuit, and four power transistors. The left and right channels and balanced amplifier circuits are separated from each other, a configuration of four independent amplifier circuits. The two balanced outputs are a 4.4 mm (0.17-inch) TRRS jack and a 4-pin XLR terminal for compatibility with a range of balanced headphones, along with two 1/4-inch (6.3 mm) jacks. Two headphones can be used at the same time, with independent volume control of each (in unbalanced mode). The AT-BHA100 also features a line-through output, which is useful for connecting to a desktop audio system or powered speakers. The left and right channels are independent of each other to suppress crosstalk. The AT-BHA100 uses a New Japan Radio (NJR) MUSES8820 op amp, WIMA and Shinyei film capacitors, a four-layer circuit board construction that separates the signal, power and ground circuits for maximum audio purity, and other refinements. The AT-BHA100 comes with an external power supply, and it can be placed vertically using the supplied brackets.
Totem Tribe Duo Solution Bar
Who says you can't get hifi sound from a soundbar? There are plenty that offer premium sound that can rival a full home theatre set-up. Totem's Tribe Duo, which it calls a Solution Bar, employs a passive design so you can connect an outboard amplifier for even better performance. Gorgeous in design, its purpose is to replace a pair of full-range speakers, ideal for smaller spaces like apartments and condos. It can either be mounted on a wall or placed on furniture and has a sealed cabinet design. Available in either satin black or white with matching magnetic grills, it's sized to fit TVs that are 65 inches or larger. Audibly, it features neodymium activated 4-inch woofers, soft dome tweeter, and hard-wired crossover.