By Christine Persaud
Looking for the perfect gift for mom this year, especially one that she can use while social distancing and staying at home? Here are some great options. All of the items can be ordered online, though with shipment delays, if you wait too long, you might have to print mom a nice IOU!
Fitbit Versa 2
This smartwatch is stylish and can be a great companion for making sure mom gets her daily steps in as well as some quick workouts throughout the day whenever she has a free moment. Even without a subscription to the Premium service, she can tap into free short workouts by pressing the Coach button on the Watch. Videos will appear on the watch screen walking her through the different steps, with a video of a person demonstrating how to do the exercise first followed by a countdown timer so she can complete the necessary number of reps for each move, from sit-ups to wall presses and crunches. Once each set of reps is completed, the Watch will vibrate to let her know to look over at the screen to get the next set of instructions. There are workouts as short as five minutes as well as more intense and longer ones to help mom get exercise. The Watch can also show smartphone notifications and keep track of data like calories burned, stairs climbed, sleep, and continuous heart rate. About $260
Dyson Lightcycle
Dyson's Lightcycle Morph looks at how human circadian rhythms are timed with the rising and setting of the sun. Inspired by the benefits of natural light, it has local daylight tracking and can deliver light throughout a room in four formats: task, indirect, feature, and ambient. With indirect light, for example, it will rotate to bounce light off walls, floors, and ceilings. As a feature light, it will create dramatic effects to highlight art, colours, and decorative features. Control it from the app, and set your profile, including your age and mood, and it will intelligently adjust the light according to those factors (e.g. a 65-year-old mom would require more light than a 25-year-old one) along with the task you're performing, as well as using Dyson's Daylight Tracking algorithm. It can rotate 360-degrees for flexible lighting as you need it. It also includes a USB-C charger to charge mobile devices from the same outlet. There is both a Desk and Floor variant. It's ideal for mom to use in her new home office or her personal area for quiet reading time or when doing other tasks. From $850.
Instant Pot Air Fryer Lid
If mom already has an Instant Pot, consider getting her the Air Fryer lid which won't take up much more counter space or can be tucked away in a cupboard when not in use, but provides all of the benefits of a full-sized air fryer. It pops atop the pot and can be used to air fry food with little to no oil as well as bake, reheat, or even dehydrate, It can only cook a small portion of food at a time, but it's great for preparing a quick lunch of chicken wings or making homemade French fries. And it's a great way to reheat leftovers without having to use the oven or microwave. About $120
iRobot Braava jet m6 Robot Mop
It's the perfect companion to mom's Roomba robot vacuum you probably got her last year. It communicates with the latest models so that the mop will know when to start mopping as soon as a vacuum cycle has finished. It glides effortlessly along floors, building a map of your home over time, just like Roomba. You can use washable cleaning pads or disposable ones along with the cleaning solution and water. Mom will love playing with her new toy, or rather having the toy do the work so she doesn't have to as often. It's on sale for Mother's Day at $100 for $550 (regularly $650) or get mom both the mop and the vacuum together for $1,440 for the Roomba S9 and Braava jet m6 (regularly $1,800) or $1,080 for the Roomba i7 and Braava jet m6 combo (regular price: $1,400).
Streaming TV Subscription
Yah, yah, mom might already have Netflix and is using your Prime login to access Prime Video (shh, don't tell anyone.) But there are other streaming subscription options you can consider for her to add more shows and movies to her watch list, especially while quarantined at home. And if mom doesn't have cable, she'll be looking for something new to watch. Apple TV+ is a great option for series like The Morning Show, For All Mankind, and Servant (a creepy series about motherhood!), while you might also want to consider Disney+. If mo mis a fan of Star Wars, she'll for sure want to see The Mandalorian. You could also look into options like CBS All Access and Crave, the latter of which has a ton of legacy series that mom might love watching again, like Seinfeld and the entire Showtime collection (Sopranos, anyone?) Subscriptions range from about $5/mo. up to $13/mo., depending on the service. Spend about $100 to get mom one-years' worth of TV binging options.
Sennheiser Momentum True Wireless 2 Headphones
Any working mom will need a good pair of headphones not only to use while working (what is that, her fifth Zoom meeting today?) as well as to cut herself off from the world (read: kids) every now and them. These are a good option because they are both unobtrusive and wireless so mom can just pop them into her ears and continue about her day, but they also not include noise-cancelling technology. Using the Sennheiser Smart Control app, she can adjust sound to her liking while listening to music when she goes for a run in the morning (keeping a safe distance from others, of course), and Transparent Hearing to blend in outside ambient sound when needed, like if she wants to still hear if the baby wakes up crying. It offers up to seven hours of battery life per charge, more than enough for an entire work day. MSRP $400
Apple iPad Pro and Magic Keyboard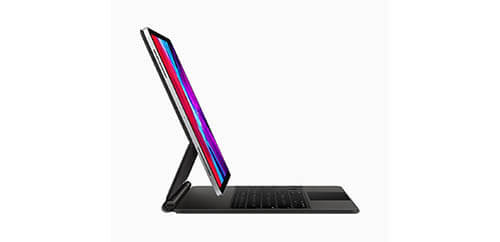 Now that the kids have monopolized the family tablet since they're home, using it for entertainment and distance learning tasks, as well as the family computer or your personal laptop, it's time to get mom an iPad of her own. The Pro will let her do everything from surf websites to play mindless games (Candy Crush, anyone?), watch movies, read ebooks, and more. If she wants to use it for productivity, too, grab her the new Magic Keyboard that attaches to the tablet magnetically and lets her adjust the viewing angle up to 130-degrees. The full-sized keyboard has backlit keys and a scissor mechanism and offers USB-C pass-through charging. If mom already has an iPad Pro, this new keyboard works with previous generation models as well. Starting from $1,050 for the iPad Pro, Magic Keyboard starts at $400.
CircleIt App
You can't really give this app as a gift, per se, but you could download it for mom (perhaps on a new tablet or smartphone?) and full it with cool messages for her. The app is designed to be a digital time capsule, allowing people to create memories like videos, photos, and text messages for different milestones and life events and pre-schedule them. Imagine having your young daughter send a video to mom that she receives on the girl's wedding day or the day of the birth of her first grandchild. It's a message from the daughter's childhood self saying thanks for everything you've done for me. Or have a son delivery virtual roses to mom every year on her birthday, along with a personalized message so even if he's away at school or married with his own kids now, mom will still see that little boy version. Once she has access to the app, mom can also add her own messages, offering support and guidance for her kids all the way to adulthood so that they have her wisdom with them even when she's gone. The app is available to download for free.
Epson Eco-Tank ET-2760 All-in-One Supertank printer
Grab this printer for mom so she can crank out all of the work documents she needs, homework and assignments for the kids, and more without having to keep stocking up on ink. Why? It uses refillable ink reservoirs that hold enough ink to last for up to two years and the printer comes with a two-year supply in the box! She can print spreadsheets for work, help kids with their homework, and get creative and crafty with fun projects at home without skipping a beat. $380
Epson FF-680W FastFoto Wireless High-Speed Photo Scanning System
Another great option from Epson is the FastFoto printer, which can scan physical archived images in big batches at once. Now is the perfect time for mom to finally get around to her project of digitizing old photos. Once digitized, she can rename the files and place them in different folders. Maybe even upload photos to the CircleIt app, too! We reviewed it way back in 2016 and works seriously fast and is worth every penny if mom has hundreds of old photos you want to get online and the time to do it. $800
Joby GorillaPod Mobile Vlogging Kit
If mom is looking to start her own vlog to pass the time, posting things like workout or yoga videos that her social media followers can enjoy, or maybe just wants to record some cooking or other videos for posterity, this kit might be a really thoughtful gift to help her up her game. It includes the GorillaPod Mobile Rig, Beamo Mini LED, and Wavo Mobile microphone. The devices can be used to stabilize the phone while recording videos, add lighting, and improve sound. Portable and lightweight – the kit weighs just 19 oz. and can easily fit into a bag – the Mobile Rid Base provides Joby's Grip It, Wrap It, Stand It features. An included GripTight Pro 2 mount supports holding the phone in both landscape and portrait orientation. Once set up, you can control lighting using the Bluetooth enabled myJOBY app for iOS and Android. The kit sell for about US$200.
Belkin Soundform Elite Hi-Fi Smart Speaker + Wireless Charger
If mom is into hifi audio, this is the ideal speaker for a mother. Why? Because if there two things any mom can appreciate, it's beautiful design and the ability to multitask. And this speaker offers both. Designed in partnership with Devialet, the speaker plays music wirelessly from a source device, like a smartphone, while also simultaneously charging her phone. It offers up to 90dB SBL of max volume, fast wireless charging, and works with Google Voice Assistant for using your voice to control music playback, controlling other compatible smart home devices, getting answers to questions, and more. Devialet worked on the acoustic architecture bringing its patented SAM (Speaker Active Matching), technology that renders the original intent of the content creator with high-fidelity sound reproduction, and 'Push-Push' Woofers architecture. Devialet's signature woofer configuration cancels any vibrations while ensuring a deep, impactful sound with implosive bass considering the size of the speaker, says the company. This allows for a steady wireless charging experience for Qi-enabled devices up to 10W without sacrificing impactful bass levels. MSRP is about US$299.
Austere V11 Series Power and Protect 8-Outlet Power Block
No, a power block isn't exactly a gift that screams "I love you, mom." But something that can tidy up the house is. And this sleek power block fits the bill when it comes to organizing a clutter of cables. I use one beside a side table in my living room to plug in the charging dock for my Savant remote, my Ventev wireless charger, a speaker, an Amazon Echo Show 5, my Fitbit charger, and now, my son's laptop for distance learning and iPad for at-home entertainment. This leaves several more outlets open for other devices as I need them. What I really love about this power block, aside from the gorgeous all-aluminum enclosure design and durable and attractive WovenArmor power cable, is that it has several outlets on the side as well for plugging in more items, including two USB ports (where my Fitbit charger resides) and a45W USB-C PD port. Another small but appreciated detail: AC outlets are well-spaced to accommodate large adapters without having to skip plugs. $280, and a six-outlet version is also available for $250. It's an unconventional gift, sure. But at a time when mom is just looking to maintain a clean house where the entire family is staying 24/7, it's one she'll appreciate. Just serve it up with a nice box of chocolates or breakfast in bed as well.
Dyson Corrale Hair Straightener
Who needs a $600 hair straightener? The answer is any mom on the planet! Because once she gets out of this social distancing mess and the world goes back to "normal," she will be going for many nights out of on the town and wants to look gorgeous. Of course no other company would offer such a thing by Dyson, and its new Corrale will be at the top of any mom's wish list. It uses patented Dyson flexing plates that shape to gather hair and help you style with half the damage. Plus, it's also cord-free. The patented microhinged plate technology flex to shape and gather hair, applying even heat and tension to all the hair strands in every pass and keeping them perfectly aligned, reducing the reliance on heat. Suitable for all hair types, it also features Dyson's Intelligent Heat Control for precise temperatures, along with four-cell lithium-ion battery technology to deliver cord-free performance. It has three settings from 165-degrees Celsius up to 210-degrees and features Intelligent Heat Control technology. Using a platinum sensor, the temperature is measured 100 times a second. This technology communicates with a microprocessor which in turn controls the heating system delivering precise, accurate heat. In addition to the four-cell lithium-ion battery that allows for cordless use, a flight mode feature ensures the device meets air travel standards and can be packed in cabin luggage for travel. It recharges in 70 minutes and provides up to 30 minutes of styling. As you style, rest it down in the ergonomic charging dock. To charge, use the magnetic 360-degree charging cable. Price? $650. But mom will thank you. As a mom with naturally curly hair, trust me.
Fujifilm Instax Mini 11 Camera
These types of cameras might be marketed more towards younger kids, but mom might love the nostalgia of being able to take cute snapshots of her kids she can get physical prints of right away. It comes in five new pastel pale-tone colours: blush pink, sky blue, charcoal gray, ice white, and lilac purple. A new feature is automatic exposure, which makes it easier to snap photos both during the day and at night. The feature automatically senses the level of ambient light when the shutter button is pressed and optimizes the shutter speed and flash output according to the condition. There's also Selfie Mode, which can be activated by pulling out the front-end edge of the lens after powering the camera on so mom can take some great photos on the days she feels like getting all made up, or when she just wants to post some pics, au natural. The camera comes with custom, interchangeable shutter buttons stickers so you can personalize the camera to your own style. MSRP $90.
Huawei Watch GT2 42mm Smartwatch
If mom wants to get a classy-looking health watch that micro measures every physical activity in real time, then the Huawei Watch GT2 42mm ($298) that has a 1.39″ AMOLED Display fits the bill. It is ultra slim, light and comes with Khaki two-sized leather bands. Accurate GPS is shown even when you cross a narrow street. Water resistant to 50 meters, it lasts a week with average use. With 2GB storage, you can listen to 500 songs on Bluetooth while on the go. Answer or reject incoming phone calls, get weather notifications, measure air pressure trends or use the compass, and of course monitor many indoor and outdoor workouts. One unique feature is a daily stress monitoring graph and a very effective sleep monitor combined with breathing routines.
Fitbit Charge 4 Smartwatch
For a simple looking health tracker, the Fitbit Charge 4 ($199.95) has a sweet size screen, seven day battery charge, and features built-in GPS tracking, a first for a Fitbit tracker. The Charge 4 is the first Fitbit to feature the new Active Zone Minutes for micro tracking your activities. Spotify is there as well as advanced sleep tools and activity autosensing. There is new content added to the optional Fitbit Premium, even a fitness travel guide and imaginative workouts from brands like barre3, Down Dog, and Physique 57. Fitbit is offering a free 90-day trial for new Premium users. Premium is available for $13.49/mo. or $106.99/yr. It's a good investment if mom is challenged in expanding her fitness regimen.
FreeBuds 3 Wireless Earbuds
Huawei's wireless FreeBuds 3 ($260) with open-fit design are ergonomically engineered for maximum comfort, and a perfect choice for fussy moms who don't like invasive tight-fitting earphones. They sound rich with clean deep bass and feature noise cancelling you can fine-tune depending on the noise around you with Huawei's AI app on Play Store or Huawei's AppGallery. Mom can also program four tapping functions on each side pod for frequently used actions like Play/Next song, Wake voice assistant, or noise cancelling on/off. Good for four hours playback and 20 hours when paired with the included charging case, they'll provide mom with hours of listening whether she's working out, commuting, or relaxing on the deck.