Netflix Stranger Things: The Experience arrives in Toronto this weekend following a successful run in other cities like New York, San Francisco, London, and Atlanta and alongside concurrent ones in Los Angeles and Paris. This isn't the first of its kind of experiential events tied to a popular TV show or movie. Experience events for shows like Friends and The Office have run in Canada and elsewhere as well. But it's a compelling one that will appeal to all ages (older kids recommended) who are fans of the show, or just want to experience a fun travel back to the '80s.  
How is the Experience?
I had the chance to check out the experience for the media preview night prior to the official show opening, and it was an exciting, fun, interactive event. While the run time is only about 45 minutes (which makes some balk at the price of entry for tickets), you get to fully immerse yourself into the story of the popular Netflix series, which will be coming to an end with its upcoming fifth season. You begin in the Hawkins Lab and are instantly transported into a Stranger Things-themed storyline, complete with all your favourite characters. There are missions you need to do (thanks to each attendee's unique powers, determined by which group you're in) and enemies you need to thwart. Yes, there are Demodogs, and they're terrifying.
The use of technology to enhance the experience is impressive, from realistic projection imagery to speakers making voices appear as if (without spoiling anything), they're coming from up high, down low, and all around. Throw on 3D glasses for a compelling experience that will have you jump and cringe as you explore the Upside Down.
The event has an escape room vibe with a bit of theater followed by an interactive 3D experience, all rolled into one. When in Hawkins Lab, you navigate from one room to the next, harnessing your powers to help Elle, Dustin, Lucas, Mike, Will, Max, and Erica stop the Demodogs (and Martin Brenner) from proceeding with their evil doings. In the end, you finally squeeze through an opening into the Upside Down for the final sequence. Note: photography was not permitted in these areas of the experience, so you'll have to enjoy them for yourself.
Once you complete the experience, enter the Mix-Tape social area to enjoy some downtime in the '80s-themed mall area.
There are several vendors replicating ones from the show, like Scoops Ahoy serving up delectable ice cream treats and other baked goods (sorry, no Steve or Robin), and Surfer Boy Pizza that can whip you up a slice of pie. (No ice baths available nor is Argyle anywhere in sight).
Adults will enjoy the fully licensed bar with both basic and special cocktails: I tried The Rifter, a mix of vodka, ginger beer, and fresh lime and mint. There are creative mocktails, too: my 11-year-old son, a die-hard fan of the show who came as my plus-one, had The Starcourt Special mocktail, which includes sparkling orange juice and grenadine with an orange slice and maraschino cherry (spoiler alert: it's a Shirley Temple).
Scan the room and you'll find several retro arcade machines littered throughout. All of these are, of course, available for a price. But you can stay and hang out as long as you want, even if it's just to enjoy a few games of Dig Dug or Joust, or relax around a high table or in a small seating area to chat with friends and family, or other fans of the show.
Throughout the area are several photo op stations as well. Pretend you're being mind-flayed by Vecna in the photo op area featuring the villain or have a seat on Joyce Byer's couch from season one, complete with her wall Ouija board and Christmas lights. The details, right down to the notepad and full ashtray on the coffee table, are accurate down to a tee. You can even pick up the receiver in a Hawkins phone booth to make an important call, and pose for another fun photo.
The Retail Element
The Mix-Tape area is effectively a mini replica of the Starcourt Mall. It has a big, open space with tables and chairs surrounded by restaurants and stores. Yes, there are several stores selling merchandise, including a Rink-O-Mania store selling everything from T-shirts to themed books and other merchandise, a Hellfire Club store with clothing and other items celebrating the high school club, and even items for sale in Joyce Byers' home.
It's a brilliant opportunity to entertain fans of a popular show while adding a lucrative retail element to the mix. Events like Stranger Things: The Experience prove that in-person experiences remain so important, especially as we finally emerge from the two-year lockdown resulted from COVID-19.
Sitting in front a TV screen watching shows or behind a computer screen shopping online are both convenient and simple. But getting out there to meet and talk with other fans is important. Touching and feeling products, seeing items you can't get anywhere else, and enjoying the overall experience is also important. And yes, that also includes getting a souvenir or two to take home. (Most drinks come in a souvenir cup that you get to take home as well.)
Stranger Things: The Experience is part of a growing trend. A Friends experience recently wrapped up at Yorkdale Mall in Toronto. I attended a similar pop-up experience years ago in New York, though it was much more low-key. Grab a coffee, take a photo on the Central Perk replica couch, and buy some merch.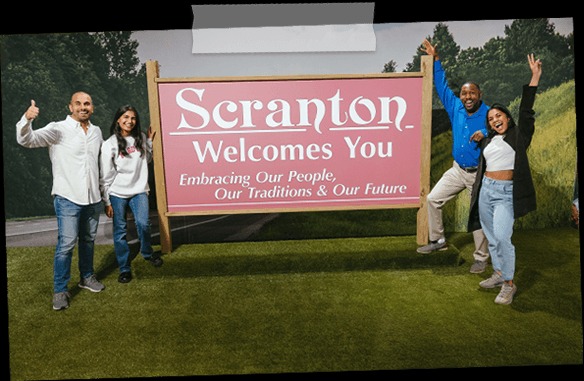 Currently, a The Office experience is also running in Toronto.
If Netflix Stranger Things: The Experience proves anything, upping the ante to make the experience more than just a simple walk-through is important, especially when it comes to a show as thrilling as Stranger Things.
The cost of entry is exponentially more, but you get an entire day out with it, whether it's a family outing or a date night. Book a time for your 45-minute slot, then hang out in the Mix-Tape area as long as you like. The music and ambiance will take you right back to the '80s, or, for the younger generation, to that decade for the first time. Guests are encouraged to dress up in full '80s garb, too: think fanny packs, shoulder pads, and big hair!
Bottom Line
The Netflix Stranger Things Experience is a unique event that beats simply going to a movie or hanging out in a bar. And for fans of Stranger Things, it's an event to remember, taking you off the couch and into the real world to interact and become part of the story yourself.
The event is now running in Toronto at the Cinespace Marine Terminal Studio downtown, with available tickets starting in April and running through to June 2023. It's required to book a specific date and time slot in advance. Any child under the age of 14 must be accompanied by an adult and kids under 5 will not be admitted.
Tickets are anywhere from $50 to $80 (more for the VIP experience that includes a collectible tote bag and drink ticket), depending on the day of the week and time booked. Several dates and times for April are already sold out, so if you're a fan of the series, you'll want to grab tickets before they're sold out and the Toronto run is done.