Nikon Canada Inc. has announced the Z f full-frame mirrorless camera, fueled by the Expeed 7 processing engine that enables an enhanced AF system and improved low light capability. The new processing power also adds new features like pixel-shift shooting, advanced in-body stabilization, and a monochrome mode.
Along with the Expeed 7 image processing engine, the camera offers enhanced response time, burst speed, and AF performance. The camera has a 24.5MP full-frame BSI CMOS sensor paired with an AF system that offers 3D Tracking plus subject detection developed with Deep Learning technology, detecting and locking on to nine different types of subjects. Similar to the Nikon Z 8, the camera finds people, dogs, cats, birds, cars, motorcycles, bicycles, trains and planes. It can also detect a small sized face in the frame, approximately three per cent of the frame's longest side. The AF system uses 299 AF points in Auto Area AF, covering 96 per cent of the horizontal axis of the frame, making it easy to lock on and track a subject, even near the edge of the viewfinder, says Nikon. Once you decide to go fully manual, the Z f uses Eye/Face-Detection in MF mode, recognizing the eye and allowing you to magnify the area on the screen to nail critical focus.
With the additional processing power, the Z f achieves five-axis in-camera vibration reduction (VR) image stabilization equivalent to an 8.0-stop increase in shutter speed, the best among Nikon Z series cameras. The Z f also supports focus-point VR, which minimizes blurring at the focus point rather than the centre of the frame, even when the subject is positioned near the edge of the viewfinder.
The camera is also capable of high-speed continuous shooting at approximately 14 frames per second, or up to 30 frames per second, when High-Speed Frame Capture+ (C30) is set. To ensure no shot is missed, the camera is also capable of using the Pre-Release function to start recording before the shutter is fully pressed. The additional processing power in combination with the BSI sensor improves low-light performance, raising the standard ISO range from 100 to 64,000. In challenging light, even fine details and textures come out sharp and clear with rich saturation, while mid-tones, where noise tends to increase, come out much cleaner than before, Nikon claims.
For those who want the ultimate in fidelity while reducing moiré, false colours, and noise for immersive depth, the Z f is the first Nikon camera capable of pixel-shift shooting to create images up to 96 megapixels. Ideal for landscape, architecture and commercial artists, the system works by subtly shifting the image sensor position when capturing between 4, 8, 16, or 32 RAW (NEF) files, acquiring more accurate colour information and resolution.
With an exterior design reminiscent of the FM2, the magnesium-alloy body is durable and features a glossy finish, adorned with a classic Nikon logo. The characters on the mechanical dials for shutter speed, ISO, and exposure compensation are all etched, and provide tactile response, while the feel of the shutter-release button was given meticulous consideration.
The Z f includes a physical switch to engage a dedicated B&W photo mode, which enables multiple monochromatic Picture Controls. In addition to the sharp, dynamic, and higher-contrast "Monochrome" mode in Picture Control, the new "Flat Monochrome" mode reproduces tones with a smooth gradation from shadow to light, rich in mid-tones for a warm, soft impression. The new "Deep Tone Monochrome" mode expresses high-contrast and highlights by bringing more emphasis to dark tones, keeping mid-tones dark and with fewer blocked shadows.
Additional features include up to 299 points in Auto-area AF for better focus acquisition performance with distant or moving subjects; a vari-angle touchscreen monitor; starlight view mode that boosts display brightness in extremely dark scenes; video frame rates and resolutions up to 4K UHD 30 oversampled from 6K9, as well as 4KUHD 60P (DX-mode) and 1080/120P with recording times up to 125 minutes; video recording in shutter-priority auto mode so you can select shutter speed while the camera adjusts the aperture and ISO; in-camera, 10-bit H.265 recording; support for Touch Fn for adjustment of camera settings while framing pictures in the viewfinder; supports for merging of NEF (RAW) images shot with pixel shift shooting to create a detailed image up to 96 megapixels; fast shooting, with up 14 fps bursts plus High-Speed Frame Capture+ (C30); and advanced features for dedicated portrait photographers that include the skin softening function, including Rich Tone Portrait Picture Control that better captures details of the subject's complexion.
The camera has two memory card slots, one for UHS II SD cards and the other for microSD cards. It is also dust and drip-resistant with sealing on the exterior cover joints, shutter-release button, and vari-angle mechanism. Additionally, the Z f has an electro-conductive coat that keeps the surface clean from dust and a fluorine coat that makes for easier cleaning.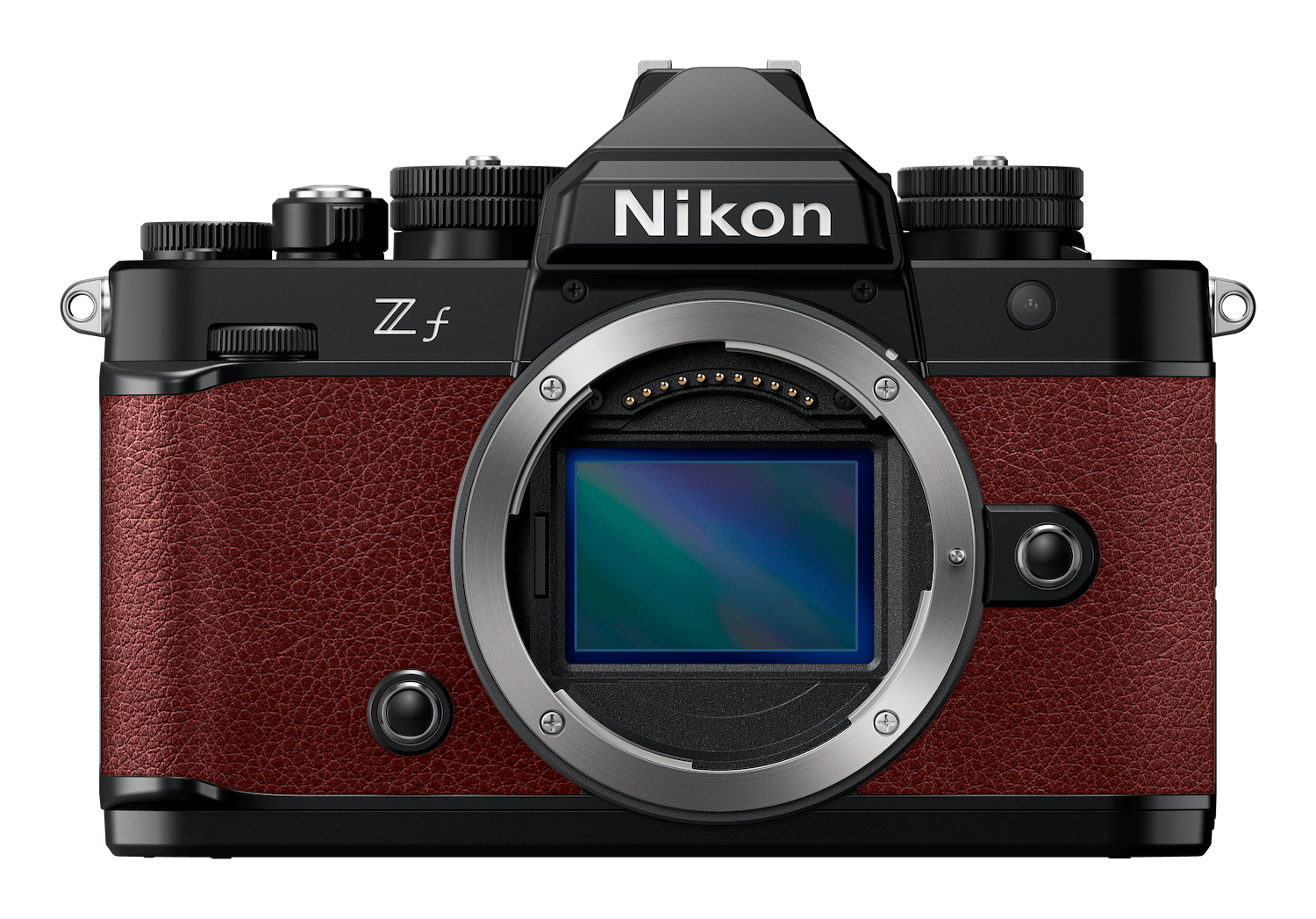 In addition to the basic black body, the Z f comes in six different colour options. These premium exteriors render the embossed artificial leather sections of the camera, covering the grip and all around to the rear of the folding camera monitor. There are three rich colours (Indigo Blue, Sepia Brown, Bordeaux Red) and three deep, warm natural colours (Sunset Orange, Moss Green, Stone Gray), rendered with individually matching surface textures. These colours will be sold in limited quantity exclusively through the Nikon Store.
The new Nikon Z f will be available in October for a an MSRP of $2,699.95 for the body only. Additional kit configurations will also be available with the retro-styled NIKKOR Z 40mm f/2.0 SE for an MSRP of $3,029.95, or with a NIKKOR Z 24-70mm F/4 S lens for an MSRP of $3,499.95. The additional colour options will be available as body-only for an MSRP of $2,829.95 exclusively from the Nikon Store. Nikon is working with SmallRig to develop a custom grip bracket, which will be available at a later date.