Last month I received a pair of Kanto Audio's new desk top speaker that they call the ORA.  The caveat was to enjoy the speakers for a month but don't tell anyone about them and don't write about them until October 30th which is today and the day the ORA go on sale.  I have been a Kanto fan for years, with my only on-the-record complaint both to the executives of the company and in past reviews is that Kanto tend to over-engineer great sounding speakers, but then offer them at ridiculously low prices. I really don't know how they do it. Kanto never disappoint and most often when Kanto speakers are being sold you spend more time with the customer explaining the price;  "No that's actually for both speakers and no that's not a discounted price for a demo pair but actually what they sell for". Kanto could bump up the price and not only aid an ailing Canadian economy but pad the margins of ailing retailers.
With a long history with Kanto's YU line of powered speakers to reference, I was already expecting big things from the compact 50W desktop speakers that I was sworn to not speak about until today and indeed, typical of Kanto, they have produced another over-engineered great sounding speaker this time at a measly price of $349.
The ORA, feature separate amplifiers for woofers and tweeters with a feature set including Bluetooth 5.0 for streaming connectivity, an analogue L&R line-in, and a USB-C input for connecting smart phones, computers, and digital audio players. When using the USB-C, ORA can accommodate hi-res audio files up to 24-bit / 96kHz.   In the box is a power cord, a 4-pin cable that connects the powered right to the passive left speaker and adhesive silicon dampeners to place as feet under the speaker.  An LED light on the powered speaker  – blue for Bluetooth, yellow for usb and green for RCA illuminate but thankfully at a subtle and not at a lighthouse-powered glare. Kanto sent us two sets of speaker stands, the S2 that sell for $30 are low profile and angle the speakers toward the listener's head and the SE2 stands that raise the speakers off the desk about four inches.  For our set-up we chose the S2 that we found to be more aesthetically pleasing by concealing the cabling while also offering a perfect angle for near listening.  The SE2 also sell for $40 more than the S2. Go with the S2.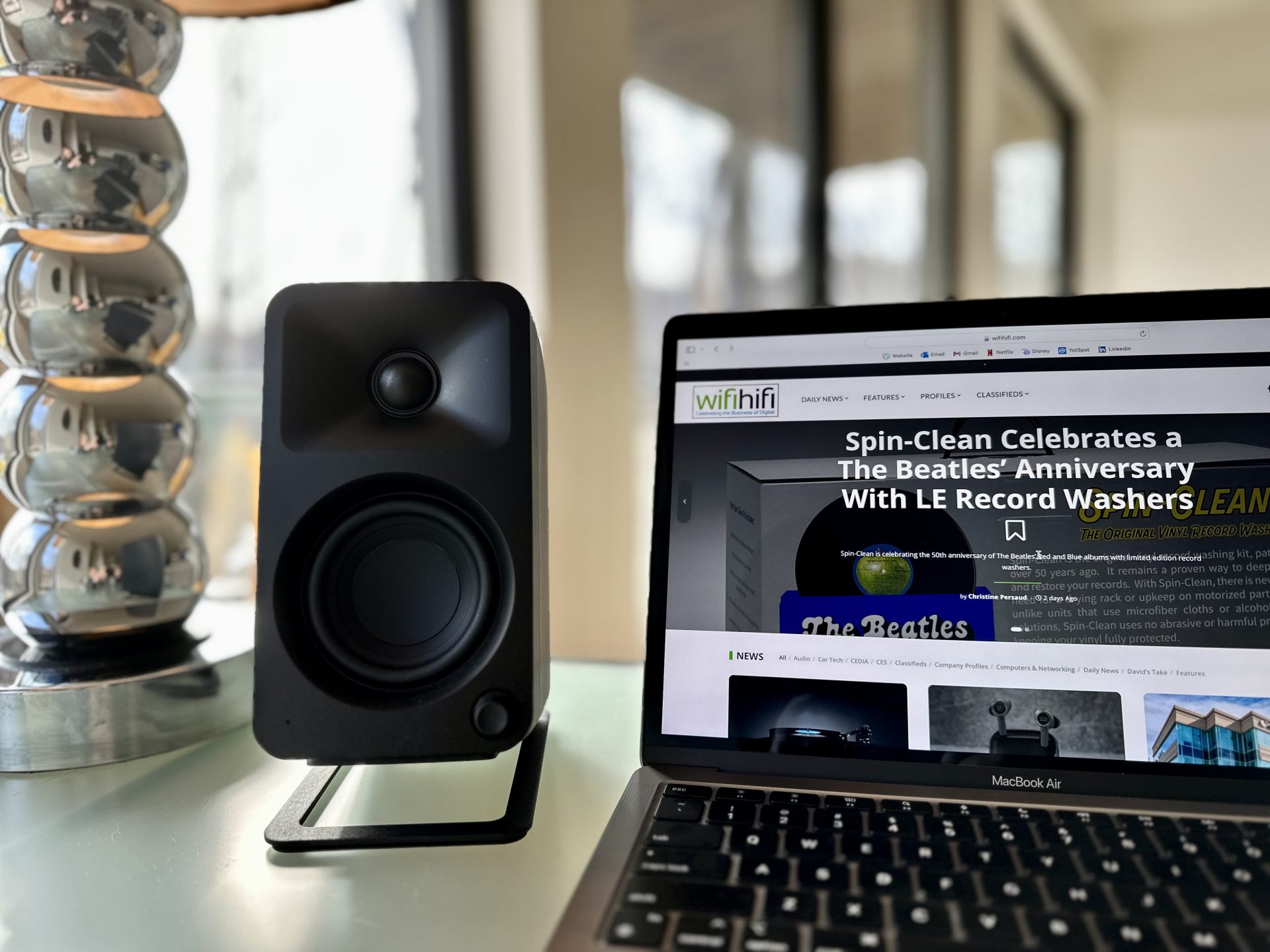 ORA is spec'd with a 50-watt bi-amplified Class-D power amp which is the same spec for the Kanto YU2 desk top speakers that have been available for several years. (ORA are a night and day improvement in sound quality compared to the YU2 which I would guess, Kanto will now fully replace with the ORA). The ORA have a subwoofer output, with a built-in automatic crossover at 100 Hz that high-passes the speakers and low-passes the sub-out, enabling a nice integration with a powered subwoofer.  For testing, I added a sub which naturally provided a more meaningful low-end experience but for me, a sub is just another box under an already cluttered desk, so I ditched the sub but still found the near listening experience from the ORA desk top speakers to deliver a satisfying bass on their own.  Seriously, if you are needing massive bass and a killer-loud set-up, chances are that desk top speakers are not for you.  The ORA deliver a naturally detailed sound stage and while they can indeed crank, I kept the volume at a suitable level seeing that my head was a mere two feet away from the speakers.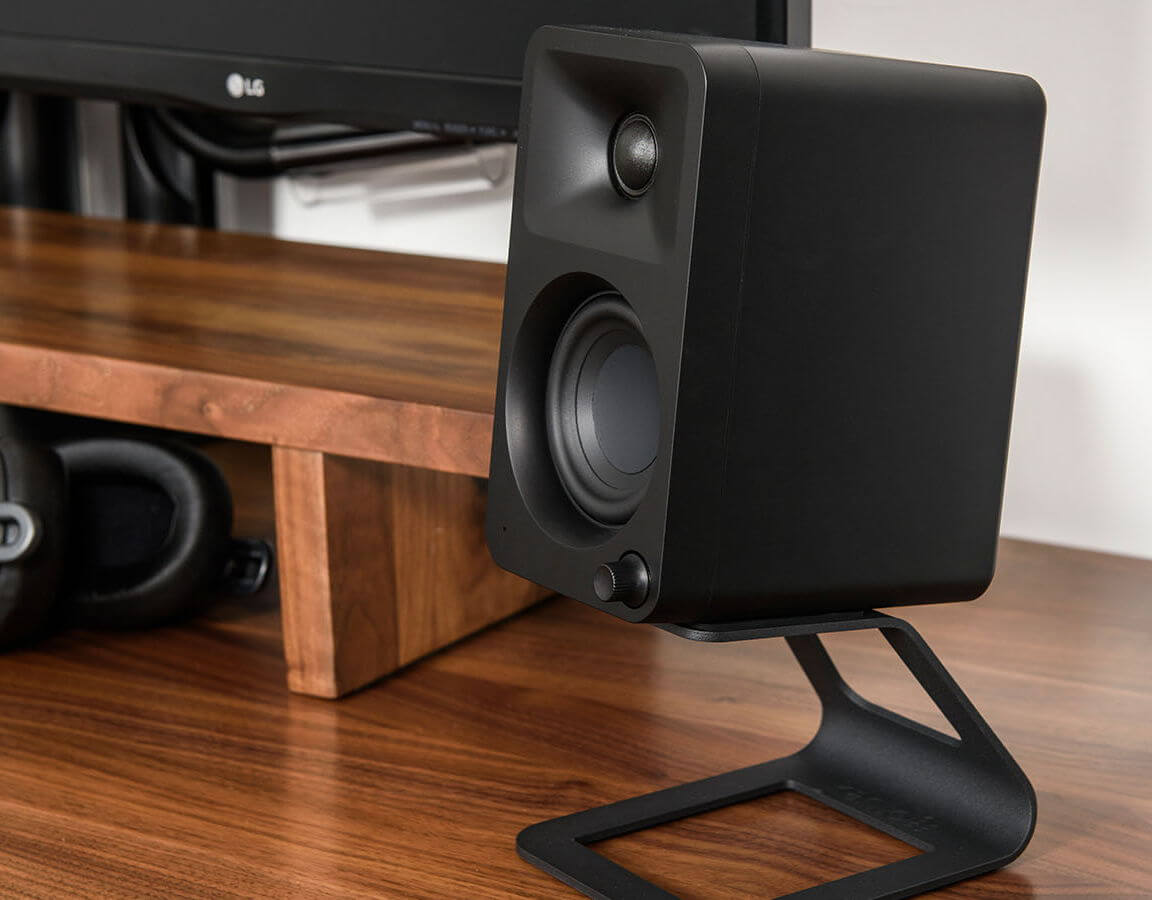 The ORA magnetically-shielded speakers feature a 3-inch Paper Cone Woofer and ¾-inch Silk-dome Waveguide-mounted Tweeter and measure 3.9 inches wide, by 6.9 inches high, by 5.6 inches deep, meaning the ORA are actually an inch taller than the Kanto YU2 but two inches shorter than the popular Kanto YU4.
"With ORA, listeners don't have to compromise on enjoying exceptional audio quality just because they have a limited amount of space. ORA is accurate enough to serve as a great desktop speaker for gaming, whilst delivering an image and soundstage that satisfies both audiophiles and music enthusiasts" stated Kanto's Marketing Manager Brett Smalley.
The ORA come in a matte black finish unlike the YU line of Kanto speakers that are offered in a multitude of colours. The ORA deliver a sound stage closer to the popular Kanto YU4 which is saying a lot, considering the small footprint of the ORA. In our experience, most desktop speakers demand a sub to provide a full gamut sound stage – that's the classic tiny speakers on the desk while the real workhorse is under the desk. But not the ORA. Sure, add a sub if you need that boom for a higher immersive gaming experience, but don't think that you need a sub to have the ORA deliver a rewarding sound that doesn't fatigue after a full workday. These little guys look great, take up little space and sound much bigger than you'd expect. So once again, Kanto will be flagging calls from grumpy retailers asking why they priced them so low when the performance is so high!