According to the Brand Finance Global 500 report, tech brand have fallen in value. A few tech brands have dropped off the list with a total of 48 remaining. But tech brands still dominate the top 10.
The report notes that Amazon remains the world's must valuable brand, even though the company lost US$51 billion in value. Apple, meanwhile, lost its top ranking and is down US$57.6 billion. The world's fastest-growing brands are electric vehicle makers Tesla and BYD, largely due to their focus on sustainability.
The brand valuation consultancy measures the 500 world's biggest brands each year, ranking them across sectors and countries.
"Technology brands across the world have lost significant value in response to shifting demand patterns," says David Haigh, CEO of Brand Finance. "As consumer habits partially revert to pre-pandemic patterns, demand for the services of tech brands has been hit particularly hard. Additionally, disrupted supply chains, labour shortages, and greater obstacles to financing have left their mark."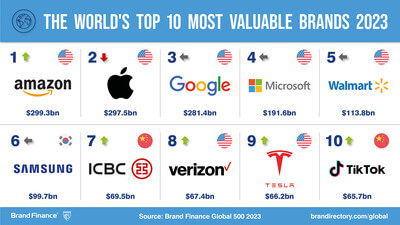 Top Tech Brands That Fell in Value
Despite Amazon's brand value falling more than US$50 billion and the brand strength rating falling from AAA+ to AAA, along with falling consumer perception, Amazon still remains on top. Still, there are challenges to address. Brand Finance says customers have become less likely to recommend Amazon to others (though does Amazon really require a recommendation?) while slower delivery times are impacting its perception as a quick way to get goods. What's more, many consumers are reveling in the idea of going back to shopping in person, especially after having been stuck at home so long through the pandemic.
Apple, meanwhile, saw its brand value fall 16% to US$297.5 billion, becoming the world's second-most valuable brand. The reason relates to a fall in forecast revenue, disrupted supply chain, and a constrained labour market for its top hardware products. With the new M2 MacBook Pros having just been released, however, Apple may find its way back on top.
In total, the ranking of 500 top brands included 48 technology brands, which is two fewer than in 2022: the missing two are Snapchat and Twitter. Samsung Group made a showing again but lost brand value, down 7% to US$99.7 billion, as did Alibaba, down 56% to US$10 billion. Facebook was also down 42% to US$59 billion along with WeChat (19% to US$50.2 billion).
Top Tech Brands That Rose in Value
Were there any tech brands that actually did well? A few. Instagram, which is owned by Facebook, was up 42% to US$47.4 billion while LinkedIn was up 49% to US$15.5 billion: not surprisingly given that with the job market in flux, many people were looking for new gigs, beefing up their resumes, and looking to make valuable business connections.
As two of the world's fastest-growing brands, Tesla and BYD saw brand value rise 44% to US$66.2 billion and 57% to US$10.1 billion, respectively, as demand grows for electric cars as part of a broader transition a to low carbon economy.
In addition to the Global 500 2023 ranking of the world's most valuable brands, Brand Finance has also launched the Sustainability Perceptions Index, in association with the International Advertising Association at Davos. This report reveals major global brands such as Amazon, Tesla, Apple, and Google each have billions of dollars contingent on carefully managing a reputation for commitment to sustainability.